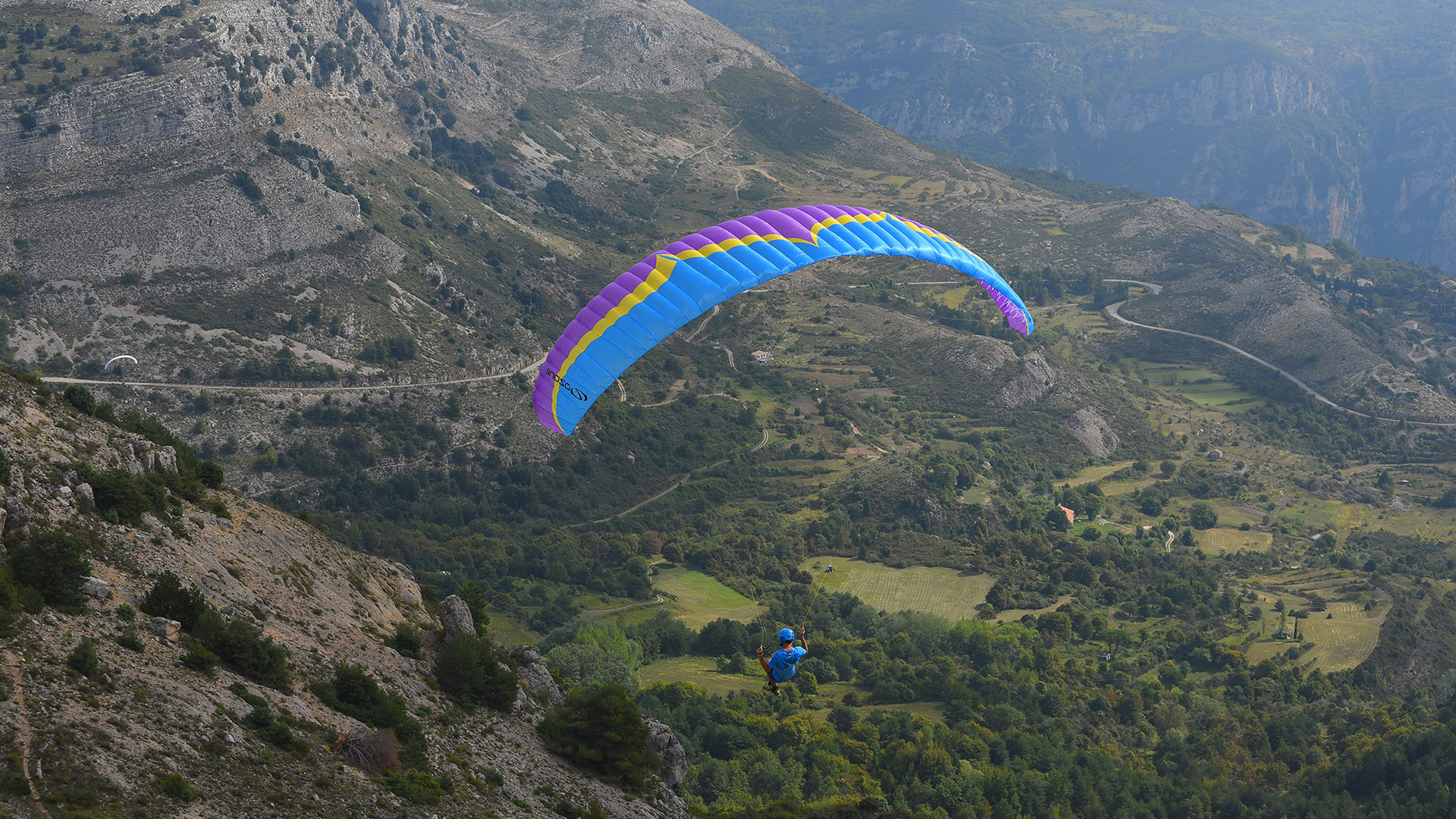 Info prodotto
Lo XXLite 2 è un parapendio da montagna ultra leggero progettato per i più esigenti piloti Hike & Fly ed alpinisti. Questa vela completamente nuova, rispetto al suo predecessore fornisce un significativo miglioramento delle prestazioni e del pilotaggio, con una più elevata velocità di trim ed un più agevole atterraggio.
L'EREDITA'
Primo nel suo genere, nel 2012, lo XXLite fu uno dei più singolari ed innovativi parapendio mai entrati in produzione. La serie XXLite, combinata con la selletta OZONE F*Lite, tutt'oggi costituisce il velivolo più leggero esistente al mondo.
TECNOLOGIA INNOVATIVA
Lo XXLite 2 impiega un caratteristico tubo gonfiato ram-air che si estende lungo tutto il bordo d'attacco. Questo comporta un solido bordo d'attacco in grado di sopportare i più bassi angoli d'incidenza, una più alta velocità di trim e consente un ulteriore accelerazione. La nuova gamma di velocità, ora paragonabile a quella di una vela doppia superficie, amplia la finestra di condizioni volabili in sicurezza e migliora le prestazioni in condizioni reali.
DECOLLO & ATTERRAGGIO
Le caratteristiche di gonfiaggio sono ancora ridicolmente facili. La vela si percepisce leggera e facile da portare sopra la testa -anche senza usare gli elevatori. La velocità di decollo è bassa, consentendovi di distaccarvi dal terreno con pochi passi. Ancora meglio, l'atterraggio è ampiamente migliorato. Le nuove prestazioni nel flare consentono atterraggi morbidi e ben controllabili anche in condizioni di assenza di vento.
IN ARIA ATTIVA
Di molto più confortevole, ispira anche molta più fiducia rispetto al suo predecessore, assorbe la turbolenza in un modo più controllato. Lo XXLite 2 offre un'eccellente sicurezza passiva ed è progettato per piloti di capacità intermedia. Nelle manovre di test dimostra un carattere docile. Qui trovate il resoconto della sua certificazione EN.
Disponibile nelle taglie 16m e 18m e con un peso di soli 1.3 kg (la taglia 16m), ripiegato ha un volume minuscolo, lo XXLite 2 è la vela assoluta da hike and fly.
Colori opzionali

Informazioni sull'ordine
OZONE has some of the shortest lead times in the industry. The current production time is approximately 21 days from order to shipping (updated daily). Contact your dealer to place your order.
Contenuto della confezione
OZONE offers a range of backpack choices when you order your wing. To change the type of backpack that will come with your wing, please speak with your OZONE Dealer.
La vostra vela OZONE viene consegnata con i seguenti accessori standard :
Specially designed B*Lite bag, Inner Bag, Glider Strap, OZONE Stickers, Repair Cloth and OZONE Keyring.
You may choose to add something to your order, such as: Saucisse Bag (video) (concertina packing bag), Easy Bag (quick stuff sack), or OZONE Clothing and Accessories.
Richieste
Specifiche
| Taglie | 16 | 18 |
| --- | --- | --- |
| Number of panels | 39 | 39 |
| Superficie proiettata (m2) | 13.9 | 15.6 |
| Superficie reale (m2) | 16 | 18 |
| Apertura proiettata (m) | 8.0 | 8.5 |
| Apertura reale (m) | 9.5 | 10.1 |
| Allungamento proiettato | 4.6 | 4.6 |
| Allungamento reale | 5.6 | 5.6 |
| Corda media (m) | 2.0 | 2.1 |
| Peso vela (kg) | | 1.37 |
| Gamma di peso in volo (kg) | 55-90 | 67-105 |
| EN | | D |
* Weights may vary up to 50gm per size due to slight variations in the manufacturing of the fabric used.
Materiali
Tessuto estradosso: Porcher 7000 E71A

Tessuto centine: Porcher 7000 E29

Linee superiori: Edelrid 8000U-050/9200-30

Linee mediane: Edelrid 8000U/190/130/90/50

Linee inferiori: Edelrid 8000U230/190/130/90/50

DOWNLOADS
EN D* WHY? THE XXLITE EN CLASSIFICATION
How does a glider with mostly EN A results end up being classified as EN D? The answer stems from a strange political battle that arose after OZONE introduced collapse lines on modern wings such as the popular Delta series, which were opposed by competing companies who had not yet tested this technology. Instead of investigating this new method of glider development, some of our competitors lobbied to "ban" the use of collapse lines. The end result was that any wing using collapse lines to affect the required EN folding methods was given a D rating, even if all tests exhibited EN A behavior.
The XXLite uses a combined A/B line attachment point on the chord. Due to this, it is impossible to pull the correctly sized EN folds (collapses) without collapse lines. With collapse lines the tests are completed properly and the reopening of the collapse occurs in less than one second (EN A result).
Importantly, it must be noted that EN certification does not measure how a collapse is made. It only measures the wing's recovery from collapse.
Many single-skin wings require additional (non-flying) collapse lines to properly execute the EN tests. These testing lines automatically register the wing as EN D even if the resulting recovery from the collapse is "A". Although other test houses appear to have ignored this rule (automatic EN D with use of collapse lines) and were given an overall result below D, we have no intention to mislead pilots, and trust that our customers will understand the flawed test regulations.
The mild character and excellent passive safety of the XXLite can only be understood by reading our description of the wing, not by looking at a misleading EN D classification.
Colori personalizzati
OZONE COLOUR REFERENCE (//)
ABOUT CUSTOM COLOURS
Ozone encourages you to customize your own personal colour combination for your wing. Customization generally incurs a fee. Once you've decided you can share your design with your friends, or if you are ready to order, send it to your local Ozone dealer to verify the charge and place the final order.
Please note that because the glider will be built specifically for you in the Ozone factory, payment must be received before production can begin.
FABRIC COLOURS AND UV RESISTANCE
Please be aware that the colour you see on your screen may not accurately represent the actual fabric colour. Secondly, different cloths specifications with the same color name may vary slightly, please see here for an example. Given the wide varience in monitor calibration and the fabric appearance in different light and colour combinations, it is impossible to perfectly represent fabric colour on screen. If you have any doubts about the colours, look at photos of various wings on our website to see them in different light and colour combinations or contact your local dealer to see the fabric in person.
All of the fabric that we use undergoes extensive testing in prototype colour phase to ensure colourfastness, mechanical stability, porosity, and general longevity before we put it into production. Once our fabric is in production, every meter of it is rigorously inspected upon arrival in our factory, and fabric which does not pass our stringent quality control standards is returned to the manufacturer. We are frequently asked, "Which colours last the longest, or have the best UV resistance?" All of the colours that we stock score between 4 and 5 on a scale of 1-5, with 5 being the highest possible rating for longevity.
↑