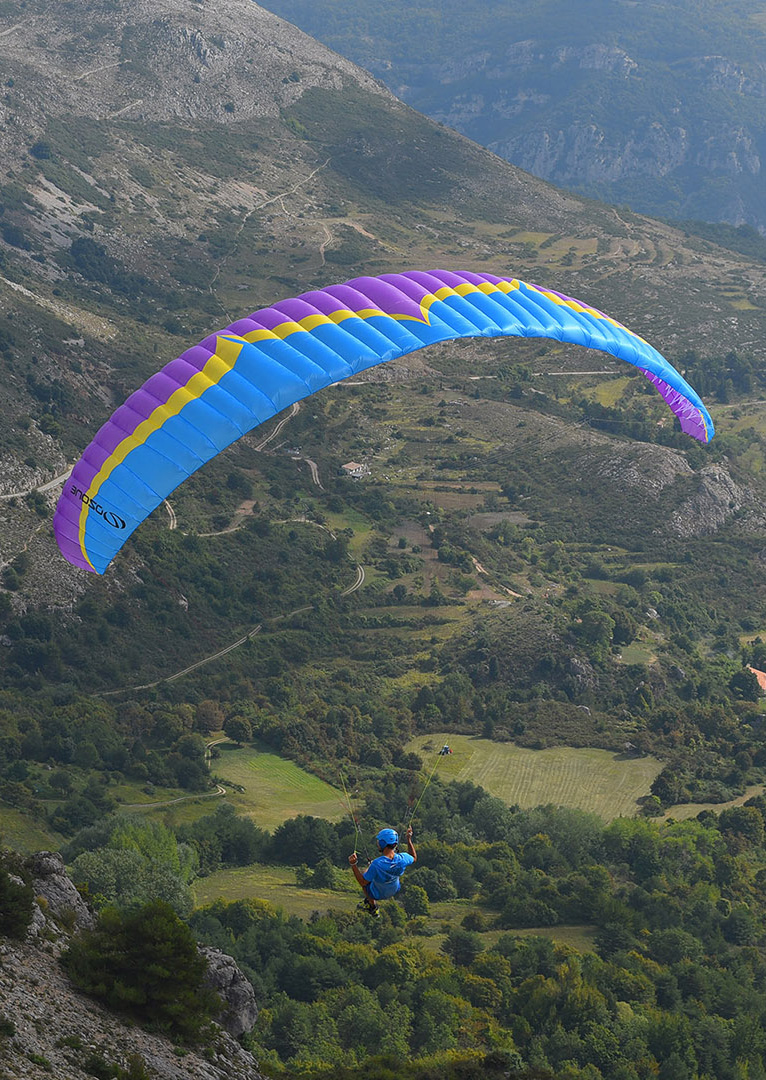 제품 설명
XX 라이트 2는 프로 등산가 & 비행 파일럿과 산악인을 위해 설계된 단일 표면 초경량 산악 날개입니다. 이 새로운 날개는 이전 모델에 비해 훨씬 빠른 속도와 쉬운 착륙 성으로 향상된 성능과 핸들링을 제공합니다.
유산
2012년에 처음으로 XX라이트는 생산에 투입된 가장 독특하고 혁신적인 패러글라이더 중 하나였습니다. XX 라이트 시리즈는 여전히 오존 F*Lite와 결합하여 가장 가벼운 날개를 제공합니다.
차세대를 위한 기술
XX 라이트 2는 고유한 전체 스팬 첨단 램 에어 팽창 튜브를 특징으로 합니다. 이것은 단단한 리딩 엣지를 제공하여 낮은 어텍 각을 받고 더 빠른 트림 속도와 더 빠른 가속도를 제공합니다. 이중 표면 날개와 비교할 때, 새로운 속도 범위는 안전한 비행 가능한 폭을 넓히고 실제 비행 중 발생할 수 있는 여러 조건에서 활용 가능한 성능을 향상합니다.
이륙 & 착륙
The in이륙 은 여전히 엄청나게 쉽습니다. 라이저를 만지지 않아도 날개가 가벼워서 머리 위로 쉽게 들어 올릴 수 있습니다. 이륙 속도는 낮아서 몇 단계만 거치면 지상에서 벗어날 수 있습니다. 가장 중요한 점은 착륙 성이 크게 개선되었다는 것입니다. 새로운 플레어 성능은 심지어 바람이 전혀 없는 상황에서도 부드럽고 통제할 수 있는 착륙을 가능하게 합니다.
비행
전 모델 보다 훨씬 편안하여 비행에 대한 자신감을 불러일으키며, 보다 쉽게 조정되는 방식으로 난기류 속에서도 편안한 안정감을 느끼는 비행이 가능합니다. XX라이트 2는 우수한 안전성을 제공하며 중급 능력의 파일럿을 위해 설계되었습니다. 시험 비행에서 유순한 행동을 확인하실 수 있습니다. 이곳 EN 인증에 대해 읽어보십시오. here.
크기 16m와 18m 사이즈를 사용할 수 있으며 무게는 1.3kg(16m 사이즈 무게)에 불과하여 소량의 포장이 가능한 XX 라이트 2는 최고의 하이킹 & 비행 용 날개입니다.
칼라 옵션

주문 정보
OZONE has some of the shortest lead times in the industry. The current production time is approximately 27 days from order to shipping (updated daily). Contact your dealer to place your order.
패키지 용품
OZONE offers a range of backpack choices when you order your wing. To change the type of backpack that will come with your wing, please speak with your OZONE Dealer.
오존 날개 구입시 다음 액서사리가 기본으로 제공됩니다.:
Specially designed B*Lite bag, Inner Bag, Glider Strap, OZONE Stickers, Repair Cloth and OZONE Keyring.
You may choose to add something to your order, such as: Saucisse Bag (video) (concertina packing bag), Easy Bag (quick stuff sack), or OZONE Clothing and Accessories.
요구사항
제품 사양
| 크기 | 16 | 18 |
| --- | --- | --- |
| Number of panels | 39 | 39 |
| 투영 면적(m2) | 13.9 | 15.6 |
| 평면 면적(m2) | 16 | 18 |
| 투영 스판(m) | 8.0 | 8.5 |
| 평면 스판(m) | 9.5 | 10.1 |
| 투영 면적 비율 | 4.6 | 4.6 |
| 평면 면적 비율 | 5.6 | 5.6 |
| 루트 크로드(m) | 2.0 | 2.1 |
| 글라이더 무게(kg) | | 1.37 |
| 총 무게 범위(kg) | 55-90 | 67-105 |
| EN | | D |
* Weights may vary up to 50gm per size due to slight variations in the manufacturing of the fabric used.
재료
Top Surface Cloth: Porcher 7000 E71A

Rib cloth: Porcher 7000 E29

상단 라인: Edelrid 8000U-050/9200-30

중간 라인: Edelrid 8000U/190/130/90/50

하단 라인: Edelrid 8000U230/190/130/90/50

다운로드
EN D* WHY? THE XXLITE EN CLASSIFICATION
How does a glider with mostly EN A results end up being classified as EN D? The answer stems from a strange political battle that arose after OZONE introduced collapse lines on modern wings such as the popular Delta series, which were opposed by competing companies who had not yet tested this technology. Instead of investigating this new method of glider development, some of our competitors lobbied to "ban" the use of collapse lines. The end result was that any wing using collapse lines to affect the required EN folding methods was given a D rating, even if all tests exhibited EN A behavior.
The XXLite uses a combined A/B line attachment point on the chord. Due to this, it is impossible to pull the correctly sized EN folds (collapses) without collapse lines. With collapse lines the tests are completed properly and the reopening of the collapse occurs in less than one second (EN A result).
Importantly, it must be noted that EN certification does not measure how a collapse is made. It only measures the wing's recovery from collapse.
Many single-skin wings require additional (non-flying) collapse lines to properly execute the EN tests. These testing lines automatically register the wing as EN D even if the resulting recovery from the collapse is "A". Although other test houses appear to have ignored this rule (automatic EN D with use of collapse lines) and were given an overall result below D, we have no intention to mislead pilots, and trust that our customers will understand the flawed test regulations.
The mild character and excellent passive safety of the XXLite can only be understood by reading our description of the wing, not by looking at a misleading EN D classification.
선택 색상
OZONE COLOUR REFERENCE (//)
SHARE YOUR DESIGN
ABOUT CUSTOM COLOURS
Ozone encourages you to customize your own personal colour combination for your wing. Customization generally incurs a fee. Once you've decided you can share your design with your friends, or if you are ready to order, send it to your local Ozone dealer to verify the charge and place the final order.
Please note that because the glider will be built specifically for you in the Ozone factory, payment must be received before production can begin.
FABRIC COLOURS AND UV RESISTANCE
Please be aware that the colour you see on your screen may not accurately represent the actual fabric colour. Secondly, different cloths specifications with the same color name may vary slightly, please see here for an example. Given the wide varience in monitor calibration and the fabric appearance in different light and colour combinations, it is impossible to perfectly represent fabric colour on screen. If you have any doubts about the colours, look at photos of various wings on our website to see them in different light and colour combinations or contact your local dealer to see the fabric in person.
All of the fabric that we use undergoes extensive testing in prototype colour phase to ensure colourfastness, mechanical stability, porosity, and general longevity before we put it into production. Once our fabric is in production, every meter of it is rigorously inspected upon arrival in our factory, and fabric which does not pass our stringent quality control standards is returned to the manufacturer. We are frequently asked, "Which colours last the longest, or have the best UV resistance?" All of the colours that we stock score between 4 and 5 on a scale of 1-5, with 5 being the highest possible rating for longevity.
↑