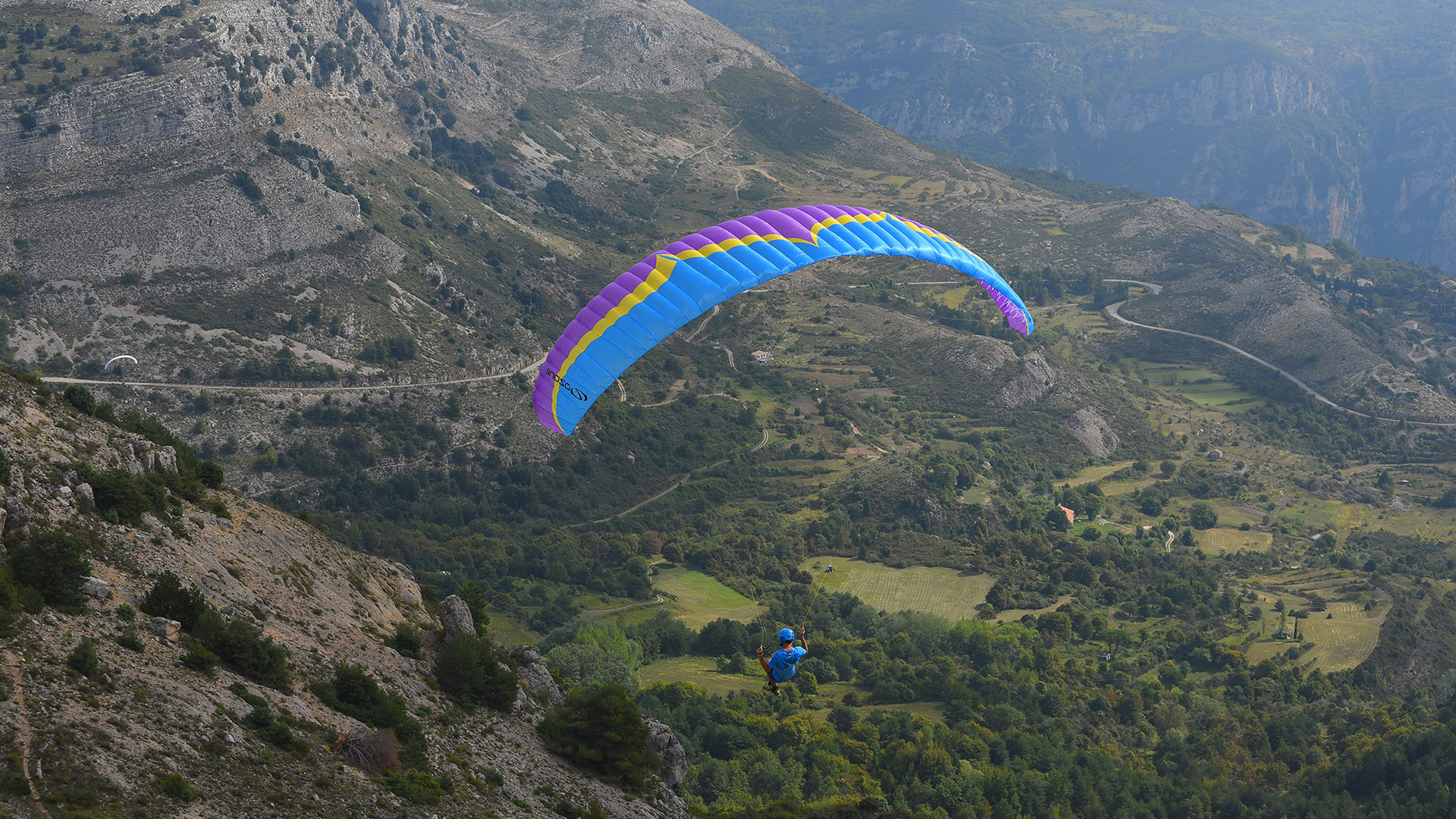 Información
La XXLite 2 es una vela ultraligera de simple superficie diseñada para alpinistas y pilotos que se toman en serio el Hike & Fly. Este diseño, completamente nuevo, ofrece unas prestaciones y un mando mucho mejores que su predecesora, así como una velocidad a frenos libres más alta y un aterrizaje más fácil.
LEGADO
La XXLite fue, en 2012, la primera vela de su clase, y uno de los parapentes más innovadores y exclusivos jamás producidos. Combinadas con la silla OZONE F*Lite, las XXLite siguen siendo la aeronave más ligera que existe.
TECNOLOGÍA DE VANGUARDIA
La XXLite 2 incorpora un exclusivo borde de ataque con un tubo que abarca toda la envergadura y que da lugar a un borde de ataque sólido que admite menores ángulos de ataque y que hace que la velocidad a frenos libres sea mayor y permite más aceleración. El rango de velocidades es ahora comparable al de una vela de doble superficie y amplía la ventana de condiciones en las que volar es seguro, y mejora las prestaciones en condiciones reales.
DESPEGUE Y ATERRIZAJE
Las características de inflado continúan siendo ridículamente sencillas. La vela se siente ligera y fácil de levantar, incluso sin tocar las bandas. La velocidad de despegue es baja, lo que te permite dejar el suelo en muy pocos pasos. Lo más significativo es que el aterrizaje ha mejorado muchísimo. Gracias a su excelente redondeo, ahora puede aterrizarse de manera suave y controlada incluso con viento cero.
EN AIRE ACTIVO
La XXLite 2 es mucho más confortable e inspira más confianza que su predecesora, y absorbe la turbulencia de una manera más controlada. La XXLite 2 ofrece una excelente seguridad pasiva y está diseñada para pilotos de nivel intermedio. En las maniobras de homologación ha mostrado un comportamiento dócil. Puedes leer detalles sobre su homologación EN aquí.
Disponible en dos tallas, de 16 y 18 metros, y con un peso de apenas 1,3 kilos (en la talla 16). Con ese peso y el minúsculo volumen que ocupa plegada, la XXLite 2 es la vela por excelencia para Hike & Fly.
Colores de serie

ORDERING INFORMATION
OZONE has some of the shortest lead times in the industry. The current production time is approximately 21 days from order to shipping (updated daily). Contact your dealer to place your order.
Contenido del paquete
OZONE offers a range of backpack choices when you order your wing. To change the type of backpack that will come with your wing, please speak with your OZONE Dealer.
Your OZONE wing is delivered standard with the following accessories:
Specially designed B*Lite bag, Inner Bag, Glider Strap, OZONE Stickers, Repair Cloth and OZONE Keyring.
You may choose to add something to your order, such as: Saucisse Bag (video) (concertina packing bag), Easy Bag (quick stuff sack), or OZONE Clothing and Accessories.
Solicitudes
Especificaciones
| sizes | 16 | 18 |
| --- | --- | --- |
| Number of panels | 39 | 39 |
| Superficie proyectada (m2) | 13.9 | 15.6 |
| Superficie real (m2) | 16 | 18 |
| Envergadura proyectada (m) | 8.0 | 8.5 |
| Envergadura real (m) | 9.5 | 10.1 |
| Alargamiento proyectado | 4.6 | 4.6 |
| Alargamiento real | 5.6 | 5.6 |
| Cuerda central (m) | 2.0 | 2.1 |
| Peso de la vela (kg) | | 1.37 |
| Rango de pesos en vuelo (kg) | 55-90 | 67-105 |
| EN | | D |
* Weights may vary up to 50gm per size due to slight variations in the manufacturing of the fabric used.
Materiales
Tejido extradós: Porcher 7000 E71A

Tejido costillas: Porcher 7000 E29

Cordinos superiores: Edelrid 8000U-050/9200-30

Cordinos intermedios: Edelrid 8000U/190/130/90/50

Cordinos inferiores: Edelrid 8000U230/190/130/90/50

Descargas
EN D* WHY? THE XXLITE EN CLASSIFICATION
How does a glider with mostly EN A results end up being classified as EN D? The answer stems from a strange political battle that arose after OZONE introduced collapse lines on modern wings such as the popular Delta series, which were opposed by competing companies who had not yet tested this technology. Instead of investigating this new method of glider development, some of our competitors lobbied to "ban" the use of collapse lines. The end result was that any wing using collapse lines to affect the required EN folding methods was given a D rating, even if all tests exhibited EN A behavior.
The XXLite uses a combined A/B line attachment point on the chord. Due to this, it is impossible to pull the correctly sized EN folds (collapses) without collapse lines. With collapse lines the tests are completed properly and the reopening of the collapse occurs in less than one second (EN A result).
Importantly, it must be noted that EN certification does not measure how a collapse is made. It only measures the wing's recovery from collapse.
Many single-skin wings require additional (non-flying) collapse lines to properly execute the EN tests. These testing lines automatically register the wing as EN D even if the resulting recovery from the collapse is "A". Although other test houses appear to have ignored this rule (automatic EN D with use of collapse lines) and were given an overall result below D, we have no intention to mislead pilots, and trust that our customers will understand the flawed test regulations.
The mild character and excellent passive safety of the XXLite can only be understood by reading our description of the wing, not by looking at a misleading EN D classification.
Colores a elegir
OZONE COLOUR REFERENCE (//)
ABOUT CUSTOM COLOURS
Ozone encourages you to customize your own personal colour combination for your wing. Customization generally incurs a small fee. Once you've decided you can share your design with your friends, or if you are ready to order, send it to your local Ozone dealer to check if there is a charge and place the final order.
Please note that because the glider will be built specifically for you in the Ozone factory, payment must be received before production can begin.
FABRIC COLOURS AND UV RESISTANCE
Please be aware that the colour you see on your screen may not accurately represent the actual fabric colour. Given the wide varience in monitor calibration and the fabric appearance in different light and colour combinations, it is impossible to perfectly represent fabric colour on screen. If you have any doubts about the colours, look at photos of various wings on our website to see them in different light and colour combinations or contact your local dealer to see the fabric in person.
All of the fabric that we use undergoes extensive testing in prototype colour phase to ensure colourfastness, mechanical stability, porosity, and general longevity before we put it into production. Once our fabric is in production, every meter of it is rigorously inspected upon arrival in our factory, and fabric which does not pass our stringent quality control standards is returned to the manufacturer. We are frequently asked, "Which colours last the longest, or have the best UV resistance?" All of the colours that we stock score between 4 and 5 on a scale of 1-5, with 5 being the highest possible rating for longevity.
↑