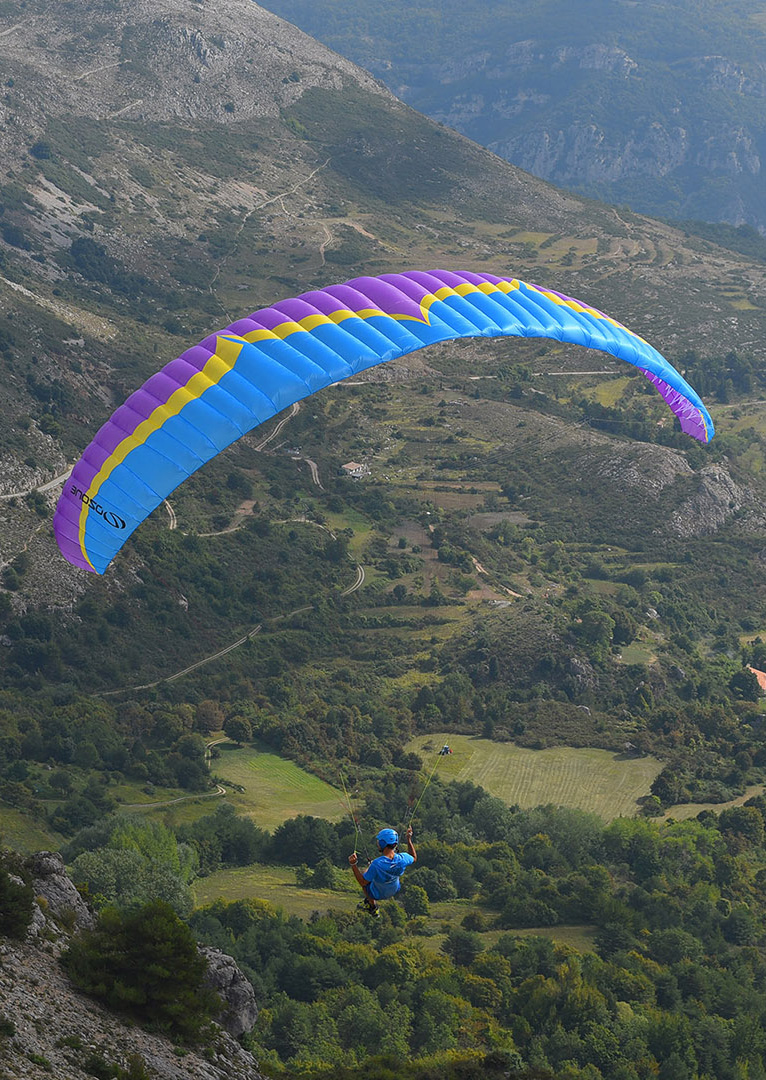 Información
La XXLite 2 es una vela ultraligera de simple superficie diseñada para alpinistas y pilotos que se toman en serio el Hike & Fly. Este diseño, completamente nuevo, ofrece unas prestaciones y un mando mucho mejores que su predecesora, así como una velocidad a frenos libres más alta y un aterrizaje más fácil.
LEGADO
La XXLite fue, en 2012, la primera vela de su clase, y uno de los parapentes más innovadores y exclusivos jamás producidos. Combinadas con la silla OZONE F*Lite, las XXLite siguen siendo la aeronave más ligera que existe.
TECNOLOGÍA DE VANGUARDIA
La XXLite 2 incorpora un exclusivo borde de ataque con un tubo que abarca toda la envergadura y que da lugar a un borde de ataque sólido que admite menores ángulos de ataque y que hace que la velocidad a frenos libres sea mayor y permite más aceleración. El rango de velocidades es ahora comparable al de una vela de doble superficie y amplía la ventana de condiciones en las que volar es seguro, y mejora las prestaciones en condiciones reales.
DESPEGUE Y ATERRIZAJE
Las características de inflado continúan siendo ridículamente sencillas. La vela se siente ligera y fácil de levantar, incluso sin tocar las bandas. La velocidad de despegue es baja, lo que te permite dejar el suelo en muy pocos pasos. Lo más significativo es que el aterrizaje ha mejorado muchísimo. Gracias a su excelente redondeo, ahora puede aterrizarse de manera suave y controlada incluso con viento cero.
EN AIRE ACTIVO
La XXLite 2 es mucho más confortable e inspira más confianza que su predecesora, y absorbe la turbulencia de una manera más controlada. La XXLite 2 ofrece una excelente seguridad pasiva y está diseñada para pilotos de nivel intermedio. En las maniobras de homologación ha mostrado un comportamiento dócil. Puedes leer detalles sobre su homologación EN aquí.
Disponible en dos tallas, de 16 y 18 metros, y con un peso de apenas 1,3 kilos (en la talla 16). Con ese peso y el minúsculo volumen que ocupa plegada, la XXLite 2 es la vela por excelencia para Hike & Fly.
Colores de serie

Cómo hacer un pedido
The current production time is approximately 60 days from order to shipping (updated daily). Contact your dealer to place your order.
Contenido del paquete
Tu vela OZONE se entrega de serie con los accesorios siguientes::
Bolsa interior, cinta de ceñido, pegatinas OZONE, tejido para reparaciones y llavero OZONE.
You may choose to add something to your order, such as: Saucisse Bag (video) (concertina packing bag), Glider Backpack, Easy Bag (quick stuff sack), or OZONE Clothing and Accessories.
Solicitudes
Especificaciones
| Tallas | 16 | 18 |
| --- | --- | --- |
| Number of panels | 39 | 39 |
| Superficie proyectada (m2) | 13.9 | 15.6 |
| Superficie real (m2) | 16 | 18 |
| Envergadura proyectada (m) | 8.0 | 8.5 |
| Envergadura real (m) | 9.5 | 10.1 |
| Alargamiento proyectado | 4.6 | 4.6 |
| Alargamiento real | 5.6 | 5.6 |
| Cuerda central (m) | 2.0 | 2.1 |
| Peso de la vela (kg) | 1.3 | 1.4 |
| Rango de pesos en vuelo (kg) | 55-90 | 67-105 |
| EN | D | D |
* los pesos pueden variar hasta en 50 gramos por talla debido a ligeras variaciones en la fabricación del tejido usado.
* Weights may vary up to 50gm per size due to slight variations in the manufacturing of the fabric used.
Materiales
Tejido extradós: Porcher 7000 E71A

Tejido costillas: Porcher 7000 E29

Cordinos superiores: Edelrid 8000U-050/9200-30

Cordinos intermedios: Edelrid 8000U/190/130/90/50

Cordinos inferiores: Edelrid 8000U230/190/130/90/50

Descargas
EN D* WHY? THE XXLITE EN CLASSIFICATION
How does a glider with mostly EN A results end up being classified as EN D? The answer stems from a strange political battle that arose after OZONE introduced collapse lines on modern wings such as the popular Delta series, which were opposed by competing companies who had not yet tested this technology. Instead of investigating this new method of glider development, some of our competitors lobbied to "ban" the use of collapse lines. The end result was that any wing using collapse lines to affect the required EN folding methods was given a D rating, even if all tests exhibited EN A behavior.
The XXLite uses a combined A/B line attachment point on the chord. Due to this, it is impossible to pull the correctly sized EN folds (collapses) without collapse lines. With collapse lines the tests are completed properly and the reopening of the collapse occurs in less than one second (EN A result).
Importantly, it must be noted that EN certification does not measure how a collapse is made. It only measures the wing's recovery from collapse.
Many single-skin wings require additional (non-flying) collapse lines to properly execute the EN tests. These testing lines automatically register the wing as EN D even if the resulting recovery from the collapse is "A". Although other test houses appear to have ignored this rule (automatic EN D with use of collapse lines) and were given an overall result below D, we have no intention to mislead pilots, and trust that our customers will understand the flawed test regulations.
The mild character and excellent passive safety of the XXLite can only be understood by reading our description of the wing, not by looking at a misleading EN D classification.
Colores a elegir
OZONE COLOUR REFERENCE (//)
SHARE YOUR DESIGN
SOBRE LOS COLORES PERSONALIZADOS
Ozone te anima a que personalices tu vela eligiendo tu propia combinación de colores. La personalización supone un pequeño coste adicional. Una vez hayas decidido tus colores, puede compartir tu diseño con tus amigos, o si ya estás listo para hacer tu pedido, enviárselo a tu distribuidor local de Ozone para que te informe del importe adicional y encargar la vela.
Por favor, ten en cuenta que como esa vela se fabricará exclusivamente para ti en la fábrica de Ozone, el pago debe recibirse antes de que comience a fabricarse.
COLORES DEL TEJIDO Y RESISTENCIA A LOS RAYOS UV
Por favor, ten en cuenta que el color que veas en tu pantalla puede que no represente con precisión el color real del tejido. Dada la amplia variedad en la calibración de las pantallas y el aspecto del tejido bajo diferentes condiciones de luz y combinaciones de colores, resulta imposible representar perfectamente el color del tejido en la pantalla. Si albergas alguna duda sobre los colores, mira las fotos de unas cuantas velas en nuestra página web para verlas bajo luces y combinaciones de colores diferentes o ponte en contacto con tu distribuidor local para ver el tejido en persona.
Todo el tejido que usamos pasa por un exhaustivo proceso de pruebas durante los prototipos, para asegurarnos de que el color se mantiene, de la estabilidad mecánica, la porosidad y la longevidad general, antes de poner ese tejido en producción. Una vez que nuestro tejido está en producción, cada metro del mismo se inspecciona rigurosamente al llegar a nuestra fábrica, y un tejido que no pase nuestros estrictos controles de calidad, se devuelve al fabricante. Con frecuencia nos preguntan qué colores son los que más duran o tienen mayor resistencia a los rayos UV. Todos los colores que empleamos poseen un valor de entre 4 y 5 en una escala que va del 1 al 5, siendo el 5 el valor más alto posible en cuanto a longevidad.
↑