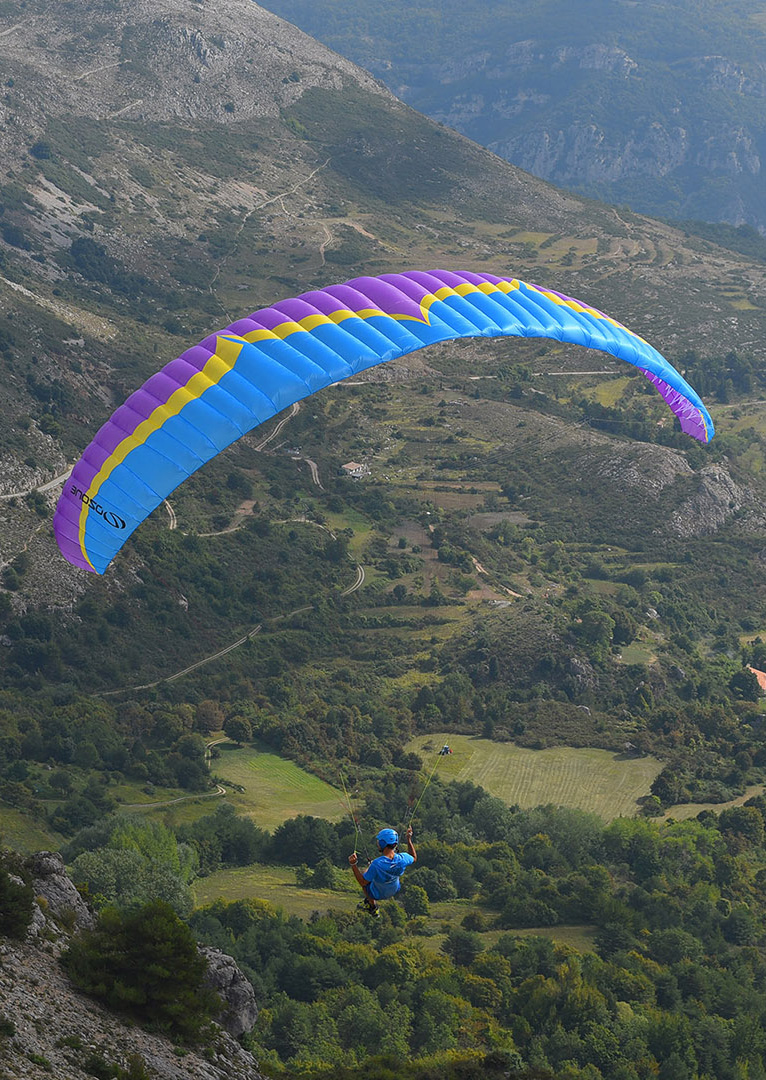 Info Produit
La XXLite2 est une aile ultra-légère monosurface de montagne destinée aux adeptes du marcher-voler et de l'alpinisme. Cette aile entièrement nouvelle affiche des perfs plus élevées ainsi qu'une meilleure maniabilité ; avec une vitesse trimée plus élevée et un atterrissage plus facile comparée à son prédécesseur.
HERITAGE
Mise en ligne en 2012, la première XXLite fut un des parapentes les plus innovants jamais fabriqué dans le monde. La XXLite demeure un des aéronefs les plus légers lorsqu'on l'associe à la sellette OZONEF*Lite.
TECHNOLOGIE DE NOUVELLE GENERATION
La XXLite2 comporte un boudin de bord d'attaque complet gonflé par la pression de l'air en vol. Le B.A. est ainsi très solide et l'aile accepte un vol aux faibles angles d'attaque, avec une vitesse aux trims plus élevée ainsi qu'une meilleure accélération. Comparable à la vitesse d'une aile traditionnelle, l'éventail de vitesse disponible élargit la fenêtre de vol sécuritaire et améliore les perfs en toutes conditions.
DECOLLAGE ET ATTERRISSAGE
Les caractéristiques de gonflage demeurent ridiculement faciles. L'aile est légère et facile à positionner au dessus de la tête -même sans toucher aux élévateurs -. La vitesse de décollage est faible et permet de quitter le sol au bout de quelques pas. Mais le plus intéressant est que l'atterrissage a été considérablement amélioré. Les caractéristiques de l'arrondi permettent un atterro très doux, bien contrôlé, même par conditions de vent nul.
EN AÉROLOGIE ACTIVE
Bien plus confortable et sécurisante que son ainée, elle absorbe la turbulence de façon plus contrôlée.
La XXLIte 2 affiche une excellente sécurité passive et convint bien à des pilotes intermédiaires. Lors des vols tests, elle a affiché un comportement très docile. Informez-vous au sujet de son homologation EN
ici .
Disponible en tailles 16 m2 et 18 m2 pour un poids de seulement 1,3 kg, dans un volume minuscule, la XXLite 2 constitue la meilleure aile de marcher-voler disponible.
Options de Couleurs

Information relative aux commandes
OZONE has some of the shortest lead times in the industry. The current production time is approximately 63 days from order to shipping (updated daily). Contact your dealer to place your order.
Contenu du package
OZONE offers a range of backpack choices when you order your wing. To change the type of backpack that will come with your wing, please speak with your OZONE Dealer.
Your OZONE wing is delivered standard with the following accessories:
Specially designed B*Lite bag, Inner Bag, Glider Strap, OZONE Stickers, Repair Cloth and OZONE Keyring.
You may choose to add something to your order, such as: Saucisse Bag (video) (concertina packing bag), Easy Bag (quick stuff sack), or OZONE Clothing and Accessories.
Requetes
SPECIFICATIONS
| Tailles | 16 | 18 |
| --- | --- | --- |
| Number of panels | 39 | 39 |
| Surface projetée (m2) | 13.9 | 15.6 |
| Surface à plat (m2) | 16 | 18 |
| Envergure projetée (m) | 8.0 | 8.5 |
| Envergure à plat (m) | 9.5 | 10.1 |
| Allongement projeté | 4.6 | 4.6 |
| Allongement à plat | 5.6 | 5.6 |
| Corde | 2.0 | 2.1 |
| Poids de l'aile | 1.3 | 1.4 |
| Fourchette de poids en vol (kg) | 55-90 | 67-105 |
| EN | D | D |
* Weights may vary up to 50gm per size due to slight variations in the manufacturing of the fabric used.
Matériaux
Top Surface Cloth: Porcher 7000 E71A

Rib cloth: Porcher 7000 E29

Upper lines: Edelrid 8000U-050/9200-30

Mid lines: Edelrid 8000U/190/130/90/50

Lower Lines: Edelrid 8000U230/190/130/90/50
Téléchargements
EN D* WHY? THE XXLITE EN CLASSIFICATION
How does a glider with mostly EN A results end up being classified as EN D? The answer stems from a strange political battle that arose after OZONE introduced collapse lines on modern wings such as the popular Delta series, which were opposed by competing companies who had not yet tested this technology. Instead of investigating this new method of glider development, some of our competitors lobbied to "ban" the use of collapse lines. The end result was that any wing using collapse lines to affect the required EN folding methods was given a D rating, even if all tests exhibited EN A behavior.
The XXLite uses a combined A/B line attachment point on the chord. Due to this, it is impossible to pull the correctly sized EN folds (collapses) without collapse lines. With collapse lines the tests are completed properly and the reopening of the collapse occurs in less than one second (EN A result).
Importantly, it must be noted that EN certification does not measure how a collapse is made. It only measures the wing's recovery from collapse.
Many single-skin wings require additional (non-flying) collapse lines to properly execute the EN tests. These testing lines automatically register the wing as EN D even if the resulting recovery from the collapse is "A". Although other test houses appear to have ignored this rule (automatic EN D with use of collapse lines) and were given an overall result below D, we have no intention to mislead pilots, and trust that our customers will understand the flawed test regulations.
The mild character and excellent passive safety of the XXLite can only be understood by reading our description of the wing, not by looking at a misleading EN D classification.
Coloris Personnalisés
OZONE COLOUR REFERENCE (//)
SHARE YOUR DESIGN
ABOUT CUSTOM COLOURS
Ozone encourages you to customize your own personal colour combination for your wing. Customization generally incurs a fee. Once you've decided you can share your design with your friends, or if you are ready to order, send it to your local Ozone dealer to verify the charge and place the final order.
Please note that because the glider will be built specifically for you in the Ozone factory, payment must be received before production can begin.
FABRIC COLOURS AND UV RESISTANCE
Please be aware that the colour you see on your screen may not accurately represent the actual fabric colour. Secondly, different cloths specifications with the same color name may vary slightly, please see here for an example. Given the wide varience in monitor calibration and the fabric appearance in different light and colour combinations, it is impossible to perfectly represent fabric colour on screen. If you have any doubts about the colours, look at photos of various wings on our website to see them in different light and colour combinations or contact your local dealer to see the fabric in person.
All of the fabric that we use undergoes extensive testing in prototype colour phase to ensure colourfastness, mechanical stability, porosity, and general longevity before we put it into production. Once our fabric is in production, every meter of it is rigorously inspected upon arrival in our factory, and fabric which does not pass our stringent quality control standards is returned to the manufacturer. We are frequently asked, "Which colours last the longest, or have the best UV resistance?" All of the colours that we stock score between 4 and 5 on a scale of 1-5, with 5 being the highest possible rating for longevity.
↑