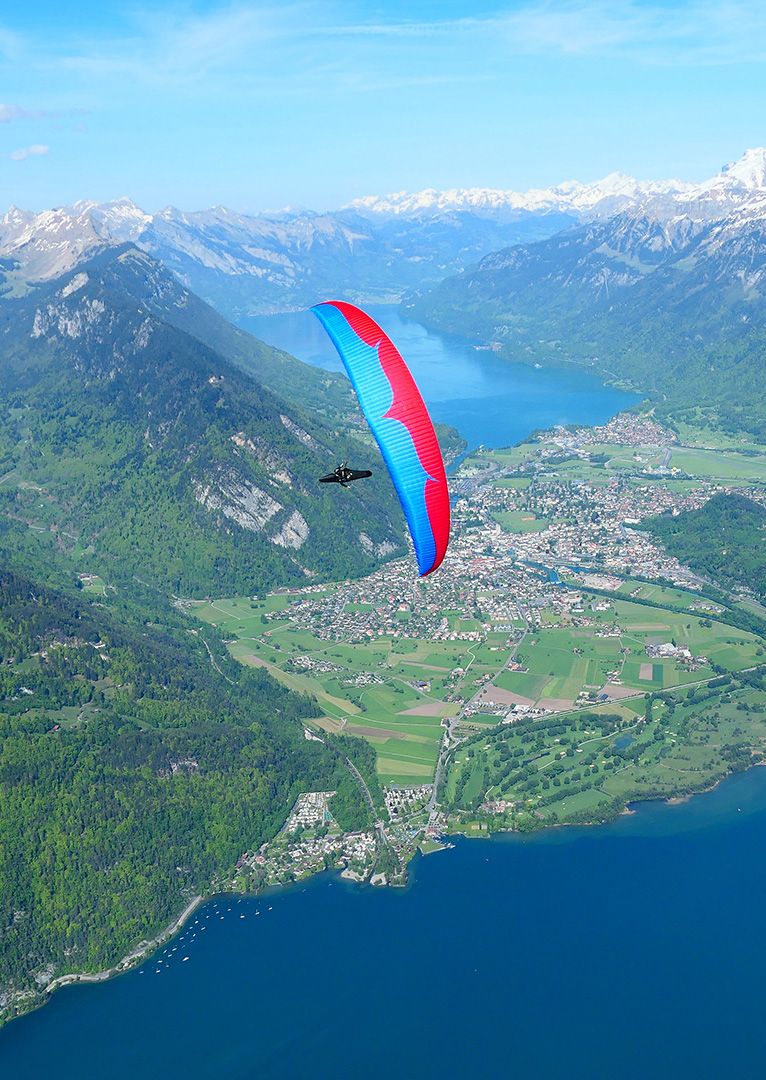 Info prodotto
L'ultima versione della vela da competizione più vincente nella storia del parapendio porta un nuovo livello di prestazioni in planata ai migliori piloti del mondo. Il profilo innovativo dell'Enzo 3 si è evoluto in oltre due anni di ricerca e sviluppo ed in paragone all'Enzo 2 offre una migliorata solidità, coesione lungo tutta l'apertura alare, comfort, prestazioni in planata ed una velocità massima significativamente più elevata.
L'Enzo 3 mantiene molte caratteristiche del suo predecessore, incluso il numero di cassoni, la forma in pianta e l'idea del bordo d'attacco che applica il brevetto  SharkNose, ma con un aggiornato piano funi a ridottissima resistenza di forma. Per cosa principale, la nostra filosofia di 'prestazioni reali' rimane il dogma su cui si fonda questa vela. Le sue prestazioni in aria attiva, durante la messa a punto, hanno impressionato i piloti del Team di Ricerca e Sviluppo. Per tutto il tempo dei collaudi sulle Alpi meridionali e nelle competizioni di prova, l'Enzo 3 ha dimostrato di essere un significativo passo in avanti rispetto all'Enzo 2.
Una miscela di tessuti standard e leggeri ne ottimizzano le prestazioni e la durata. Una sezione del bordo d'attacco in tessuto 30D è accompagnata da un esteso impiego di Porcher 27g. Questa combinazione che ormai ha molti anni, ha dato prova di possedere ottime prestazioni sia in termini di longevità che di caratteristiche della velatura.
L'Enzo 3 è certificato CCC ed è disponibile in 6 taglie per pesi che vanno da 80 a 130 kg. Si tratta di una vela ad alte prestazioni, progettata per i migliori piloti del mondo e come già l'Enzo 2 richiede un alto livello di capacità di pilotaggio. Se siete incerti, allora vi raccomandiamo lo Zeno. Ogni ordine verrà considerato su base individuale. Se pensate che questa vela sia adatta a voi, vi invitiamo ad interpellare il vostro rivenditore locale affinché prenda contatti con noi.
Ciao da tutto il team. Vi auguriamo un bel 'in bocca al lupo' in competizione ed anche oltre.
Colori opzionali
Informazioni sull'ordine
OZONE has some of the shortest lead times in the industry. The current production time is approximately 66 days from order to shipping (updated daily). Contact your dealer to place your order.
Contenuto della confezione
OZONE offers a range of backpack choices when you order your wing. To change the type of backpack that will come with your wing, please speak with your OZONE Dealer.
La vostra vela OZONE viene consegnata con i seguenti accessori standard :
Sacca per vela Competition + imbrago pod, uno speciale "Folding Pillow" per aiutare la conservazione dei rinforzi in plastica, Sacca interna, Fettuccia della vela, Speed Bar, Adesivi OZONE, Tessuto per riparazioni, Portachiavi OZONE
You may choose to add something to your order, such as: Saucisse Bag (video) (concertina packing bag), Easy Bag (quick stuff sack), or OZONE Clothing and Accessories.
Richieste
Specifiche
| Taglie | XXS | XS | S | m | L | XL |
| --- | --- | --- | --- | --- | --- | --- |
| Numero di cassoni | 101 | 101 | 101 | 101 | 101 | 101 |
| Superficie proiettata (m2) | 16.2 | 17.2 | 18.6 | 20.1 | 21.7 | 22.6 |
| Superficie reale (m2) | 19.1 | 20.3 | 22 | 23.7 | 25.7 | 26.7 |
| Apertura proiettata (m) | 9.4 | 9.7 | 10.1 | 10.5 | 10.9 | 11.1 |
| Apertura reale (m) | 12 | 12.4 | 12.9 | 13.4 | 13.9 | 14.2 |
| Allungamento proiettato | 5.5 | 5.5 | 5.5 | 5.5 | 5.5 | 5.5 |
| Allungamento reale | 7.55 | 7.55 | 7.55 | 7.55 | 7.55 | 7.55 |
| Corda media (m) | 2 | 2.05 | 2.14 | 2.22 | 2.31 | 2.36 |
| Peso vela (kg) | 5.25* | 5.47* | 5.58 | 5.92 | 6.22 | * |
| Gamma di peso in volo (kg) | 80-90 | 85-95 | 90-105 | 95-115 | 105-125 | 115-130 |
| Certification | CCC | CCC | CCC | CCC | CCC | CCC |
* Pending
Materiali
Upper lines: Edelrid 8000U serie

Mid lines: Edelrid 8000U serie

Lower Lines: Edelrid 8000U serie
DOWNLOADS
Colori personalizzati
OZONE COLOUR REFERENCE (/)
SHARE YOUR DESIGN
INFO SUI COLORI PERSONALIZZATI
Ozone è ben lieta che voi scegliate una combinazioni di colori personalizzata  per la vostra vela. La personalizzazione, in genere, prevede un sovrapprezzo sul costo della vela. Una volta che avete deciso i colori preferiti, potete condividere la vostra scelta con i vostri amici oppure, se avete stabilito di confermare il vostro ordine, potete inviare la vostra scelta al vostro rivenditore Ozone per conoscere il costo aggiuntivo e poi finalizzare l'ordine.
Vi invitiamo a considerare che la vela verrà fabbricata specificatamente per voi nella fabbrica di Ozone, e per questa ragione il pagamento dovrà avvenire prima che la vela vada in produzione.
COLORI DEI TESSUTI E RESISTENZA AGLI UV
Vi invitiamo a considerare che i colori che vedete sul vostro schermo possono non rappresentare accuratamente i colori reali della vostra vela. Inoltre, le differenti specifiche del tessuto, pur con lo stesso nome, possono portare a leggere differenze nel tono della tinta. Vista l'ampia variabilità nella calibrazione dei monitor dei computers, e l'aspetto dei colori nelle differenti situazioni d'illuminazione, è impossibile rappresentare con esattezza su un PC l'aspetto definitivo della vostra vela. Se avete dei dubbi sui colori, guardate le foto delle varie vele sul nostro website, per vedere come appaiono in differenti combinazioni di luce, oppure contattate il vostro rivenditore locale per vedere di persona il tessuto.
Tutti i tessuti che noi impieghiamo, prima venire definitivamente usati in produzione, devono sottostare ad estesi collaudi delle tinte per garantire la tenuta del colore, la stabilità meccanica, la porosità ed in generale la longevità . Quando il tessuto viene scelto per la nostra produzione, al momento del suo arrivo nella nostra fabbrica viene rigorosamente ispezionato in ogni metro del suo rotolo ed i tessuti che non superano i nostri stringenti controlli qualitativi sono restituiti al loro fabbricante. Spesso ci chiedono "Quali colori durano di più o hanno una migliore resistenza agli UV?" Tutti i colori che abbiamo a magazzino raggiungono un punteggio tra 4 e 5 in una scala 1-5, dove 5 è il miglior grado di longevità possibile.
↑