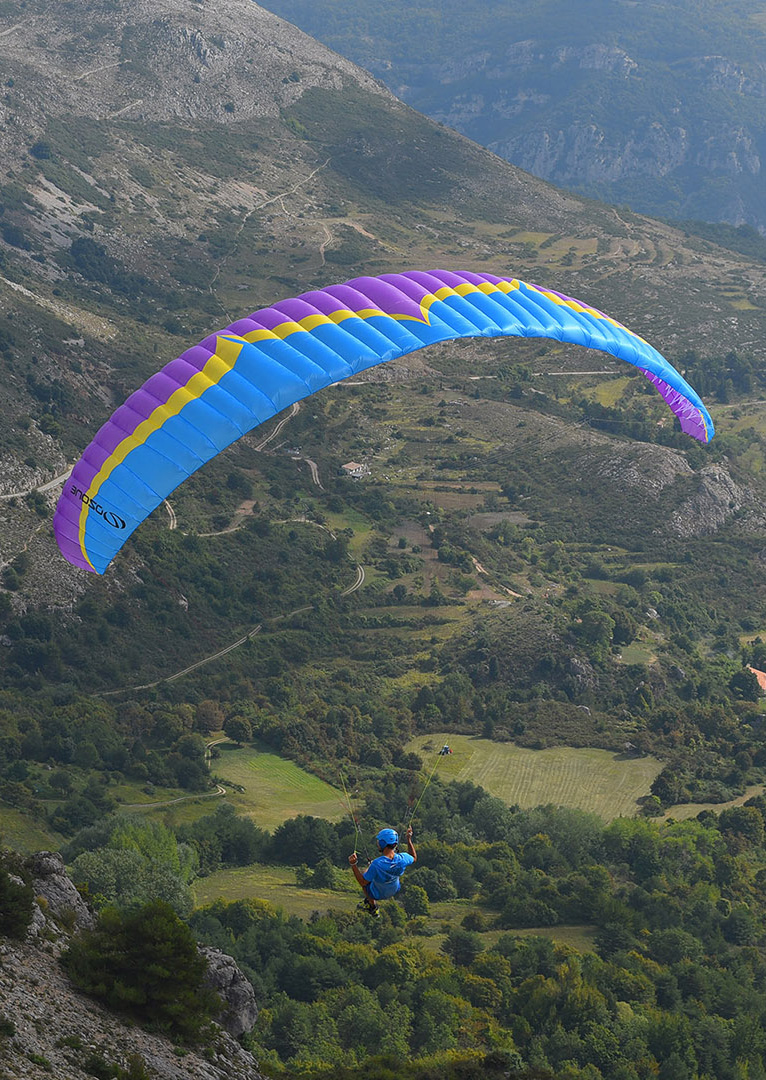 Produktinfo
Der XXLite2 ist ein ultraleichter Einfachsegel Bergschirm entwickelt für ernsthafte Hike & Fly Piloten und Alpinisten. Dieser völlig neue Schirm bietet – im Vergleich zu seinem Vorgänger – deutlich mehr Leistung und ein sehr viel besseres Handling mit höherer Trimmgeschwindigkeit und einfacherem Landen.
DAS VERMÄCHTNIS
Er war der erste seiner Art: 2012 ging mit dem XXLite einer der einzigartigsten und innovativsten Gleitschirme überhaupt in Produktion. In Kombination mit dem F*Lite bietet die XXLite Serie immer noch das leichteste existierende Fluggerät.
TECHNOLOGIE DER NEUEN GENERATION
Der XXLite 2 verfügt über eine einzigartige über die gesamte Spannweite der Anströmkante hinweg mit Luftdruck gefüllte Tube. Somit ist die Anströmkante stabil, was geringere Anstellwinkel, eine höhere Trimmgeschwindigkeit und mehr Beschleunigung erlaubt. Nun vergleichbar mit einem Flügel mit dualer Oberfläche, erweitert der neue Geschwindigkeitsbereich das sicher fliegbare Fenster, und verbessert die Leistung bei realen Bedingungen.
START & LANDUNG
Das Füllverhalten ist immer noch unglaublich leichtgängig. Der Flügel fühlt sich vollkommen leicht an, wenn er über den Kopf steigt – sogar, wenn man die Tragegurte nicht berührt. Die Geschwindigkeit beim Abheben ist gering, und das ermöglicht dir, den Boden mit nur wenigen Schritten zu verlassen. Ganz wichtig: das Landen hat sich sehr verbessert. Die neue Flareleistung ermöglicht sanfte, kontrollierte Landungen, und das sogar bei Nullwind.
IN AKTIVER LUFT
Der XXLite2 ist sehr viel komfortabler und vermittelt deutlich mehr Vertrauen als das Original, und absorbiert Turbulenzen auf eine kontrollierte Art und Weise. Er bietet hervorragende passive Sicherheit, und ist für Piloten mit Intermediate-Fähigkeiten designt. Bei Testmanövern zeigt er sich gutmütig. Über seine EN-Zulassung kannst du hier mehr erfahren.
Erhältlich ist unser neuer Schirm in den Größen 16m und 18m, und bringt in der Größe 16m gerade mal 1,3 kg auf die Waage. Mit seinem winzigen Packvolumen ist der XXLite2 der ultimative Hike & Fly Flügel.
Farbwahl

Bestellinfo
OZONE has some of the shortest lead times in the industry. The current production time is approximately 150 days from order to shipping (updated daily). Contact your dealer to place your order.
Lieferumfang
Dein OZONE Schirm wird standardmäßig mit dem folgenden Zubehör ausgeliefert::
Inner Bag, Glider Strap, OZONE Stickers, Repair Cloth and OZONE Keyring.
You may choose to add something to your order, such as: Saucisse Bag (video) (concertina packing bag), Glider Backpack, Easy Bag (quick stuff sack), or OZONE Clothing and Accessories.
Anfragen
Spezifikationen
| Größen | 16 | 18 |
| --- | --- | --- |
| Number of panels | 39 | 39 |
| Projizierte Fläche (m2) | 13.9 | 15.6 |
| Ausgelegte Fläche (m2) | 16 | 18 |
| projizierte Spannweite (m) | 8.0 | 8.5 |
| ausgelegte Spannweite (m) | 9.5 | 10.1 |
| projizierte Streckung | 4.6 | 4.6 |
| ausgelegte Streckung | 5.6 | 5.6 |
| Flügeltiefe (m) | 2.0 | 2.1 |
| Gleitschirmgewicht (kg) | 1.3 | 1.4 |
| Gewichtsbereich (kg) | 55-90 | 67-105 |
| EN | D | D |
* Weights may vary up to 50gm per size due to slight variations in the manufacturing of the fabric used.
* Weights may vary up to 50gm per size due to slight variations in the manufacturing of the fabric used.
Material
Obersegel: Porcher 7000 E71A

Rippen: Porcher 7000 E29

Galerieleinen: Edelrid 8000U-050/9200-30

mittleres Stockwerk: Edelrid 8000U/190/130/90/50

Stammleinen: Edelrid 8000U230/190/130/90/50

DOWNLOADS
EN D* WHY? THE XXLITE EN CLASSIFICATION
How does a glider with mostly EN A results end up being classified as EN D? The answer stems from a strange political battle that arose after OZONE introduced collapse lines on modern wings such as the popular Delta series, which were opposed by competing companies who had not yet tested this technology. Instead of investigating this new method of glider development, some of our competitors lobbied to "ban" the use of collapse lines. The end result was that any wing using collapse lines to affect the required EN folding methods was given a D rating, even if all tests exhibited EN A behavior.
The XXLite uses a combined A/B line attachment point on the chord. Due to this, it is impossible to pull the correctly sized EN folds (collapses) without collapse lines. With collapse lines the tests are completed properly and the reopening of the collapse occurs in less than one second (EN A result).
Importantly, it must be noted that EN certification does not measure how a collapse is made. It only measures the wing's recovery from collapse.
Many single-skin wings require additional (non-flying) collapse lines to properly execute the EN tests. These testing lines automatically register the wing as EN D even if the resulting recovery from the collapse is "A". Although other test houses appear to have ignored this rule (automatic EN D with use of collapse lines) and were given an overall result below D, we have no intention to mislead pilots, and trust that our customers will understand the flawed test regulations.
The mild character and excellent passive safety of the XXLite can only be understood by reading our description of the wing, not by looking at a misleading EN D classification.
Persönliche Farbwahl
OZONE COLOUR REFERENCE (//)
SHARE YOUR DESIGN
ZUR PERSÖNLICHEN FARBWAHL
Ozone möchte dich dazu anregen, über deine persönliche Farbwahl deinen Schirm individuell so zu gestalten, dass er auch farblich dein Lieblingsstück wird. Diese kundenspezifischen Anfertigungen sind allerdings generell kostenpflichtig. Nachdem du dich entschieden hast, kannst du dein Design mit deinen Freunden teilen, oder – falls du bereits bestellen möchtest – dein Design zu deinem Ozone Händler schicken, um die anfallenden Kosten zu überprüfen, und die definitive Bestellung zu tätigen.
Bitte bedenke, dass es sich um einen kundenspezifischen Schirm handelt, der extra und speziell für dich hergestellt wird. Daher muss die Bezahlung erfolgen, ehe die Produktion deines Schirmes beginnen kann.
TUCHFARBEN UND UV-RESISTENZ
Sei dir bitte darüber im Klaren, dass die Farbe, die du auf deinem Bildschirm siehst, eventuell nicht die tatsächliche Tuchfarbe zeigt. Zudem können unterschiedliche Tücher mit dem gleichen Farbnamen farblich etwas variieren. Wenn man die große Bandbreite an Bildschirmeinstellungen nimmt, und sich dazu das Tuch in variierendem Licht und in verschiedenen Farbkombinationen vorstellt, wird einem klar, dass es unmöglich ist, die jeweiligen Tuchfarben perfekt auf einem Bildschirm darzustellen. Vielleicht ist es hilfreich, farbenbezogen auf Fotos verschiedener Schirme auf unserer Website zu schauen, um sie in variierendem Licht und unterschiedlichen Farbkombinationen zu vergleichen. Und solltest du dann immer noch Zweifel haben wie manche Farben tatsächlich wirken können, dann ist es wohl das beste, deinen Ozone Händler aufzusuchen, um dir bei ihm vor Ort ein Bild zu machen.
Alle Tücher, die wir verarbeiten, unterziehen wir bereits während der "Prototyp Farbphase" ausgiebigen Tests, um Farbechtheit, mechanische Stabilität, Luftdurchlässigkeit und Langlebigkeit sicherzustellen, ehe sie in Produktion gehen. Danach wird jeder einzelne Meter des in Produktion gegangenen Tuches gründlich und präzise inspiziert, sobald es bei uns eintrifft. Ein Tuch, das nicht unseren strengen Qualitätskontrollstandards entspricht, senden wir natürlich umgehend an den Hersteller zurück. Manchmal werden wir gefragt: "Welche Farben halten am längsten oder haben die beste UV-Resistenz?" Alle Farben, die bei uns Verwendung finden, erreichen auf einer Skala von 1 – 5 einen Wert zwischen 4 oder 5, wobei die Skalierung 5 den höchstmöglichen Wert an Langlebigkeit angibt.
↑