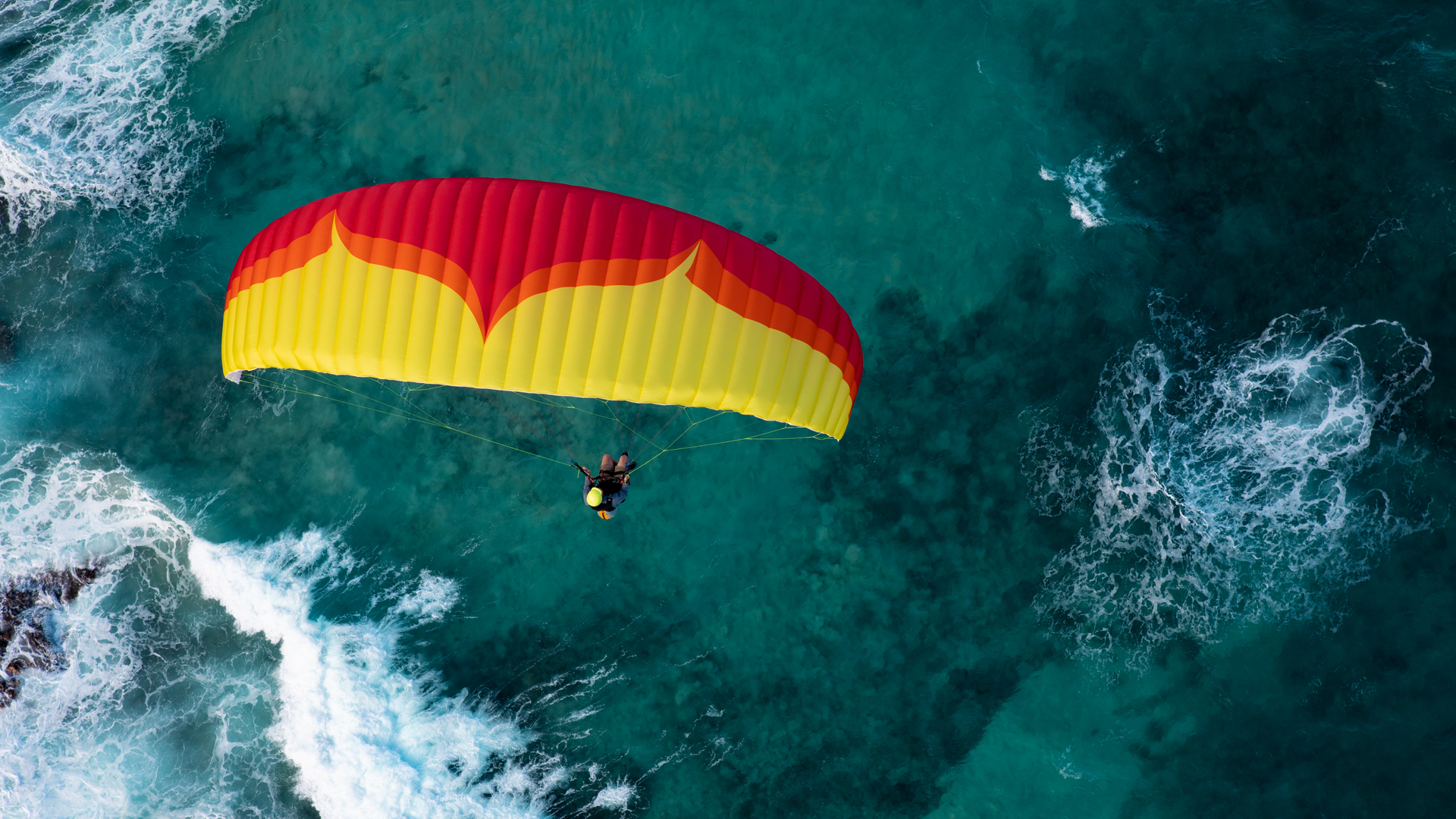 Info prodotto
Le fondamenta dell'Element 3 si basano su 19 anni di continua evoluzione. Progettato in maniera specifica per le scuole ed i principianti, si tratta di una vela incredibilmente facile ed indulgente, ideale per tutti i livelli di istruzione degli allievi, dai loro primi voli fino al veleggiamento, il volo in termica ed oltre.
Andando a sostituire l'Atom 3, l'Element 3 è un progetto completamente nuovo con la tecnologia derivata dalla nostra gamma di vele ad alte prestazioni, ma applicata ad un concetto focalizzato esclusivamente su sicurezza, facilità d'impiego, ed il miglior comportamento possibile in decollo. Il nuovo profilo, il piano funi e la struttura interna, migliorano l'efficienza e la sicurezza passiva pur mantenendo quel carattere indulgente necessario per una vela scuola. L'allungamento moderato ha dimostrato di essere il compromesso ideale per comfort, facilità d'uso e divertimento, consentendo nel contempo, di mantenere eccezionali caratteristiche di sicurezza.
Il gonfiaggio e le manovre al suolo dell'Element 3 sono facili, e lo stesso vale per il decollo. Il gonfiaggio in assenza di vento, pure per il principiante, è facile fin dal primo tentativo anche con una minima trazione, ed il bordo d'attacco rimane tuttavia sempre solido ed aperto. La vela è molto resistente agli input violenti o errati dei principianti. Queste caratteristiche rendono divertenti e sicure le manovre al suolo. Con l'Element 3 gli allievi impareranno alla svelta le basi del pilotaggio e progrediranno con facilità.
In volo, l'Element 3 mantiene la semplicità che ci si aspetta per una vela base. Trasmette una sensazione di solidità ed affidabilità senza eccessivi movimenti di rollio o beccheggio. Una sensazione di progressività nei comandi consente virate controllate e coordinate, ed un flare molto efficace. L'escursione complessiva dei freni è lunga, con una velocità di stallo bassa, il ché rende difficile per un allievo provocare inavvertitamente uno stallo o un negativo.
In generale, l'Element 3 è incredibilmente indulgente ma anche divertente da volare. Si mantiene ben solido e compatto in aria, in modo che il principiante lo possa trovare intuitivo da pilotare, mentre l'istruttore ne apprezzerà il pilotaggio agile e preciso. Le sue prestazioni permetteranno agli allievi di approcciare il veleggiamento in dinamica ed i primi voli in termica come parte della loro progressione, con tutta la sicurezza passiva necessaria durante i loro primi voli. I suoi semplici elevatori sono dotati di un efficace speed system e di un sistema per l'esecuzione delle grandi orecchie che daranno agli istruttori la giusta tranquillità mentale mentre conducono gli allievi a familiarizzare con queste manovre.
Con un intelligente impiego di materiali, scelti per le loro specifiche funzioni, l'Element 3 è progettato sulla base di criteri di longevità ed efficacia. L'Element 3 è certificato EN A e viene prodotto in cinque taglie per un'ampia gamma di pesi, che coprono tutte le necessità. L'Element 3 offre all'allievo tutti gli ingredienti per imparare in sicurezza e progredire velocemente, mentre fornisce alle scuole una piattaforma d'insegnamento affidabile e durevole da impiegare nella loro flotta di vele.
Colori opzionali

ORDERING INFORMATION
OZONE has some of the shortest lead times in the industry. The current production time is approximately 28 days from order to shipping (updated daily). Contact your dealer to place your order.
Contenuto della confezione
OZONE offers a range of backpack choices when you order your wing. To change the type of backpack that will come with your wing, please speak with your OZONE Dealer.
Your OZONE wing is delivered standard with the following accessories:
Medium Backpack, Sacca interna, Fettuccia della vela, Speed Bar, Adesivi OZONE, Tessuto per riparazioni, Portachiavi OZONE.
You may choose to add something to your order, such as: Saucisse Bag (video) (concertina packing bag), Easy Bag (quick stuff sack), or OZONE Clothing and Accessories.
Richieste
Specifiche
| sizes | xXs | XS | S | M | L |
| --- | --- | --- | --- | --- | --- |
| Numero di cassoni | 34 | 34 | 34 | 34 | 34 |
| Superficie proiettata (m2) | 16.8 | 18.7 | 20.4 | 22.1 | 25.1 |
| Superficie reale (m2) | 20 | 22.3 | 24.3 | 26.3 | 29.9 |
| Apertura proiettata (m) | 7.37 | 7.78 | 8.12 | 8.46 | 9 |
| Apertura reale (m) | 9.53 | 10.05 | 10.5 | 10.93 | 11.64 |
| Allungamento proiettato | 3.24 | 3.24 | 3.24 | 3.24 | 3.24 |
| Allungamento reale | 4.54 | 4.54 | 4.54 | 4.54 | 4.54 |
| Corda media (m) | 2.6 | 2.75 | 2.87 | 2.99 | 3.18 |
| Peso vela (kg) | 3.88 | 4.21 | 4.51 | 4.79 | 5.29 |
| Gamma di peso in volo (kg) | 49-70* | 55-75 | 65-90 | 75-105 | 95-125 |
| EN* | | A | A | A | A |
Materiali
Tessuto estradosso: Dominico 30D MF

Tessuto intradosso: Dominico 30D MF

Tessuto centine: Dominico 30D FM

Linee superiori: Liros DSL serie

Linee mediane: Liros DSL serie

Linee inferiori: Edelrid 6843 serie
DOWNLOADS
Colori personalizzati
OZONE COLOUR REFERENCE (//)
ABOUT CUSTOM COLOURS
Ozone encourages you to customize your own personal colour combination for your wing. Customization generally incurs a small fee. Once you've decided you can share your design with your friends, or if you are ready to order, send it to your local Ozone dealer to check if there is a charge and place the final order.
Please note that because the glider will be built specifically for you in the Ozone factory, payment must be received before production can begin.
FABRIC COLOURS AND UV RESISTANCE
Please be aware that the colour you see on your screen may not accurately represent the actual fabric colour. Given the wide varience in monitor calibration and the fabric appearance in different light and colour combinations, it is impossible to perfectly represent fabric colour on screen. If you have any doubts about the colours, look at photos of various wings on our website to see them in different light and colour combinations or contact your local dealer to see the fabric in person.
All of the fabric that we use undergoes extensive testing in prototype colour phase to ensure colourfastness, mechanical stability, porosity, and general longevity before we put it into production. Once our fabric is in production, every meter of it is rigorously inspected upon arrival in our factory, and fabric which does not pass our stringent quality control standards is returned to the manufacturer. We are frequently asked, "Which colours last the longest, or have the best UV resistance?" All of the colours that we stock score between 4 and 5 on a scale of 1-5, with 5 being the highest possible rating for longevity.
↑