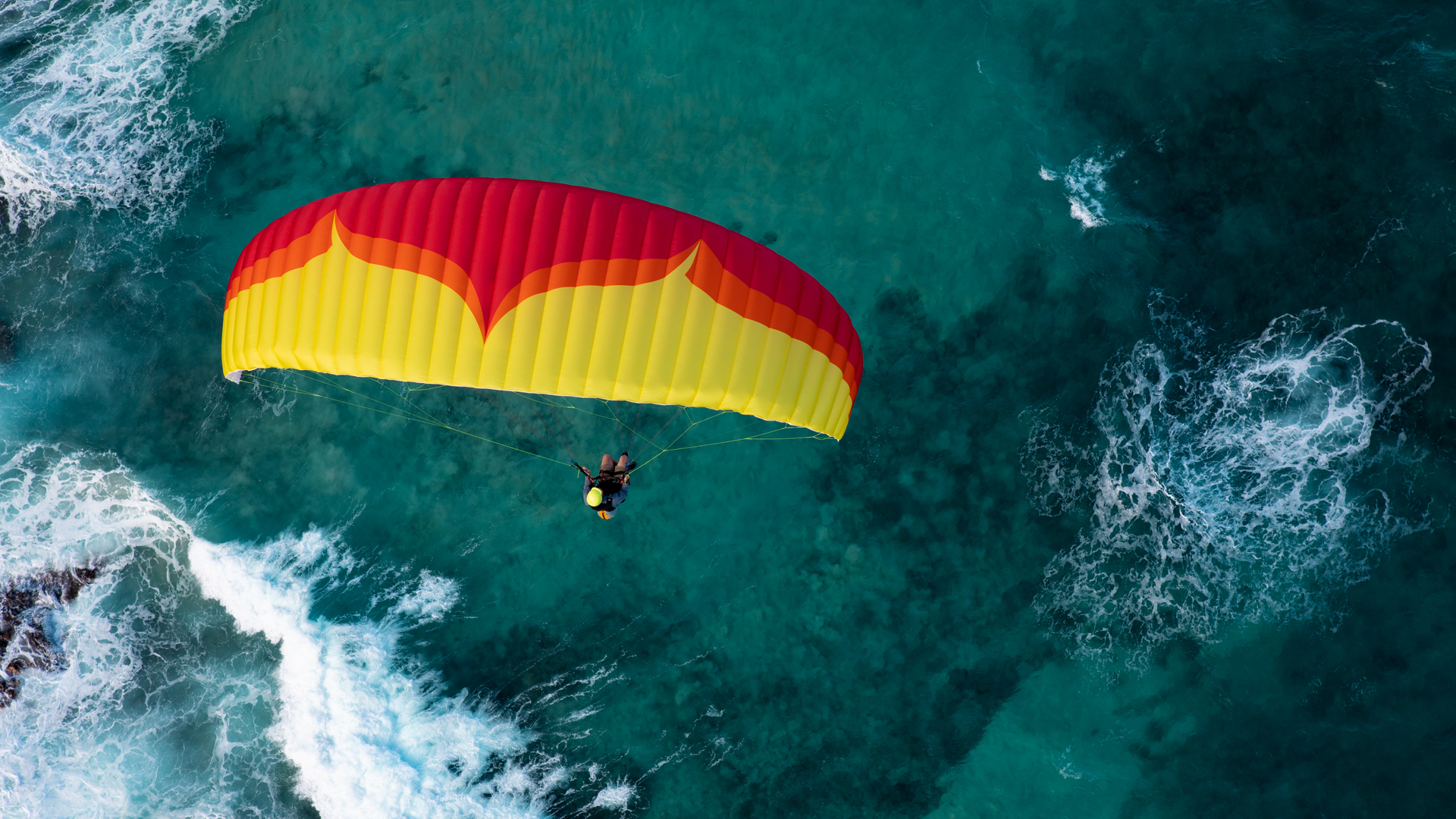 Información
The foundation for the Element 3 is built on nineteen years of continuous development. Designed specifically for schools and beginner pilots, it is an incredibly easy and forgiving wing ideal for all levels of student training, from first flights to soaring, thermalling, and beyond.
Replacing the Atom 3, the Element 3 is a totally new design with features and technology taken from our performance range, but implemented into a concept focused entirely on safety, ease of use, and the best inflation behaviour possible. The new profile, line layout, and internal structure, improves the efficiency and passive safety whilst retaining the forgiving nature required of school wings. The moderate aspect ratio has proven to be the ideal compromise for comfort, ease of use, and fun, whilst maintaining exceptional safety characteristics.
The inflation and ground-handling of the Element 3 are as easy as it gets in paragliding. Inflation in nil-wind conditions is "first-try simple" with the lightest of forward pressure, yet the leading edge remains strong and open. The glider is very resistant to heavy or misguided student inputs. This characteristic makes ground handling fun, and safe. Students will quickly learn the basics with the Element 3, and progress easily.
In the air, the Element 3 retains the simplicity expected of a beginner wing. It feels solid and reliable without unnecessary roll or pitch. A progressive feel in the brakes allows controlled and coordinated turns, and an effective flare. The overall brake range is long, with a slow stall speed, making it very difficult for a student to inadvertently stall or spin the wing.
Overall, the Element 3 is incredibly forgiving yet also enjoyable to fly. It remains tight and compact in the air, so that beginners will find it intuitive to pilot whilst instructors will appreciate the agile and precise handling. Its performance will enable students to start ridge soaring and thermalling as part of their progression, with all the passive safety required during their first flights. The simple risers provide an effective speed system and dedicated big ears kit, which will give instructors peace of mind whilst guiding pilots through these exercises.
With an intelligent use of materials chosen for their specific function, the Element 3 is designed with longevity and cost effectiveness in mind. The Element 3 is EN A certified and comes in five sizes with broad weight ranges, covering all configurations. It offers all of the ingredients for students to learn safely and make quick progress, while providing schools with a dependable and long-lasting platform for their fleet of gliders.
Colores de serie

ORDERING INFORMATION
OZONE has some of the shortest lead times in the industry. The current production time is approximately 28 days from order to shipping (updated daily). Contact your dealer to place your order.
Contenido del paquete
OZONE offers a range of backpack choices when you order your wing. To change the type of backpack that will come with your wing, please speak with your OZONE Dealer.
Your OZONE wing is delivered standard with the following accessories:
Medium Backpack, Inner Bag, Glider Strap, Speed Bar, OZONE Stickers, Repair Cloth and OZONE Keyring.
You may choose to add something to your order, such as: Saucisse Bag (video) (concertina packing bag), Easy Bag (quick stuff sack), or OZONE Clothing and Accessories.
Solicitudes
Especificaciones
| sizes | xXs | XS | S | M | L |
| --- | --- | --- | --- | --- | --- |
| Número de cajones | 34 | 34 | 34 | 34 | 34 |
| Superficie proyectada (m2) | 16.8 | 18.7 | 20.4 | 22.1 | 25.1 |
| Superficie real (m2) | 20 | 22.3 | 24.3 | 26.3 | 29.9 |
| Envergadura proyectada (m) | 7.37 | 7.78 | 8.12 | 8.46 | 9 |
| Envergadura real (m) | 9.53 | 10.05 | 10.5 | 10.93 | 11.64 |
| Alargamiento proyectado | 3.24 | 3.24 | 3.24 | 3.24 | 3.24 |
| Alargamiento real | 4.54 | 4.54 | 4.54 | 4.54 | 4.54 |
| Cuerda central (m) | 2.6 | 2.75 | 2.87 | 2.99 | 3.18 |
| Peso de la vela (kg) | 3.88 | 4.21 | 4.51 | 4.79 | 5.29 |
| Rango de pesos en vuelo (kg) | 49-70* | 55-75 | 65-90 | 75-105 | 95-125 |
| EN* | | A | A | A | A |
Materiales
Top Surface Cloth: Dominico 30D MF

Bottom Surface Cloth: Dominico 30D MF

Rib cloth: Dominico 30D FM

Upper lines: Liros DSL serie

Mid lines: Liros DSL serie

Lower Lines: Edelrid 6843 serie
Descargas
Colores a elegir
OZONE COLOUR REFERENCE (//)
ABOUT CUSTOM COLOURS
Ozone encourages you to customize your own personal colour combination for your wing. Customization generally incurs a small fee. Once you've decided you can share your design with your friends, or if you are ready to order, send it to your local Ozone dealer to check if there is a charge and place the final order.
Please note that because the glider will be built specifically for you in the Ozone factory, payment must be received before production can begin.
FABRIC COLOURS AND UV RESISTANCE
Please be aware that the colour you see on your screen may not accurately represent the actual fabric colour. Given the wide varience in monitor calibration and the fabric appearance in different light and colour combinations, it is impossible to perfectly represent fabric colour on screen. If you have any doubts about the colours, look at photos of various wings on our website to see them in different light and colour combinations or contact your local dealer to see the fabric in person.
All of the fabric that we use undergoes extensive testing in prototype colour phase to ensure colourfastness, mechanical stability, porosity, and general longevity before we put it into production. Once our fabric is in production, every meter of it is rigorously inspected upon arrival in our factory, and fabric which does not pass our stringent quality control standards is returned to the manufacturer. We are frequently asked, "Which colours last the longest, or have the best UV resistance?" All of the colours that we stock score between 4 and 5 on a scale of 1-5, with 5 being the highest possible rating for longevity.
↑