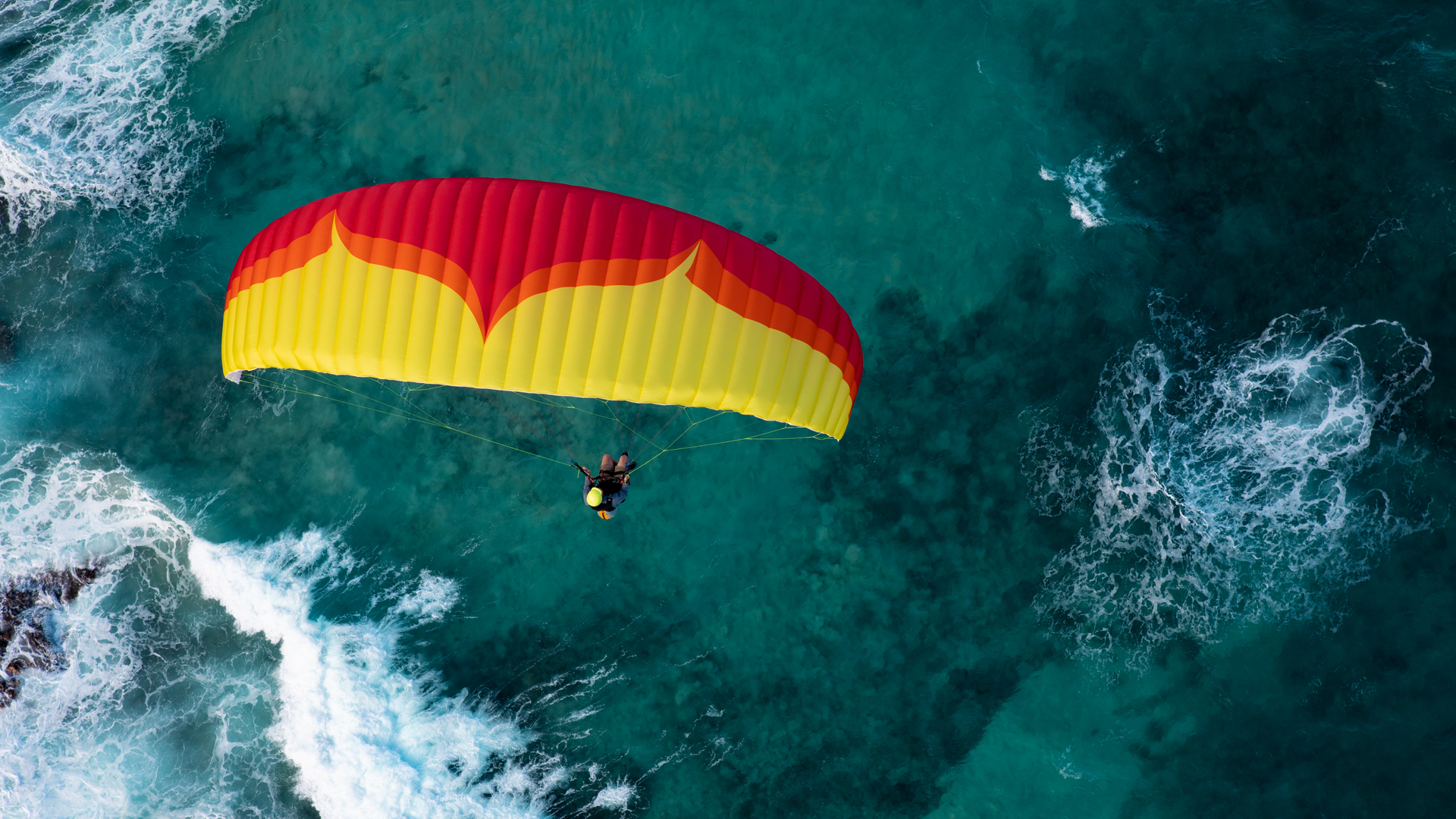 Información
The foundation for the Element 3 is built on nineteen years of continuous development. Designed specifically for schools and beginner pilots, it is an incredibly easy and forgiving wing ideal for all levels of student training, from first flights to soaring, thermalling, and beyond.
Replacing the Atom 3, the Element 3 is a totally new design with features and technology taken from our performance range, but implemented into a concept focused entirely on safety, ease of use, and the best inflation behaviour possible. The new profile, line layout, and internal structure, improves the efficiency and passive safety whilst retaining the forgiving nature required of school wings. The moderate aspect ratio has proven to be the ideal compromise for comfort, ease of use, and fun, whilst maintaining exceptional safety characteristics.
The inflation and ground-handling of the Element 3 are as easy as it gets in paragliding. Inflation in nil-wind conditions is "first-try simple" with the lightest of forward pressure, yet the leading edge remains strong and open. The glider is very resistant to heavy or misguided student inputs. This characteristic makes ground handling fun, and safe. Students will quickly learn the basics with the Element 3, and progress easily.
In the air, the Element 3 retains the simplicity expected of a beginner wing. It feels solid and reliable without unnecessary roll or pitch. A progressive feel in the brakes allows controlled and coordinated turns, and an effective flare. The overall brake range is long, with a slow stall speed, making it very difficult for a student to inadvertently stall or spin the wing.
Overall, the Element 3 is incredibly forgiving yet also enjoyable to fly. It remains tight and compact in the air, so that beginners will find it intuitive to pilot whilst instructors will appreciate the agile and precise handling. Its performance will enable students to start ridge soaring and thermalling as part of their progression, with all the passive safety required during their first flights. The simple risers provide an effective speed system and dedicated big ears kit, which will give instructors peace of mind whilst guiding pilots through these exercises.
With an intelligent use of materials chosen for their specific function, the Element 3 is designed with longevity and cost effectiveness in mind. The Element 3 is EN A certified and comes in five sizes with broad weight ranges, covering all configurations. It offers all of the ingredients for students to learn safely and make quick progress, while providing schools with a dependable and long-lasting platform for their fleet of gliders.
Colores de serie

Cómo hacer un pedido
OZONE has some of the shortest lead times in the industry. The current production time is approximately 27 days from order to shipping (updated daily). Contact your dealer to place your order.
Contenido del paquete
OZONE offers a range of backpack choices when you order your wing. To change the type of backpack that will come with your wing, please speak with your OZONE Dealer.
Tu vela OZONE se entrega de serie con los accesorios siguientes::
Mochila mediana, bolsa interior, cinta de ceñido, acelerador, pegatinas OZONE , tejido para reparaciones y llavero OZONE.
You may choose to add something to your order, such as: Saucisse Bag (video) (concertina packing bag), Easy Bag (quick stuff sack), or OZONE Clothing and Accessories.
Solicitudes
Especificaciones
| Tallas | xXs | XS | S | M | L |
| --- | --- | --- | --- | --- | --- |
| Número de cajones | 34 | 34 | 34 | 34 | 34 |
| Superficie proyectada (m2) | 16.8 | 18.7 | 20.4 | 22.1 | 25.1 |
| Superficie real (m2) | 20 | 22.3 | 24.3 | 26.3 | 29.9 |
| Envergadura proyectada (m) | 7.37 | 7.78 | 8.12 | 8.46 | 9 |
| Envergadura real (m) | 9.53 | 10.05 | 10.5 | 10.93 | 11.64 |
| Alargamiento proyectado | 3.24 | 3.24 | 3.24 | 3.24 | 3.24 |
| Alargamiento real | 4.54 | 4.54 | 4.54 | 4.54 | 4.54 |
| Cuerda central (m) | 2.6 | 2.75 | 2.87 | 2.99 | 3.18 |
| Peso de la vela (kg) | 3.88 | 4.21 | 4.51 | 4.79 | 5.29 |
| Rango de pesos en vuelo (kg) | 45-70 | 55-75 | 65-90 | 75-105 | 95-125 |
| EN | A | A | A | A | A |
Materiales
Tejido extradós: Dominico 30D MF

Tejido intradós: Dominico 30D MF

Tejido costillas: Dominico 30D FM

Cordinos superiores: Liros DSL serie

Cordinos intermedios: Liros DSL serie

Cordinos inferiores: Edelrid 6843 serie
Descargas
Colores a elegir
OZONE COLOUR REFERENCE (//)
SHARE YOUR DESIGN
SOBRE LOS COLORES PERSONALIZADOS
Ozone te anima a que personalices tu vela eligiendo tu propia combinación de colores. La personalización supone un pequeño coste adicional. Una vez hayas decidido tus colores, puede compartir tu diseño con tus amigos, o si ya estás listo para hacer tu pedido, enviárselo a tu distribuidor local de Ozone para que te informe del importe adicional y encargar la vela.
Por favor, ten en cuenta que como esa vela se fabricará exclusivamente para ti en la fábrica de Ozone, el pago debe recibirse antes de que comience a fabricarse.
COLORES DEL TEJIDO Y RESISTENCIA A LOS RAYOS UV
Por favor, ten en cuenta que el color que veas en tu pantalla puede que no represente con precisión el color real del tejido. Dada la amplia variedad en la calibración de las pantallas y el aspecto del tejido bajo diferentes condiciones de luz y combinaciones de colores, resulta imposible representar perfectamente el color del tejido en la pantalla. Si albergas alguna duda sobre los colores, mira las fotos de unas cuantas velas en nuestra página web para verlas bajo luces y combinaciones de colores diferentes o ponte en contacto con tu distribuidor local para ver el tejido en persona.
Todo el tejido que usamos pasa por un exhaustivo proceso de pruebas durante los prototipos, para asegurarnos de que el color se mantiene, de la estabilidad mecánica, la porosidad y la longevidad general, antes de poner ese tejido en producción. Una vez que nuestro tejido está en producción, cada metro del mismo se inspecciona rigurosamente al llegar a nuestra fábrica, y un tejido que no pase nuestros estrictos controles de calidad, se devuelve al fabricante. Con frecuencia nos preguntan qué colores son los que más duran o tienen mayor resistencia a los rayos UV. Todos los colores que empleamos poseen un valor de entre 4 y 5 en una escala que va del 1 al 5, siendo el 5 el valor más alto posible en cuanto a longevidad.
↑