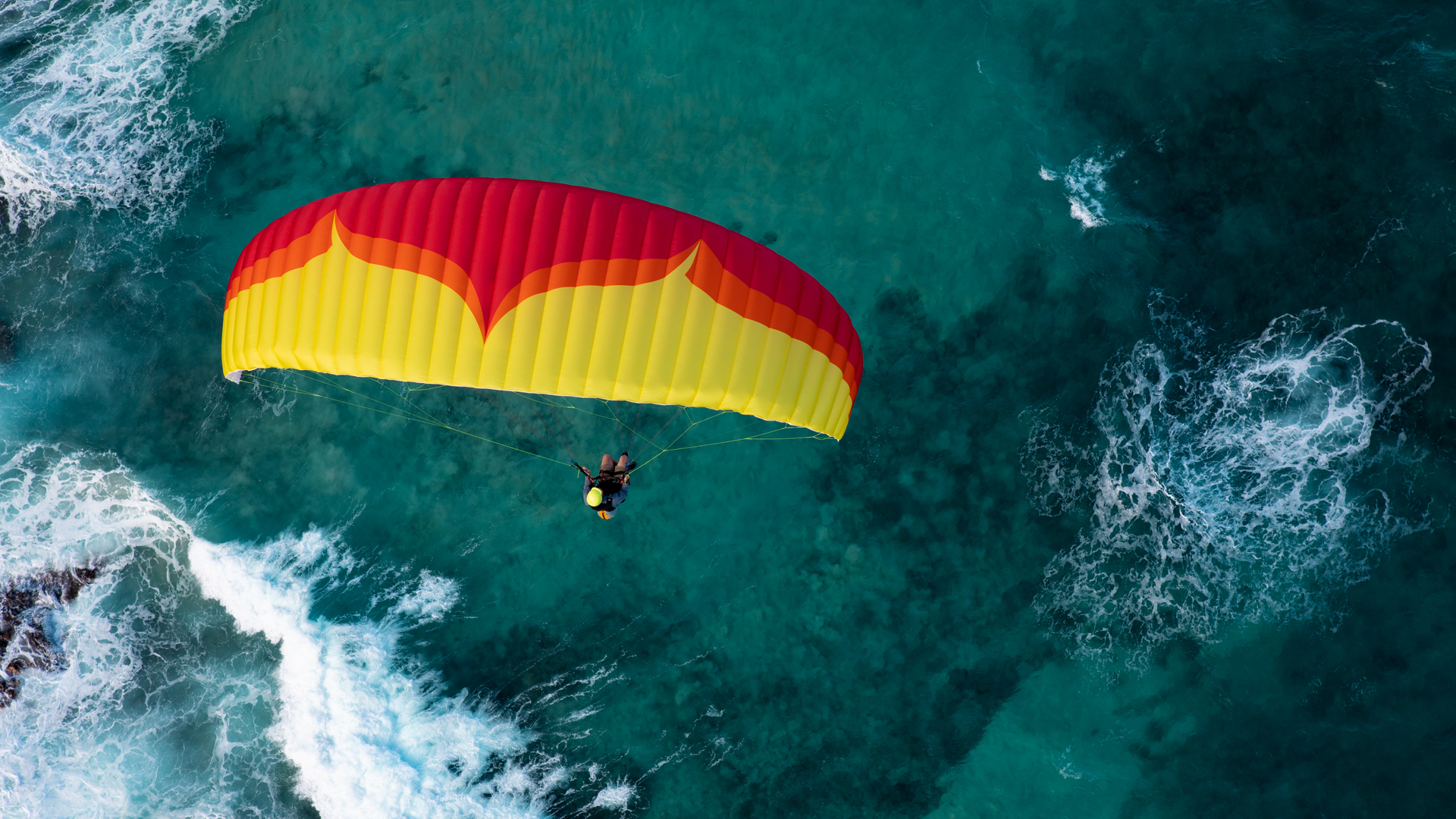 Info Produit
Conçue pour les écoles et les pilotes débutants, l'Element 3 est une voile incroyablement facile et docile, idéale pour les enseignements de tous niveaux : premiers vols, soaring, vols en thermique et plus.
Remplaçante de l'Atom 3, l'Element 3 n'en est pas moins d'une conception nouvelle qui incorpore les nouveautés développées sur nos voiles de performance mises, ici, au service de la sécurité, de la facilité et d'un gonflage irréprochable. Le nouveau profil, la géométrie du suspentage et la structure interne améliorent le rendement et la sécurité passive tout en gardant le caractère docile requis pour une aile école. Nous avons conservé l'allongement modéré qui s'est déjà avéré un compromis idéal entre le confort, la facilité d'utilisation et le caractère joueur tout en assurant un niveau de sécurité exceptionnel.
Avec l'Element 3, le gonflage et le maniement au sol n'ont jamais été aussi faciles. Même sans vent, la voile se gonfle à la moindre pression vers l'avant, sans fragilité du bord d'attaque qui reste solide même en cas d'actions trop fortes ou mal coordonnées d'un débutant. Ces qualités permettent aux élèves de s'amuser sur la pente école en toute sécurité et leur assure une progression rapide et facile.
En vol, l'Element 3 est aussi simple qu'il sied à une aile destinée aux débutants. Solide, amortie en roulis et en tangage comme il le faut, elle met en confiance. La progressivité de l'effort dans la commande de frein permet aux élèves d'obtenir des virages contrôlés et coordonnés, ainsi qu'un arrondi efficace. La course totale des freins est longue et la vitesse de décrochage très basse, ce qui diminue les chances qu'un élève décroche ou mette l'aile en vrille par inadvertance.
Bien que parfaitement docile, l'Element 3 n'en reste pas moins une aile qui procure du plaisir en vol. Avec la sensation de compacité qu'elle donne en vol, les débutants la trouveront intuitive et les moniteurs apprécieront son pilotage agile et précis. L'Element 3 a les performances suffisantes pour autoriser une progression jusqu'au soaring et en ascendances, tout en assurant le niveau de sécurité passive maximale dont les débutants ont besoin lors de leurs premiers vols. Les élévateurs, simples d'usage, sont pourvus d'un système d'accélérateur efficace et d'un « kit oreilles » dédié qui donnera de la tranquillité d'esprit aux moniteurs pendant qu'ils font faire cet exercice.
Avec un choix des matériaux optimisé pour chaque fonction, l'Element 3 est conçue pour durer et minimiser les coûts. Certifiée EN A et disponible en cinq tailles, elle couvre une large gamme de poids pour s'adapter à toutes les configurations. Nous avons mis dans l'Element 3 tous les ingrédients pour assurer aux débutants un apprentissage rapide et sûr, et procurer aux écoles une aile sur laquelle elles peuvent compter pour longtemps.
Options de Couleurs

Information relative aux commandes
OZONE has some of the shortest lead times in the industry. The current production time is approximately 67 days from order to shipping (updated daily). Contact your dealer to place your order.
Contenu du package
OZONE offers a range of backpack choices when you order your wing. To change the type of backpack that will come with your wing, please speak with your OZONE Dealer.
Your OZONE wing is delivered standard with the following accessories:
Sac à dos Medium, Sac Interne, Sangle de Compression, Accélérateur, Auto-collants OZONE, Kit de Réparation et Porte-clé OZONE.
You may choose to add something to your order, such as: Saucisse Bag (video) (concertina packing bag), Easy Bag (quick stuff sack), or OZONE Clothing and Accessories.
Requetes
SPECIFICATIONS
| Tailles | xXs | XS | S | M | L |
| --- | --- | --- | --- | --- | --- |
| Nombre de cellules | 34 | 34 | 34 | 34 | 34 |
| Surface projetée (m2) | 16.8 | 18.7 | 20.4 | 22.1 | 25.1 |
| Surface à plat (m2) | 20 | 22.3 | 24.3 | 26.3 | 29.9 |
| Envergure projetée (m) | 7.37 | 7.78 | 8.12 | 8.46 | 9 |
| Envergure à plat (m) | 9.53 | 10.05 | 10.5 | 10.93 | 11.64 |
| Allongement projeté | 3.24 | 3.24 | 3.24 | 3.24 | 3.24 |
| Allongement à plat | 4.54 | 4.54 | 4.54 | 4.54 | 4.54 |
| Corde | 2.6 | 2.75 | 2.87 | 2.99 | 3.18 |
| Poids de l'aile | 3.88 | 4.21 | 4.51 | 4.79 | 5.29 |
| Fourchette de poids en vol (kg) | 45-70 | 55-75 | 65-90 | 75-105 | 95-125 |
| EN | A | A | A | A | A |
Matériaux
Tissus d'Extrados : Dominico 30D MF

Tissus d'Intrados : Dominico 30D MF

Tissus de Structure Interne : Dominico 30D FM

Suspentes hautes : Liros DSL

Suspentes intermédiaires : Liros DSL

Suspentes basses : Edelrid 6843
Téléchargements
Coloris Personnalisés
OZONE COLOUR REFERENCE (//)
SHARE YOUR DESIGN
ABOUT CUSTOM COLOURS
Ozone encourages you to customize your own personal colour combination for your wing. Customization generally incurs a fee. Once you've decided you can share your design with your friends, or if you are ready to order, send it to your local Ozone dealer to verify the charge and place the final order.
Please note that because the glider will be built specifically for you in the Ozone factory, payment must be received before production can begin.
FABRIC COLOURS AND UV RESISTANCE
Please be aware that the colour you see on your screen may not accurately represent the actual fabric colour. Secondly, different cloths specifications with the same color name may vary slightly, please see here for an example. Given the wide varience in monitor calibration and the fabric appearance in different light and colour combinations, it is impossible to perfectly represent fabric colour on screen. If you have any doubts about the colours, look at photos of various wings on our website to see them in different light and colour combinations or contact your local dealer to see the fabric in person.
All of the fabric that we use undergoes extensive testing in prototype colour phase to ensure colourfastness, mechanical stability, porosity, and general longevity before we put it into production. Once our fabric is in production, every meter of it is rigorously inspected upon arrival in our factory, and fabric which does not pass our stringent quality control standards is returned to the manufacturer. We are frequently asked, "Which colours last the longest, or have the best UV resistance?" All of the colours that we stock score between 4 and 5 on a scale of 1-5, with 5 being the highest possible rating for longevity.
↑