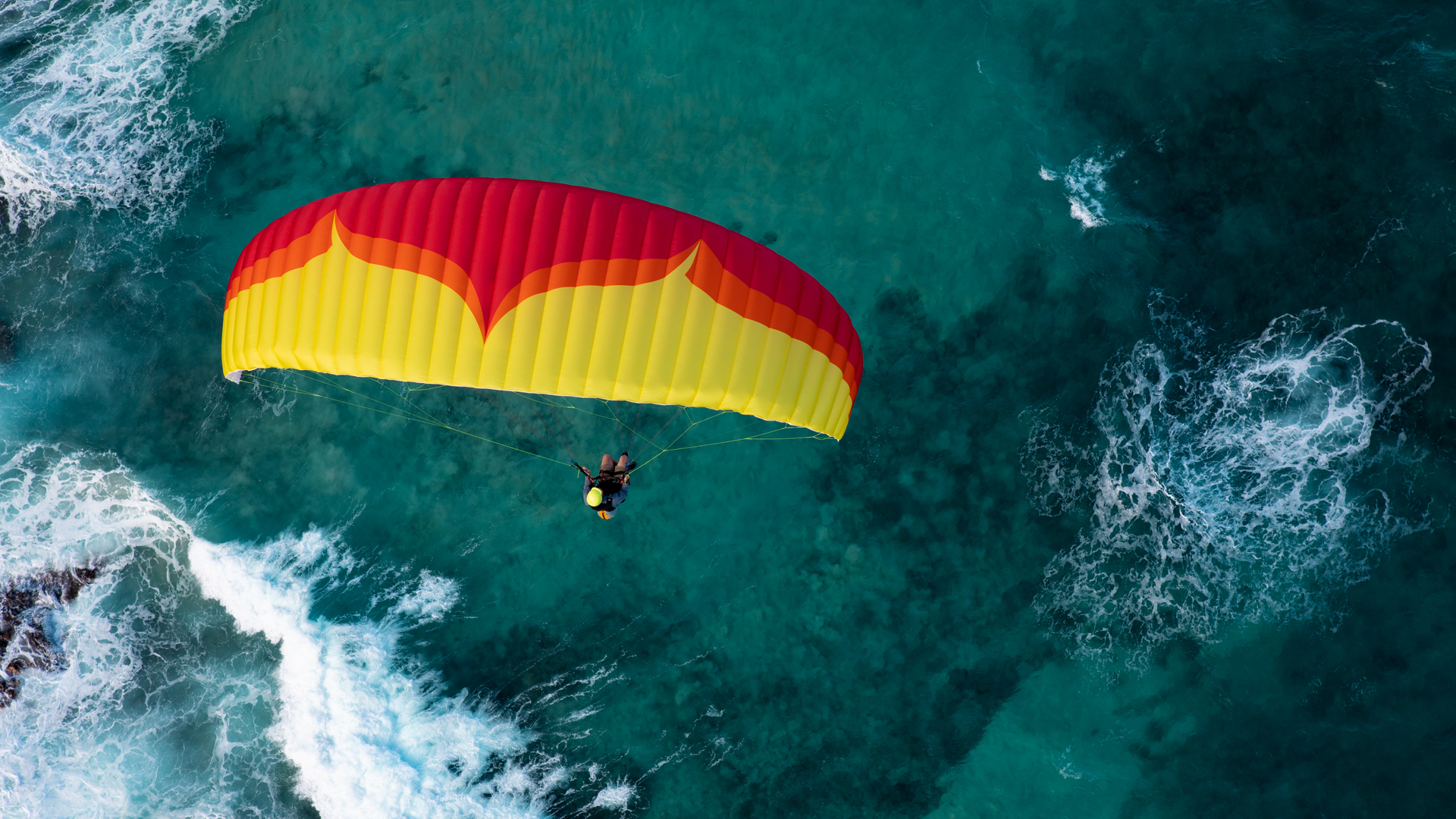 Produktinfo
Die Basis für den Element 3 bildet ein kontinuierlicher Entwicklungsprozess über 19 Jahre hinweg. Dieser Schirm wurde speziell für Schulen und Flugschüler entwickelt. Er ist unglaublich einfach und fehlerverzeihend, und daher der ideale Flügel für alle Stufen des Schultrainings: von den ersten Flügen bis hin zum Soaren und Thermik Fliegen und darüber hinaus.
Der Element 3 ersetzt den Atom 3, und ist ein völlig neues Design mit Features und Technologie unserer Leistungspalette, eingebettet in ein Konzept, das völlig auf Sicherheit und einfache Handhabung sowie dem bestmöglichen Füllverhalten fokussiert ist. Das neue Profil, das Leinen Layout und die Innenstruktur verbessern Effizienz und passive Sicherheit, während sie für die fehlerverzeihende Charakteristik sorgen, die ein Schulschirm benötigt. Die moderate Streckung hat sich als idealer Kompromiss erwiesen zwischen Komfort, einfacher Handhabung und Spaß beim Fliegen, während sie außerordentliche Sicherheitseigenschaften unterstützt.
Aufziehen und Bodenhandling sind mit dem Element 3 so einfach wie es beim Gleitschirmfliegen nur möglich sein kann. Das Füllen und Aufziehen bei Nullwind gelingt mit ganz wenig Druck leicht beim ersten Versuch, wobei die Anströmkante kräftig und geöffnet bleibt. Der Schirm ist sehr resistent gegenüber heftigen oder irreführenden Schüler-Inputs. Diese Eigenschaften machen das Bodenhandling zum sicheren Vergnügen. Flugschüler werden das Basiswissen mit dem Element 3 schnell erlernen, und sich mühelos und mit Freude weiterentwickeln.
In der Luft gibt sich der Element 3 so simpel im besten Sinne, wie man es von einem Schulschirm erwartet. Er fühlt sich solide und verlässlich an, und zeigt kein unnötiges Nicken oder Rollen. Ein progressives Gefühl beim Umgang mit den Bremsen ermöglicht kontrollierte und koordinierte Kurven und ein effektives Flaren. Der Bremsbereich ist insgesamt lang, und das macht es in Kombination mit der geringen Stallgeschwindigkeit einem Schüler sehr schwer, den Schirm unabsichtlich zu Stallen oder in den Spin zu geraten.
Insgesamt ist der Element 3 unglaublich fehlerverzeihend, und dennoch macht es viel Spaß ihn zu fliegen. Er bleibt in der Luft straff und kompakt, so dass Anfänger intuitiv pilotieren werden, während Fluglehrer das agile und präzise Handling zu schätzen wissen. Seine Leistung wird es Flugschülern ermöglichen, das Soaren und Thermik Fliegen während ihrer Ausbildung zu erlernen, und dabei sind sie mit all der nötigen passiven Sicherheit unterwegs, die vor allem für die ersten Flüge so wichtig ist. Die übersichtlichen Tragegurte sind mit einem effektiven Beschleunigungssystem und einer Ohren-Anleghilfe ausgestattet, was den Fluglehrern dabei hilft, gelassen ihre Schüler und Piloten durch diese Übungen zu führen.
Der Element 3 verfügt auch dank einer besonderen Materialwahl über alle wichtigen und entscheidenden Eigenschaften, die einen perfekten Schulschirm ausmachen um mit ihm freudvoll diesen schönen Sport des Gleitschirmfliegens zu erlernen: ein niedriger Preis, hohe Belastbarkeit und Strapazierfähigkeit, eine durchwegs einfache Handhabung und kompromisslose Sicherheit machen diesen Schirm zur idealen Wahl für Schulen. Der Element 3 ist EN A zugelassen, und ist in 5 Größen mit jeweils großen Gewichtsbereichen erhältlich um alle Bedürfnisse abzudecken. Er bringt für Flugschüler alles mit um sicher zu lernen und dabei schnell Fortschritte zu machen. Und Schulen erweitern mit ihm ihre Gleitschirmflotte um einen verlässlichen, langlebigen Flügel.
Farbwahl

Bestellinfo
OZONE has some of the shortest lead times in the industry. The current production time is approximately 77 days from order to shipping (updated daily). Contact your dealer to place your order.
Lieferumfang
OZONE offers a range of backpack choices when you order your wing. To change the type of backpack that will come with your wing, please speak with your OZONE Dealer.
Dein OZONE Schirm wird standardmäßig mit dem folgenden Zubehör ausgeliefert::
Rucksack "Medium", Innensack, Gleitschirmgurt, Speed Bar, OZONE Aufkleber, Reparaturtuch, OZONE Schlüsselanhänger.
You may choose to add something to your order, such as: Saucisse Bag (video) (concertina packing bag), Easy Bag (quick stuff sack), or OZONE Clothing and Accessories.
Anfragen
Spezifikationen
| Größen | xXs | XS | S | M | L |
| --- | --- | --- | --- | --- | --- |
| Anzahl der Zellen | 34 | 34 | 34 | 34 | 34 |
| projizierte Fläche (m2) | 16.8 | 18.7 | 20.4 | 22.1 | 25.1 |
| Ausgelegte Fläche (m2) | 20 | 22.3 | 24.3 | 26.3 | 29.9 |
| projizierte Spannweite (m) | 7.37 | 7.78 | 8.12 | 8.46 | 9 |
| ausgelegte Spannweite (m) | 9.53 | 10.05 | 10.5 | 10.93 | 11.64 |
| projizierte Streckung | 3.24 | 3.24 | 3.24 | 3.24 | 3.24 |
| ausgelegte Streckung | 4.54 | 4.54 | 4.54 | 4.54 | 4.54 |
| Flügeltiefe (m) | 2.6 | 2.75 | 2.87 | 2.99 | 3.18 |
| Gleitschirmgewicht (kg) | 3.88 | 4.21 | 4.51 | 4.79 | 5.29 |
| Gewichtsbereich (kg) | 45-70 | 55-75 | 65-90 | 75-105 | 95-125 |
| EN | A | A | A | A | A |
Material
Obersegel: Dominico 30D MF

Untersegel: Dominico 30D MF

Rippen: Dominico 30D FM

Galerie: Liros DSL series

mittleres Stockwerk: Liros DSL series

Stammleinen: Edelrid 6843 series
DOWNLOADS
Persönliche Farbwahl
OZONE COLOUR REFERENCE (//)
SHARE YOUR DESIGN
ABOUT CUSTOM COLOURS
Ozone encourages you to customize your own personal colour combination for your wing. Customization generally incurs a fee. Once you've decided you can share your design with your friends, or if you are ready to order, send it to your local Ozone dealer to verify the charge and place the final order.
Please note that because the glider will be built specifically for you in the Ozone factory, payment must be received before production can begin.
FABRIC COLOURS AND UV RESISTANCE
Please be aware that the colour you see on your screen may not accurately represent the actual fabric colour. Secondly, different cloths specifications with the same color name may vary slightly, please see here for an example. Given the wide varience in monitor calibration and the fabric appearance in different light and colour combinations, it is impossible to perfectly represent fabric colour on screen. If you have any doubts about the colours, look at photos of various wings on our website to see them in different light and colour combinations or contact your local dealer to see the fabric in person.
All of the fabric that we use undergoes extensive testing in prototype colour phase to ensure colourfastness, mechanical stability, porosity, and general longevity before we put it into production. Once our fabric is in production, every meter of it is rigorously inspected upon arrival in our factory, and fabric which does not pass our stringent quality control standards is returned to the manufacturer. We are frequently asked, "Which colours last the longest, or have the best UV resistance?" All of the colours that we stock score between 4 and 5 on a scale of 1-5, with 5 being the highest possible rating for longevity.
↑