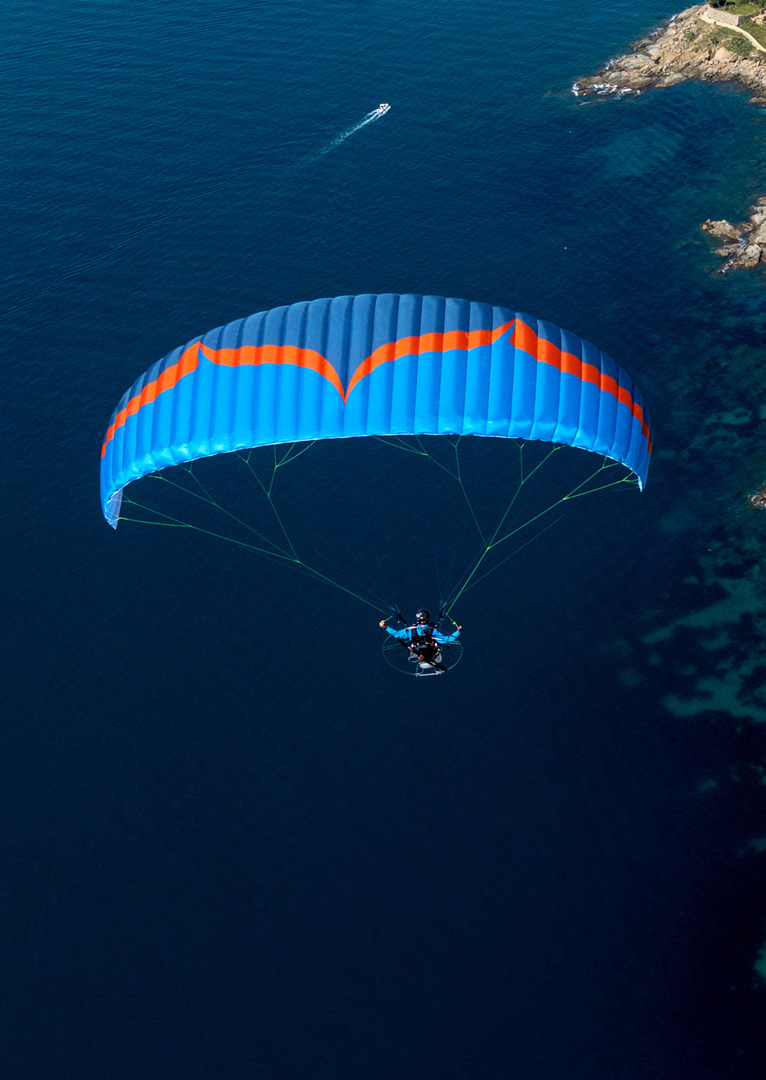 Información
La Spark 2 es una vela de paramotor diseñada específicamente para escuelas y pilotos principiantes. Basada en el Element 3, la Spark 2 es increíblemente fácil y benigna perdonando errores del piloto, lo que la convierte en ideal para todos los niveles de la enseñanza. La Spark 2 incorpora tecnologías tomadas de nuestros modelos de mayor rendimiento, pero implementadas en un concepto muy enfocado hacia la seguridad, que perdone errores y que tenga un excelente comportamiento en el inflado. El nuevo perfil, geometría del suspentaje y estructura interna mejoran la eficiencia y la seguridad pasiva al tiempo que se retiene la naturaleza indulgente requerida en una vela de escuela. El planforma conserva un alargamiento moderado que ha demostrado ser un buen compromiso de confort, facilidad de uso y disfrute, al tiempo que conserva unas excepcionales características de seguridad.
Se ha prestado especial atención al comportamiento en el inflado y al manejo en tierra, para facilitar al máximo los despegues con motor. Con viento cero, el inflado es increíblemente fácilmente la Spark 2 se levanta con un mínimo tirón, y el borde de ataque conserva su forma aunque reciba gestos pesados. La Spark 2 se mantiene arriba con brisas ligerísimas, y perdona gestos erróneos. Esta cualidad hace que elñ manejo en el suelo sea a la vez seguro y divertido.
Una vez en el aire, la Spark 2 es sencilla de volar. Está amortiguada en alabeo y cabeceo, con una presión de frenos progresiva que permite girar de manera controlada y coordinada. El recorrido total del freno es largo, con una velocidad de pérdida muy baja, lo que hace que sea muy difícil que los alumnos puedan dejarla de manera inadvertida en negativo o en pérdida. Aunque es una vela que perdona muchísimo, la Spark 2 también es divertida de volar, sólida y compacta en el aire, y los principiantes la encontrarán intuitiva, mientras que los instructores apreciarán su mando ágil y preciso. Su excelente rendimiento en tasa de caída le permite despegar en seguida y que el consumo de combustible sea bajo.
Las bandas son sencillas y llevan un eficaz sistema de trimmers, así como un acelerador de recorrido corto que ofrece suficiente velocidad y solidez como para que los instructores puedan estar tranquilos mientras guían a sus alumnos en esos ejercicios.
Probada en vuelo con el estándar EN 926.2, la Spark 2 está aprobada por la DGAC y disponible en 3 tallas con las que abarca un amplio rango de pesos de piloto. Su facilidad de uso en general y la seguridad sin compromisos se combinan para hacer de la Spark 2 una herramienta de trabajo que apreciarán instructores y escuelas.
* Esta vela ha superado los criterios exigidos por la DGAC y ha pasado las pruebas de carga según la norma EN 926-1. Además de nuestras exhaustivas pruebas, también ha sido probada de manera independiente según la norma EN 926-2, con los trimmers en la posición lenta. Soltar los trimmers o volar fuera del rango de pesos con los que ha obtenido la homologación EN, invalida dicha homologación.
Tal y como se entrega, la vela no cumple la norma EN 926-2 estándar debido a que las bandas llevan sistemas de trimmer y acelerador.
Colores de serie

Cómo hacer un pedido
OZONE has some of the shortest lead times in the industry. The current production time is approximately 67 days from order to shipping (updated daily). Contact your dealer to place your order.
Contenido del paquete
OZONE offers a range of backpack choices when you order your wing. To change the type of backpack that will come with your wing, please speak with your OZONE Dealer.
Tu vela OZONE se entrega de serie con los accesorios siguientes::
EasyBag Backpack, Inner Bag, Glider Strap, OZONE Stickers, Repair Cloth, OZONE Keyring.
You may choose to add something to your order, such as: Saucisse Bag (video) (concertina packing bag), Glider Backpack, or OZONE Clothing and Accessories.
Solicitudes
Especificaciones
| Tallas | 25 | 27 | 30 |
| --- | --- | --- | --- |
| Number of cells | 34 | 34 | 34 |
| Superficie proyectada (m2) | 20.4 | 22.1 | 25.1 |
| Superficie real (m2) | 24.3 | 26.3 | 29.9 |
| Envergadura proyectada (m) | 8.12 | 8.46 | 9 |
| Envergadura real (m) | 10.5 | 10.93 | 11.64 |
| Alargamiento proyectado | 3.24 | 3.24 | 3.24 |
| Alargamiento real | 4.54 | 4.54 | 4.54 |
| Cuerda central (m) | 2.87 | 2.99 | 3.18 |
| Peso de la vela (kg) | 4.51 | 4.79 | 5.29 |
| DGAC Approved | yes | yes | yes |
| PPG (DGAC) Weight Range (kg) | 65-110 | 75-125 | 95-140 |
| Load Test 5.25G | 226 kg | 226 kg | 226 kg |
| PG (EN) Weight Range (kg) | 65-90 | 75-105 | 95-125 |
| EN | A* | A* | A* |
| Load Test 8G | 148 kg | 148 kg | 148 kg |
* Flight tested to the EN 926-2 standard with the trimmers set to the slow position.
Materiales
Top Surface Cloth: Dominico 30D MF

Bottom Surface Cloth: Dominico 30D MF

Rib cloth: Dominico 30D FM

Upper lines: Liros DSL serie

Mid lines: Liros DSL serie

Lower Lines: Edelrid 6843 serie
Descargas
Colores a elegir
OZONE COLOUR REFERENCE (//)
SHARE YOUR DESIGN
ABOUT CUSTOM COLOURS
Ozone encourages you to customize your own personal colour combination for your wing. Customization generally incurs a fee. Once you've decided you can share your design with your friends, or if you are ready to order, send it to your local Ozone dealer to verify the charge and place the final order.
Please note that because the glider will be built specifically for you in the Ozone factory, payment must be received before production can begin.
FABRIC COLOURS AND UV RESISTANCE
Please be aware that the colour you see on your screen may not accurately represent the actual fabric colour. Secondly, different cloths specifications with the same color name may vary slightly, please see here for an example. Given the wide varience in monitor calibration and the fabric appearance in different light and colour combinations, it is impossible to perfectly represent fabric colour on screen. If you have any doubts about the colours, look at photos of various wings on our website to see them in different light and colour combinations or contact your local dealer to see the fabric in person.
All of the fabric that we use undergoes extensive testing in prototype colour phase to ensure colourfastness, mechanical stability, porosity, and general longevity before we put it into production. Once our fabric is in production, every meter of it is rigorously inspected upon arrival in our factory, and fabric which does not pass our stringent quality control standards is returned to the manufacturer. We are frequently asked, "Which colours last the longest, or have the best UV resistance?" All of the colours that we stock score between 4 and 5 on a scale of 1-5, with 5 being the highest possible rating for longevity.
↑