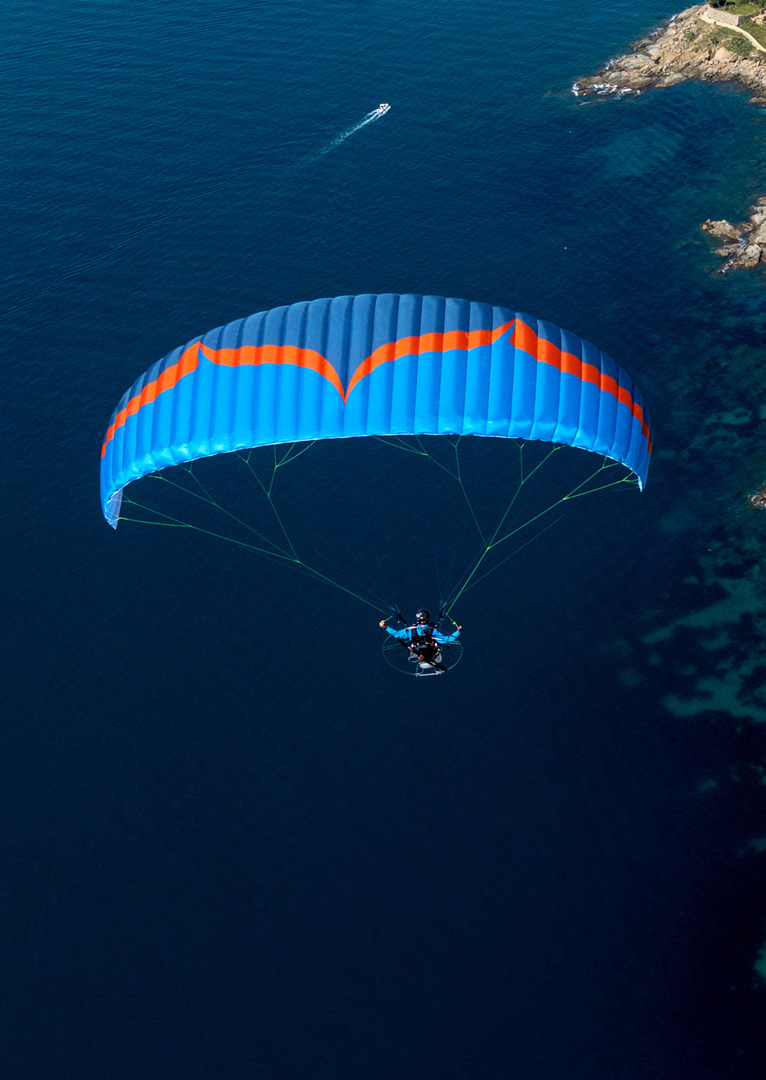 Produktinfo
Der Spark 2 ist ein speziell für Schüler und Anfänger entwickelter PPG Flügel. Er basiert auf dem Element 3, und ist ein unglaublich einfacher und Fehler verzeihender Schirm, der sich ideal für alle Bereiche der Schulung eignet. Der Spark 2 verfügt über Technologien unserer Hochleistungsmodelle, wobei die Module in ein Konzept eingebettet wurden, das sehr stark auf Sicherheit, Fehler verzeihendes Verhalten und hervorragendes Aufziehverhalten ausgerichtet ist. Das neue Profil, der Leinenplan und die Innenstruktur verbessern die Effektivität und passive Sicherheit, während er von Natur aus so Fehler verzeihend reagiert, wie es ein Schulschirm tun sollte. Die Schnittform zeigt eine moderate Streckung, die sich bereits als guter Kompromiss von Komfort, einfacher Handhabung und Spaßfaktor erwiesen hat, während sie außerordentliche Sicherheitseigenschaften beibehält.
Besondere Aufmerksamkeit wurde dem Füllverhalten und den Eigenschaften beim Bodenhandling gewidmet, um das Motor unterstützte Fliegen so einfach wie möglich zu machen. Bei Nullwind füllt sich der Schirm unglaublich leicht, und der Spark 2 lässt sich mit leichtestem Vorwärtsdruck aufziehen, wobei die Anströmkante sogar bei harten Inputs stark und offen bleibt. Bei leichtestem Wind bleibt der Spark 2 über Kopf, und verzeiht fehlgeleitete Inputs. Diese Qualitäten machen das Bodenhandling sicher, und somit auch den Spaßfaktor.
In der Luft ist der Spark 2 einfach zu fliegen. Roll- und Pitchverhalten sind gedämpft, und die Bremsen arbeiten für einen kontrollierten und koordinierten Kurvenflug progressiv. Der gesamte Bremsbereich ist lang, mit einer sehr langsamen Stallgeschwindigkeit, was es für Schüler sehr schwierig macht, den Schirm unabsichtlich zu stallen oder in den Spin zu bringen. Es macht sehr viel Spaß, den Spark 2 zu fliegen, der in der Luft recht kompakt ist. Für Anfänger ist er intuitiv zu fliegen, und Fluglehrer werden sein agiles und präzises Handling schätzen. Die ausgezeichnete Sinkgeschwindigkeit ermöglicht schnelle Starts und einen effizienten Spritverbrauch.
Die Tragegurte sind simpel gehalten, und verfügen über ein effektives Trimmersystem und ein Speedsystem mit kurzen Wegen, das genügend Geschwindigkeit bietet um Fluglehrer nicht aus ihrer inneren Ruhe zu bringen, während sie ihre Schüler anleiten.
Der Spark 2 ist im Flug nach EN Standard 926.2 und DGAC getestet, und in 3 Größen erhältlich, um viele Gewichtsbereiche einzuschließen. Die insgesamt einfache Handhabung und kompromisslose Sicherheit machen den Spark 2 zum favorisierten Arbeitstier für Fluglehrer und Schulen.
*Dieser Schirm hat die erforderlichen Kriterien nach DGAC erfüllt, und wurde zum EN Standard 926-1 Last getestet. Zusätzlich zu unseren eigenen ausgiebigen Tests, ist er auch unabhängigen Flugtests unterzogen worden, und zwar zum EN Standard 926-2 mit den Trimmern in der langsamen Position. Das Öffnen der Trimmer, oder das Fliegen außerhalb des EN zugelassenen Gewichtsbereichs führt zum Erlöschen jeder EN Flugzulassung.
Wie ausgeliefert entspricht der Schirm wegen des Beschleunigers und Trimmersystems an den Tragegurten nicht dem EN 926-2 Standard.
Farbwahl

Bestellinfo
OZONE has some of the shortest lead times in the industry. The current production time is approximately 62 days from order to shipping (updated daily). Contact your dealer to place your order.
Lieferumfang
Dein OZONE Schirm wird standardmäßig mit dem folgenden Zubehör ausgeliefert::
Innensack, Gleitschrimgurt, OZONE Aufkleber, Reparaturtuch, OZONE Schlüsselanhänger.
You may choose to add something to your order, such as: Saucisse Bag (video) (concertina packing bag), Glider Backpack, or OZONE Clothing and Accessories.
Anfragen
Spezifikationen
| Größen | 25 | 27 | 30 |
| --- | --- | --- | --- |
| Anzahl der Zellen | 34 | 34 | 34 |
| Projizierte Fläche (m2) | 20.4 | 22.1 | 25.1 |
| Ausgelegte Fläche (m2) | 24.3 | 26.3 | 29.9 |
| projizierte Spannweite (m) | 8.12 | 8.46 | 9 |
| ausgelegte Spannweite (m) | 10.5 | 10.93 | 11.64 |
| projizierte Streckung | 3.24 | 3.24 | 3.24 |
| ausgelegte Streckung | 4.54 | 4.54 | 4.54 |
| Flügeltiefe (m) | 2.87 | 2.99 | 3.18 |
| Gleitschirmgewicht (kg) | 4.51 | 4.79 | 5.29 |
| DGAC Approved | yes | yes | yes |
| PPG (DGAC) Weight Range (kg) | 65-110 | 75-125 | 95-140 |
| Load Test 5.25G | 226 kg | 226 kg | 226 kg |
| PG (EN) Weight Range (kg) | 65-90 | 75-105 | 95-125 |
| EN | A* | A* | A* |
| Load Test 8G | 148 kg | 148 kg | 148 kg |
* Flug getestet zum EN 926-2 Standard mit den Trimmern in der langsamen Position.
Material
Obersegel: Dominico 30D MF

Untersegel: Dominico 30D MF

Rippen: Dominico 30D FM

Galerie: Liros DSL serie

mittleres Stockwerk: Liros DSL serie

Stammleinen: Edelrid 6843 serie
DOWNLOADS
Persönliche Farbwahl
OZONE COLOUR REFERENCE (//)
SHARE YOUR DESIGN
ABOUT CUSTOM COLOURS
Ozone encourages you to customize your own personal colour combination for your wing. Customization generally incurs a fee. Once you've decided you can share your design with your friends, or if you are ready to order, send it to your local Ozone dealer to verify the charge and place the final order.
Please note that because the glider will be built specifically for you in the Ozone factory, payment must be received before production can begin.
FABRIC COLOURS AND UV RESISTANCE
Please be aware that the colour you see on your screen may not accurately represent the actual fabric colour. Secondly, different cloths specifications with the same color name may vary slightly, please see here for an example. Given the wide varience in monitor calibration and the fabric appearance in different light and colour combinations, it is impossible to perfectly represent fabric colour on screen. If you have any doubts about the colours, look at photos of various wings on our website to see them in different light and colour combinations or contact your local dealer to see the fabric in person.
All of the fabric that we use undergoes extensive testing in prototype colour phase to ensure colourfastness, mechanical stability, porosity, and general longevity before we put it into production. Once our fabric is in production, every meter of it is rigorously inspected upon arrival in our factory, and fabric which does not pass our stringent quality control standards is returned to the manufacturer. We are frequently asked, "Which colours last the longest, or have the best UV resistance?" All of the colours that we stock score between 4 and 5 on a scale of 1-5, with 5 being the highest possible rating for longevity.
↑