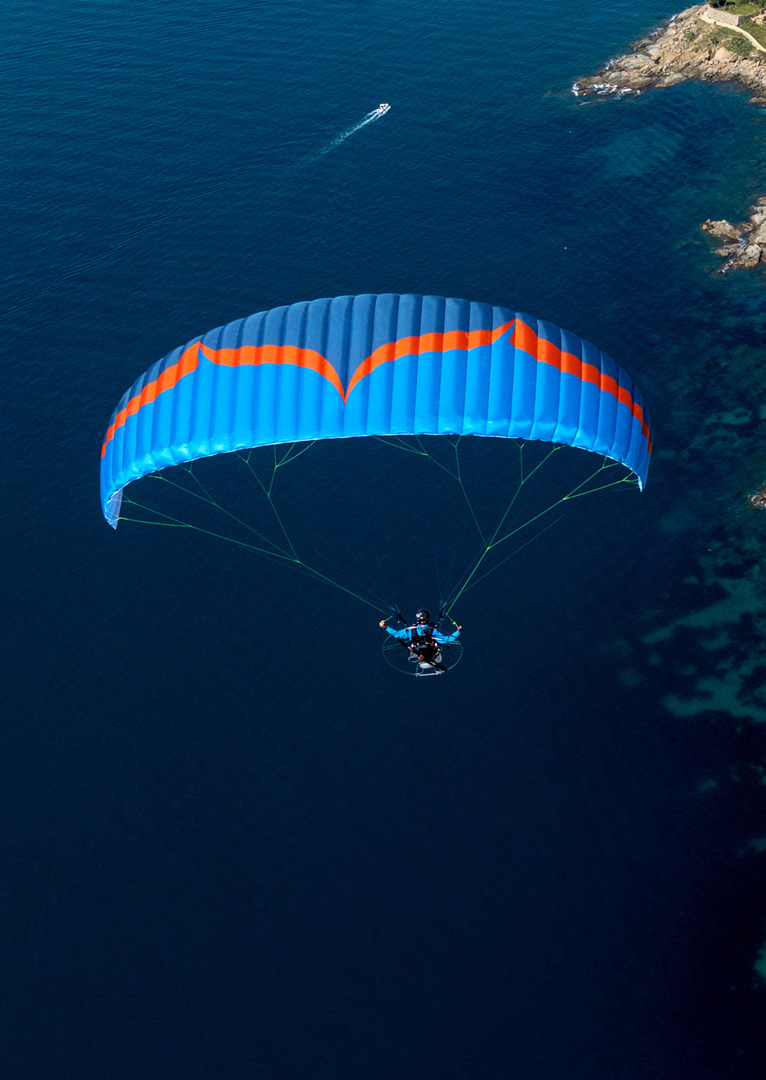 Informacja
Spark 2 to skrzydło PPG zaprojektowane specjalnie dla szkół i początkujących pilotów. Jako konstrukcja oparta na rozwiązaniach z paralotni Element 3, Spark 2 jest niezwykle łatwym i dużo wybaczającym skrzydłem, idealnym dla wszystkich poziomów szkolenia. Spark 2 zawiera technologie zaczerpnięte z naszych modeli o wyższych osiągach, ale dopasowanych do koncepcji skoncentrowanej na bezpieczeństwie, odporności na błędy pilotażu i świetnym napełnianiu skrzydła. Nowy profil, układ linek nośnych i struktura wewnętrzna zwiększają osiągi i pasywne bezpieczeństwo skrzydła, jednocześnie zachowując jego łagodny charakter, odpowiedni dla szkolnej paralotni. Obrys czasy ma umiarkowane wydłużenie, które okazało się dobrym kompromisem, zapewniającym wygodę, łatwość użytkowania i radość lotu przy zachowaniu wyjątkowego bezpieczeństwa.
Szczególną uwagę poświęcono charakterystyce wypełniania czaszy i ogólnego zachowania przy groundhandlingu, tak aby starty z napędem były możliwie najłatwiejsze. W efekcie nawet w ciszy stawianie skrzydła jest niezwykle łatwe – Spark 2 podnosi się już przy niewielkim ruchu do przodu, a krawędź natarcia pozostaje stabilna i otwarta nawet przy mocnym szarpnięciu. Już przy słabych podmuchach Spark 2 pozostaje nad głową i wybacza błędy przy stawianiu, dzięki czemu nawet zabawa na ziemi jest bezpieczna i satysfakcjonująca.
W locie Spark 2 jest prosty w pilotażu. Dobrze tłumi wahania w obu osiach, z progresywnym przyrostem sił na hamulcach, pozwalającym na pełną kontrolę i koordynację zakrętów. Ogólnie zakres ruchu sterówkach jest duży, z bardzo małą prędkością przeciągnięcia, dzięki czemu bardzo trudno jest o niezamierzone przeciągnięcie lub negatywkę. Chociaż niezwykle odporny na błędy pilotażowe, Spark 2 jest również przyjemny w locie oraz solidny i zwarty nad głową; początkujący piloci intuicyjnie poradzą sobie ze skrzydłem, podczas gdy instruktorzy docenią zwrotność i precyzję sterowania. Małe opadanie paralotni ułatwia starty, a jednocześnie zapewnia niskie zużycie paliwa.
Taśmy nośne są proste i nieskomplikowane, ze skutecznymi trymerami i krótkim speed-systemem, które pozwolą uczniom szybko opanować ich użycie, a jednocześnie zapewnią instruktorom spokój ducha, oferując wystarczającą prędkość i stabilność
Spark 2 pomyślnie przeszedł próby w locie, w trzech rozmiarach uzyskując certyfikaty EN oraz DGAC dla szerokiego zakresu wagowego. Połączenie ogólnej łatwości eksploatacji z bezkompromisowym bezpieczeństwem sprawia, że Spark 2 to idealny koń roboczy dla instruktorów i szkół
* Ta paralotnia spełnia wszystkie kryteria i wymagania DGAC oraz przeszła testy wytrzymałościowe zgodne z normą EN 926-1. Jej zachowanie w locie (be użycia trymerów), poza rygorystycznymi testami fabrycznymi, zostało również sprawdzone przez niezależny ośrodek certyfikacji zgodnie z wymogami normy EN 926-2. Użycie trymerów lub lot poza certyfikowanym zakresem wagowym unieważnia certyfikacje EN 926-2
W chwili dostarczenia paralotnia nie spełnia certyfikatu zachowania w locie EN 926-2 z powodu obecności trymerów.
Opcje kolorystyczne

Informacje o zamówieniach
OZONE has some of the shortest lead times in the industry. The current production time is approximately 64 days from order to shipping (updated daily). Contact your dealer to place your order.
Zawartość zestawu
OZONE offers a range of backpack choices when you order your wing. To change the type of backpack that will come with your wing, please speak with your OZONE Dealer.
Twoje skrzydło OZONE jest dostarczane w następującym zestawie::
Szybkopak EasyBag, worek transportowy, taśma kompresyjna, naklejki OZONE, tkanina do napraw, bryloczek OZONE.
You may choose to add something to your order, such as: Saucisse Bag (video) (concertina packing bag), Glider Backpack, or OZONE Clothing and Accessories.
Zapytania
Specyfikacje
| Rozmiary | 25 | 27 | 30 |
| --- | --- | --- | --- |
| Liczba komór | 34 | 34 | 34 |
| Powierzchnia w rzucie (m2) | 20.4 | 22.1 | 25.1 |
| Powierzchnia w rozłożeniu (m2) | 24.3 | 26.3 | 29.9 |
| Rozpiętość w rzucie (m) | 8.12 | 8.46 | 9 |
| Rozpiętość w rozłożeniu (m) | 10.5 | 10.93 | 11.64 |
| Wydłużenie w rzucie | 3.24 | 3.24 | 3.24 |
| Wydłużenie w rozłożeniu | 4.54 | 4.54 | 4.54 |
| Cięciwa główna (m) | 2.87 | 2.99 | 3.18 |
| Masa skrzydła (kg) | 4.51 | 4.79 | 5.29 |
| DGAC Approved | yes | yes | yes |
| PPG (DGAC) Weight Range (kg) | 65-110 | 75-125 | 95-140 |
| Load Test 5.25G | 226 kg | 226 kg | 226 kg |
| PG (EN) Weight Range (kg) | 65-90 | 75-105 | 95-125 |
| EN | A* | A* | A* |
| Load Test 8G | 148 kg | 148 kg | 148 kg |
* Flight tested to the EN 926-2 standard with the trimmers set to the slow position.
Materiały
Tkanina powierzchnia górna: Dominico 30D MF

Tkanina powierzchnia dolna: Dominico 30D MF

Tkanina konstrukcja wewnętrzna: Dominico 30D FM

Linki górne: Liros DSL serie

Linki pośrednie: Liros DSL serie

Linki główne: Edelrid 6843 serie
Do pobrania
Indywidualna kolorystyka
OZONE COLOUR REFERENCE (//)
SHARE YOUR DESIGN
ABOUT CUSTOM COLOURS
Ozone encourages you to customize your own personal colour combination for your wing. Customization generally incurs a fee. Once you've decided you can share your design with your friends, or if you are ready to order, send it to your local Ozone dealer to verify the charge and place the final order.
Please note that because the glider will be built specifically for you in the Ozone factory, payment must be received before production can begin.
FABRIC COLOURS AND UV RESISTANCE
Please be aware that the colour you see on your screen may not accurately represent the actual fabric colour. Secondly, different cloths specifications with the same color name may vary slightly, please see here for an example. Given the wide varience in monitor calibration and the fabric appearance in different light and colour combinations, it is impossible to perfectly represent fabric colour on screen. If you have any doubts about the colours, look at photos of various wings on our website to see them in different light and colour combinations or contact your local dealer to see the fabric in person.
All of the fabric that we use undergoes extensive testing in prototype colour phase to ensure colourfastness, mechanical stability, porosity, and general longevity before we put it into production. Once our fabric is in production, every meter of it is rigorously inspected upon arrival in our factory, and fabric which does not pass our stringent quality control standards is returned to the manufacturer. We are frequently asked, "Which colours last the longest, or have the best UV resistance?" All of the colours that we stock score between 4 and 5 on a scale of 1-5, with 5 being the highest possible rating for longevity.
↑