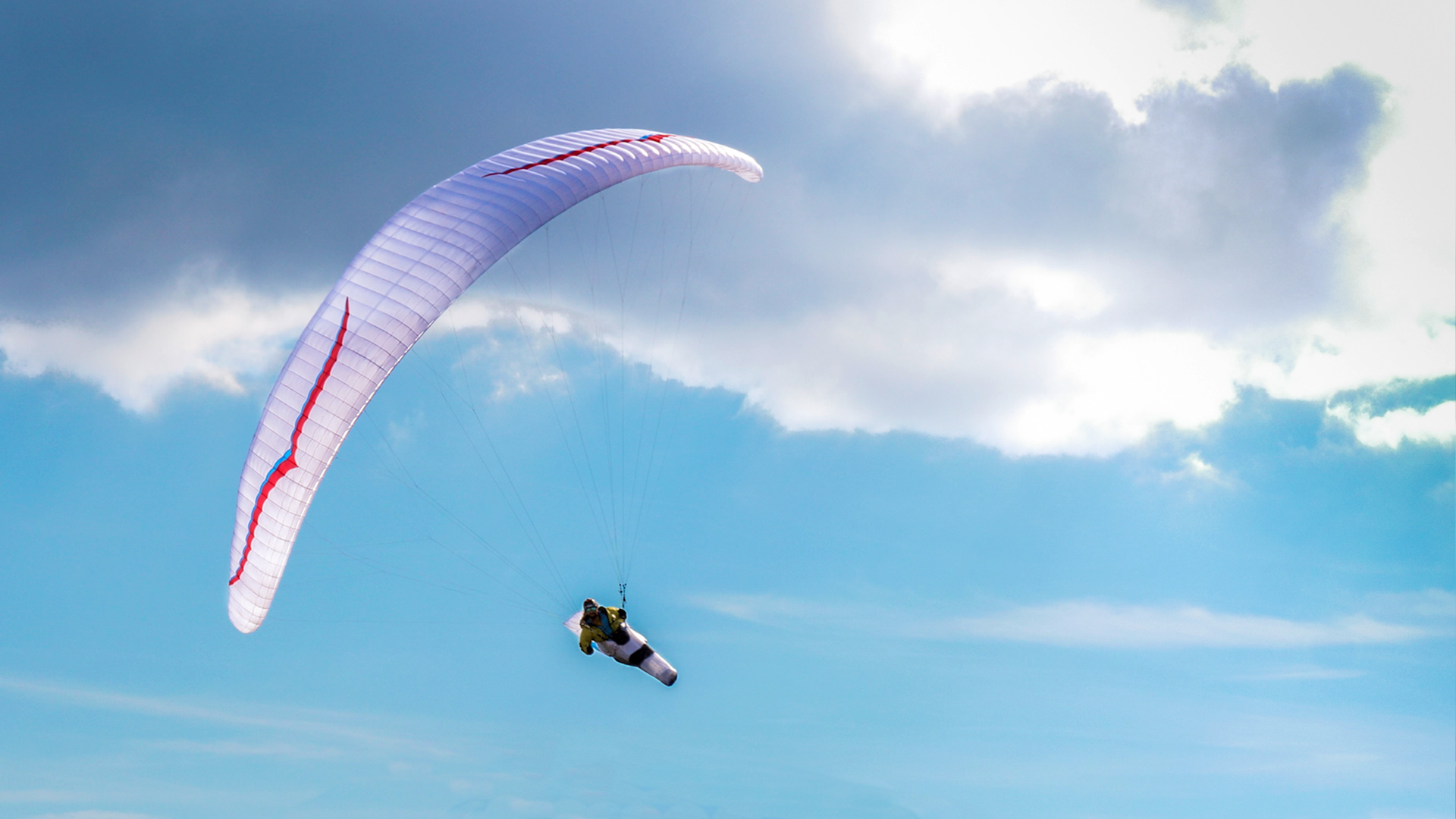 Info prodotto
Next Generation 2-Line Technology
Forget everything you think you know about the compromises in 2-Line paraglider designs! The Zeolite is easy to launch, easy to land in small/restricted LZs, and has the most comfortable B-handle control we have experienced, and handling that is incredibly agile and precise in the core.
This is a new breed of 2-Line design, offering competition level performance in an extremely light and compact package. Weighing in at under 3kgs with an aspect ratio of 6.7, the Zeolite delivers the performance and reliability needed for the Red Bull X-Alps, the most grueling race in the world.
Performance and Tech:
The modified Zeno profile provides high stability throughout the speed range, excellent chordwise cohesion in turbulent conditions, and is forgiving at high angle of attack. The Zeolite has the lowest line consumption and lowest line drag of any wing Ozone has ever produced, making its performance similar to the Zeno/Z-Alps. Excellent sail cohesion and true 2-line B Riser control means superb climbing characteristics and high efficiency on turbulent glides.
Launch:
The inflation is as easy as the LM5. Nil-wind inflation requires only one or two steps. It is totally acceptable to inflate from a condensed, restricted, or even "messy" layout on the ground. In stronger winds the wing can be inflated from a ball, or by using the cobra method. The landing characteristics have also been improved — parachutal stall is easy to initiate, yet the profile is forgiving and always eager to re-fly making it the easiest of our X-Alps wings to top land.
Character in flight:
In Luc's words, "Perfect B handle control. Parachutal flight is easily controllable for near vertical landings. Perfect for tight landings, top landings, and restrictive terrain. It is nicely behaved in collapses. Precise handling. Also don't forget it copes well with very compact or careless packing!"
Antoine Girard:
"To me Zeolite is the perfect hike & fly glider without compromise.
Easy, performant, great handling, fast and above all ultralight. Take off and landings have never been so easy. It's a real Swiss knife for adventure flying.
Once you have tried it, it's hard to live without it!"
The Zeolite is certified EN D and only suitable for highly experienced and competent XC pilots who fly more than 100 hours per year.
Colori opzionali

Informazioni sull'ordine
OZONE has some of the shortest lead times in the industry. The current production time is approximately 39 days from order to shipping (updated daily). Contact your dealer to place your order.
Contenuto della confezione
OZONE offers a range of backpack choices when you order your wing. To change the type of backpack that will come with your wing, please speak with your OZONE Dealer.
La vostra vela OZONE viene consegnata con i seguenti accessori standard :
F*Race Rucksack
You may choose to add something to your order, such as: Saucisse Bag (video) (concertina packing bag), Easy Bag (quick stuff sack), or OZONE Clothing and Accessories.
Richieste
Specifiche
| Taglie | S | MS | ML |
| --- | --- | --- | --- |
| Numero di cassoni | 64 | 64 | 64 |
| Superficie proiettata (m2) | 17.4 | 18.6 | 19.8 |
| Superficie reale (m2) | 20.7 | 22.1 | 23.6 |
| Apertura proiettata (m) | 9.3 | 9.6 | 9.9 |
| Apertura reale (m) | 11.8 | 12.2 | 12.6 |
| Allungamento proiettato | 4.9 | 4.9 | 4.9 |
| Allungamento reale | 6.7 | 6.7 | 6.7 |
| Corda media (m) | 2.36 | 2.44 | 2.52 |
| Peso vela (kg) | 2.85 | 2.99 | 3.17 |
| Gamma di peso in volo (kg) | 65-85 | 80-95 | 90-105 |
| EN | D | D | D |
Materiali
Top Surface Cloth: Skytex 27 Classic

Bottom Surface Cloth: Skytex 27 Classic

Rib cloth: Skytex 27 - 32 Hard

Upper lines: Edelrid 8000U serie

Mid lines: Edelrid 8000U serie

Lower Lines: Edelrid 8000U serie
DOWNLOADS
Colori personalizzati
OZONE COLOUR REFERENCE (///)
SHARE YOUR DESIGN
INFO SUI COLORI PERSONALIZZATI
Ozone è ben lieta che voi scegliate una combinazioni di colori personalizzata  per la vostra vela. La personalizzazione, in genere, prevede un sovrapprezzo sul costo della vela. Una volta che avete deciso i colori preferiti, potete condividere la vostra scelta con i vostri amici oppure, se avete stabilito di confermare il vostro ordine, potete inviare la vostra scelta al vostro rivenditore Ozone per conoscere il costo aggiuntivo e poi finalizzare l'ordine.
Vi invitiamo a considerare che la vela verrà fabbricata specificatamente per voi nella fabbrica di Ozone, e per questa ragione il pagamento dovrà avvenire prima che la vela vada in produzione.
COLORI DEI TESSUTI E RESISTENZA AGLI UV
Vi invitiamo a considerare che i colori che vedete sul vostro schermo possono non rappresentare accuratamente i colori reali della vostra vela. Inoltre, le differenti specifiche del tessuto, pur con lo stesso nome, possono portare a leggere differenze nel tono della tinta. Vista l'ampia variabilità nella calibrazione dei monitor dei computers, e l'aspetto dei colori nelle differenti situazioni d'illuminazione, è impossibile rappresentare con esattezza su un PC l'aspetto definitivo della vostra vela. Se avete dei dubbi sui colori, guardate le foto delle varie vele sul nostro website, per vedere come appaiono in differenti combinazioni di luce, oppure contattate il vostro rivenditore locale per vedere di persona il tessuto.
Tutti i tessuti che noi impieghiamo, prima venire definitivamente usati in produzione, devono sottostare ad estesi collaudi delle tinte per garantire la tenuta del colore, la stabilità meccanica, la porosità ed in generale la longevità . Quando il tessuto viene scelto per la nostra produzione, al momento del suo arrivo nella nostra fabbrica viene rigorosamente ispezionato in ogni metro del suo rotolo ed i tessuti che non superano i nostri stringenti controlli qualitativi sono restituiti al loro fabbricante. Spesso ci chiedono "Quali colori durano di più o hanno una migliore resistenza agli UV?" Tutti i colori che abbiamo a magazzino raggiungono un punteggio tra 4 e 5 in una scala 1-5, dove 5 è il miglior grado di longevità possibile.
↑