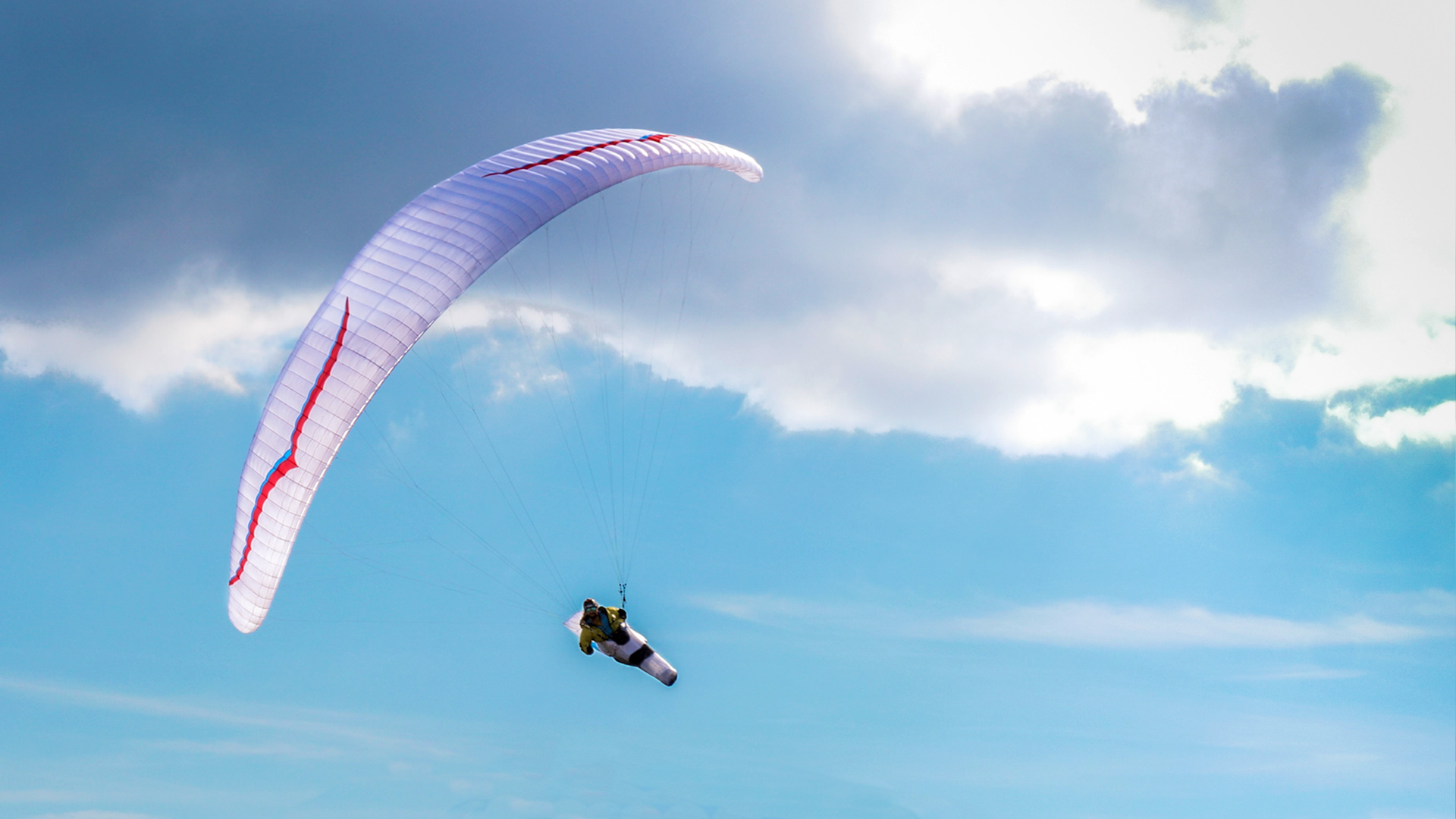 제품 설명
Next Generation 2-Line Technology
Forget everything you think you know about the compromises in 2-Line paraglider designs! The Zeolite is easy to launch, easy to land in small/restricted LZs, and has the most comfortable B-handle control we have experienced, and handling that is incredibly agile and precise in the core.
This is a new breed of 2-Line design, offering competition level performance in an extremely light and compact package. Weighing in at under 3kgs with an aspect ratio of 6.7, the Zeolite delivers the performance and reliability needed for the Red Bull X-Alps, the most grueling race in the world.
Performance and Tech:
The modified Zeno profile provides high stability throughout the speed range, excellent chordwise cohesion in turbulent conditions, and is forgiving at high angle of attack. The Zeolite has the lowest line consumption and lowest line drag of any wing Ozone has ever produced, making its performance similar to the Zeno/Z-Alps. Excellent sail cohesion and true 2-line B Riser control means superb climbing characteristics and high efficiency on turbulent glides.
Launch:
The inflation is as easy as the LM5. Nil-wind inflation requires only one or two steps. It is totally acceptable to inflate from a condensed, restricted, or even "messy" layout on the ground. In stronger winds the wing can be inflated from a ball, or by using the cobra method. The landing characteristics have also been improved — parachutal stall is easy to initiate, yet the profile is forgiving and always eager to re-fly making it the easiest of our X-Alps wings to top land.
Character in flight:
In Luc's words, "Perfect B handle control. Parachutal flight is easily controllable for near vertical landings. Perfect for tight landings, top landings, and restrictive terrain. It is nicely behaved in collapses. Precise handling. Also don't forget it copes well with very compact or careless packing!"
Antoine Girard:
"To me Zeolite is the perfect hike & fly glider without compromise.
Easy, performant, great handling, fast and above all ultralight. Take off and landings have never been so easy. It's a real Swiss knife for adventure flying.
Once you have tried it, it's hard to live without it!"
The Zeolite is certified EN D and only suitable for highly experienced and competent XC pilots who fly more than 100 hours per year.
칼라 옵션

주문 정보
Lead time is currently unavailable. Contact your dealer for more information or to place an order.
패키지 용품
OZONE offers a range of backpack choices when you order your wing. To change the type of backpack that will come with your wing, please speak with your OZONE Dealer.
오존 날개 구입시 다음 액서사리가 기본으로 제공됩니다.:
F*Race Rucksack
You may choose to add something to your order, such as: Saucisse Bag (video) (concertina packing bag), Easy Bag (quick stuff sack), or OZONE Clothing and Accessories.
요구사항
제품 사양
| 크기 | S | MS | ML |
| --- | --- | --- | --- |
| 셀 갯수 | 64 | 64 | 64 |
| 투영 면적(m2) | 17.4 | 18.6 | 19.8 |
| 평면 면적(m2) | 20.7 | 22.1 | 23.6 |
| 투영 스판(m) | 9.3 | 9.6 | 9.9 |
| 평면 스판(m) | 11.8 | 12.2 | 12.6 |
| 투영 면적 비율 | 4.9 | 4.9 | 4.9 |
| 평면 면적 비율 | 6.7 | 6.7 | 6.7 |
| 루트 크로드(m) | 2.36 | 2.44 | 2.52 |
| 글라이더 무게(kg) | 2.85 | 2.99 | 3.17 |
| 총 무게 범위(kg) | 65-85 | 80-95 | 90-105 |
| EN | D | D | D |
재료
Top Surface Cloth: Skytex 27 Classic

Bottom Surface Cloth: Skytex 27 Classic

Rib cloth: Skytex 27 - 32 Hard

Upper lines: Edelrid 8000U serie

Mid lines: Edelrid 8000U serie

Lower Lines: Edelrid 8000U serie
다운로드
선택 색상
OZONE COLOUR REFERENCE (///)
ABOUT CUSTOM COLOURS
Ozone encourages you to customize your own personal colour combination for your wing. Customization generally incurs a fee. Once you've decided you can share your design with your friends, or if you are ready to order, send it to your local Ozone dealer to verify the charge and place the final order.
Please note that because the glider will be built specifically for you in the Ozone factory, payment must be received before production can begin.
FABRIC COLOURS AND UV RESISTANCE
Please be aware that the colour you see on your screen may not accurately represent the actual fabric colour. Secondly, different cloths specifications with the same color name may vary slightly, please see here for an example. Given the wide varience in monitor calibration and the fabric appearance in different light and colour combinations, it is impossible to perfectly represent fabric colour on screen. If you have any doubts about the colours, look at photos of various wings on our website to see them in different light and colour combinations or contact your local dealer to see the fabric in person.
All of the fabric that we use undergoes extensive testing in prototype colour phase to ensure colourfastness, mechanical stability, porosity, and general longevity before we put it into production. Once our fabric is in production, every meter of it is rigorously inspected upon arrival in our factory, and fabric which does not pass our stringent quality control standards is returned to the manufacturer. We are frequently asked, "Which colours last the longest, or have the best UV resistance?" All of the colours that we stock score between 4 and 5 on a scale of 1-5, with 5 being the highest possible rating for longevity.
↑