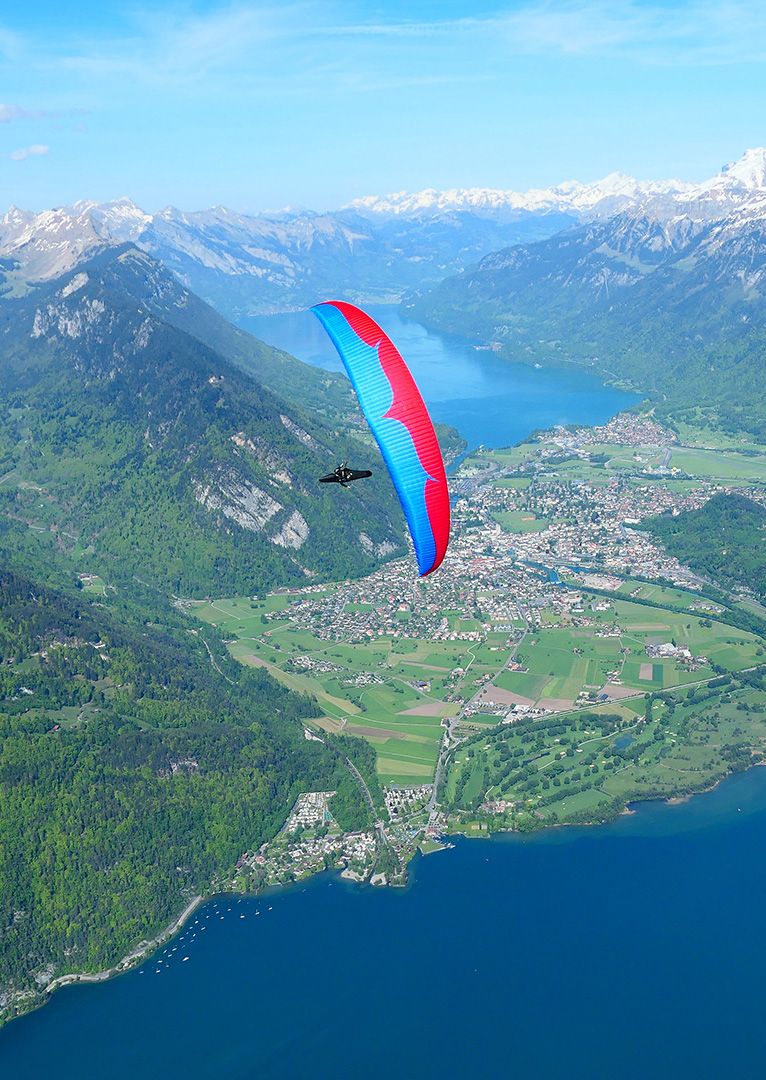 Info Produit
La dernière version de l'aile de compétition la plus récompensée dans l'histoire du parapente génère un nouveau niveau de plané et de performances pour les meilleurs pilotes du monde. Le profil de nouvelle génération de l'Enzo 3 résulte de plus de deux ans de travaux de R&D et de mise au point. L'enzo 3 offre une meilleure solidité ; une bonne cohésion de toute l'envergure ; le confort ; les perfs de plané et une vitesse de pointe significativement plus élevée, comparée à l'Enzo 2.
L'Enzo 3 conserve bien des caractéristiques de son aînée, y compris le nombre de cellules, le plan de forme ainsi que le Shark Nose breveté mais avec un plan de suspentage révisé, à très faible traînée. Plus que jamais, notre philosophie de la vraie perf demeure un élément clé de cette aile. Son comportement en aérologie active
a impressionné l'équipe R&S d'OZONE pendant son développement dans les Alpes du sud et son alignement en compétition ; et il s'est avéré que l'Enzo 3 représente un pas en avant significatif par rapport à l'Enzo 2.
Un mélange de tissus standards et ultra-légers optimise la performance et la durabilité. Une section de BA en 3D fait appel à un usage important de tissu Porcher 27g. Cette combinaison de tissus a montré ses performances depuis plusieurs années en terme de longévité et de caractéristiques d'aile.
L'Enzo 3 est homologuée CCC et disponible en 6 tailles pour des poids variant entre 80 et 130 kg. Il s'agit d'une aile à hautes performances, destinée aux meilleurs pilotes mondiaux et qui requiert, comme l'Enzo 2 un haut niveau de pilotage. Si vous avez des doutes, nous vous recommandons d'opter pour la Zeno Chaque commande fera l'objet d'un examen individuel. Si vous estimez être prêt pour cette aile, demandez à votre représentant local OZONE de nous contacter.
Salutations de toute l'équipe, et meilleurs voeux de succès en compétition et au delà.
Options de Couleurs

Information relative aux commandes
The current production time is approximately 68 days from order to shipping (updated daily). Contact your dealer to place your order.
Contenu du package
Your OZONE wing is delivered standard with the following accessories:
Special "Folding Pillow" to aid preservation of plastic reinforcements, Inner Bag, Glider Strap, Speed Bar, OZONE Stickers, Repair Cloth and OZONE Keyring.
You may choose to add something to your order, such as: Saucisse Bag (video) (concertina packing bag), Glider Backpack, Easy Bag (quick stuff sack), or OZONE Clothing and Accessories.
Requetes
SPECIFICATIONS
| Tailles | XXS | XS | S | m | L | XL |
| --- | --- | --- | --- | --- | --- | --- |
| Nombre de cellules | 101 | 101 | 101 | 101 | 101 | 101 |
| Surface projetée (m2) | 16.2 | 17.2 | 18.6 | 20.1 | 21.7 | 22.6 |
| Surface à plat (m2) | 19.1 | 20.3 | 22 | 23.7 | 25.7 | 26.7 |
| Envergure projetée (m) | 9.4 | 9.7 | 10.1 | 10.5 | 10.9 | 11.1 |
| Envergure à plat (m) | 12 | 12.4 | 12.9 | 13.4 | 13.9 | 14.2 |
| Allongement projeté | 5.5 | 5.5 | 5.5 | 5.5 | 5.5 | 5.5 |
| Allongement à plat | 7.55 | 7.55 | 7.55 | 7.55 | 7.55 | 7.55 |
| Corde | 2 | 2.05 | 2.14 | 2.22 | 2.31 | 2.36 |
| Poids de l'aile | 5.3* | 5.5* | 5.6 | 5.9 | 6.2 | * |
| Fourchette de poids en vol (kg) | 80-90 | 85-95 | 90-105 | 95-115 | 105-125 | 115-130 |
| Certification | CCC | CCC | CCC | CCC | CCC | CCC |
* Pending
* Weights may vary up to 50gm per size due to slight variations in the manufacturing of the fabric used.
Matériaux
Upper lines: Edelrid 8000U serie

Mid lines: Edelrid 8000U serie

Lower Lines: Edelrid 8000U serie
Téléchargements
Coloris Personnalisés
OZONE COLOUR REFERENCE (/)
SHARE YOUR DESIGN
A PROPOS DES COULEURS PERSONNALISEES
Ozone vous encourage à choisir une combinaison de couleurs qui va personnaliser votre voile. Il y a généralement un surcoût pour avoir des couleurs personnalisées. Une fois votre combinaison de couleurs choisie, il est possible de la partager avec vos amis ou, quand vous avez arrêté votre choix, de l'envoyer à votre revendeur Ozone pour vérifier le coût et finaliser la commande.
Veuillez noter que l'aile sera fabriquée spécifiquement à vos taille et couleurs et qu'elle doit donc être payée avant sa mise en production.
COULEURS DES TISSUS ET RESISTANCE AUX U.V.
Notez que l'apparance des couleurs à l'écran peut être un peu différente de ce qu'elles sont en réalité. De plus, deux tissus de spécifications différentes peuvent avoir des couleurs légèrement différentes alors qu'elles ont le même nom, voyez cet exemple. Du fait des variations de calibration des couleurs sur les différents écrans, d'une part, et des différences visuelles du même tissu sous différents éclairages, d'autre part, le rendu des couleurs sur un écran n'est jamais parfait. Pour avoir une meilleure idée du rendu réel des couleurs sous différents éclairages et en différentes combinaisons, vous pouvez regarder les photos des ailes que nous mettons sur notre site web, il est aussi possible de contacter votre revendeur local pour avoir réellement le tissu sous les yeux.
Tous les tissus que nos utilisons ont subi des tests poussés en phase prototype pour s'assurer que la couleur, la stabilité mécanique, la porosité et, d'une façon générale, la longévité de chacun d'entre eux correspond à nos standards avant de les utiliser en production. Une fois le tissu validé, chaque mètre de tissu reçu à l'usine est rigoureusement inspecté et renvoyé au fabricant s'il ne répond pas au niveau de qualité que nos exigeons pour nos clients. On nous demande souvent : "Quelles sont les couleurs qui pâlissent le moins ou qui résistent le mieux aux U.V. ?" Toutes les couleurs que nous utilisons ont une note entre 4 et 5 sur une échelle de 1 à 5, 5 étant la meilleure note de longévité.
↑