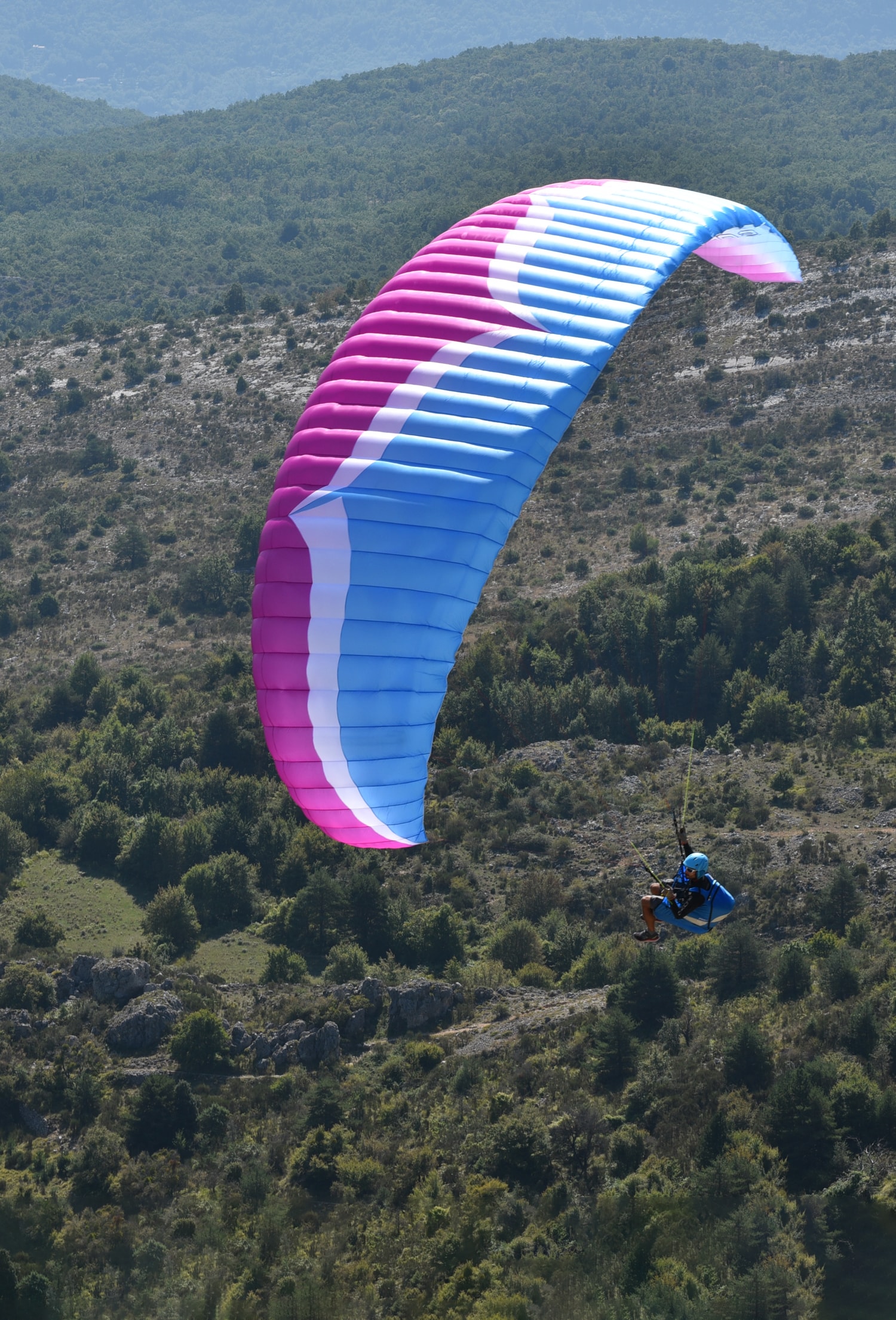 Información
Safe & Easy Hike & Fly
The Jomo 2 is an entirely new design with the highest glide performance in its class. It is a huge improvement over its predecessor in the categories of glide, handling, passive safety, and launch characteristics. The Ozone R&D Team has used an intelligent blend of materials and clever manufacturing techniques for very low weight and pack volume, without sacrificing strength & durability.
New Technology
Based on the Mojo 6, this new wing benefits from the Ozone Performance Project and X-Alps development efforts. Line drag is a huge concern, and the Jomo 2 has an incredible 28% savings compared to the Jomo. The profile has evolved to offer more lift and less drag whilst retaining a very confidence-inspiring feel. The leading edge benefits from double 3D shaping and an innovative new intake shape to reduce vibrations and sail flutter, aiding airflow in this aerodynamically critical area.
In Flight
Low sail weight reduces inertia, making the wing more pitch stable and lighter to control. The Jomo 2 absorbs turbulence with damped yet informative feedback through the brakes and risers for a comfortable, smooth ride. Overall, the wing feels more agile compared to a standard weight design. The control range is precise & forgiving, making climbs easy. With an optimised number of cells and the new profile, the Jomo 2 is aerodynamically very clean. Reduced sail drag, optimised line layout, reduction in overall line length, and newly-shaped cell openings all combine to push performance to the top of the category with no compromise in passive safety.
The Launch
The complex design and lightweight construction gives the Jomo 2 an edge on the ground. It is easier, lighter, and smaller to carry. Its improved launch characteristics make for easy ground-handling sessions. The risers are simple and uncluttered and the wing inflates easily in all wind conditions, from zero to strong.
The Pilot
The Jomo 2 is based on the Mojo 6. It is a safe, fun, and easy wing ideal for the newly qualified, intermediate XC pilots, and even experts seeking a highly dependable lightweight wing for all types of flying; from ridge soaring and thermalling, to XC flying and beyond.
Colores de serie

Cómo hacer un pedido
OZONE has some of the shortest lead times in the industry. The current production time is approximately 77 days from order to shipping (updated daily). Contact your dealer to place your order.
Contenido del paquete
OZONE offers a range of backpack choices when you order your wing. To change the type of backpack that will come with your wing, please speak with your OZONE Dealer.
Tu vela OZONE se entrega de serie con los accesorios siguientes::
62L X-Alps Backpack, Inner Bag, Glider Strap, OZONE Stickers, Repair Cloth and OZONE Keyring.
You may choose to add something to your order, such as: Saucisse Bag (video) (concertina packing bag), Easy Bag (quick stuff sack), or OZONE Clothing and Accessories.
Especificaciones
| Tallas | XS | S | M | L |
| --- | --- | --- | --- | --- |
| Número de cajones | 40 | 40 | 40 | 40 |
| Superficie proyectada (m2) | 19.1 | 20.7 | 22.5 | 24.5 |
| Superficie real (m2) | 22.4 | 24.3 | 26.4 | 28.72 |
| Envergadura proyectada (m) | 8.12 | 8.47 | 8.83 | 9.2 |
| Envergadura real (m) | 10.48 | 10.92 | 11.39 | 11.87 |
| Alargamiento proyectado | 3.46 | 3.46 | 3.46 | 3.46 |
| Alargamiento real | 4.91 | 4.91 | 4.9 | 4.9 |
| Cuerda central (m) | 2.74 | 2.86 | 2.98 | 3.11 |
| Peso de la vela (kg) | 3.3 | 3.51 | 3.82 | 4 |
| Rango de pesos en vuelo (kg) | 60-75 | 65-85 | 80-100 | 95-115 |
| EN | A | A | A | A |
Materiales
Top Surface Cloth: Dominico N20D / Porcher E71 27g

Bottom Surface Cloth: Porcher 7000 E71 27g

Rib cloth: Porcher E29 E91 (hard) / Dominico 32g FM

Upper lines: Edelrid 8000U serie

Mid lines: Edelrid 8000U serie

Lower Lines: Liros PPSL serie_DSL / Edelrid 10-200
Colores a elegir
OZONE COLOUR REFERENCE (//)
SHARE YOUR DESIGN
SOBRE LOS COLORES PERSONALIZADOS
Ozone te anima a que personalices tu vela eligiendo tu propia combinación de colores. La personalización supone un pequeño coste adicional. Una vez hayas decidido tus colores, puede compartir tu diseño con tus amigos, o si ya estás listo para hacer tu pedido, enviárselo a tu distribuidor local de Ozone para que te informe del importe adicional y encargar la vela.
Por favor, ten en cuenta que como esa vela se fabricará exclusivamente para ti en la fábrica de Ozone, el pago debe recibirse antes de que comience a fabricarse.
COLORES DEL TEJIDO Y RESISTENCIA A LOS RAYOS UV
Por favor, ten en cuenta que el color que veas en tu pantalla puede que no represente con precisión el color real del tejido. Dada la amplia variedad en la calibración de las pantallas y el aspecto del tejido bajo diferentes condiciones de luz y combinaciones de colores, resulta imposible representar perfectamente el color del tejido en la pantalla. Si albergas alguna duda sobre los colores, mira las fotos de unas cuantas velas en nuestra página web para verlas bajo luces y combinaciones de colores diferentes o ponte en contacto con tu distribuidor local para ver el tejido en persona.
Todo el tejido que usamos pasa por un exhaustivo proceso de pruebas durante los prototipos, para asegurarnos de que el color se mantiene, de la estabilidad mecánica, la porosidad y la longevidad general, antes de poner ese tejido en producción. Una vez que nuestro tejido está en producción, cada metro del mismo se inspecciona rigurosamente al llegar a nuestra fábrica, y un tejido que no pase nuestros estrictos controles de calidad, se devuelve al fabricante. Con frecuencia nos preguntan qué colores son los que más duran o tienen mayor resistencia a los rayos UV. Todos los colores que empleamos poseen un valor de entre 4 y 5 en una escala que va del 1 al 5, siendo el 5 el valor más alto posible en cuanto a longevidad.
↑