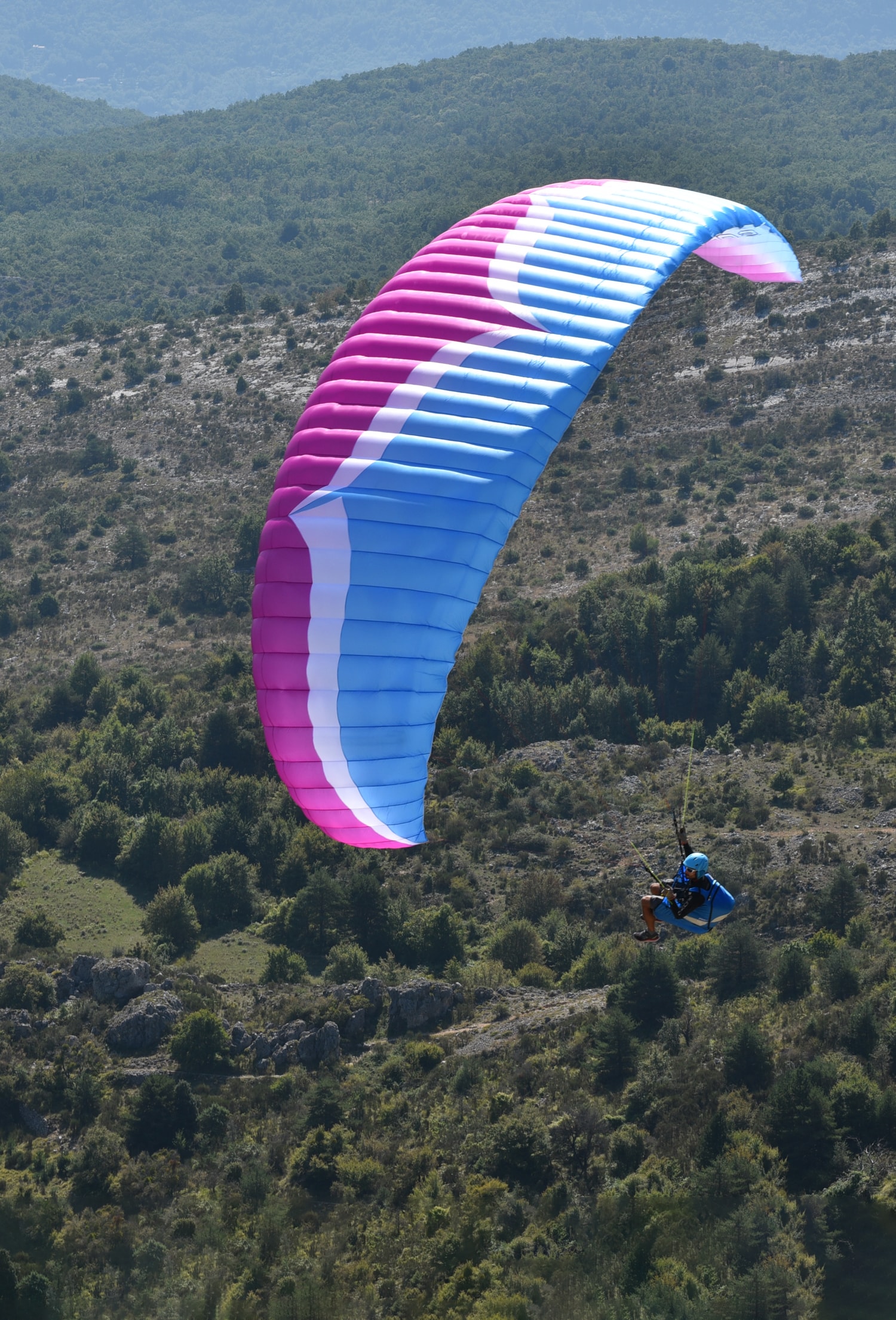 Info Produit
Sécurité et Facilité en Vol Rando
D'une conception complètement nouvelle, la Jomo 2 offre les meilleures performances de sa catégorie. Elle surclasse la version précédente aussi bien en finesse qu'en maniabilité, en sécurité passive ou au décollage. L'utilisation de matériaux soigneusement choisis et de techniques d'assemblage optimales ont permis à l'équipe de R&D Ozone d'obtenir une aile particulièrement légère et d'un volume très faible sans rien sacrifier de sa solidité ni de sa durabilité.
Nouvelles Technologies
Basée sur la Mojo 6, cette nouvelle aile intègre de nombreux éléments développés au cours du Projet Performance d'Ozone et de la X-Alps. La traînée du suspentage est un point crucial et la Jomo 2 bénéficie d'une incroyable réduction de 28 % par rapport à la Jomo. Le profil a évolué : il offre plus de portance et moins de traînée tout en gardant un caractère très rassurant. Le bord d'attaque bénéficie désormais du double découpage 3D et de prises d'air innovantes qui réduisent les vibrations et le faseillement de la voile, le tout assurant un écoulement très propre dans cette zone critique pour l'aérodynamique.
En Vol
La faible inertie des voiles légères améliore la stabilité en tangage et diminue l'effort nécessaire aux commandes. La Jomo 2 absorbe la turbulence et donne un ressenti rassurant de l'aérologie tout en transmettant les informations utiles à travers les élévateurs et les freins, pour le plus grand agrément du pilote. L'aile est plus agile que le modèle de poids standard. Sans avoir tendance à amplifier les à-coups que pourrait donner le pilote, les commandes de freins permettent un pilotage précis qui vous facilitera la montée en thermique. L'augmentation du nombre de caissons et le nouveau profil optimisent l'aérodynamique de la voile. S'ajoutent à cela la réduction de la longueur de suspentage et les nouvelles prises d'air, on obtient ainsi une aile dont les performances sont au top de sa catégorie sans aucun compromis sur le niveau de sécurité passive.
Le Décollage
Avec une structure rafinée et une construction légère, la Jomo 2 est à son avantage lorsqu'on la manie au sol. Plus facile à maitriser, plus légère, moins volumineuse à porter et dotée de caractéristiques de gonflage améliorées, la Jomo 2 est la compagne idéale des séances de gonflage. Les élévateurs sont simples et pratiques et, du vent nul au vent fort, l'aile a un gonflage facile dans toutes les conditions.
Le Pilote
La Jomo 2 est basée sur la Mojo 6. Sûre, plaisante et facile, elle convient parfaitement aux pilotes nouvellement brevetés, aux pilotes de Cross occasionnels mais aussi aux pilotes plus expérimentés qui veulent une aile légère rassurante avec laquelle ils pourront s'embarquer pour toutes leurs aventures aériennes que ce soit en soaring, en thermique, en Cross…
Options de Couleurs

Information relative aux commandes
OZONE has some of the shortest lead times in the industry. The current production time is approximately 61 days from order to shipping (updated daily). Contact your dealer to place your order.
Contenu du package
Your OZONE wing is delivered standard with the following accessories:
Sac Interne, Sangle de compression, auto-collants OZONE, Kit de réparation et porte-clé OZONE.
You may choose to add something to your order, such as: Saucisse Bag (video) (concertina packing bag), Glider Backpack, Easy Bag (quick stuff sack), or OZONE Clothing and Accessories.
SPECIFICATIONS
| Tailles | XS | S | M | L |
| --- | --- | --- | --- | --- |
| Nombre de cellules | 40 | 40 | 40 | 40 |
| Surface projetée (m2) | 19.1 | 20.7 | 22.5 | 24.5 |
| Surface à plat (m2) | 22.4 | 24.3 | 26.4 | 28.72 |
| Envergure projetée (m) | 8.12 | 8.47 | 8.83 | 9.2 |
| Envergure à plat (m) | 10.48 | 10.92 | 11.39 | 11.87 |
| Allongement projeté | 3.46 | 3.46 | 3.46 | 3.46 |
| Allongement à plat | 4.91 | 4.91 | 4.9 | 4.9 |
| Corde | 2.74 | 2.86 | 2.98 | 3.11 |
| Poids de l'aile | 3.3 | 3.51 | 3.82 | 4 |
| Fourchette de poids en vol (kg) | 60-75 | 65-85 | 80-100 | 95-115 |
| EN | A | A | A | A |
Matériaux
Extrados : Dominico N20D / Porcher E71 27g

Intrados : Porcher 7000 E71 27g

Structure Interne : Porcher E29 E91 (hard) / Dominico 32g FM

Suspentes Hautes : Edelrid 8000U serie

Suspentes Intermédiaires : Edelrid 8000U serie

Suspentes Basses : Liros PPSL serie_DSL / Edelrid 10-200
Coloris Personnalisés
OZONE COLOUR REFERENCE (//)
SHARE YOUR DESIGN
ABOUT CUSTOM COLOURS
Ozone encourages you to customize your own personal colour combination for your wing. Customization generally incurs a fee. Once you've decided you can share your design with your friends, or if you are ready to order, send it to your local Ozone dealer to verify the charge and place the final order.
Please note that because the glider will be built specifically for you in the Ozone factory, payment must be received before production can begin.
FABRIC COLOURS AND UV RESISTANCE
Please be aware that the colour you see on your screen may not accurately represent the actual fabric colour. Secondly, different cloths specifications with the same color name may vary slightly, please see here for an example. Given the wide varience in monitor calibration and the fabric appearance in different light and colour combinations, it is impossible to perfectly represent fabric colour on screen. If you have any doubts about the colours, look at photos of various wings on our website to see them in different light and colour combinations or contact your local dealer to see the fabric in person.
All of the fabric that we use undergoes extensive testing in prototype colour phase to ensure colourfastness, mechanical stability, porosity, and general longevity before we put it into production. Once our fabric is in production, every meter of it is rigorously inspected upon arrival in our factory, and fabric which does not pass our stringent quality control standards is returned to the manufacturer. We are frequently asked, "Which colours last the longest, or have the best UV resistance?" All of the colours that we stock score between 4 and 5 on a scale of 1-5, with 5 being the highest possible rating for longevity.
↑