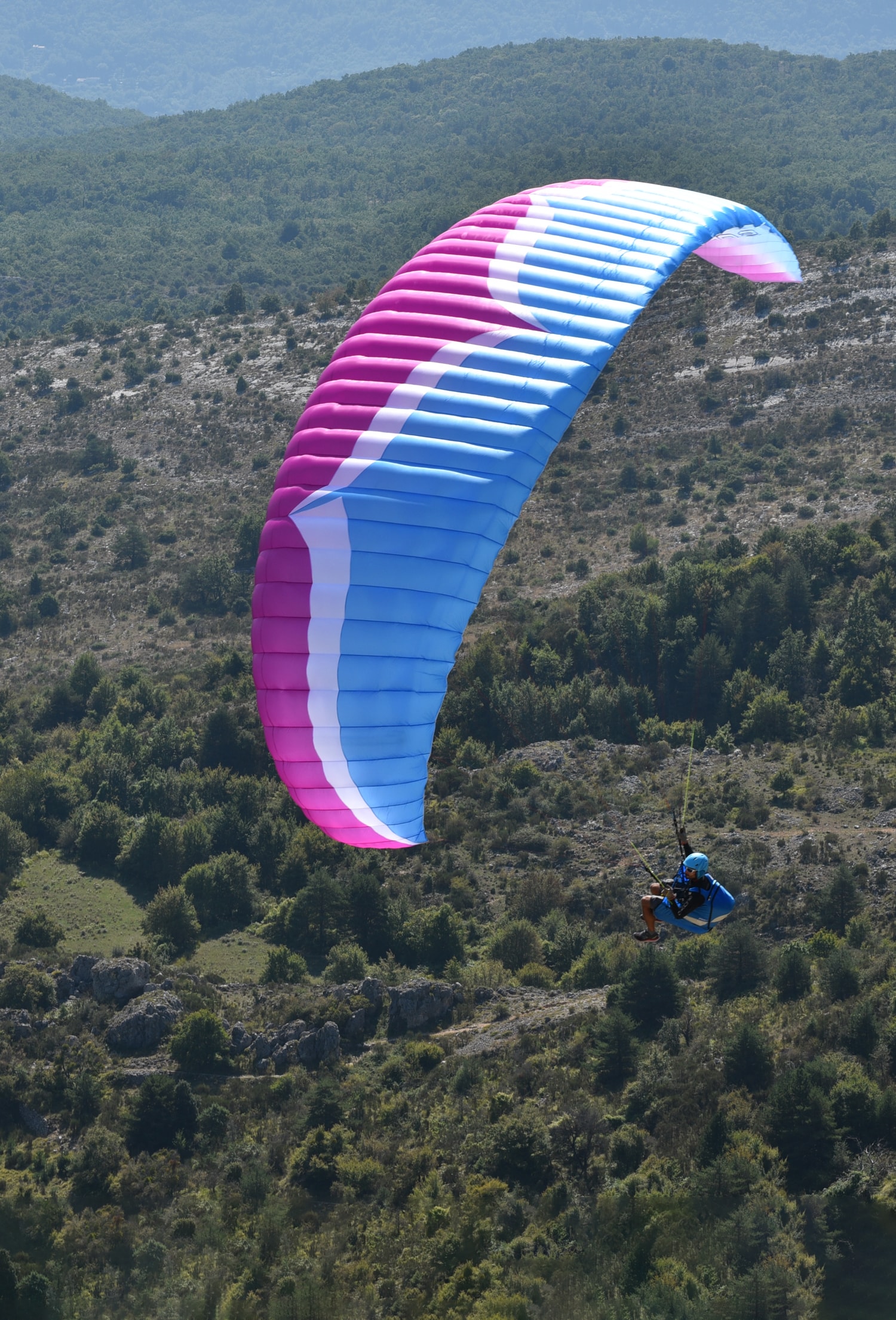 Produktinfo
Sicher & einfach: Hike & Fly
Der Jomo 2 hat ein völlig neues Design und liefert die höchste Gleitleistung seiner Klasse. Er hat sich gegenüber seinem Vorgänger in den Kategorien Gleiten, Handling, passive Sicherheit und Starteigenschaften enorm verbessert. Das Ozone R&D Team hat eine intelligente Mischung aus Materialien und cleveren Fertigungstechniken eingesetzt, um ein sehr geringes Gewicht und Packmaß zu erzielen, ohne dabei auf Strapazierfähigkeit und Langlebigkeit zu verzichten.
Neue Technologie
Basierend auf dem Mojo 6 profitiert dieser neue Flügel vom Ozone Leistungsprojekt und den Entwicklungen für die X-Alps. Der Leinenwiderstand ist immer ein großes Thema, dem viel Aufmerksamkeit gewidmet wird, und so ist es gelungen, dass der Jomo 2 unglaubliche 28% weniger Leinenwiderstand aufweist als sein Vorgänger Jomo. Das Profil hat sich weiterentwickelt, um mehr Auftrieb und weniger Luftwiderstand zu generieren, und gleichzeitig ein sehr vertrauensvolles Gefühl zu vermitteln. Die Vorderkante profitiert von einer doppelten 3D-Formgebung und einer innovativen neuen Zellgestaltung um Vibrationen und Segelflattern zu verringern, und den Luftstrom in diesem aerodynamisch kritischen Bereich zu unterstützen.
Während des Fluges
Sein geringes Segelgewicht reduziert die Trägheit, wodurch der Flügel pitchstabiler und leichter zu kontrollieren ist. Der Jomo 2 absorbiert Turbulenzen mit gedämpftem, aber informativem Feedback über die Bremsen und Tragegurte, und sorgt so für einen angenehmen, sanften Flug. Insgesamt fühlt sich der Flügel agiler an als ein "Standard-Gewichtsdesign". Die Kontrolle kann präzise und Fehler verzeihend erfolgen, was das Steigen einfach macht. Mit einer optimierten Anzahl von Zellen und dem neuen Profil ist der Jomo 2 aerodynamisch sehr sauber. Reduzierter Segelwiderstand, optimiertes Linienlayout, Reduzierung der Gesamtlinienlänge und neu geformte Zellöffnungen sorgen in Kombination für eine optimale Leistung an der Spitze seiner Kategorie, ohne dabei Kompromisse bei der passiven Sicherheit einzugehen.
Der Start
Das komplexe Design und die Leichtbauweise verleihen dem Jomo 2 einen beachtlichen Vorteil auf dem Boden. Er ist einfacher, leichter und kleiner – daher viel besser zu tragen und zu transportieren. Seine verbesserten Starteigenschaften erleichtern das Bodenhandling. Die Tragegurte sind einfach und übersichtlich gestaltet, und der Flügel füllt sich leicht bei allen Windverhältnissen, von Nullwind bis stärkerem Wind.
Der Pilot
Der Jomo 2 basiert auf dem Mojo 6. Das ist ein sicherer und einfacher Flügel, der einfach Spaß macht, und für Einsteiger nach der Schulung, Intermediate XC-Piloten, und sogar für Experten auf der Suche nach einem sehr zuverlässigen Leichtflügel für alle Arten des Fliegens ideal ist; vom Soaren und Thermikfliegen bis zum XC-Fliegen und darüber hinaus.
Farbwahl

Bestellinfo
OZONE has some of the shortest lead times in the industry. The current production time is approximately 61 days from order to shipping (updated daily). Contact your dealer to place your order.
Lieferumfang
Dein OZONE Schirm wird standardmäßig mit dem folgenden Zubehör ausgeliefert::
Innensack, Packband, OZONE Aufkleber, Reparaturtuch und OZONE Schlüsselanhänger
You may choose to add something to your order, such as: Saucisse Bag (video) (concertina packing bag), Glider Backpack, Easy Bag (quick stuff sack), or OZONE Clothing and Accessories.
Spezifikationen
| Größen | XS | S | M | L |
| --- | --- | --- | --- | --- |
| Anzahl der Zellen | 40 | 40 | 40 | 40 |
| Projizierte Fläche (m2) | 19.1 | 20.7 | 22.5 | 24.5 |
| Ausgelegte Fläche (m2) | 22.4 | 24.3 | 26.4 | 28.72 |
| projizierte Spannweite (m) | 8.12 | 8.47 | 8.83 | 9.2 |
| ausgelegte Spannweite (m) | 10.48 | 10.92 | 11.39 | 11.87 |
| projizierte Streckung | 3.46 | 3.46 | 3.46 | 3.46 |
| ausgelegte Streckung | 4.91 | 4.91 | 4.9 | 4.9 |
| Flügeltiefe (m) | 2.74 | 2.86 | 2.98 | 3.11 |
| Gleitschirmgewicht (kg) | 3.3 | 3.51 | 3.82 | 4 |
| Gewichtsbereich (kg) | 60-75 | 65-85 | 80-100 | 95-115 |
| EN | A | A | A | A |
Material
Obersegel: Dominico N20D / Porcher E71 27g

Untersegel: Porcher 7000 E71 27g

Rippen: Porcher E29 E91 (hard) / Dominico 32g FM

Galerieleinen: Edelrid 8000U serie

Mittleres Stockwerk: Edelrid 8000U serie

Stammleinen: Liros PPSL serie_DSL / Edelrid 10-200
Persönliche Farbwahl
OZONE COLOUR REFERENCE (//)
SHARE YOUR DESIGN
ABOUT CUSTOM COLOURS
Ozone encourages you to customize your own personal colour combination for your wing. Customization generally incurs a fee. Once you've decided you can share your design with your friends, or if you are ready to order, send it to your local Ozone dealer to verify the charge and place the final order.
Please note that because the glider will be built specifically for you in the Ozone factory, payment must be received before production can begin.
FABRIC COLOURS AND UV RESISTANCE
Please be aware that the colour you see on your screen may not accurately represent the actual fabric colour. Secondly, different cloths specifications with the same color name may vary slightly, please see here for an example. Given the wide varience in monitor calibration and the fabric appearance in different light and colour combinations, it is impossible to perfectly represent fabric colour on screen. If you have any doubts about the colours, look at photos of various wings on our website to see them in different light and colour combinations or contact your local dealer to see the fabric in person.
All of the fabric that we use undergoes extensive testing in prototype colour phase to ensure colourfastness, mechanical stability, porosity, and general longevity before we put it into production. Once our fabric is in production, every meter of it is rigorously inspected upon arrival in our factory, and fabric which does not pass our stringent quality control standards is returned to the manufacturer. We are frequently asked, "Which colours last the longest, or have the best UV resistance?" All of the colours that we stock score between 4 and 5 on a scale of 1-5, with 5 being the highest possible rating for longevity.
↑