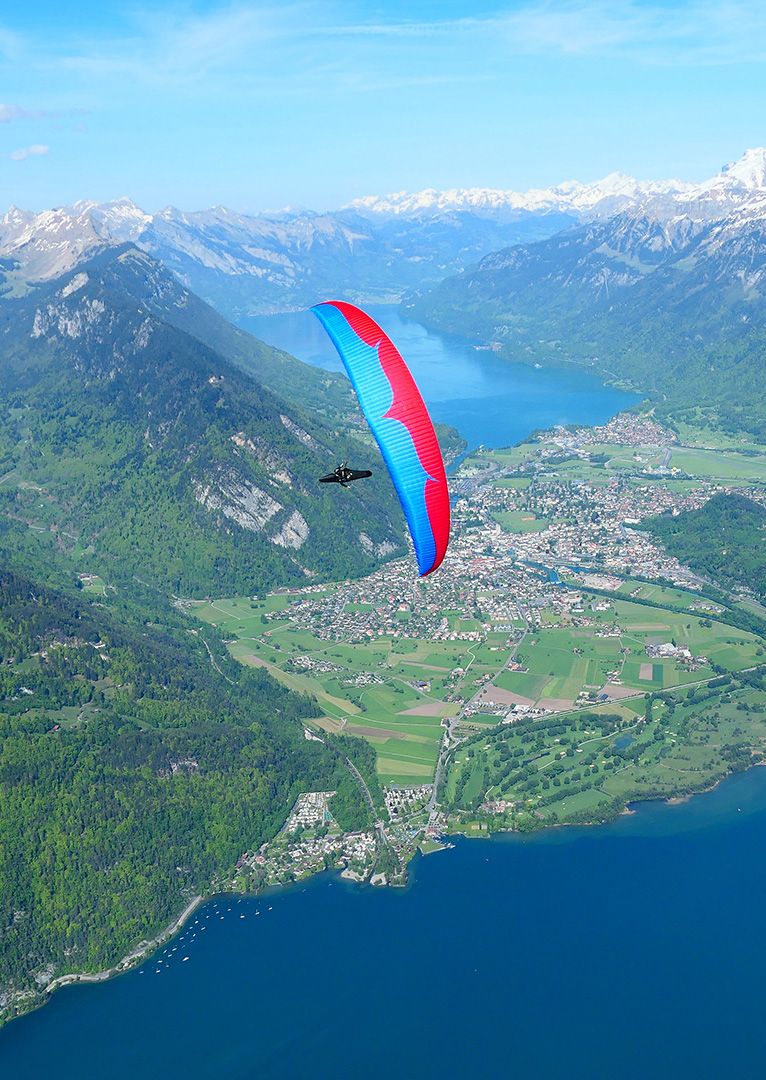 Produktinfo
Das neueste Modell des erfolgreichsten Wettkampf Flügels in der Gleitschirmgeschichte eröffnet den weltbesten Piloten einen neuen Level an Gleitleistung. Über einen Zeitraum von 2 Jahren R&D hat sich das Profil der neuen Generation für den ENZO 3 fortwährend weiterentwickelt. Es bietet eine bessere Solidität, spannweitige Kohäsion (zwischen dem inneren und äußeren Flügelabschnitt), Komfort, Gleitleistung und eine deutlich höhere Top-Geschwindigkeit als der Enzo 2.
Dennoch hat sich der Enzo 3 viele Features seines Vorgängers beibehalten. Dazu gehören die Anzahl der Zellen, der Grundriss, und das patentierte OZONE SharkNose Konzept – aber mit einem neuen ultra-geringem Leinenwiderstand. Vor allem bleibt unsere Philosophie von "True Performance" ein Kernleitsatz dieses Flügels. Seine Leistung in aktiver Luft hat das OZONE R&D Team während der Entwicklung beeindruckt; während der gesamten Testperiode in den südlichen Alpen und bei Wettbewerben hat der Enzo 3 unter Beweis gestellt, dass er dem Enzo 2 einen deutlichen Schritt voraus ist.
Eine Mischung aus Standard– und Leichttuch optimiert Leistung und Strapazierfähigkeit. Ein Bereich der Anströmkante wird durch großzügig verwendetes Porcher 27g Tuch unterstützt. Diese Kombination stellt bereits seit vielen Jahren seine Leistung sowohl im Bereich Langlebigkeit wie auch der Segelcharakteristik unter Beweis.
Der Enzo 3 ist CCC zugelassen, und in 6 unterschiedlichen Größen zu haben, die für einen Gewichtsbereich von 80 kg bis 130 kg geeignet sind. Das ist ein Hochleistungsflügel, der für die besten Piloten der Welt gemacht ist, und ebenso wie der Enzo 2 auch einen hohen Anspruch an seinen Piloten stellt, der ihn fliegt. Solltest du dir diesbezüglich etwas unsicher sein, dann empfehlen wir den Zeno.
Jede Bestellung wird individuell behandelt. Wenn du meinst, das ist der Flügel für dich, dann kontakte uns bitte über deinen ortsansässigen OZONE Händler.
Ein Cheers vom gesamten OZONE Team. Wir wünschen dir für jeden Wettbewerb das Allerbeste. Und darüber hinaus. Happy Flying.
Farbwahl
Bestellinfo
OZONE has some of the shortest lead times in the industry. The current production time is approximately 75 days from order to shipping (updated daily). Contact your dealer to place your order.
Lieferumfang
OZONE offers a range of backpack choices when you order your wing. To change the type of backpack that will come with your wing, please speak with your OZONE Dealer.
Dein OZONE Schirm wird standardmäßig mit dem folgenden Zubehör ausgeliefert::
Competition Glider+ Pod pack, Special "Folding Pillow" to aid preservation of plastic reinforcements, Inner Bag, Glider Strap, Speed Bar, OZONE Stickers, Repair Cloth and OZONE Keyring.
You may choose to add something to your order, such as: Saucisse Bag (video) (concertina packing bag), Easy Bag (quick stuff sack), or OZONE Clothing and Accessories.
Anfragen
Spezifikationen
| Größen | XXS | XS | S | m | L | XL |
| --- | --- | --- | --- | --- | --- | --- |
| Anzahl der Zellen | 101 | 101 | 101 | 101 | 101 | 101 |
| Projizierte Fläche (m2) | 16.2 | 17.2 | 18.6 | 20.1 | 21.7 | 22.6 |
| Ausgelegte Fläche (m2) | 19.1 | 20.3 | 22 | 23.7 | 25.7 | 26.7 |
| projizierte Spannweite (m) | 9.4 | 9.7 | 10.1 | 10.5 | 10.9 | 11.1 |
| ausgelegte Spannweite (m) | 12 | 12.4 | 12.9 | 13.4 | 13.9 | 14.2 |
| projizierte Streckung | 5.5 | 5.5 | 5.5 | 5.5 | 5.5 | 5.5 |
| ausgelegte Streckung | 7.55 | 7.55 | 7.55 | 7.55 | 7.55 | 7.55 |
| Flügeltiefe (m) | 2 | 2.05 | 2.14 | 2.22 | 2.31 | 2.36 |
| Gleitschirmgewicht (kg) | 5.25* | 5.47* | 5.58 | 5.92 | 6.22 | * |
| Gewichtsbereich (kg) | 80-90 | 85-95 | 90-105 | 95-115 | 105-125 | 115-130 |
| Certification | CCC | CCC | CCC | CCC | CCC | CCC |
* Pending
Material
Galerieleinen: Edelrid 8000U serie

mittleres Stockwerk: Edelrid 8000U serie

Stammleinen: Edelrid 8000U serie

DOWNLOADS
Persönliche Farbwahl
OZONE COLOUR REFERENCE (/)
SHARE YOUR DESIGN
ABOUT CUSTOM COLOURS
Ozone encourages you to customize your own personal colour combination for your wing. Customization generally incurs a fee. Once you've decided you can share your design with your friends, or if you are ready to order, send it to your local Ozone dealer to verify the charge and place the final order.
Please note that because the glider will be built specifically for you in the Ozone factory, payment must be received before production can begin.
FABRIC COLOURS AND UV RESISTANCE
Please be aware that the colour you see on your screen may not accurately represent the actual fabric colour. Secondly, different cloths specifications with the same color name may vary slightly, please see here for an example. Given the wide varience in monitor calibration and the fabric appearance in different light and colour combinations, it is impossible to perfectly represent fabric colour on screen. If you have any doubts about the colours, look at photos of various wings on our website to see them in different light and colour combinations or contact your local dealer to see the fabric in person.
All of the fabric that we use undergoes extensive testing in prototype colour phase to ensure colourfastness, mechanical stability, porosity, and general longevity before we put it into production. Once our fabric is in production, every meter of it is rigorously inspected upon arrival in our factory, and fabric which does not pass our stringent quality control standards is returned to the manufacturer. We are frequently asked, "Which colours last the longest, or have the best UV resistance?" All of the colours that we stock score between 4 and 5 on a scale of 1-5, with 5 being the highest possible rating for longevity.
↑