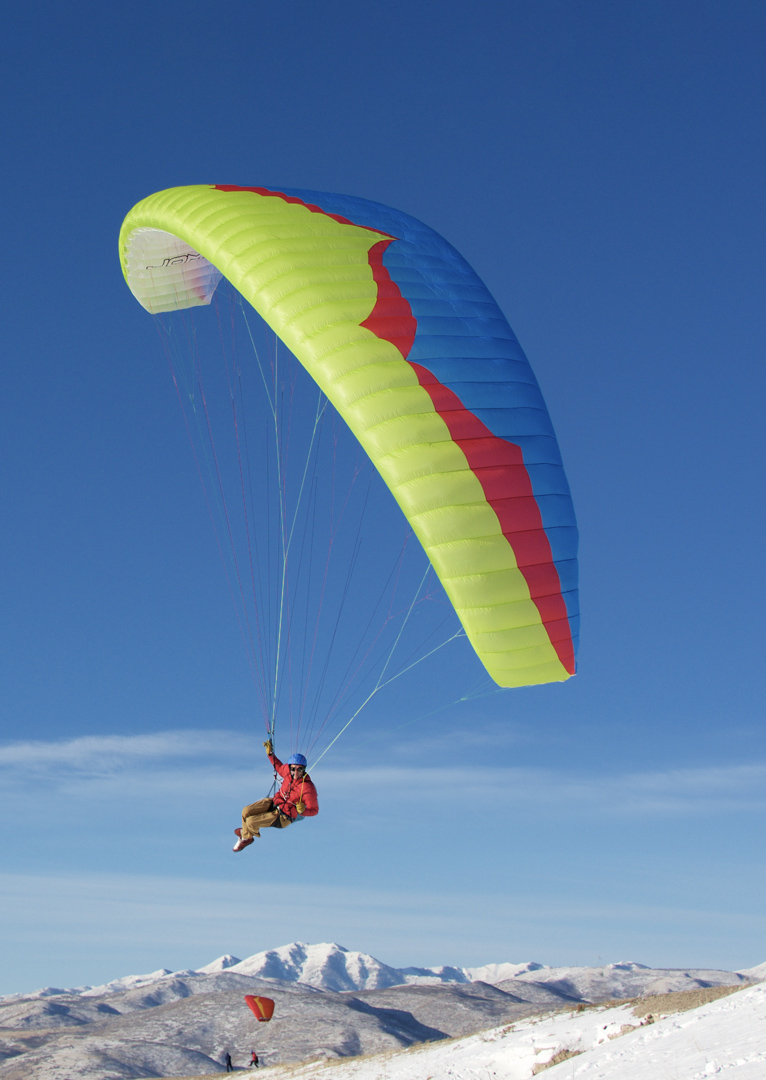 Información
La Jomo es una vela de iniciación/intermedia, ligera y de gran rendimiento, diseñada para un gran número de pilotos a quienes gusta caminar y volar. Ante todo es una vela segura, divertida y fácil, con gran rendimiento e idónea para pilotos que empiezan y pilotos de nivel intermedio que quieran volar distancia, pero también para pilotos con experiencia. Fiable y sana, resulta perfecta para pilotos que precisen una vela sólida y ligera para hacer ladera, volar en térmica, volar distancia o lo que sea.
Homologada como EN A y basada en la Mojo 5, la Jomo reduce de manera significativa respecto a ella tanto el peso como el volumen plegada.
Esas ventajas le aportan a la Jomo una ventaja en tierra, pues la hacen más fácil, ligera y pequeña en el acarreo, y también le dan unas mejores características de inflado y despegue, y de manejo en el suelo, que su más pesada pariente. Despegar en montaña con la JOMO es menos estresante, más fácil y más seguro, gracias a su diseño ligero. Prepararla para volar es sencillo. Las bandas son simples y la vela se infla suavemente, sin adelantar ni quedarse atrás, aunque haya viento cero. Con brisa más fuerte, su inflado es progresivo y tiene menos tendencia a «descorchar» al piloto del suelo.
En el aire, su menor peso reduce la inercia, lo que vuelve a la vela más estable y le aporta un mando más blando. Con un número de cajones y un perfil optimizados, la Jomo es muy limpia aerodinámicamente. La menor resistencia que ofrece la vela, su suspentaje optimizado, la reducción en la longitud total del suspentaje y unas nuevas bocas de cajón, llevan las prestaciones a lo más alto de la categoría sin comprometer la seguridad.
Colores de serie

Cómo hacer un pedido
The current production time is approximately 67 days from order to shipping (updated daily). Contact your dealer to place your order.
Contenido del paquete
Tu vela OZONE se entrega de serie con los accesorios siguientes::
62L X-Alps Backpack, Inner Bag, Glider Strap, OZONE Stickers, Repair Cloth and OZONE Keyring.
You may choose to add something to your order, such as: Saucisse Bag (video) (concertina packing bag), Glider Backpack, Easy Bag (quick stuff sack), or OZONE Clothing and Accessories.
Solicitudes
Especificaciones
| Tallas | xs | s | m | L | XL |
| --- | --- | --- | --- | --- | --- |
| Número de cajones | 40 | 40 | 40 | 40 | 40 |
| Superficie proyectada (m2) | 18.7 | 20.3 | 22.1 | 24 | 26.1 |
| Superficie real (m2) | 22 | 23.9 | 26 | 28.3 | 30.7 |
| Envergadura proyectada (m) | 8.05 | 8.39 | 8.75 | 9.12 | 9.51 |
| Envergadura real (m) | 10.39 | 10.83 | 11.29 | 11.77 | 12.27 |
| Alargamiento proyectado | 3.46 | 3.46 | 3.46 | 3.46 | 3.46 |
| Alargamiento real | 4.9 | 4.9 | 4.9 | 4.9 | 4.9 |
| Cuerda central (m) | 2.72 | 2.83 | 2.95 | 3.08 | 3.21 |
| Peso de la vela (kg) | 3.35 | 3.6 | 3.8 | 3.98 | 4.27 |
| Rango de pesos en vuelo (kg) | 55-70 | 65-85 | 80-100 | 95-115 | 110-130 |
| EN* | A | A | A | A | A |
* Weights may vary up to 50gm per size due to slight variations in the manufacturing of the fabric used.
Materiales
Tejido extradós: Dominico N20D / Skytex 27 Classic

Tejido intradós: Skytex 27 Classic

Tejido costillas: Skytex 40 Hard / Skytex 27 Hard

Cordinos superiores: Liros DSL serie

Cordinos intermedios: Liros DSL serie

Cordinos inferiores: Edelrid 6843 serie
Descargas
Colores a elegir
OZONE COLOUR REFERENCE (//)
SHARE YOUR DESIGN
SOBRE LOS COLORES PERSONALIZADOS
Ozone te anima a que personalices tu vela eligiendo tu propia combinación de colores. La personalización supone un pequeño coste adicional. Una vez hayas decidido tus colores, puede compartir tu diseño con tus amigos, o si ya estás listo para hacer tu pedido, enviárselo a tu distribuidor local de Ozone para que te informe del importe adicional y encargar la vela.
Por favor, ten en cuenta que como esa vela se fabricará exclusivamente para ti en la fábrica de Ozone, el pago debe recibirse antes de que comience a fabricarse.
COLORES DEL TEJIDO Y RESISTENCIA A LOS RAYOS UV
Por favor, ten en cuenta que el color que veas en tu pantalla puede que no represente con precisión el color real del tejido. Dada la amplia variedad en la calibración de las pantallas y el aspecto del tejido bajo diferentes condiciones de luz y combinaciones de colores, resulta imposible representar perfectamente el color del tejido en la pantalla. Si albergas alguna duda sobre los colores, mira las fotos de unas cuantas velas en nuestra página web para verlas bajo luces y combinaciones de colores diferentes o ponte en contacto con tu distribuidor local para ver el tejido en persona.
Todo el tejido que usamos pasa por un exhaustivo proceso de pruebas durante los prototipos, para asegurarnos de que el color se mantiene, de la estabilidad mecánica, la porosidad y la longevidad general, antes de poner ese tejido en producción. Una vez que nuestro tejido está en producción, cada metro del mismo se inspecciona rigurosamente al llegar a nuestra fábrica, y un tejido que no pase nuestros estrictos controles de calidad, se devuelve al fabricante. Con frecuencia nos preguntan qué colores son los que más duran o tienen mayor resistencia a los rayos UV. Todos los colores que empleamos poseen un valor de entre 4 y 5 en una escala que va del 1 al 5, siendo el 5 el valor más alto posible en cuanto a longevidad.
↑