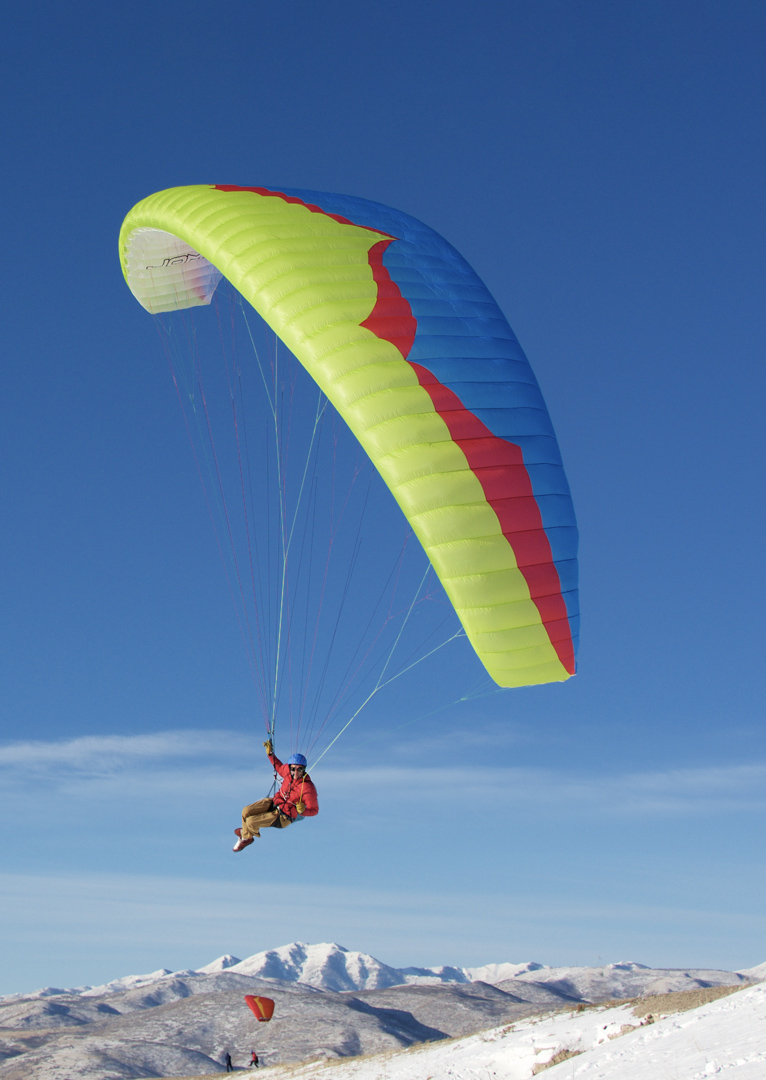 제품 설명
조모는 등산 및 비행을 함께하는 비행자를 위해 광범위하게 디자인된 경량의 고성능 초급 및 중급자를 위한 글라이더입니다. 무엇보다 안전과 재미 그리고, 사용하기 쉬운 고성능 글라이더로 이상적인 것으로 중간 등급의 장거리 비행을 원하는 비행자 와 경험이 있는 비행자들에게도 매우 적합한 글라이더입니다. 안정적이고, 신뢰할 수 있는 글라이더로 사면 상승풍, 열기류 비행, 장거리 비행 그리고 이상을 위한 비행에 요구되는 성능과 안전도 그리고 견고함까지 모두 갖춘 글라이더 이면서 경량의 날개를 필요로 하는 조종사들을 위한 최적의 글라이더입니다.
모조 5 를 기본으로 하였으며 EN A 등급의 인증을 통과 하였으며, 조모는 크게 무게와 포장 부피를 줄였습니다.
이러한 장점은 조모에게, 가볍고 작아서 이동시 간편하고 이륙의 성능을 증가하여 쉽게 인플레이션을 할 수 있으며, 무거운 비슷한 다른 글라이더에 비해 그라운드 핸들링이 쉽고 편안합니다. 산에서 이륙하는데 있어 경량 디자인 덕분에 조모는 산에서 이륙하는 것의 스트레스를 최소화하였으며, 쉽고 안전합니다. 라이저 가 어지럽게 흩어져 있지 않고, 매우 간단하여 셋팅하는 것이 쉬우며 간편합니다. 날개의 인플레이트가 부드러워 부드럽게 이륙이 됩니다. – 오버슛팅 또는 날개가 뒤는 가는 행잉 백 의 현상이 없이- 또한, 비록 무풍의 상태에서도 이륙이 부드럽습니다. 강한 바람에서는 끌어 올림 현상을 적게 하여 점진적으로 팽창할 수 있으며, 발을 끌어 이륙할 수 있습니다.
비행 중, 낮은 무게는 안정적인 제어를 할 수 있어 가벼운 날개는 관성을 줄일 수 있으며, 날개의 핏치를 안정적으로 만들며, 좀더 가볍게 조종할 수 있습니다. 프로파일 과 셀의 숫자를 최적화하여, 조모는 공기 역학적으로 매우 깨끗합니다. 감소된 저항려과 최적화 된 라인의 레이아웃, 그리고, 전체 라인 길이의 감소는 새로운 모양의 셀 입구의 안전을 손상시키지 않고 EN A 카타고리의 상단에 있는 성능을 상회합니다.
칼라 옵션
주문 정보
OZONE has some of the shortest lead times in the industry. The current production time is approximately 28 days from order to shipping (updated daily). Contact your dealer to place your order.
패키지 용품
OZONE offers a range of backpack choices when you order your wing. To change the type of backpack that will come with your wing, please speak with your OZONE Dealer.
오존 날개 구입시 다음 액서사리가 기본으로 제공됩니다.:
62L X-Alps Backpack, Inner Bag, Glider Strap, OZONE Stickers, Repair Cloth and OZONE Keyring.
You may choose to add something to your order, such as: Saucisse Bag (video) (concertina packing bag), Easy Bag (quick stuff sack), or OZONE Clothing and Accessories.
요구사항
제품 사양
| 크기 | xs | s | m | L | XL |
| --- | --- | --- | --- | --- | --- |
| 셀 갯수 | 40 | 40 | 40 | 40 | 40 |
| 투영 면적(m2) | 18.7 | 20.3 | 22.1 | 24 | 26.1 |
| 평면 면적(m2) | 22 | 23.9 | 26 | 28.3 | 30.7 |
| 투영 스판(m) | 8.05 | 8.39 | 8.75 | 9.12 | 9.51 |
| 평면 스판(m) | 10.39 | 10.83 | 11.29 | 11.77 | 12.27 |
| 투영 면적 비율 | 3.46 | 3.46 | 3.46 | 3.46 | 3.46 |
| 평면 면적 비율 | 4.9 | 4.9 | 4.9 | 4.9 | 4.9 |
| 루트 크로드(m) | 2.72 | 2.83 | 2.95 | 3.08 | 3.21 |
| 글라이더 무게(kg) | 3.35 | 3.6 | 3.8 | 3.98 | 4.27 |
| 총 무게 범위(kg) | 55-70 | 65-85 | 80-100 | 95-115 | 110-130 |
| EN* | A | A | A | A | A |
재료
Top Surface Cloth: Dominico N20D / Skytex 27 Classic

Bottom Surface Cloth: Skytex 27 Classic

Rib cloth: Skytex 40 Hard / Skytex 27 Hard

Upper lines: Liros DSL serie

Mid lines: Liros DSL serie

Lower Lines: Edelrid 6843 serie
다운로드
선택 색상
OZONE COLOUR REFERENCE (//)
SHARE YOUR DESIGN
ABOUT CUSTOM COLOURS
Ozone encourages you to customize your own personal colour combination for your wing. Customization generally incurs a fee. Once you've decided you can share your design with your friends, or if you are ready to order, send it to your local Ozone dealer to verify the charge and place the final order.
Please note that because the glider will be built specifically for you in the Ozone factory, payment must be received before production can begin.
FABRIC COLOURS AND UV RESISTANCE
Please be aware that the colour you see on your screen may not accurately represent the actual fabric colour. Secondly, different cloths specifications with the same color name may vary slightly, please see here for an example. Given the wide varience in monitor calibration and the fabric appearance in different light and colour combinations, it is impossible to perfectly represent fabric colour on screen. If you have any doubts about the colours, look at photos of various wings on our website to see them in different light and colour combinations or contact your local dealer to see the fabric in person.
All of the fabric that we use undergoes extensive testing in prototype colour phase to ensure colourfastness, mechanical stability, porosity, and general longevity before we put it into production. Once our fabric is in production, every meter of it is rigorously inspected upon arrival in our factory, and fabric which does not pass our stringent quality control standards is returned to the manufacturer. We are frequently asked, "Which colours last the longest, or have the best UV resistance?" All of the colours that we stock score between 4 and 5 on a scale of 1-5, with 5 being the highest possible rating for longevity.
↑