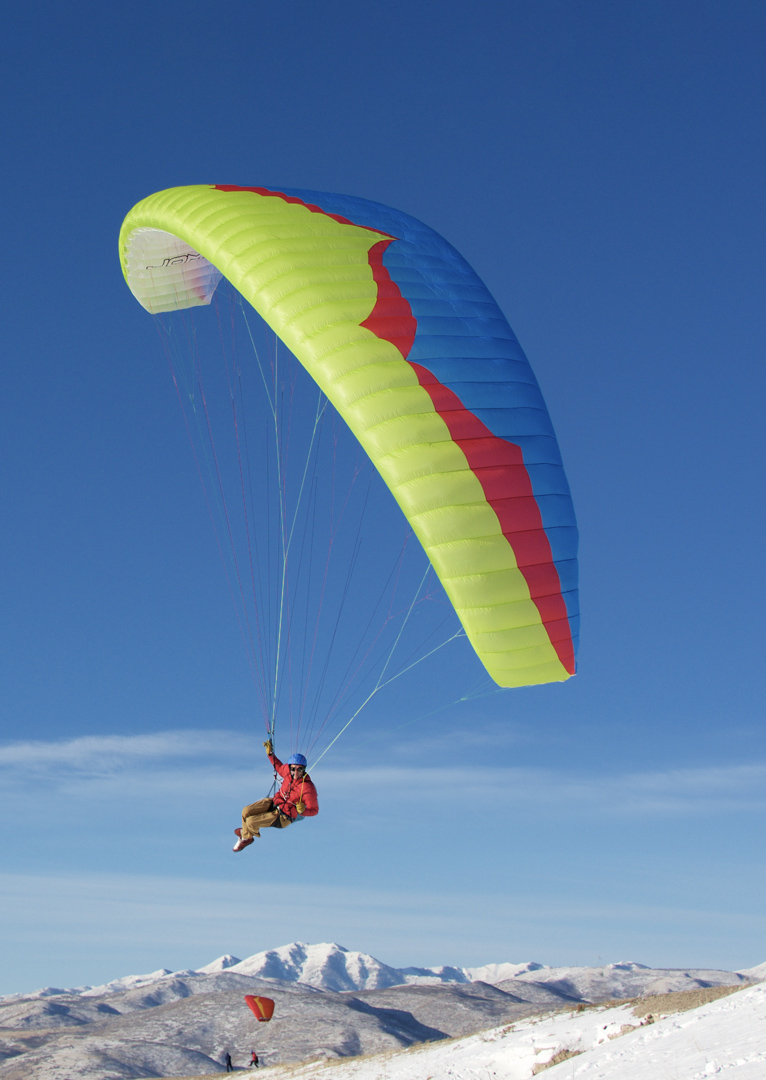 Info Produit
La Jomo est une aile légère de début-intermédiaire destinée à un large éventail de pilotes aimant randonner et voler.
C'est avant tout une aile sûre, amusante et facile à piloter pour des pilotes nouveaux venus au cross, les nouveaux brevetés et les pilotes ayant accumulé une certaine expérience. Fiable et sûre, La Jomo est une aile parfaite pour des pilotes recherchant non seulement une voile de rando/vol mais également une voile très sûre pour
le soaring, le thermique, les cross et au-delà….
Homologuée EN A et basée sur la Mojo 5, la Jomo apporte une diminution notable de poids et d'encombrement.
Ces avantages rendent la Jomo plus intéressante au sol où elle est plus légère, compacte et facile à transporter que sa cousine plus lourde. Décoller avec une Jomo en montagne est moins stressant, plus facile et plus sûr grâce à ses caractéristiques de légèreté. La préparation de la voile est facile ; les élévateurs simples et facilement identifiables. L'aile gonfle doucement et régulièrement, sans traîner en arrière ou dépasser son pilote -même par conditions de vent nul. Par ven fort, elle gonfle progressivement et n'affiche pas de tendance à " shooter " et arracher le pilote au sol.
En vol, la légèreté de l'aile réduit son intertie, la rendant ainsi plus stable en tangage et plus légère à contrôler. Grâce à son profil et à un nombre de cellules optimisés, la Jomo est très propre aérodynamiquement. Une traînée réduite, une optimisation du plan de suspentage, la diminution de la longueur totale du suspentage ainsi que le dessin élaboré des entrées d'air contribuent à propulser la Jomo au sommet de cette catégorie de voiles sans pour autant compromettre la sécurité en vol.
Options de Couleurs
Contenu du package
OZONE offers a range of backpack choices when you order your wing. To change the type of backpack that will come with your wing, please speak with your OZONE Dealer.
Your OZONE wing is delivered standard with the following accessories:
62L X-Alps Backpack, Inner Bag, Glider Strap, OZONE Stickers, Repair Cloth and OZONE Keyring.
You may choose to add something to your order, such as: Saucisse Bag (video) (concertina packing bag), Easy Bag (quick stuff sack), or OZONE Clothing and Accessories.
Requetes
SPECIFICATIONS
| Tailles | xs | s | m | L | XL |
| --- | --- | --- | --- | --- | --- |
| Nombre de cellules | 40 | 40 | 40 | 40 | 40 |
| Surface projetée (m2) | 18.7 | 20.3 | 22.1 | 24 | 26.1 |
| Surface à plat (m2) | 22 | 23.9 | 26 | 28.3 | 30.7 |
| Envergure projetée (m) | 8.05 | 8.39 | 8.75 | 9.12 | 9.51 |
| Envergure à plat (m) | 10.39 | 10.83 | 11.29 | 11.77 | 12.27 |
| Allongement projeté | 3.46 | 3.46 | 3.46 | 3.46 | 3.46 |
| Allongement à plat | 4.9 | 4.9 | 4.9 | 4.9 | 4.9 |
| Corde | 2.72 | 2.83 | 2.95 | 3.08 | 3.21 |
| Poids de l'aile | 3.35 | 3.6 | 3.8 | 3.98 | 4.27 |
| Fourchette de poids en vol (kg) | 55-70 | 65-85 | 80-100 | 95-115 | 110-130 |
| EN* | A | A | A | A | A |
Matériaux
Top Surface Cloth: Dominico N20D / Skytex 27 Classic

Bottom Surface Cloth: Skytex 27 Classic

Rib cloth: Skytex 40 Hard / Skytex 27 Hard

Upper lines: Liros DSL serie

Mid lines: Liros DSL serie

Lower Lines: Edelrid 6843 serie
Téléchargements
↑