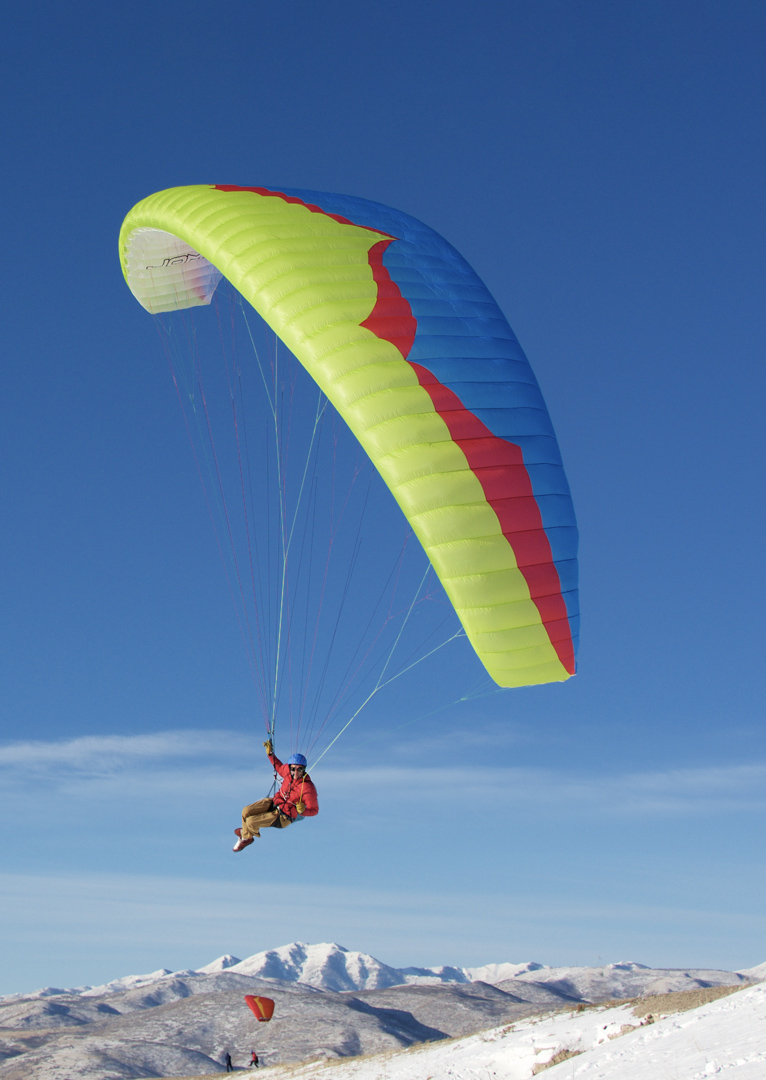 Produktinfo
Der Jomo ist ein leichtgewichtiger Anfänger-Intermediate Flügel für Hike & Fly Piloten. Vor allem ist er ein sicherer und einfach zu handhabender Schirm, der Spaß macht, und zum Üben ideal für neu qualifizierte, Intermediate XC – und erfahrene Piloten geeignet ist. Auf den Jomo kann man sich verlassen. Er ist für Piloten perfekt, die nicht nur einen Hike & Fly Flügen wollen, sondern einen, der auch höchsten Sicherheitsansprüchen gerecht wird, und zum Reisen, Soaren, Thermik oder XC Fliegen und mehr einfach perfekt ist.
Der Jomo basiert auf dem Mojo 5, allerdings trumpft er mit deutlich weniger Gewicht und Packvolumen auf, und ist EN A zertifiziert.
Diese Vorteile machen das Bodenhandling mit dem JOMO deutlich einfacher. Er ist leichter zu transportieren, weil er weniger auf die Waage bringt und kleiner ist. Er zeigt bessere Starteigenschaften und ist simpler aufzuziehen als sein Cousin, der mehr Gewicht mitbringt. Dank des leichtgewichtigen Designs ist das Starten mit dem JOMO in den Bergen weniger stressig, einfacher und sicherer. Die Startvorbereitung ist einfach; die Tragegurte sind simpel und ordentlich gehalten. Er füllt sich sanft und steigt über den Piloten ohne dabei zu überschießen oder hinten hängen zu bleiben. Und das sogar bei Nullwind. Bei stärkerem Wind wird das Füllverhalten entsprechend progressiver, und lässt den Piloten einfach starten.
In der Luft reduziert das verringerte Gewicht die Trägheit der Masse, und macht den Schirm im Pitch stabiler und leichter zu kontrollieren. Der JOMO ist durch seine optimierte Zellenanzahl und sein Profil aerodynamisch sehr sauber. Der reduzierte Segelwiderstand, ein optimiertes Leinen Layout, die verringerte Gesamtleinenlänge und neu gestaltete Zellöffnungen bringen seine Leistung an die Spitze seiner Kategorie. Und das ohne Kompromisse in Sachen Sicherheit.
Farbwahl
Bestellinfo
OZONE has some of the shortest lead times in the industry. The current production time is approximately 77 days from order to shipping (updated daily). Contact your dealer to place your order.
Lieferumfang
OZONE offers a range of backpack choices when you order your wing. To change the type of backpack that will come with your wing, please speak with your OZONE Dealer.
Dein OZONE Schirm wird standardmäßig mit dem folgenden Zubehör ausgeliefert::
62L X-Alps Backpack, Inner Bag, Glider Strap, OZONE Stickers, Repair Cloth and OZONE Keyring.
You may choose to add something to your order, such as: Saucisse Bag (video) (concertina packing bag), Easy Bag (quick stuff sack), or OZONE Clothing and Accessories.
Anfragen
Spezifikationen
| Größen | xs | s | m | L | XL |
| --- | --- | --- | --- | --- | --- |
| Anzahl der Zellen | 40 | 40 | 40 | 40 | 40 |
| Projizierte Fläche (m2) | 18.7 | 20.3 | 22.1 | 24 | 26.1 |
| Ausgelegte Fläche (m2) | 22 | 23.9 | 26 | 28.3 | 30.7 |
| projizierte Spannweite (m) | 8.05 | 8.39 | 8.75 | 9.12 | 9.51 |
| ausgelegte Spannweite (m) | 10.39 | 10.83 | 11.29 | 11.77 | 12.27 |
| projizierte Streckung | 3.46 | 3.46 | 3.46 | 3.46 | 3.46 |
| ausgelegte Streckung | 4.9 | 4.9 | 4.9 | 4.9 | 4.9 |
| Flügeltiefe (m) | 2.72 | 2.83 | 2.95 | 3.08 | 3.21 |
| Gleitschirmgewicht (kg) | 3.35 | 3.6 | 3.8 | 3.98 | 4.27 |
| Gewichtsbereich (kg) | 55-70 | 65-85 | 80-100 | 95-115 | 110-130 |
| EN* | A | A | A | A | A |
Material
Obersegel: Dominico N20D / Skytex 27 Classic

Untersegel: Skytex 27 Classic

Rippen: Skytex 40 Hard / Skytex 27 Hard

Gallerieleinen: Liros DSL serie

Mittleres Stockwerk: Liros DSL serie

Stammleinen: Edelrid 6843 serie

DOWNLOADS
Persönliche Farbwahl
OZONE COLOUR REFERENCE (//)
SHARE YOUR DESIGN
ABOUT CUSTOM COLOURS
Ozone encourages you to customize your own personal colour combination for your wing. Customization generally incurs a fee. Once you've decided you can share your design with your friends, or if you are ready to order, send it to your local Ozone dealer to verify the charge and place the final order.
Please note that because the glider will be built specifically for you in the Ozone factory, payment must be received before production can begin.
FABRIC COLOURS AND UV RESISTANCE
Please be aware that the colour you see on your screen may not accurately represent the actual fabric colour. Secondly, different cloths specifications with the same color name may vary slightly, please see here for an example. Given the wide varience in monitor calibration and the fabric appearance in different light and colour combinations, it is impossible to perfectly represent fabric colour on screen. If you have any doubts about the colours, look at photos of various wings on our website to see them in different light and colour combinations or contact your local dealer to see the fabric in person.
All of the fabric that we use undergoes extensive testing in prototype colour phase to ensure colourfastness, mechanical stability, porosity, and general longevity before we put it into production. Once our fabric is in production, every meter of it is rigorously inspected upon arrival in our factory, and fabric which does not pass our stringent quality control standards is returned to the manufacturer. We are frequently asked, "Which colours last the longest, or have the best UV resistance?" All of the colours that we stock score between 4 and 5 on a scale of 1-5, with 5 being the highest possible rating for longevity.
↑