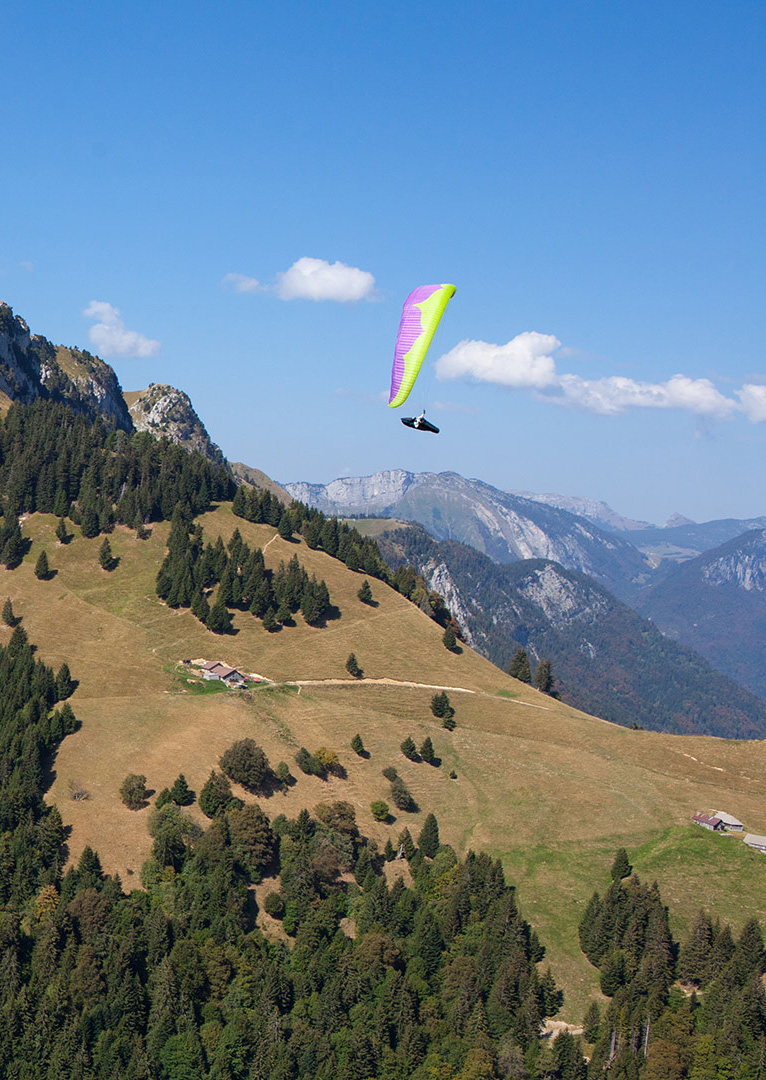 Info Produit
La Zeno est la quintessence de ce que le département Recherche et Développement d'OZONE peut produire. Cette nouvelle aile avancée comble en fait le vide qui existait entre la Mantra M6 et l'Enzo 2 de compétition. La Zeno constitue donc une option nouvelle pour tous les pilotes très expérimentés souhaitant passer sous une aile plus performante mais restant néanmoins très accessible au pilotage.
La Zeno est une aile spéciale, conçue pour les pilotes déjà très accoutumés aux voiles de cette catégorie. Si vous envisagez d'acquérir une Zeno, cela veut dire que vous connaissez l'historique de l'Enzo et du Team RD de OZONE. Voici donc la " Liste de Luc " fixant les nouveaux critères de la Zeno :
Nouveau profil issu du programme de recherches sur l'Enzo3
Nouvel arc permettant l'amélioration de la maniabilité et du comportement en fermeture
Excellente maniabilité pour toute la gamme de poids
Record de faiblesse de traînée (12 % plus faible que pour l'Enzo2)
Vitesse de pointe identique à celle de l'ENZO2 pour un poids égal
Optimisation de la torsion du profil de l'aile en vol accéléré pour une diminution de la traînée induite
Profil optimisé pour la stabilité en vol accéléré
Vitesse max égale à celle de l'Enzo 2 pour un poids identique
Polaire identique à celle de l'Enzo2
Fabrication légère : 5,4 kg en taille ML
78 cellules : optimisation pour la perf
Elévateurs à 2 lignes avec limiteur de vitesse à 15 cm
Contrôle de voile aux B extrêmement efficace en atmosphère active
LE PILOTE
La Zeno est une aile à deux lignes, située entre la M6 et l'Enzo mais pouvant remplir confortablement les fonctions de l'une ou de l'autre. Son comportement et son confort en vol rivalisent ceux des Mantra, mais ses perfs sont incroyablement proches de celles de l'Enzo. Les pilotes qui sont heureux sous une M6 ou sous toute autre aile de catégorie semblable et qui ont envie de voler sous une deux lignes constateront que la Zeno constitue une excellente aile d'accès aux plus hauts niveaux du parapente.
LE VOL
La Zeno n'est pas une voile de compète dégradée ni même une Enzo apprivoisée pour rentrer dans la case EN D. C'est une aile de conception entièrement nouvelle qui a évolué parallèlement au programme de recherches dédié à l'Enzo 3. Elle comporte des technologies nouvelles qui ont non seulement amélioré la vitesse et le plané, mais aussi le comportement en vol. La Zeno est étonnament confortable en conditions de vol de cross musclées. L'équipe de R&D a consacré un nombre d'heures incalculable à développer sa structure interne compacte et cohérente -Luc indique que le retour d'info est " filtré " et extrêmement utile au pilote, et le comportement de l'aile en cas de fermeture est parfaitement gérable pour une aile de cette catégorie.
LA TAILLE
Les pilotes de M6 doivent chosir la même taille pour la Zeno. Si vous volez sous une M6 taille ML, prenez une Zeno ML. Les fourchettes de poids sont légèrement différentes mais la Zeno se comporte très bien pour toute la gamme des PTV ; et le confort et la maniabilité sont exceptionnels , pas uniquement en haut
de chaque taille. Le registre de vol de la Zeno permet l'utilisation d'une sellette de compétitionet de deux secours, qui sont recommandés pour les ailes deux lignes de cette catégorie. La taille ML prévoit un PTV maxi de 110 kg tandis que la MS est faite pour 100 kg maxi. Une fois de plus, il n'est pas indispensable de voler sous une Zeno au PTV maxi car le comportement et la maniabilité sont exceptionnels pour toutes les tailles d'ailes.
LE PRIX
La Zeno est une aile très complexe. La détermination du prix tient compte des coûts réels des matériaux et du temps de fabrication de chaque voile. Notre politique du juste prix s'applique à tous nos produits et la Zeno n'est donc pas une exception. Avec ses 78 cellules et une vaste utilisation de techniques de fabrication sophistiquées permettant une tension millimétrée sur toute l'envergure et la corde de l'aile, la Zeno est la quintessence de la fabrication moderne de parapentes.
COLORIS DISPONIBLES
Please note that the bottom surface of the ZENO is a solid colour matching zone 2.
Options de Couleurs
Information relative aux commandes
OZONE has some of the shortest lead times in the industry. The current production time is approximately 62 days from order to shipping (updated daily). Contact your dealer to place your order.
Contenu du package
OZONE offers a range of backpack choices when you order your wing. To change the type of backpack that will come with your wing, please speak with your OZONE Dealer.
Your OZONE wing is delivered standard with the following accessories:
Competition Glider+ Pod pack, Special "Folding Pillow" to aid preservation of plastic reinforcements, Inner Bag, Glider Strap, OZONE Stickers, Repair Cloth and OZONE Keyring.
You may choose to add something to your order, such as: Saucisse Bag (video) (concertina packing bag), Easy Bag (quick stuff sack), or OZONE Clothing and Accessories.
Requetes
SPECIFICATIONS
| Tailles | S | ms | ml | l |
| --- | --- | --- | --- | --- |
| Nombre de cellules | 78 | 78 | 78 | 78 |
| Surface projetée (m2) | 17.8 | 19 | 20.4 | 22.4 |
| Surface à plat (m2) | 21 | 22.5 | 24.1 | 26.5 |
| Envergure projetée (m) | 9.6 | 9.9 | 10.3 | 10.8 |
| Envergure à plat (m) | 12 | 12.5 | 12.9 | 13.5 |
| Allongement projeté | 5.2 | 5.2 | 5.2 | 5.2 |
| Allongement à plat | 6.9 | 6.9 | 6.9 | 6.9 |
| Corde | 2.19 | 2.26 | 2.3 | 2.45 |
| Poids de l'aile | 4.8 | 5 | 5.3 | 5.8 |
| Fourchette de poids en vol (kg) | 75-90 | 85-100 | 95-110 | 105-125 |
| EN | D | D | D | D |
Matériaux
Top Surface - Dominico 30D / 27 Classic

Bottom Surface - Skytex 27 Classic
Téléchargements
Coloris Personnalisés
OZONE COLOUR REFERENCE (/)
SHARE YOUR DESIGN
ABOUT CUSTOM COLOURS
Ozone encourages you to customize your own personal colour combination for your wing. Customization generally incurs a fee. Once you've decided you can share your design with your friends, or if you are ready to order, send it to your local Ozone dealer to verify the charge and place the final order.
Please note that because the glider will be built specifically for you in the Ozone factory, payment must be received before production can begin.
FABRIC COLOURS AND UV RESISTANCE
Please be aware that the colour you see on your screen may not accurately represent the actual fabric colour. Secondly, different cloths specifications with the same color name may vary slightly, please see here for an example. Given the wide varience in monitor calibration and the fabric appearance in different light and colour combinations, it is impossible to perfectly represent fabric colour on screen. If you have any doubts about the colours, look at photos of various wings on our website to see them in different light and colour combinations or contact your local dealer to see the fabric in person.
All of the fabric that we use undergoes extensive testing in prototype colour phase to ensure colourfastness, mechanical stability, porosity, and general longevity before we put it into production. Once our fabric is in production, every meter of it is rigorously inspected upon arrival in our factory, and fabric which does not pass our stringent quality control standards is returned to the manufacturer. We are frequently asked, "Which colours last the longest, or have the best UV resistance?" All of the colours that we stock score between 4 and 5 on a scale of 1-5, with 5 being the highest possible rating for longevity.
↑