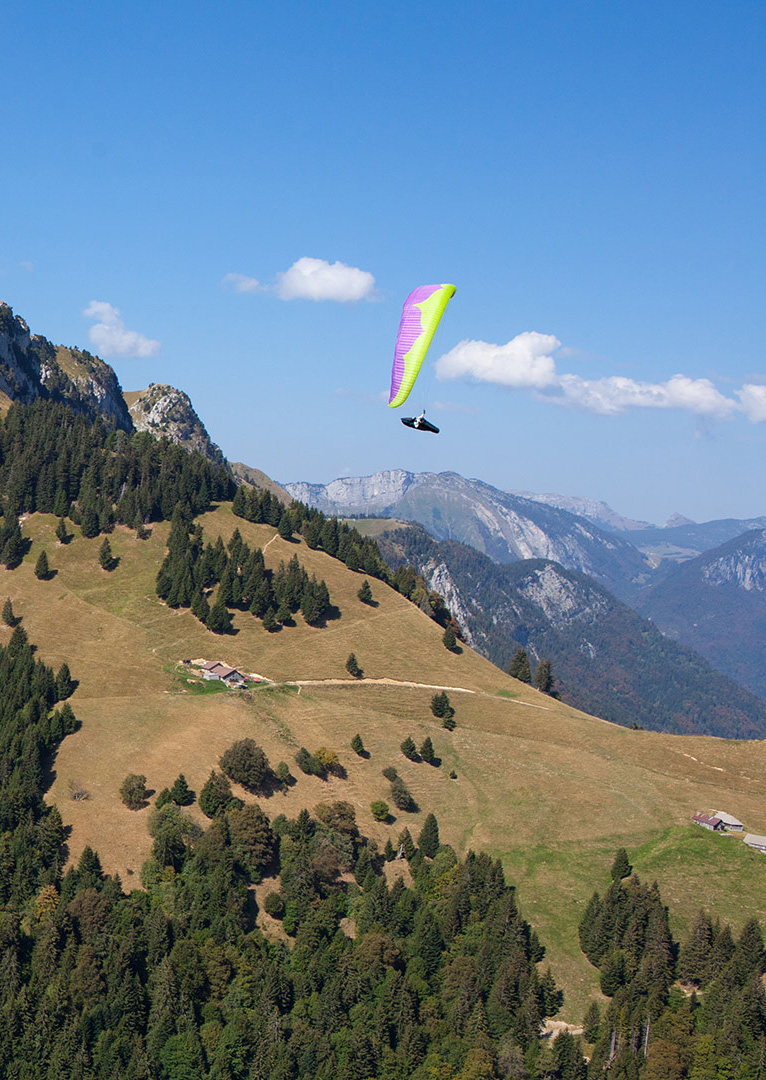 Produktinfo
Der Zeno ist der Spitzenreiter der bisherigen OZONE Gleitschirm Entwicklung, und repräsentiert das Maximum von bislang Machbarem. Dieses höchst fortschrittliche Design schlägt die Brücke zwischen dem Enzo und der Mantra Serie, und ist für Profi Piloten eine Option, die nach dem Mantra M6 und anderen Schirmen seiner Klasse auf einen wirklichen 2-Leiner umsteigen wollen.
Der Zeno ist ein ganz besonderer Gleitschirm, der für Profipiloten entwickelt wurde, die sich mit dieser Schirmklasse bereits bestens vertraut gemacht haben. Wenn du den Zeno für dich in Erwägung ziehst, dann kennst du dich vermutlich mit dem OZONE R&D Team gut aus. Folgendes ist "Luc´s Liste" der Design Features für den Zeno:
• Ein neues Profil vom Enzo 3 Forschungsprogramm
• Eine neue Krümmung für besseres Handling und besseres Klappverhalten
• Ausgezeichnetes Handlich über den gesamten Gewichtsbereich hinweg
• Bislang geringster Leinenwiderstand (12 % weniger als der Enzo 2 M)
• Neue Oberflächenform-Berechnung
• Optimierter Schirm Twist im beschleunigten Flug verringert induzierten Widerstand
• Optimiertes Profil für Stabilität im beschleunigten Flug
• Gleiche Höchstgeschwindigkeit als der Enzo 2 M bei gleichem Gewicht
• Ähnliche Gleitleistung wie der Enzo 2
• Leichtgewichtige Konstruktion: 5,4 kg in der Größe ML
• 78 Zellen, optimiert für Leistung/Gewicht
• 2-Leinen Tragegurte mit 15 cm Geschwindigkeitsbegrenzern
• Hoch effektive B-Leinen Kontrolle in aktiver Luft
Der Pilot
Der Zeno ist ein 2-Leinen Design, das gut zwischen den M6 und den Enzo passt, und in beiden Kategorien angenehm zu fliegen ist. Sein Verhalten und Komfort während des Fliegens kommt dem der Mantra Serie gleich, aber seine Leistung ist der des Enzo 2 unglaublich ähnlich. Piloten, die sich mit dem M6 oder anderen Flügeln dieser Klasse wohl fühlen, und gerne die Flugtechniken eines 2-Leiners erlernen möchten, werden im Zeno einen ausgezeichneten Schirm finden, der sie zum höchsten Level des Gleitschirmfliegens bringt.
Im Flug
Der Zeno ist keine heruntergetunte Wettkampfkiste oder ein Enzo, der in eine EN D Box gezwungen wurde. Sein völlig neues Design hat sich vielmehr parallel zum Forschungsprogramm des Enzo 3 entwickelt, und beinhaltet Techniken, die nicht nur die Gleit- und Geschwindigkeitsleistung verbessert haben, sondern auch das Verhalten. Der Zeno ist bei echten XC Bedingungen überraschend komfortabel. Das OZONE R&D Team hat unzählige Stunden auf das Entwickeln seiner kompakten und kohäsiven Struktur verwendet – Luc beschreibt das Feedback als "gefiltert" und für den Piloten äußerst nützlich, und das Verhalten des Schirms bei einem Einklapper ist für diese Klasse sehr umgänglich.
Die Größe
M6 Piloten sollten beim Zeno die gleiche Größe wählen wie beim M6. Falls du also einen M6 in der Größe ML fliegst, solltest du einen Zeno ML wählen. Die Gewichtsbereiche unterscheiden sich leicht, aber der Zeno zeigt über den gesamten Gewichtsbereich hinweg eine gute Leistung, und Komfort/Handling sind nicht nur im oberen Bereich jeder Größe außergewöhnlich. Der erweiterte Gewichtsbereich des Zenos gibt Raum für ein Wettkampfgurtzeug und ein 2er Rettungsschirm System, das für einige Wettbewerbe benötigt wird, und ohnehin für jeden Schirm empfehlenswert ist. Die Größe ML reicht bis 110 kg, MS bis 100. Nochmals: es ist nicht nötig, den Zeno am oberen Gewichtsbereich zu fliegen – Leistung und Handling sind über den gesamten Gewichtsbereich hinweg hervorragend.
Der Preis
Der Zeno ist ein sehr komplexer Schirm. Das OZONE Preissystem basiert auf den Realkosten für die verwendeten Materialien, und den Zeitaufwand bei der Produktion, der für jeden Flügel benötigt wird um ihn herzustellen. Unsere faire Preispolitik gilt für all unsere Produkte, und der Zeno macht hier keine Ausnahme. Mit 78 Zellen und einem enormen Aufgebot an hoch technischen Konstruktionsmethoden, die Gewicht einsparen und eine Millimeterpräzisions-Spannung über die gesamte Spannweite und Flügeltiefe hinweg sicherstellen, bildet der Zeno die Spitze moderner Gleitschirm Konstruktion.
Erhältliche Farben
Beachte bitte, dass das Untersegel des ZENOs in einer nicht durchsichtigen Farbe gefertigt ist, der Farbzone 2 entspricht, und somit die gleiche Farbe hat wie das hintere Obersegel.
Farbwahl
Bestellinfo
OZONE has some of the shortest lead times in the industry. The current production time is approximately 59 days from order to shipping (updated daily). Contact your dealer to place your order.
Lieferumfang
OZONE offers a range of backpack choices when you order your wing. To change the type of backpack that will come with your wing, please speak with your OZONE Dealer.
Dein OZONE Schirm wird standardmäßig mit dem folgenden Zubehör ausgeliefert::
Competition Glider+ Pod pack, Special "Folding Pillow" to aid preservation of plastic reinforcements, Inner Bag, Glider Strap, OZONE Stickers, Repair Cloth and OZONE Keyring.
You may choose to add something to your order, such as: Saucisse Bag (video) (concertina packing bag), Easy Bag (quick stuff sack), or OZONE Clothing and Accessories.
Anfragen
Spezifikationen
| Größen | S | ms | ml | l |
| --- | --- | --- | --- | --- |
| Anzahl der Zellen | 78 | 78 | 78 | 78 |
| Projizierte Fläche (m2) | 17.8 | 19 | 20.4 | 22.4 |
| Ausgelegte Fläche (m2) | 21 | 22.5 | 24.1 | 26.5 |
| projizierte Spannweite (m) | 9.6 | 9.9 | 10.3 | 10.8 |
| ausgelegte Spannweite (m) | 12 | 12.5 | 12.9 | 13.5 |
| projizierte Streckung | 5.2 | 5.2 | 5.2 | 5.2 |
| ausgelegte Streckung | 6.9 | 6.9 | 6.9 | 6.9 |
| Flügeltiefe (m) | 2.19 | 2.26 | 2.3 | 2.45 |
| Gleitschirmgewicht (kg) | 4.8 | 5 | 5.3 | 5.8 |
| Gewichtsbereich (kg) | 75-90 | 85-100 | 95-110 | 105-125 |
| EN | D | D | D | D |
Material
Obersegel - Dominico 30D / 27 Classic

Untersegel - Skytex 27 Classic

DOWNLOADS
Persönliche Farbwahl
OZONE COLOUR REFERENCE (/)
SHARE YOUR DESIGN
ABOUT CUSTOM COLOURS
Ozone encourages you to customize your own personal colour combination for your wing. Customization generally incurs a fee. Once you've decided you can share your design with your friends, or if you are ready to order, send it to your local Ozone dealer to verify the charge and place the final order.
Please note that because the glider will be built specifically for you in the Ozone factory, payment must be received before production can begin.
FABRIC COLOURS AND UV RESISTANCE
Please be aware that the colour you see on your screen may not accurately represent the actual fabric colour. Secondly, different cloths specifications with the same color name may vary slightly, please see here for an example. Given the wide varience in monitor calibration and the fabric appearance in different light and colour combinations, it is impossible to perfectly represent fabric colour on screen. If you have any doubts about the colours, look at photos of various wings on our website to see them in different light and colour combinations or contact your local dealer to see the fabric in person.
All of the fabric that we use undergoes extensive testing in prototype colour phase to ensure colourfastness, mechanical stability, porosity, and general longevity before we put it into production. Once our fabric is in production, every meter of it is rigorously inspected upon arrival in our factory, and fabric which does not pass our stringent quality control standards is returned to the manufacturer. We are frequently asked, "Which colours last the longest, or have the best UV resistance?" All of the colours that we stock score between 4 and 5 on a scale of 1-5, with 5 being the highest possible rating for longevity.
↑