PRODUCT INFO
Eres nuevo en este deporte, pero ya sientes que llegará a ser una parte importante de tu vida y sabes que seguirás volando en parapente con entusiasmo. El Buzz tiene todo lo que necesitas para progresar con seguridad a través de tus primeros años como piloto. Incluso si piensas volar con regularidad y progresar rápidamente, el Buzz no te dejará atrás tan pronto…
El Buzz es ideal para principiantes entusiastas y con talento, o para pilotos que vienen de un parapente DHV1, pero que todavía quieren mantener un nivel extra de seguridad que no les dan otros parapentes con rendimiento DHV 1-2.
El mando y prestaciones del Buzz son bastante buenos para un piloto en su primer año de progresión, sin comprometer en absoluto la seguridad. El Buzz está diseñado para ser un parapente que dé tranquilidad a pilotos que necesitan seguridad DHV 1 en una vela con rendimiento DHV 1-2.
Despegar con el Buzz es sencillo tanto de frente como de espaldas, pues la vela no tiene ninguna tendencia a adelantar al piloto y hay una presión positiva en las bandas durante todo el movimiento del inflado. Las respuestas son suaves, sin aislar al piloto del aire, lo que permite que los pilotos con menos experiencia aprendan algo del aire en cada vuelo. La presión en el freno aumenta significativamente hacia el final del recorrido y ese aumento de presión antes del punto de pérdida o el negativo es virtualmente imposible de ignorar.
El Buzz es una mejora respecto al Vibe en todos los aspectos, planeo, tasa de caída, velocidad, estabilidad y pilotaje incluidos.
El Buzz incorpora el atractivo nuevo diseño OZONE en tres colores y está disponible en 8 combinaciones diferentes.
COLOUR OPTIONS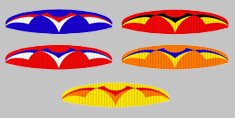 PACKAGE CONTENTS
OZONE offers a range of backpack choices when you order your wing. To change the type of backpack that will come with your wing, please speak with your OZONE Dealer.
Your OZONE wing is delivered standard with the following accessories:
You may choose to add something to your order, such as: Saucisse Bag (video) (concertina packing bag), Easy Bag (quick stuff sack), or OZONE Clothing and Accessories.
SPECIFICATIONS
| | XS | S | M | L | XL |
| --- | --- | --- | --- | --- | --- |
| No of cells | 42 | 42 | 42 | 42 | 42 |
| Area Proj. | 19.55 | 20.93 | 22.7 | 24.86 | 27.25 |
| Area Flat | 22.3 | 24.5 | 26.55 | 29.1 | 31.95 |
| Span Proj. | 8.26 | 8.73 | 9.1 | 9.51 | 9.96 |
| Span Flat | 10.80 | 11.18 | 11.64 | 12.18 | 12.78 |
| AR Proj. | 3.64 | 3.64 | 3.64 | 3.64 | 3.64 |
| AR Flat | 5.1 | 5.1 | 5.1 | 5.1 | 5.1 |
| Glider Weight | 5.2 | 5.5 | 5.8 | 6.2 | 6.5 |
| In flight weight Range* | 55-70 | 65-85 | 80-100 | 95-115 | 110-135 |
| DHV | 1-2 | 1-2 | 1-2 | 1-2 | 1-2 |
MATERIALS
Tejido:

Extradós = Gelvenor

Intradós = Porcher 9017 E38A

Costillas de carga = Porcher 9092 E29A

Costillas sin carga = Porcher 9017 E29A

Diagonales = Porcher 9017 E38A



Cordinos:

Superiores = DSL70

Intermedias = DSL140

Inferiores (líneas de banda) = Edelrid 6843-200

Frenos = DSL70

Principal de freno = 10-200-040

DOWNLOADS
↑