Info prodotto
Siete nuovi a questo sport, ma già sentite che diverrà una parte preponderante della vostra vita, e sapete che
praticherete il parapendio in modo entusiastico? Allora il Buzz è tutto ciò di cui avete bisogno per progredire in sicurezza durante il vostro primo anno della vostra carriera. Anche se pianificate di volare spesso e di migliorare rapidamente, nella vostra crescita non potrete superare il Buzz troppo presto.
Il Buzz è ideale per principianti entusiasti e di talento, o per piloti che provenendo da una vela DHV 1 non intendono rinunciare a quel livello extra di sicurezza non disponibile in altre vele con prestazioni da DHV 1-2.
Il pilotaggio e le prestazioni del Buzz, senza alcun compromesso sulla sicurezza, sono sufficientemente ampi per la progressione del primo anno di un principiante. Il Buzz è progettato per essere una vela super-sicura per piloti che hanno bisogno della sicurezza di un DHV1 e le prestazioni di un 1-2.
Decollare con il Buzz è semplice sia con il metodo tradizionale sia alla francese, perché la vela non ha tendenze a superare il pilota ed esercita una positiva pressione sugli elevatori durante tutta la fase di gonfiaggio.
I segnali dalla vela sono moderati, senza isolare il pilota dall'aria consentono al principiante di imparare dall'aria ad ogni volo. La pressione dei freni aumenta significativamente verso gli estremi dell'escursione e l'incremento di pressione prima del negativo o prima del punto di stallo è virtualmente impossibile da ignorare.
Il Buzz è un miglioramento rispetto al Vibe sotto ogni aspetto, incluse efficienza, tasso di caduta, velocità e pilotaggio.
Il Buzz è commercializzato nella nuova e brillante livrea OZONE in tre colori, ed è disponibile in otto combinazioni differenti.
Colori opzionali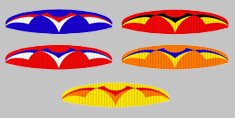 Contenuto della confezione
OZONE offers a range of backpack choices when you order your wing. To change the type of backpack that will come with your wing, please speak with your OZONE Dealer.
La vostra vela OZONE viene consegnata con i seguenti accessori standard :
You may choose to add something to your order, such as: Saucisse Bag (video) (concertina packing bag), Easy Bag (quick stuff sack), or OZONE Clothing and Accessories.
Specifiche
| | XS | S | M | L | XL |
| --- | --- | --- | --- | --- | --- |
| No of cells | 42 | 42 | 42 | 42 | 42 |
| Area Proj. | 19.55 | 20.93 | 22.7 | 24.86 | 27.25 |
| Area Flat | 22.3 | 24.5 | 26.55 | 29.1 | 31.95 |
| Span Proj. | 8.26 | 8.73 | 9.1 | 9.51 | 9.96 |
| Span Flat | 10.80 | 11.18 | 11.64 | 12.18 | 12.78 |
| AR Proj. | 3.64 | 3.64 | 3.64 | 3.64 | 3.64 |
| AR Flat | 5.1 | 5.1 | 5.1 | 5.1 | 5.1 |
| Glider Weight | 5.2 | 5.5 | 5.8 | 6.2 | 6.5 |
| In flight weight Range* | 55-70 | 65-85 | 80-100 | 95-115 | 110-135 |
| DHV | 1-2 | 1-2 | 1-2 | 1-2 | 1-2 |
Materiali
Tessuto:

Estradosso = Gelvenor or Porcher

Intradosso = Porcher 9017 E38A

Centine supportate = Porcher 9092 E29A

Centine non supportate = Porcher 9017 E29A

Diagonali = Porcher 9017 E38A



Linee:

Superiori = DSL70

Mediane = DSL140

Inferiori (linee degli elevatori) = Edelrid 6843-200

Freni = DSL70

Freni Principali = 10-200-040
DOWNLOADS
↑