Info Produit
Vous êtes nouveau dans le sport mais vous sentez déjà que le parapente va prendre une part importante dans votre vie et vous avez vraiment envie de continuer à voler. La Buzz a tout ce qu'il vous faut pour progresser en sécurité les premières années et accompagner votre évolution. Même si vous pensez voler régulièrement et progresser rapidement, vous ne vous lasserez pas de la Buzz de si tôt.
La Buzz est idéale pour les débutants enthousiastes et doués ou pour les pilotes qui veulent évoluer après une aile DHV1 tout en conservant un niveau de sécurité que vous ne trouverez pas avec d'autre aile ayant une performance DHV1-2.
La maniabilité et la performance de la Buzz sont parfaites pour les nouveaux pilotes pendant leurs premières années de progression, sans faire de compromis en terme de sécurité. La Buzz est conçue pour être une aile super sûre pour les pilotes qui veulent une sécurité DHV1 avec une performance DHV1-2.
Décoller avec la Buzz en gonflant dos ou face à l'aile est simple car l'aile n'a pas tendance à dépasser et il y a un bon ressenti dans les élévateurs pendant toute la phase de montée. L'information filtrée et transmise par l'aile est bonne, permettant aux pilotes récents de mieux comprendre la masse d'air à chaque vol. La tension dans les commandes augmente significativement dans les basses vitesses ce qui empêche de s'approcher des phases de vrille ou de décrochage sans s'en rendre compte.
La Buzz constitue une amélioration de la Vibe dans tous les domaines, y compris finesse, taux de chute, vitesse, stabilité et maniabilité.
La Buzz est déclinée dans la nouvelle ligne de trois couleurs d'OZONE et 5 combinaisons sont disponibles.
Options de Couleurs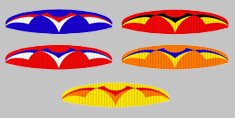 Contenu du package
Your OZONE wing is delivered standard with the following accessories:
You may choose to add something to your order, such as: Saucisse Bag (video) (concertina packing bag), Glider Backpack, Easy Bag (quick stuff sack), or OZONE Clothing and Accessories.
SPECIFICATIONS
| | XS | S | M | L | XL |
| --- | --- | --- | --- | --- | --- |
| No of cells | 42 | 42 | 42 | 42 | 42 |
| Area Proj. | 19.55 | 20.93 | 22.7 | 24.86 | 27.25 |
| Area Flat | 22.3 | 24.5 | 26.55 | 29.1 | 31.95 |
| Span Proj. | 8.26 | 8.73 | 9.1 | 9.51 | 9.96 |
| Span Flat | 10.80 | 11.18 | 11.64 | 12.18 | 12.78 |
| AR Proj. | 3.64 | 3.64 | 3.64 | 3.64 | 3.64 |
| AR Flat | 5.1 | 5.1 | 5.1 | 5.1 | 5.1 |
| Glider Weight | 5.2 | 5.5 | 5.8 | 6.2 | 6.5 |
| In flight weight Range* | 55-70 | 65-85 | 80-100 | 95-115 | 110-135 |
| DHV | 1-2 | 1-2 | 1-2 | 1-2 | 1-2 |
Matériaux
Tissu :

Extrados = Gelvenor

Intrados = Porcher 9017 E38A

Cloisons suspentées = Porcher 9092 E29A

Cloisons non-suspentées = Porcher 9017 E29A

Cloisons diagonales = Porcher 9017 E38A



Suspentage :

Suspentes hautes = DSL70

Suspentes intermédiaires = DSL140

Suspentes basses = Edelrid 6843-200

Freins = DSL70

Drisse de frein = 10-200-040
Téléchargements
↑