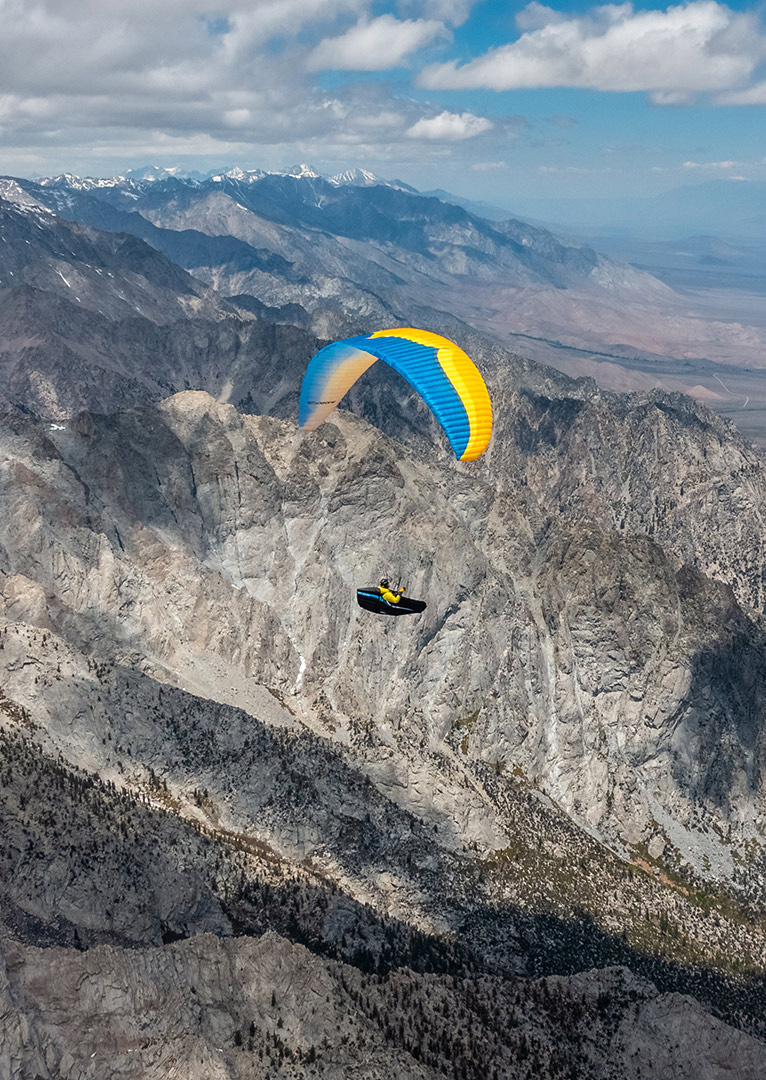 Info Produit
N°1 DANS SA CATÉGORIE
La Rush 5 est une aile qui est au top de sa catégorie d'aile intermédiaire de sport-perfs, développée en intégrant la même technologie que celle utilisée dans l'Enzo 3 et la Zeno, avec d'autres caractéristiques innovantes. Une période d'essais très longue nous a permis de comparer la R 5 avec d'autres ailes de catégorie similaire. Les résultats ont mis en évidence des gains significatifs, surtout dans le domaine des perfs en vol accéléré.
VRAIES PERFS
Comme toutes dnos ailes de perfs et de compétition, la R5 a un excellent comportement en aérologie active et en conditions difficiles. Des centaines d'heures d'essai et conditions actives et turbulente ont été accomplies dans le cadre de son développement pour s'assurer que l'aile satisfaisait nos exigences, conformément à notre doctrine de vraies perfs utilisables en aérologie turbulente sur toute la plage de vitesses de l'aile.
CONCEPTION
L'équipe R&D s'est concentrée sur l'intégrité de l'aile afin d'en faire une voile encore plus solide, compacte et sécurisante comparée à la Rush 4. Cette solidité structurelle ne rend pas seulement cette aile plus confortable et amusante : elle améliore aussi les perfs en conditions turbulentes. Comparée aux ailes de génération précédente, la R5 conserve mieux sa forme en aérologie active, permettant ainsi à l'aile de tailler à travers les turbulences avec plus d'efficacité.
TECH
L'allongement a été maintenu à un niveau modéré afin d'obtenir une aile facile d'utilisation et offrant un très haut niveau de sécurité passive. Les gains de perfs ont été obtenus grâce à l'optimisation du plan de suspentage et à l'utilisation de la 3D pour la conception du B.A. en trois parties distinctes pour l'obtention d'un surfaçage propres et sans plis parasites. Le dessin très amélioré des panneaux et les renforts de bord de fuite ont également permis de diminuer la traînée parasite. Un nouveau profil de Shark Nose améliore le comportement de l'aile dans tous les domaines : stabilité, confort, perfs et plage de freinage, rendant notamment l'aile extrêmement résistante à la vrille ou au décrochage.
EN L'AIR
A solid, high-performance wing is not the whole story; fun is the reason we fly. The R&D team concentrated on the handling and spent a lot of time optimising feedback and turn coordination. We wanted a wing with a direct feel and linear progression in the first part of the range, whilst being responsive and forgiving in the second part. The result is an efficient climb, flat turns with minimal brake input, and increased efficiency in light lift. The responsiveness in the second part of the brake range allows easier control in strong cores.
THE PILOT
Although certified EN B, the R5 is not suitable for beginner pilots. It is meant for experienced intermediate recreational pilots and XC enthusiasts who fly at least 50 hours per year.
*Patented
Options de Couleurs
Information relative aux commandes
OZONE has some of the shortest lead times in the industry. The current production time is approximately 41 days from order to shipping (updated daily). Contact your dealer to place your order.
Contenu du package
OZONE offers a range of backpack choices when you order your wing. To change the type of backpack that will come with your wing, please speak with your OZONE Dealer.
Your OZONE wing is delivered standard with the following accessories:
135 L Backpack, Inner Bag, Glider Strap, Speed Bar, OZONE Stickers, Repair Cloth, OZONE Keyring and OZONE Keyring.
You may choose to add something to your order, such as: Saucisse Bag (video) (concertina packing bag), Easy Bag (quick stuff sack), or OZONE Clothing and Accessories.
Requetes
SPECIFICATIONS
| Tailles | xs | s | ms | ml | l | XL |
| --- | --- | --- | --- | --- | --- | --- |
| Nombre de cellules | 57 | 57 | 57 | 57 | 57 | 57 |
| Surface projetée (m2) | 18.04 | 20.11 | 21.2 | 22.3 | 23.65 | 25.96 |
| Surface à plat (m2) | 21.41 | 23.86 | 25.16 | 26.5 | 28.06 | 30.81 |
| Envergure projetée (m) | 8.55 | 9.02 | 9.27 | 9.51 | 9.78 | 10.25 |
| Envergure à plat (m) | 10.9 | 11.51 | 11.81 | 12.13 | 12.48 | 13.08 |
| Allongement projeté | 4.05 | 4.05 | 4.05 | 4.05 | 4.05 | 4.05 |
| Allongement à plat | 5.55 | 5.55 | 5.55 | 5.55 | 5.55 | 5.55 |
| Corde | 2.47 | 2.61 | 2.68 | 2.75 | 2.83 | 2.97 |
| Poids de l'aile | 4.63 | 5 | 5.19 | 5.47 | 5.71 | 6.2 |
| Certified Weight Range (kg) | 55-70 | 65-85 | 75-95 | 85-105 | 95-115 | 110-130 |
| Recommended Flying Weight (kg) | 60-70 | 70-84 | 82-94 | 90-104 | 100-114 | 112-128 |
| EN | B | B | B | B | B | B |
Matériaux
Top Surface Cloth: Dominico 30D MF

Bottom Surface Cloth: Dominico 30D MF

Rib cloth: Dominico 30D FM

Upper lines: Edelrid 8000U serie

Mid lines: Edelrid 8000U serie

Lower Lines: Liros PPSL/Edelrid 8000U
Téléchargements
Coloris Personnalisés
OZONE COLOUR REFERENCE (///)
SHARE YOUR DESIGN
ABOUT CUSTOM COLOURS
Ozone encourages you to customize your own personal colour combination for your wing. Customization generally incurs a fee. Once you've decided you can share your design with your friends, or if you are ready to order, send it to your local Ozone dealer to verify the charge and place the final order.
Please note that because the glider will be built specifically for you in the Ozone factory, payment must be received before production can begin.
FABRIC COLOURS AND UV RESISTANCE
Please be aware that the colour you see on your screen may not accurately represent the actual fabric colour. Secondly, different cloths specifications with the same color name may vary slightly, please see here for an example. Given the wide varience in monitor calibration and the fabric appearance in different light and colour combinations, it is impossible to perfectly represent fabric colour on screen. If you have any doubts about the colours, look at photos of various wings on our website to see them in different light and colour combinations or contact your local dealer to see the fabric in person.
All of the fabric that we use undergoes extensive testing in prototype colour phase to ensure colourfastness, mechanical stability, porosity, and general longevity before we put it into production. Once our fabric is in production, every meter of it is rigorously inspected upon arrival in our factory, and fabric which does not pass our stringent quality control standards is returned to the manufacturer. We are frequently asked, "Which colours last the longest, or have the best UV resistance?" All of the colours that we stock score between 4 and 5 on a scale of 1-5, with 5 being the highest possible rating for longevity.
↑