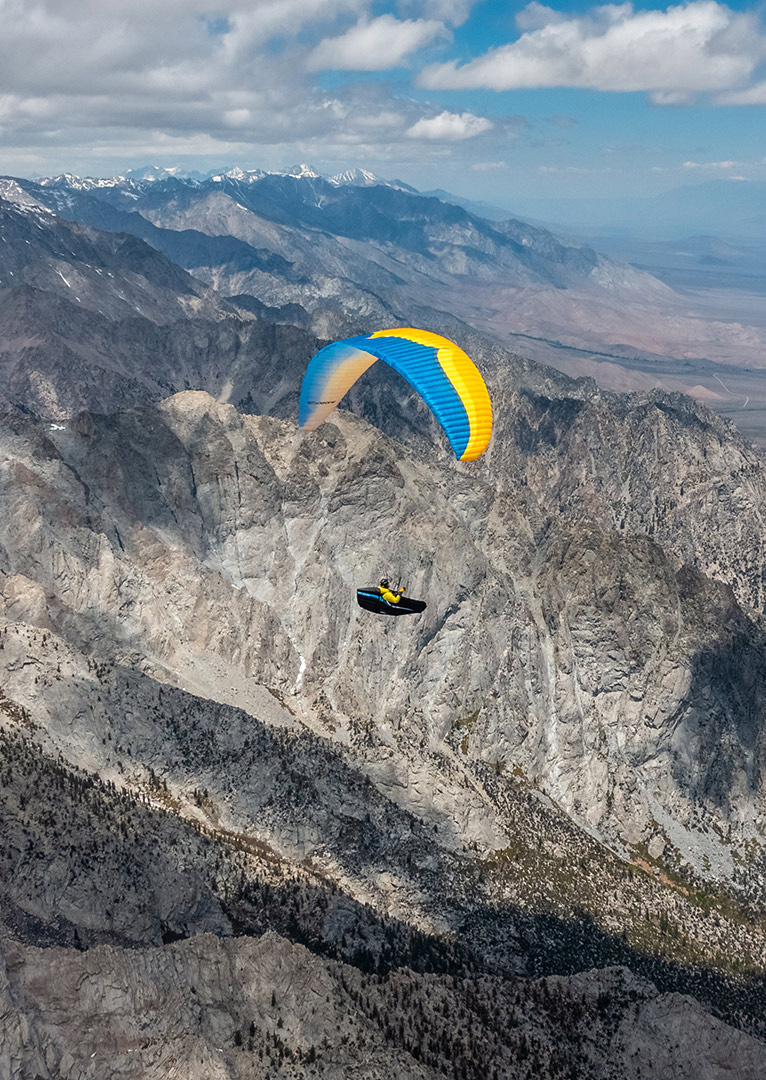 Produktinfo
AN DER SPITZE SEINER KLASSE
Der Rush 5 ist ein sportlicher Leistungs-Intermediate Schirm, der an der Spitze seiner Klasse einzuordnen ist. Er wurde mit der gleichen Technologie entwickelt, die auch in unsere Leistungsflügel Enzo 3 und Zeno eingeflossen ist, und mit einigen neuen innovativen Features versehen. Ein langer Zeitraum an Gleitleistungstests hat es uns ermöglicht, den Rush 5 im Vergleich zu top Flügeln seiner Klasse von anderen Herstellern einzuschätzen. Die Ergebnisse haben deutliche Steigerungen veranschaulicht, vor allem bei der Gleitleistung im beschleunigten Flug.
WAHRE LEISTUNG – TRUE PERFORMANCE
Wie auch unsere sonstigen Leistung- und Wettkampfflügel, so ist auch unser Rush 5 in aktiver Luft und bei herausfordernden Bedingungen herausragend. In die Entwicklung dieses Schirmes sind hunderte Testflüge in realer Luft und bei turbulenten Bedingungen geflossen, um sicherzustellen, dass er unseren eigenen hohen Ansprüchen und dem Design Ziel "True Performance" gerecht wird – reale, einsetzbare Leistung in turbulenter Luft über den gesamten Geschwindigkeitsbereich hinweg.
DAS DESIGN
Das R&D Team hat sich auf die strukturelle Integrität des Schirmes fokussiert, damit wir im Vergleich zum Rush 4 einen Schirm konstruieren, der noch solider, kompakter und vertrauenswürdiger ist. Die zusätzliche strukturelle Solidität macht den Schirm nicht nur komfortabler, und es macht mehr Spaß ihn zu fliegen, sondern verbessert auch die Leistung bei turbulenten Bedingungen.
DIE TECHNOLOGIE
Die Streckung haben wir auf einem moderaten Level belassen, um leichte Handhabung und mehr passive Sicherheit zu gewährleisten. Der Leistungszuwachs resultiert aus anderen Bereichen, wie etwa einer weiteren Optimierung des Leinenlayouts um den Gesamtleinenwiderstand zu verringern, und einer modernen 3D Formgebung, was die Anströmkante in drei eigene Bereiche unterteilt, und für eine klare, faltenfreie Oberfläche sorgt. . Modifikationen an der Formgestaltung der Stoffbahnen und der Gestaltung der Minirippen an der Hinterkante haben ebenfalls zur Reduktion von Störeinflüssen beigetragen. Der Rush 5 verfügt über ein neues, optimiertes SharkNose Profil, das nicht nur zu mehr Stabilität, Komfort und Leistung führt, sondern auch dem Bremsweg mehr Verzeihendes verleiht – der Flügel ist extrem resistent gegenüber unbeabsichtigtem Spinn und Stall.
IN DER LUFT
Aber ein solider Hochleistungsflügel ist nicht alles; Spaß und Freude sind der Grund dafür, dass wir fliegen. Das R&D Team hat sich auch besonders auf das Handling konzentriert, und viel Zeit investiert, um Feedback und Kurvenkoordination zu optimieren. Wir wollten einen Schirm mit direkt linearer Progression im ersten Bereich des Bremsweges, der im zweiten Bereich ansprechbar/reaktionsfreudig und Fehler verzeihend ist. Diese Charakteristik macht den Schirm im Steigen extrem effizient, und sogar flache Kurven mit minimaler Bremseinwirkung erlauben es dem Schirm bei wenig Thermik gut zu steigen, während die Ansprechbarkeit im zweiten Bereich den Schirm augenblicklich auf Kommandos reagieren lässt.
DER PILOT
Obwohl er eine EN B Zulassung hat, ist er dennoch nicht für Anfänger und diejenigen geeignet, die sich noch in der Ausbildung befinden. Für Intermediate Piloten und erfahrene XC Jäger, die mindestens 50 Stunden im Jahr fliegen, ist er hingegen ideal.
*patentiert
Farbwahl
Bestellinfo
OZONE has some of the shortest lead times in the industry. The current production time is approximately 41 days from order to shipping (updated daily). Contact your dealer to place your order.
Lieferumfang
OZONE offers a range of backpack choices when you order your wing. To change the type of backpack that will come with your wing, please speak with your OZONE Dealer.
Dein OZONE Schirm wird standardmäßig mit dem folgenden Zubehör ausgeliefert::
135 L Backpack, Inner Bag, Glider Strap, Speed Bar, OZONE Stickers, Repair Cloth, OZONE Keyring and OZONE Keyring.
You may choose to add something to your order, such as: Saucisse Bag (video) (concertina packing bag), Easy Bag (quick stuff sack), or OZONE Clothing and Accessories.
Anfragen
Spezifikationen
| Größen | xs | s | ms | ml | l | XL |
| --- | --- | --- | --- | --- | --- | --- |
| Anzahl der Zellen | 57 | 57 | 57 | 57 | 57 | 57 |
| Projizierte Fläche (m2) | 18.04 | 20.11 | 21.2 | 22.3 | 23.65 | 25.96 |
| Ausgelegte Fläche (m2) | 21.41 | 23.86 | 25.16 | 26.5 | 28.06 | 30.81 |
| projizierte Spannweite (m) | 8.55 | 9.02 | 9.27 | 9.51 | 9.78 | 10.25 |
| ausgelegte Spannweite (m) | 10.9 | 11.51 | 11.81 | 12.13 | 12.48 | 13.08 |
| projizierte Streckung | 4.05 | 4.05 | 4.05 | 4.05 | 4.05 | 4.05 |
| ausgelegte Streckung | 5.55 | 5.55 | 5.55 | 5.55 | 5.55 | 5.55 |
| Flügeltiefe (m) | 2.47 | 2.61 | 2.68 | 2.75 | 2.83 | 2.97 |
| Gleitschirmgewicht (kg) | 4.63 | 5 | 5.19 | 5.47 | 5.71 | 6.2 |
| Certified Weight Range (kg) | 55-70 | 65-85 | 75-95 | 85-105 | 95-115 | 110-130 |
| Recommended Flying Weight (kg) | 60-70 | 70-84 | 82-94 | 90-104 | 100-114 | 112-128 |
| EN | B | B | B | B | B | B |
Material
Obersegel: Dominico 30D MF

Untersegel: Dominico 30D MF

Rippen: Dominico 30D FM

Galerie: Edelrid 8000U serie

mittleres Stockwerk: Edelrid 8000U serie

Stammleinen: Liros PPSL/Edelrid 8000U
DOWNLOADS
Persönliche Farbwahl
OZONE COLOUR REFERENCE (///)
SHARE YOUR DESIGN
ABOUT CUSTOM COLOURS
Ozone encourages you to customize your own personal colour combination for your wing. Customization generally incurs a fee. Once you've decided you can share your design with your friends, or if you are ready to order, send it to your local Ozone dealer to verify the charge and place the final order.
Please note that because the glider will be built specifically for you in the Ozone factory, payment must be received before production can begin.
FABRIC COLOURS AND UV RESISTANCE
Please be aware that the colour you see on your screen may not accurately represent the actual fabric colour. Secondly, different cloths specifications with the same color name may vary slightly, please see here for an example. Given the wide varience in monitor calibration and the fabric appearance in different light and colour combinations, it is impossible to perfectly represent fabric colour on screen. If you have any doubts about the colours, look at photos of various wings on our website to see them in different light and colour combinations or contact your local dealer to see the fabric in person.
All of the fabric that we use undergoes extensive testing in prototype colour phase to ensure colourfastness, mechanical stability, porosity, and general longevity before we put it into production. Once our fabric is in production, every meter of it is rigorously inspected upon arrival in our factory, and fabric which does not pass our stringent quality control standards is returned to the manufacturer. We are frequently asked, "Which colours last the longest, or have the best UV resistance?" All of the colours that we stock score between 4 and 5 on a scale of 1-5, with 5 being the highest possible rating for longevity.
↑