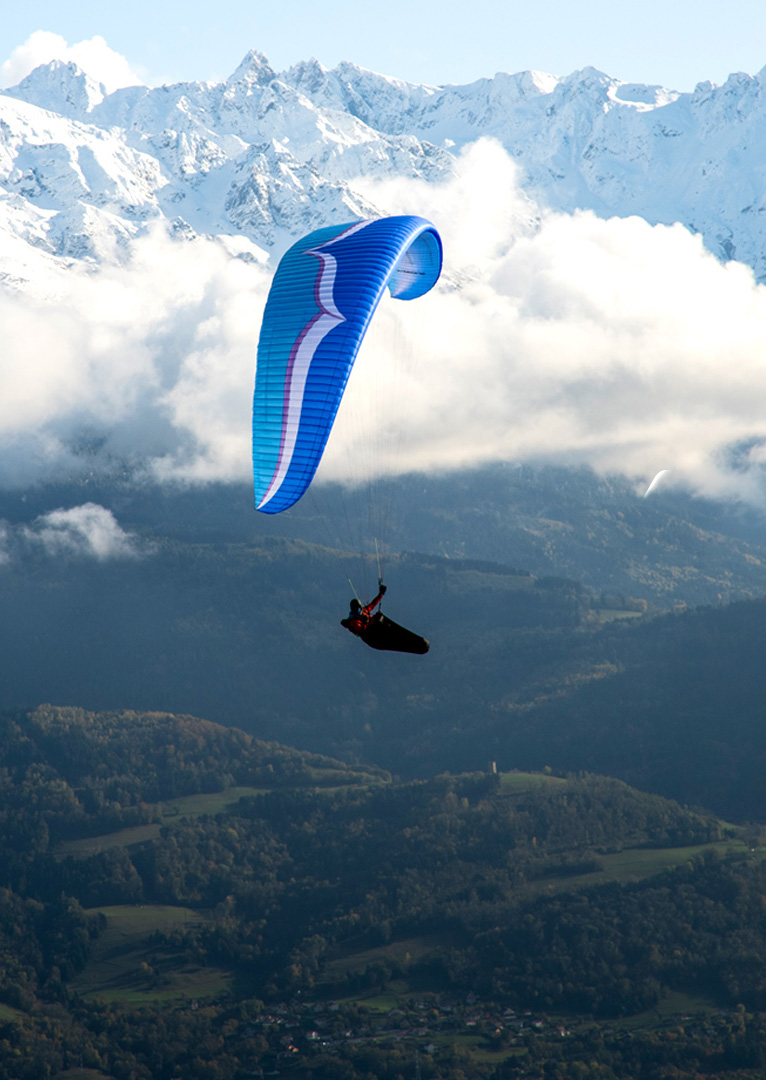 Información
The Lightweight High Performance 3-Liner
With ZENO & ENZO 3 Technology
The LM7 is a lightweight XC machine incorporating the latest high-performance features from our competition range. It is a light, tight, and compact 3-line package. The profile, planform, and arc are all evolved from the Zeno, with a more moderate 6.5 AR. The LM7 offers a level of agility, comfort and safety closer to the Delta series, with near-Zeno glide performance. Most importantly, it is an incredibly fun wing to fly!
At 650 grams lighter than the M7, it is nicer to carry, packs smaller, and benefits from a lighter sail. The significant weight reduction not only improves the inflation characteristics, but also livens up the feedback and improves the agility and behaviour of the wing in active air.
The LM7 is a significant step up from its predecessor in terms of performance, especially in accelerated flight, but with better collapse recovery characteristics, reduced pilot workload, and more cohesion in turbulent air. It is the ideal wing for experienced pilots stepping up to the D class who want the performance and pleasure of a modern 2-liner, but with more comfort, security, and confidence.
Technology
The Zeno-inspired profile, with A-line attachments set relatively far back from the leading edge, creates a strong & collapse-resistant nose. You can push hard through turbulence and gain lift in each gust.
The Internal structure is optimised for weight and cohesion. The wing absorbs turbulence without chord or spanwise deformation, meaning that the handling can be exploited at all times, even in the strongest, roughest thermals. The cohesion of the sail, coupled with this solidity, is confidence inspiring. It reduces the demands on the pilot allowing you to use the full XC potential of the day.
A new riser control system allows full control in accelerated flight. Acting on both the B and C risers, this innovative system offers direct, efficient angle of attack control without deforming the profile. The intuitive feel and feedback from the risers allows the pilot to maintain the solidity of the wing while accelerated in turbulent air.
The Class
The LM7 is certified EN D and aimed at EN D level pilots, even if the certification grade is mainly due to the use of collapse lines. The level of comfort and security is closer to the class below! Collapse lines were used because we were totally unwilling to weaken the structure of the wing just to achieve a lower EN grade. True Performance in real conditions remains our first priority. Extensive collapse testing has shown excellent recovery behaviour – better than the LM6, with less tendency to cravat.
The Pilot
The LM7 is a light version of the M7. It is for advanced pilots who are progressing to the highest levels of XC flying and prefer a lightweight wing. It is ideal for competent pilots stepping up from a lower grade, or those wishing for easier, more benign behaviour than a 2-liner without sacrificing performance. It's recommended for experienced pilots who fly at least 100 hrs per year, with recent SIV training.
The LM7 (like the M7) is undoubtedly the best 3-line wing we have ever produced. After an extended period of testing in very strong conditions we are pleased with the end result. It is a powerful wing with True Performance at its heart; an accessible feel, agile handling, and high levels of security.
Colores de serie

Cómo hacer un pedido
The current production time is approximately 110 days from order to shipping (updated daily). Contact your dealer to place your order.
Contenido del paquete
Tu vela OZONE se entrega de serie con los accesorios siguientes::
Special "Folding Pillow" to aid preservation of plastic reinforcements, Inner Bag, Glider Strap, OZONE Stickers, Repair Cloth and OZONE Keyring.
You may choose to add something to your order, such as: Saucisse Bag (video) (concertina packing bag), Glider Backpack, Easy Bag (quick stuff sack), or OZONE Clothing and Accessories.
Solicitudes
Especificaciones
| Tallas | xs | S | ms | ml | l |
| --- | --- | --- | --- | --- | --- |
| Número de cajones | 78 | 78 | 78 | 78 | 78 |
| Superficie proyectada (m2) | 16.2 | 17.6 | 19 | 20.4 | 21.6 |
| Superficie real (m2) | 19.3 | 20.9 | 22.6 | 24.2 | 25.7 |
| Envergadura proyectada (m) | 8.8 | 9.1 | 9.5 | 9.8 | 10.1 |
| Envergadura real (m) | 11.2 | 11.6 | 12.1 | 12.5 | 12.9 |
| Alargamiento proyectado | 4.7 | 4.7 | 4.7 | 4.7 | 4.7 |
| Alargamiento real | 6.5 | 6.5 | 6.5 | 6.5 | 6.5 |
| Cuerda central (m) | 2.17 | 2.27 | 2.35 | 2.44 | 2.51 |
| Peso de la vela (kg) | 4.0 | 4.3 | 4.5 | 4.7 | 5.0 |
| Rango de pesos en vuelo (kg) | 60-75 | 70-85 | 80-95 | 90-105 | 100-115 |
| EN / LTF | D | D | D | D | D |
* Weights may vary up to 50gm per size due to slight variations in the manufacturing of the fabric used.
Materiales
Top Surface Cloth: Dominico N20D / Porcher 7000 E71

Bottom Surface Cloth: Porcher 7000 E71

Rib cloth: Porcher 9017E29

Upper lines: Edelrid 8000U serie

Mid lines: Edelrid 8000U serie

Lower lines: Edelrid 8000U serie
Descargas
Colores a elegir
OZONE COLOUR REFERENCE (///)
SHARE YOUR DESIGN
SOBRE LOS COLORES PERSONALIZADOS
Ozone te anima a que personalices tu vela eligiendo tu propia combinación de colores. La personalización supone un pequeño coste adicional. Una vez hayas decidido tus colores, puede compartir tu diseño con tus amigos, o si ya estás listo para hacer tu pedido, enviárselo a tu distribuidor local de Ozone para que te informe del importe adicional y encargar la vela.
Por favor, ten en cuenta que como esa vela se fabricará exclusivamente para ti en la fábrica de Ozone, el pago debe recibirse antes de que comience a fabricarse.
COLORES DEL TEJIDO Y RESISTENCIA A LOS RAYOS UV
Por favor, ten en cuenta que el color que veas en tu pantalla puede que no represente con precisión el color real del tejido. Dada la amplia variedad en la calibración de las pantallas y el aspecto del tejido bajo diferentes condiciones de luz y combinaciones de colores, resulta imposible representar perfectamente el color del tejido en la pantalla. Si albergas alguna duda sobre los colores, mira las fotos de unas cuantas velas en nuestra página web para verlas bajo luces y combinaciones de colores diferentes o ponte en contacto con tu distribuidor local para ver el tejido en persona.
Todo el tejido que usamos pasa por un exhaustivo proceso de pruebas durante los prototipos, para asegurarnos de que el color se mantiene, de la estabilidad mecánica, la porosidad y la longevidad general, antes de poner ese tejido en producción. Una vez que nuestro tejido está en producción, cada metro del mismo se inspecciona rigurosamente al llegar a nuestra fábrica, y un tejido que no pase nuestros estrictos controles de calidad, se devuelve al fabricante. Con frecuencia nos preguntan qué colores son los que más duran o tienen mayor resistencia a los rayos UV. Todos los colores que empleamos poseen un valor de entre 4 y 5 en una escala que va del 1 al 5, siendo el 5 el valor más alto posible en cuanto a longevidad.
↑