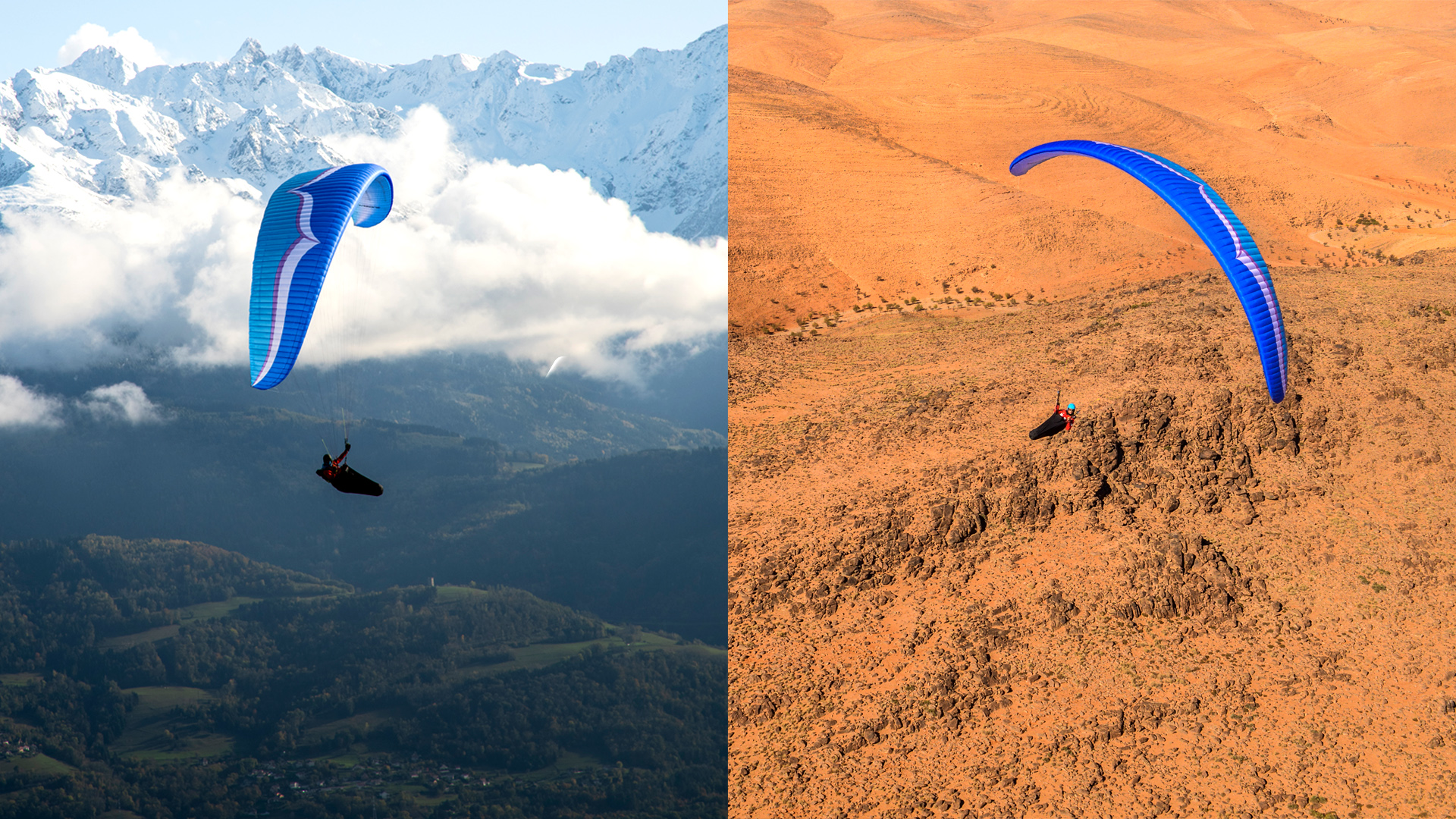 Info Produit
The Lightweight High Performance 3-Liner
With ZENO & ENZO 3 Technology
The LM7 is a lightweight XC machine incorporating the latest high-performance features from our competition range. It is a light, tight, and compact 3-line package. The profile, planform, and arc are all evolved from the Zeno, with a more moderate 6.5 AR. The LM7 offers a level of agility, comfort and safety closer to the Delta series, with near-Zeno glide performance. Most importantly, it is an incredibly fun wing to fly!
At 650 grams lighter than the M7, it is nicer to carry, packs smaller, and benefits from a lighter sail. The significant weight reduction not only improves the inflation characteristics, but also livens up the feedback and improves the agility and behaviour of the wing in active air.
The LM7 is a significant step up from its predecessor in terms of performance, especially in accelerated flight, but with better collapse recovery characteristics, reduced pilot workload, and more cohesion in turbulent air. It is the ideal wing for experienced pilots stepping up to the D class who want the performance and pleasure of a modern 2-liner, but with more comfort, security, and confidence.
Technology
The Zeno-inspired profile, with A-line attachments set relatively far back from the leading edge, creates a strong & collapse-resistant nose. You can push hard through turbulence and gain lift in each gust.
The Internal structure is optimised for weight and cohesion. The wing absorbs turbulence without chord or spanwise deformation, meaning that the handling can be exploited at all times, even in the strongest, roughest thermals. The cohesion of the sail, coupled with this solidity, is confidence inspiring. It reduces the demands on the pilot allowing you to use the full XC potential of the day.
A new riser control system allows full control in accelerated flight. Acting on both the B and C risers, this innovative system offers direct, efficient angle of attack control without deforming the profile. The intuitive feel and feedback from the risers allows the pilot to maintain the solidity of the wing while accelerated in turbulent air.
The Class
The LM7 is certified EN D and aimed at EN D level pilots, even if the certification grade is mainly due to the use of collapse lines. The level of comfort and security is closer to the class below! Collapse lines were used because we were totally unwilling to weaken the structure of the wing just to achieve a lower EN grade. True Performance in real conditions remains our first priority. Extensive collapse testing has shown excellent recovery behaviour – better than the LM6, with less tendency to cravat.
The Pilot
The LM7 is a light version of the M7. It is for advanced pilots who are progressing to the highest levels of XC flying and prefer a lightweight wing. It is ideal for competent pilots stepping up from a lower grade, or those wishing for easier, more benign behaviour than a 2-liner without sacrificing performance. It's recommended for experienced pilots who fly at least 100 hrs per year, with recent SIV training.
The LM7 (like the M7) is undoubtedly the best 3-line wing we have ever produced. After an extended period of testing in very strong conditions we are pleased with the end result. It is a powerful wing with True Performance at its heart; an accessible feel, agile handling, and high levels of security.
Options de Couleurs

Information relative aux commandes
OZONE has some of the shortest lead times in the industry. The current production time is approximately 38 days from order to shipping (updated daily). Contact your dealer to place your order.
Contenu du package
OZONE offers a range of backpack choices when you order your wing. To change the type of backpack that will come with your wing, please speak with your OZONE Dealer.
Your OZONE wing is delivered standard with the following accessories:
130L Lightweight Backpack, Special "Folding Pillow" to aid preservation of plastic reinforcements, Inner Bag, Glider Strap, OZONE Stickers, Repair Cloth and OZONE Keyring.
You may choose to add something to your order, such as: Saucisse Bag (video) (concertina packing bag), Easy Bag (quick stuff sack), or OZONE Clothing and Accessories.
Requetes
SPECIFICATIONS
| Tailles | xs | S | ms | ml | l |
| --- | --- | --- | --- | --- | --- |
| Nombre de cellules | 78 | 78 | 78 | 78 | 78 |
| Surface projetée (m2) | 16.2 | 17.6 | 19 | 20.4 | 21.6 |
| Surface à plat (m2) | 19.3 | 20.9 | 22.6 | 24.2 | 25.7 |
| Envergure projetée (m) | 8.8 | 9.1 | 9.5 | 9.8 | 10.1 |
| Envergure à plat (m) | 11.2 | 11.6 | 12.1 | 12.5 | 12.9 |
| Allongementr projeté | 4.7 | 4.7 | 4.7 | 4.7 | 4.7 |
| Allongement à plat | 6.5 | 6.5 | 6.5 | 6.5 | 6.5 |
| Corde | 2.17 | 2.27 | 2.35 | 2.44 | 2.51 |
| Poids de l'aile | 4.00 | 4.26 | 4.50 | 4.73 | 4.96 |
| Fourchette de poids en vol (kg) | 60-75 | 70-85 | 80-95 | 90-105 | 100-115 |
| EN / LTF | D | D | D | D | D |
Matériaux
Top Surface Cloth: Dominico N20D / Porcher 7000 E71

Bottom Surface Cloth: Porcher 7000 E71

Rib cloth: Porcher 9017E29

Upper lines: Edelrid 8000U serie

Mid lines: Edelrid 8000U serie

Lower lines: Edelrid 8000U serie
Coloris Personnalisés
OZONE COLOUR REFERENCE (///)
SHARE YOUR DESIGN
ABOUT CUSTOM COLOURS
Ozone encourages you to customize your own personal colour combination for your wing. Customization generally incurs a fee. Once you've decided you can share your design with your friends, or if you are ready to order, send it to your local Ozone dealer to verify the charge and place the final order.
Please note that because the glider will be built specifically for you in the Ozone factory, payment must be received before production can begin.
FABRIC COLOURS AND UV RESISTANCE
Please be aware that the colour you see on your screen may not accurately represent the actual fabric colour. Secondly, different cloths specifications with the same color name may vary slightly, please see here for an example. Given the wide varience in monitor calibration and the fabric appearance in different light and colour combinations, it is impossible to perfectly represent fabric colour on screen. If you have any doubts about the colours, look at photos of various wings on our website to see them in different light and colour combinations or contact your local dealer to see the fabric in person.
All of the fabric that we use undergoes extensive testing in prototype colour phase to ensure colourfastness, mechanical stability, porosity, and general longevity before we put it into production. Once our fabric is in production, every meter of it is rigorously inspected upon arrival in our factory, and fabric which does not pass our stringent quality control standards is returned to the manufacturer. We are frequently asked, "Which colours last the longest, or have the best UV resistance?" All of the colours that we stock score between 4 and 5 on a scale of 1-5, with 5 being the highest possible rating for longevity.
↑