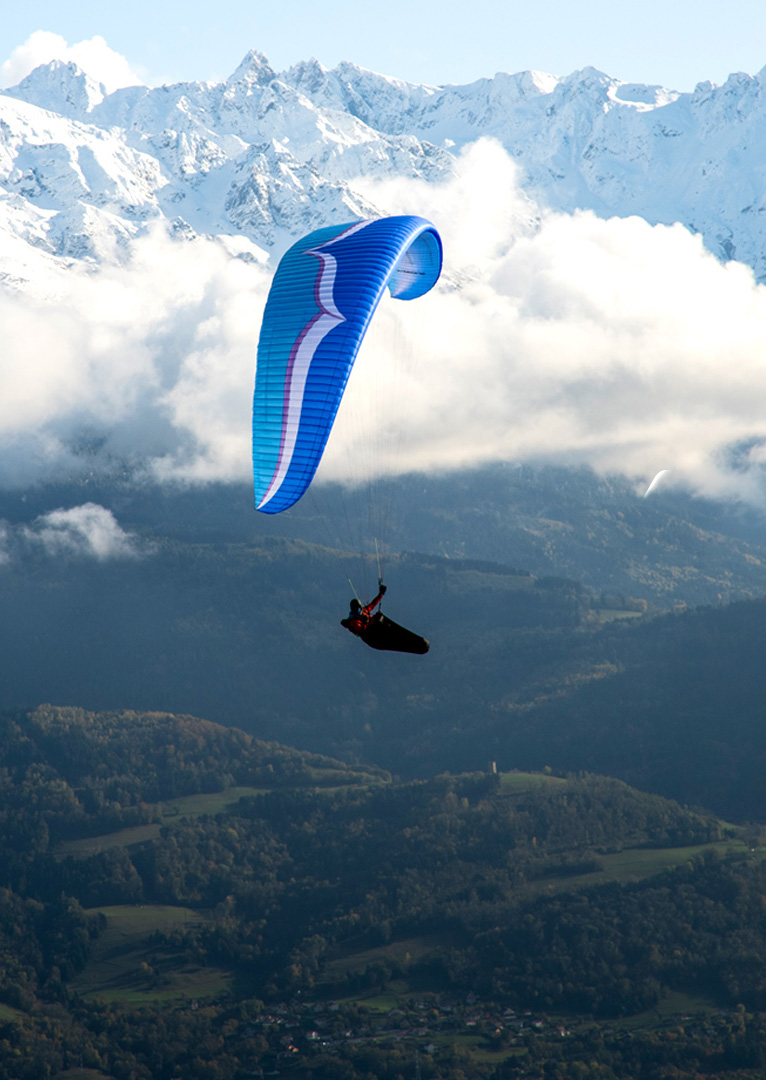 Info Produit
L'aile Légère 3-lignes de Haute Performance
Avec la technologie Enzo 3 et Zeno
La LM7 est une aile légère destinée au Cross qui incorpore les dernières technologies développées pour nos ailes de compétition. C'est une 3-lignes compacte, légère et élégante. Le profil, la forme en plan et la voute ont été développés en partant de la Zeno, l'allongement, lui, restant plus modéré à 6,5. Pour l'agilité, le confort et la sécurité, la LM7 est comparable à la série des Delta alors qu'elle offre des performances comparables à celles de la Zeno. Encore plus important : c'est une aile qui procure un plaisir incroyable en vol !
Allégée de 650 grammes par rapport à la M7, elle est plus agréable à porter, se plie dans un volume réduit et bénéficie des meilleures qualités de vol d'une voile légère. Le poids réduit améliore non seulement le gonflage mais il donne aussi une sensibilité plus fine et une plus grande précision de pilotage.
La LM7 est nettement plus performante que la version précédente, surtout en vol accéléré, cependant elle se comporte mieux en ré-ouverture, nécessite moins de contrôle actif en vol et a une meilleure cohésion en air turbulent. C'est l'aile idéale pour les pilotes expérimentés qui sont prêts à passer dans la classe EN D pour avoir les performances et le plaisir en vol des 2-lignes modernes tout en gardant plus de confort, de sécurité et de confiance en vol.
Technologie
Le profil, inspiré de celui de la Zeno, avec les suspentes A relativement loin du bord d'attaque, permet d'avoir une partie avant très solide qui résiste bien aux fermetures. Il permet d'aller plus loin en turbulence et de monter à chaque rafale.
Le poids et la cohésion sont optimisés grâce au soin apporté dans la conception de la structure interne. L'aile absorbe la turbulence sans déformation dans la corde ni dans l'envergure, ce qui signifie que la maniabilité reste exploitable à tout moment, même dans les thermiques les plus forts et les plus teigneux. Associée à la cohésion de la voile, sa solidité vous met en confiance. En réduisant la fatigue du pilote, l'aile permet de profiter de tout le potentiel d'une journée de Cross.
Avec le nouveau système d'élévateurs, vous gardez pleinement le contrôle en vol accéléré. En actionnant à la fois les B et les C, ce système innovant permet d'agir directement sur l'angle d'attaque sans déformer le profil. En vol accéléré, l'information ressentie naturellement à travers les élévateurs permet au pilote de maintenir la solidité de la voile lors des passages en turbulence.
Catégorie
La LM7 est certifiée EN D et s'adresse à des pilotes qui ont le niveau correspondant, même si la lettre D obtenue est essentiellement due à l'utilisation de suspentes additionnelles destinées à réaliser les fermetures lors des tests de certification. Le niveau de confort et la sécurité sont proches de ceux de la classe inférieure. Nous avons utilisé ces suspentes additionnelles lors des tests car il était hors de question d'affaiblir volontairement la structure de notre voile dans le seul but d'obtenir une lettre de certification EN inférieure. Produire une aile qui vous donne de Vraies Performances en conditions réelles reste notre priorité. De nombreuses fermetures ont été réalisées et ces tests ont démontré d'excellentes aptitudes à la réouverture – meilleures que celles de la LM6, ainsi qu'une moindre tendance à faire des cravates.
Le Pilote
La LM7 est la version légère de la M7. Elle est destinée aux pilotes expérimentés qui progressent vers des vols de Cross de haut niveau et préfèrent une aile légère. Elle est idéale pour les pilotes compétents qui montent d'une classe inférieure ou pour ceux qui souhaitent un comportement plus facile et plus tranquille que celui d'une 2-lignes sans sacrifier les performances. Elle est recommandée aux pilotes expérimentés qui volent au moins 100 heures par an et qui ont récemment suivi une formation SIV.
La LM7 (comme la M7) est sans aucun doute la meilleure aile 3-lignes que nous ayons jamais produite. Après une longue période d'essais dans en conditions très fortes, nous sommes très satisfaits du résultat final. C'est une aile puissante construite dans l'esprit de la Vraie Performance, elle est accessible, agile et offre un niveau de sécurité élevé.
Options de Couleurs

Information relative aux commandes
OZONE has some of the shortest lead times in the industry. The current production time is approximately 66 days from order to shipping (updated daily). Contact your dealer to place your order.
Contenu du package
Your OZONE wing is delivered standard with the following accessories:
"Coussin de pliage" limitant les contraintes sur les renforts plastiques, Sac Interne, Sangle de compression, Accélérateur, auto-collants OZONE, Kit de réparation et porte-clé OZONE.
You may choose to add something to your order, such as: Saucisse Bag (video) (concertina packing bag), Glider Backpack, Easy Bag (quick stuff sack), or OZONE Clothing and Accessories.
Requetes
SPECIFICATIONS
| Tailles | xs | S | ms | ml | l |
| --- | --- | --- | --- | --- | --- |
| Nombre de cellules | 78 | 78 | 78 | 78 | 78 |
| Surface projetée (m2) | 16.2 | 17.6 | 19 | 20.4 | 21.6 |
| Surface à plat (m2) | 19.3 | 20.9 | 22.6 | 24.2 | 25.7 |
| Envergure projetée (m) | 8.8 | 9.1 | 9.5 | 9.8 | 10.1 |
| Envergure à plat (m) | 11.2 | 11.6 | 12.1 | 12.5 | 12.9 |
| Allongement projeté | 4.7 | 4.7 | 4.7 | 4.7 | 4.7 |
| Allongement à plat | 6.5 | 6.5 | 6.5 | 6.5 | 6.5 |
| Corde | 2.17 | 2.27 | 2.35 | 2.44 | 2.51 |
| Poids de l'aile | 4.00 | 4.26 | 4.50 | 4.73 | 4.96 |
| Fourchette de poids en vol (kg) | 60-75 | 70-85 | 80-95 | 90-105 | 100-115 |
| EN / LTF | D | D | D | D | D |
Matériaux
Tissu d'Extrados : Dominico N20D / Porcher 7000 E71

Tissu d'Intrados : Porcher 7000 E71

Tissu de Structure : Porcher 9017E29

Suspentes Hautes : Edelrid série 8000U

Suspentes Intermédaires : Edelrid série 8000U

Suspentes Basses : Edelrid série 8000U
Téléchargements
Coloris Personnalisés
OZONE COLOUR REFERENCE (///)
SHARE YOUR DESIGN
ABOUT CUSTOM COLOURS
Ozone encourages you to customize your own personal colour combination for your wing. Customization generally incurs a fee. Once you've decided you can share your design with your friends, or if you are ready to order, send it to your local Ozone dealer to verify the charge and place the final order.
Please note that because the glider will be built specifically for you in the Ozone factory, payment must be received before production can begin.
FABRIC COLOURS AND UV RESISTANCE
Please be aware that the colour you see on your screen may not accurately represent the actual fabric colour. Secondly, different cloths specifications with the same color name may vary slightly, please see here for an example. Given the wide varience in monitor calibration and the fabric appearance in different light and colour combinations, it is impossible to perfectly represent fabric colour on screen. If you have any doubts about the colours, look at photos of various wings on our website to see them in different light and colour combinations or contact your local dealer to see the fabric in person.
All of the fabric that we use undergoes extensive testing in prototype colour phase to ensure colourfastness, mechanical stability, porosity, and general longevity before we put it into production. Once our fabric is in production, every meter of it is rigorously inspected upon arrival in our factory, and fabric which does not pass our stringent quality control standards is returned to the manufacturer. We are frequently asked, "Which colours last the longest, or have the best UV resistance?" All of the colours that we stock score between 4 and 5 on a scale of 1-5, with 5 being the highest possible rating for longevity.
↑