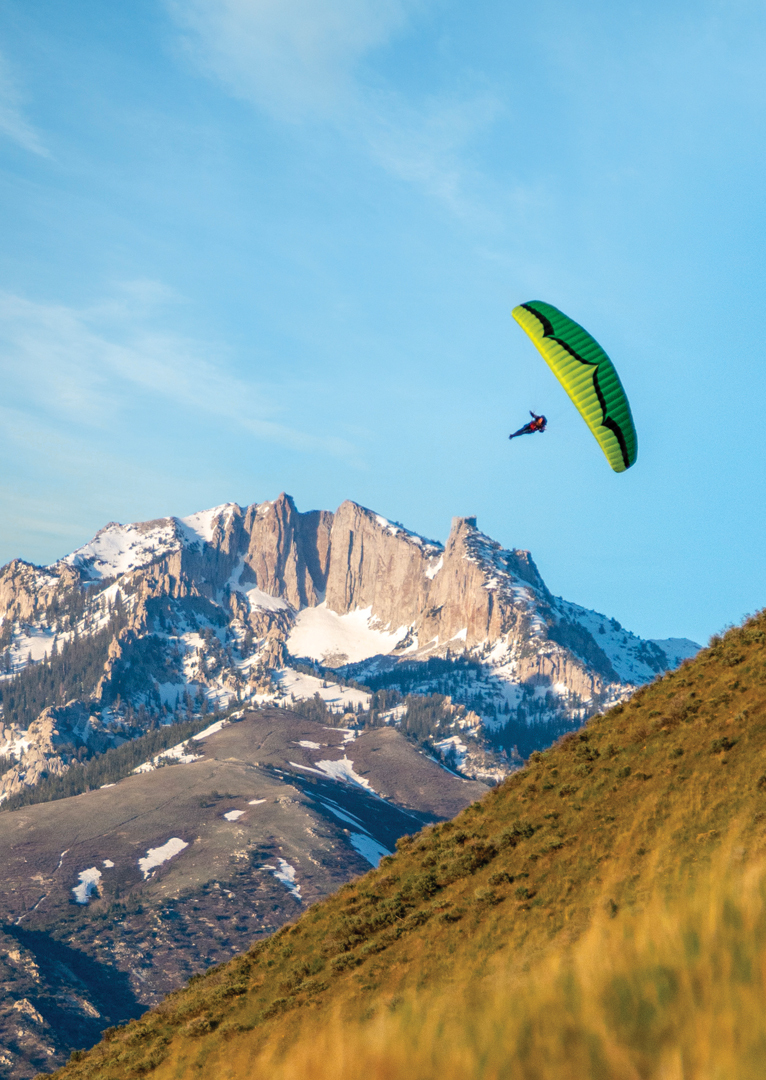 Información
Totally redesigned for the modern mini-wing category.
The ZERO series has always been about fun and dynamic mini-wing handling, with efficiency that allows a wide range of sites and conditions. The long-awaited Zero 3 is a ground-up redesign, and brings a new level of ease of use to the series while retaining all of the fun and efficiency that has made its predecessors so loved.
LAUNCH
The first and most important aspect that we improved on is the launch characteristics. The Zero 3 inflates and rises fully overhead in any condition, with no tendency to overshoot in high winds.
IN FLIGHT
Choose your size of Zero 3 to choose your level of dynamic flight. With sizes ranging from 13m to 19m, there is something for everyone and every size of pilot.
THE PILOT
The ZERO 3 is designed for paraglider pilots of beginner-intermediate skill and higher. More experienced pilots who wish to fly at higher wing-loadings will enjoy dynamic handling and great stability.
THE TECH
The Zero 3 trimmer and a speed system allows a smooth acceleration with profile preservation for a solid feel at all angles of attack. The speed range is wide, and easily usable. A new profile and leading edge design adapted from our higher performance range has improved solidity and pitch stability in active air.
VERSATILITY
Fly anywhere! From low coastal dune soaring in high winds to high alpine sled rides, the Zero 3's ease of use and wide performance range has you covered. This is truly a versatile tool that we think no pilot should be without!
Colores de serie

Cómo hacer un pedido
OZONE has some of the shortest lead times in the industry. The current production time is approximately 69 days from order to shipping (updated daily). Contact your dealer to place your order.
PACKAGE CONTENTS
OZONE offers a range of backpack choices when you order your wing. To change the type of backpack that will come with your wing, please speak with your OZONE Dealer.
Your OZONE wing is delivered standard with the following accessories:
Speed Wing XL bag, Inner Bag, Glider Strap, Speed Bar, OZONE Stickers, Repair Cloth, OZONE Keyring.
You may choose to add something to your order, such as: Saucisse Bag (video) (concertina packing bag), Easy Bag (quick stuff sack), or OZONE Clothing and Accessories.
Especificaciones
| Tallas | 13 | 15 | 17 | 19 |
| --- | --- | --- | --- | --- |
| Número de cajones | 34 | 34 | 34 | 34 |
| Superficie proyectada (m2) | 11.4 | 13.2 | 14.9 | 16.7 |
| Superficie real (m2) | 13 | 15 | 17 | 19 |
| Envergadura proyectada (m) | 6.28 | 6.75 | 7.18 | 7.6 |
| Envergadura real (m) | 7.69 | 8.26 | 8.79 | 9.31 |
| Alargamiento proyectado | 3.4 | 3.4 | 3.4 | 3.4 |
| Alargamiento real | 4.5 | 4.5 | 4.5 | 4.5 |
| Cuerda central (m) | 2.1 | 2.26 | 2.4 | 2.54 |
| Peso de la vela (kg) | 2.94 | 3.23 | 3.52 | 3.79 |
| Rango de pesos en vuelo (kg) | 60-90 | 65-95 | 75-100 | 95-110 |
| Load Test (8G) | 127kg | 127kg | 127kg | 127kg |
Materiales
Top Surface Cloth: Dominico 30D

Bottom Surface Cloth: Porcher EasyFly

Rib cloth: Porcher 9017 E29

Upper lines: Edelrid 7343 serie

Mid lines: Liros DSL serie

Lower lines: Liros DSL serie
Colores a elegir
OZONE COLOUR REFERENCE (//)
SHARE YOUR DESIGN
SOBRE LOS COLORES PERSONALIZADOS
Ozone te anima a que personalices tu vela eligiendo tu propia combinación de colores. La personalización supone un pequeño coste adicional. Una vez hayas decidido tus colores, puede compartir tu diseño con tus amigos, o si ya estás listo para hacer tu pedido, enviárselo a tu distribuidor local de Ozone para que te informe del importe adicional y encargar la vela.
Por favor, ten en cuenta que como esa vela se fabricará exclusivamente para ti en la fábrica de Ozone, el pago debe recibirse antes de que comience a fabricarse.
COLORES DEL TEJIDO Y RESISTENCIA A LOS RAYOS UV
Por favor, ten en cuenta que el color que veas en tu pantalla puede que no represente con precisión el color real del tejido. Dada la amplia variedad en la calibración de las pantallas y el aspecto del tejido bajo diferentes condiciones de luz y combinaciones de colores, resulta imposible representar perfectamente el color del tejido en la pantalla. Si albergas alguna duda sobre los colores, mira las fotos de unas cuantas velas en nuestra página web para verlas bajo luces y combinaciones de colores diferentes o ponte en contacto con tu distribuidor local para ver el tejido en persona.
Todo el tejido que usamos pasa por un exhaustivo proceso de pruebas durante los prototipos, para asegurarnos de que el color se mantiene, de la estabilidad mecánica, la porosidad y la longevidad general, antes de poner ese tejido en producción. Una vez que nuestro tejido está en producción, cada metro del mismo se inspecciona rigurosamente al llegar a nuestra fábrica, y un tejido que no pase nuestros estrictos controles de calidad, se devuelve al fabricante. Con frecuencia nos preguntan qué colores son los que más duran o tienen mayor resistencia a los rayos UV. Todos los colores que empleamos poseen un valor de entre 4 y 5 en una escala que va del 1 al 5, siendo el 5 el valor más alto posible en cuanto a longevidad.
↑