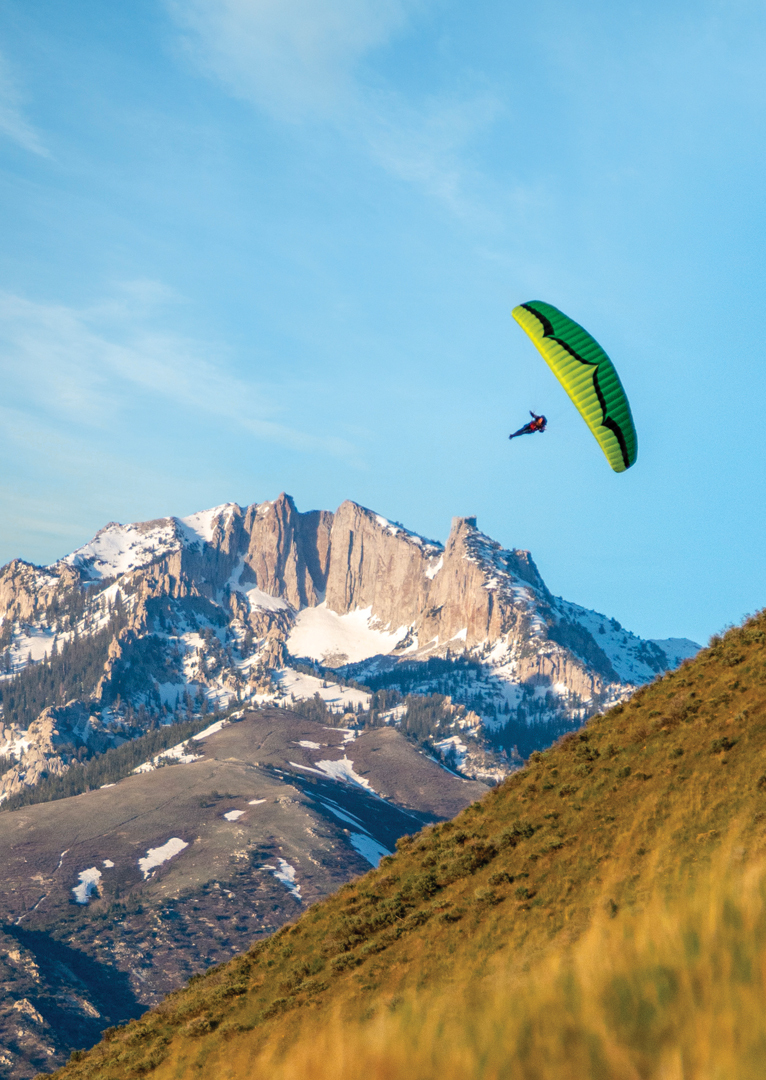 Produktinfo
Eine absolute Neukonstruktion für die moderne Minischirm-Kategorie
In der ZERO Serie ging es immer schon um ein dynamisches Minischirm-Handling, das Spaß macht. Zudem ist natürlich die Effizienz wichtig, um den Schirm bei vielen Bedingungen und in unterschiedlichen Bereichen einsetzen zu können. Der lang ersehnte Zero 3 ist eine völlige Neukonstruktion, und bringt eine neue Art von Einfachheit in die Serie, wobei kein bisschen Spaß und Effizienz verloren geht – die Eigenschaften, die seinen Vorgänger so beliebt gemacht haben.
Der START
Der erste und wichtigste Aspekt, den wir verbessert haben, ist die Startqualität. Der Zero 3 füllt sich und steigt vollständig über den Kopf ohne die Tendenz zu haben, bei starkem Wind zu überschießen. Und das bei allen Bedingungen.
Während des FLUGES
Wähle deine Größe des Zero 3, und damit dein gewünschtes Level an dynamischem Flugverhalten. Bei dem Größenspektrum zwischen 13 und 19m ist für jeden Piloten je nach Vorliebe genau die richtige Größe dabei.
Der PILOT
Der ZERO 3 ist für Gleitschirmpiloten mit Anfänger- bis Intermediate-Kenntnissen und darüber hinaus gemacht. Piloten, die über mehr Erfahrung verfügen, und mit einer höheren Flügelauslastung fliegen möchten, werden sich über das dynamische Handling und die großartige Stabilität freuen.
Die TECHNOLOGIE
Trimmer und Beschleunigungssystem des Zero 3 ermöglichen eine gleichmäßige Beschleunigung mit stabilem Profil – für ein solides Gefühl bei jedem Anstellwinkel. Der Geschwindigkeitsbereich ist groß und einfach umzusetzen. Ein neues Profil und Design der Anströmkante, übernommen von unseren Hochleistern, haben Solidität und Pitchstabilität in aktiver Luft verbessert.
Die VIELSEITIGKEIT
Du kannst überall fliegen! An niedrigen Küstendünen bei starkem Wind, an hochalpinen Schlittenpisten und in allen möglichen Gegenden und Gebieten, die sozusagen dazwischen liegen. Mit der einfachen Handhabung und dem großen Leistungsspektrum des Zero 3 kannst du alles machen. Das ist wirklich ein vielseitig einsetzbarer Schirm, den jeder Pilot haben sollte !
Farbwahl

Bestellinfo
OZONE has some of the shortest lead times in the industry. The current production time is approximately 62 days from order to shipping (updated daily). Contact your dealer to place your order.
Lieferumfang
Your OZONE wing is delivered standard with the following accessories:
Innensack, Packband, Beschleuniger, OZONE Aufkleber, Reparaturflicken, OZONE Schlüsselanhänger.
You may choose to add something to your order, such as: Saucisse Bag (video) (concertina packing bag), Glider Backpack, Easy Bag (quick stuff sack), or OZONE Clothing and Accessories.
Spezifikationen
| Größen | 13 | 15 | 17 | 19 |
| --- | --- | --- | --- | --- |
| Anzahl der Zellen | 34 | 34 | 34 | 34 |
| Projizierte Fläche (m2) | 11.4 | 13.2 | 14.9 | 16.7 |
| Ausgelegte Fläche (m2) | 13 | 15 | 17 | 19 |
| projizierte Spannweite (m) | 6.28 | 6.75 | 7.18 | 7.6 |
| ausgelegte Spannweite (m) | 7.69 | 8.26 | 8.79 | 9.31 |
| projizierte Streckung | 3.4 | 3.4 | 3.4 | 3.4 |
| ausgelegte Streckung | 4.5 | 4.5 | 4.5 | 4.5 |
| Flügeltiefe (m) | 2.1 | 2.26 | 2.4 | 2.54 |
| Gleitschirmgewicht (kg) | 2.94 | 3.23 | 3.52 | 3.79 |
| Gewichtsbereich (kg) | 60-90 | 65-95 | 75-100 | 95-110 |
| Load Test (8G) | 127kg | 127kg | 127kg | 127kg |
Material
Obersegel: Dominico 30D

Untersegel: Porcher EasyFly

Rippen: Porcher 9017 E29

Galerieleinen: Edelrid 7343 serie

Mittleres Stockwerk: Liros DSL serie

Stammleinen: Liros DSL serie
DOWNLOADS
Persönliche Farbwahl
OZONE COLOUR REFERENCE (//)
SHARE YOUR DESIGN
ABOUT CUSTOM COLOURS
Ozone encourages you to customize your own personal colour combination for your wing. Customization generally incurs a fee. Once you've decided you can share your design with your friends, or if you are ready to order, send it to your local Ozone dealer to verify the charge and place the final order.
Please note that because the glider will be built specifically for you in the Ozone factory, payment must be received before production can begin.
FABRIC COLOURS AND UV RESISTANCE
Please be aware that the colour you see on your screen may not accurately represent the actual fabric colour. Secondly, different cloths specifications with the same color name may vary slightly, please see here for an example. Given the wide varience in monitor calibration and the fabric appearance in different light and colour combinations, it is impossible to perfectly represent fabric colour on screen. If you have any doubts about the colours, look at photos of various wings on our website to see them in different light and colour combinations or contact your local dealer to see the fabric in person.
All of the fabric that we use undergoes extensive testing in prototype colour phase to ensure colourfastness, mechanical stability, porosity, and general longevity before we put it into production. Once our fabric is in production, every meter of it is rigorously inspected upon arrival in our factory, and fabric which does not pass our stringent quality control standards is returned to the manufacturer. We are frequently asked, "Which colours last the longest, or have the best UV resistance?" All of the colours that we stock score between 4 and 5 on a scale of 1-5, with 5 being the highest possible rating for longevity.
↑