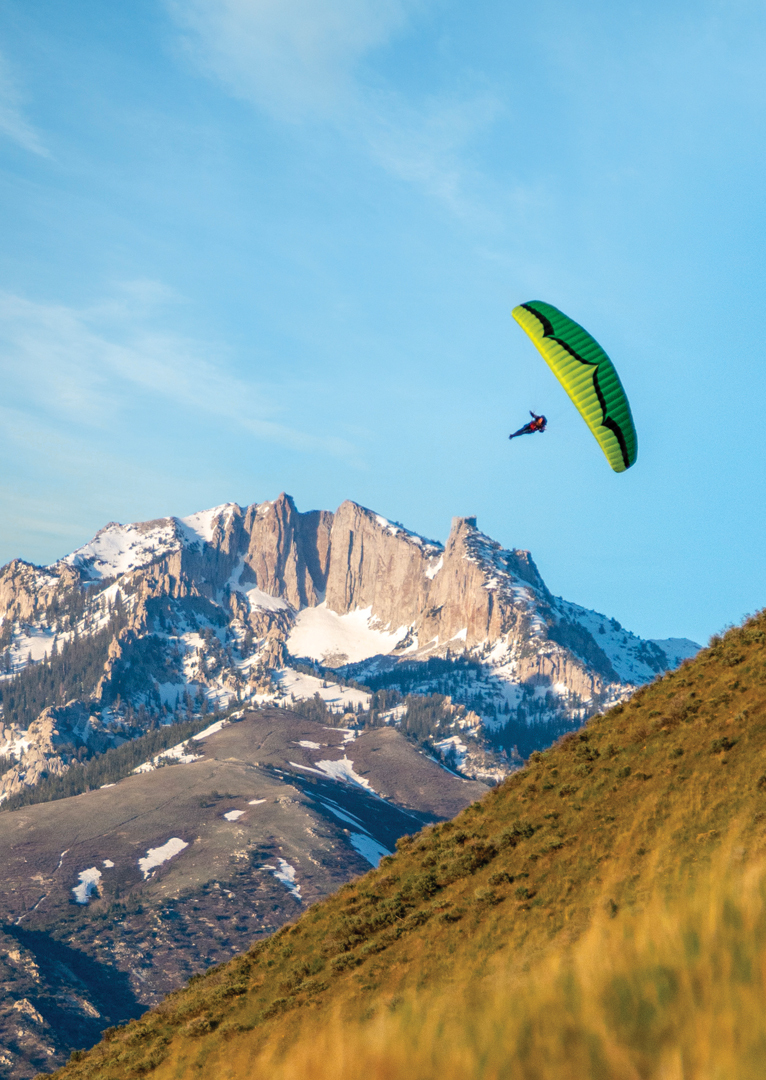 Produktinfo
Totally redesigned for the modern mini-wing category.
The ZERO series has always been about fun and dynamic mini-wing handling, with efficiency that allows a wide range of sites and conditions. The long-awaited Zero 3 is a ground-up redesign, and brings a new level of ease of use to the series while retaining all of the fun and efficiency that has made its predecessors so loved.
LAUNCH
The first and most important aspect that we improved on is the launch characteristics. The Zero 3 inflates and rises fully overhead in any condition, with no tendency to overshoot in high winds.
IN FLIGHT
Choose your size of Zero 3 to choose your level of dynamic flight. With sizes ranging from 13m to 19m, there is something for everyone and every size of pilot.
THE PILOT
The ZERO 3 is designed for paraglider pilots of beginner-intermediate skill and higher. More experienced pilots who wish to fly at higher wing-loadings will enjoy dynamic handling and great stability.
THE TECH
The Zero 3 trimmer and a speed system allows a smooth acceleration with profile preservation for a solid feel at all angles of attack. The speed range is wide, and easily usable. A new profile and leading edge design adapted from our higher performance range has improved solidity and pitch stability in active air.
VERSATILITY
Fly anywhere! From low coastal dune soaring in high winds to high alpine sled rides, the Zero 3's ease of use and wide performance range has you covered. This is truly a versatile tool that we think no pilot should be without!
Farbwahl

Bestellinfo
OZONE has some of the shortest lead times in the industry. The current production time is approximately 84 days from order to shipping (updated daily). Contact your dealer to place your order.
Lieferumfang
OZONE offers a range of backpack choices when you order your wing. To change the type of backpack that will come with your wing, please speak with your OZONE Dealer.
Your OZONE wing is delivered standard with the following accessories:
Speed Wing XL bag, Inner Bag, Glider Strap, Speed Bar, OZONE Stickers, Repair Cloth, OZONE Keyring.
You may choose to add something to your order, such as: Saucisse Bag (video) (concertina packing bag), Easy Bag (quick stuff sack), or OZONE Clothing and Accessories.
Spezifikationen
| Größen | 13 | 15 | 17 | 19 |
| --- | --- | --- | --- | --- |
| Anzahl der Zellen | 34 | 34 | 34 | 34 |
| Projizierte Fläche (m2) | 11.4 | 13.2 | 14.9 | 16.7 |
| Ausgelegte Fläche (m2) | 13 | 15 | 17 | 19 |
| projizierte Spannweite (m) | 6.28 | 6.75 | 7.18 | 7.6 |
| ausgelegte Spannweite (m) | 7.69 | 8.26 | 8.79 | 9.31 |
| projizierte Streckung | 3.4 | 3.4 | 3.4 | 3.4 |
| ausgelegte Streckung | 4.5 | 4.5 | 4.5 | 4.5 |
| Flügeltiefe (m) | 2.1 | 2.26 | 2.4 | 2.54 |
| Gleitschirmgewicht (kg) | 2.94 | 3.23 | 3.52 | 3.79 |
| Gewichtsbereich (kg) | 60-90 | 65-95 | 75-100 | 95-110 |
| Load Test (8G) | 127kg | 127kg | 127kg | 127kg |
Material
Top Surface Cloth: Dominico 30D

Bottom Surface Cloth: Porcher EasyFly

Rib cloth: Porcher 9017 E29

Upper lines: Edelrid 7343 serie

Mid lines: Liros DSL serie

Lower lines: Liros DSL serie
Persönliche Farbwahl
OZONE COLOUR REFERENCE (//)
SHARE YOUR DESIGN
ABOUT CUSTOM COLOURS
Ozone encourages you to customize your own personal colour combination for your wing. Customization generally incurs a fee. Once you've decided you can share your design with your friends, or if you are ready to order, send it to your local Ozone dealer to verify the charge and place the final order.
Please note that because the glider will be built specifically for you in the Ozone factory, payment must be received before production can begin.
FABRIC COLOURS AND UV RESISTANCE
Please be aware that the colour you see on your screen may not accurately represent the actual fabric colour. Secondly, different cloths specifications with the same color name may vary slightly, please see here for an example. Given the wide varience in monitor calibration and the fabric appearance in different light and colour combinations, it is impossible to perfectly represent fabric colour on screen. If you have any doubts about the colours, look at photos of various wings on our website to see them in different light and colour combinations or contact your local dealer to see the fabric in person.
All of the fabric that we use undergoes extensive testing in prototype colour phase to ensure colourfastness, mechanical stability, porosity, and general longevity before we put it into production. Once our fabric is in production, every meter of it is rigorously inspected upon arrival in our factory, and fabric which does not pass our stringent quality control standards is returned to the manufacturer. We are frequently asked, "Which colours last the longest, or have the best UV resistance?" All of the colours that we stock score between 4 and 5 on a scale of 1-5, with 5 being the highest possible rating for longevity.
↑