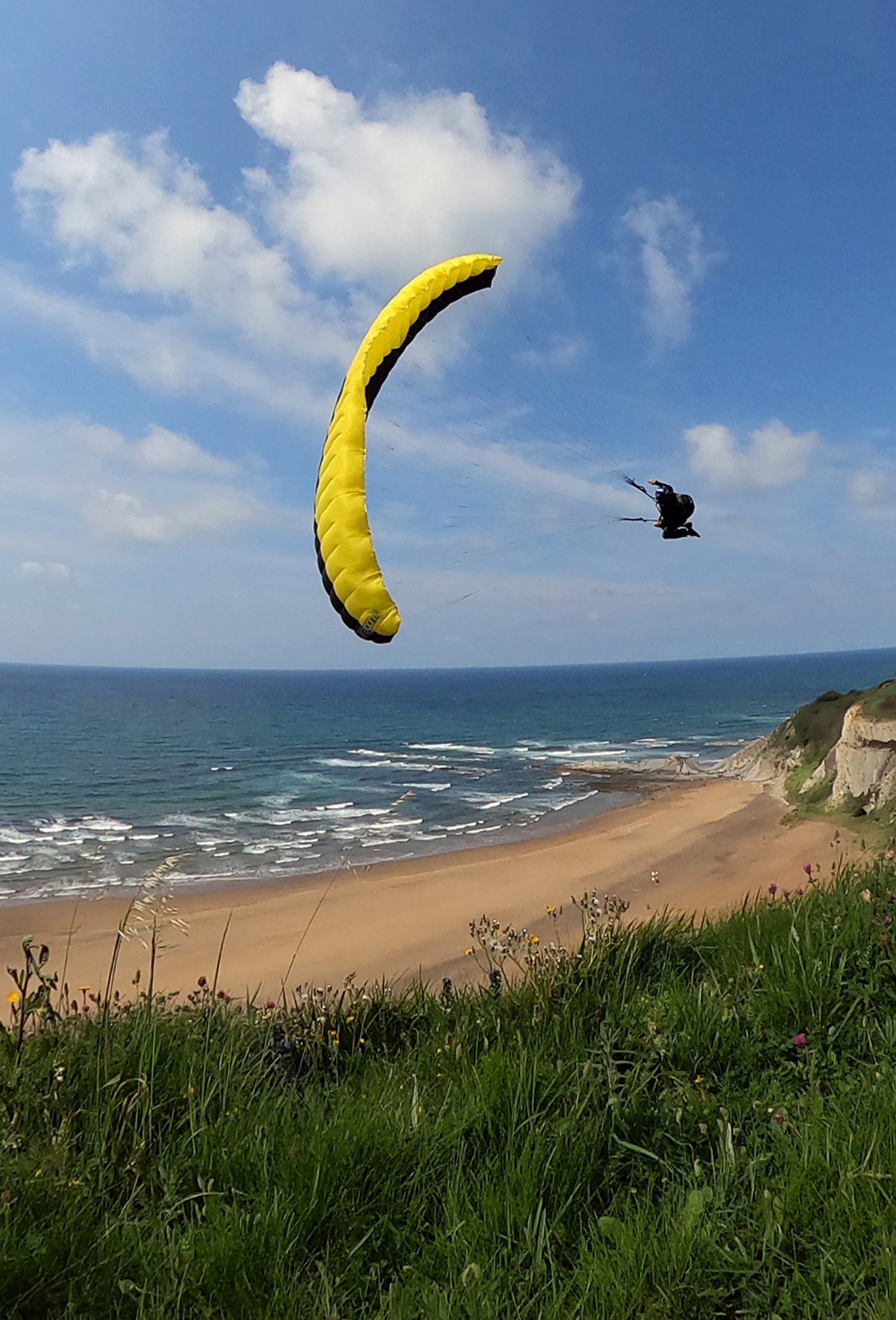 Información
Maximum Stability & Fun
The DragonFly is a stable and versatile hybrid speed wing, designed for pilots of all skill levels. It is the perfect wing to launch your speed flying career, and is equally at home soaring a dynamic coastal cliff or carving a mountain descent.
Building on the legacy of the Firefly series, the DragonFly is founded on a simple principle: Maximum stability, with great efficiency for its class. A totally new profile has yielded improvements throughout.
The Launch
The DragonFly launch is light and immediate in no wind conditions, and forgiving in high wind. Thanks to re-positioned cell openings and the new profile, it is even better suited to speed flying instruction and beginner use.
Handling
More dynamic, yet roll stable and forgiving, it has a direct and predictable feel in the brakes. The roll rate feels responsive, but is never surprising. The DragonFly's high level of passive safety is not only found in collapse resistance, but also in the fun yet forgiving handling.
Glide Performance & Trim Range
Thanks to an increased trim range, the DragonFly's glide performance is greater than the FireFly, and it also has a higher top speed. It all adds up to the ability to fly in a wider range of conditions and sites! Reach more distant LZs, and fly in more wind, comfortably.
The Pilot
This is a wing for pilots of all skill levels who want a solid, stable, all around wing – the DragonFly is a reliable partner for your first speed flights and for larger pilots. Available in two sizes, 16m and 18m, the weight range goes up to 120 kg.
Colores de serie

Cómo hacer un pedido
OZONE has some of the shortest lead times in the industry. The current production time is approximately 63 days from order to shipping (updated daily). Contact your dealer to place your order.
PACKAGE CONTENTS
OZONE offers a range of backpack choices when you order your wing. To change the type of backpack that will come with your wing, please speak with your OZONE Dealer.
Your OZONE wing is delivered standard with the following accessories:
Speed Wing XL bag, Inner Bag, Glider Strap, Speed Bar, OZONE Stickers, Repair Cloth, OZONE Keyring.
You may choose to add something to your order, such as: Saucisse Bag (video) (concertina packing bag), Easy Bag (quick stuff sack), or OZONE Clothing and Accessories.
Especificaciones
| Tallas | 16 | 18 |
| --- | --- | --- |
| Número de cajones | 27 | 27 |
| Superficie proyectada (m2) | 14.23 | 16.31 |
| Superficie real (m2) | 15.98 | 18.32 |
| Envergadura proyectada (m) | 6.62 | 7.09 |
| Envergadura real (m) | 7.86 | 8.42 |
| Alargamiento proyectado | 3.09 | 3.1 |
| Alargamiento real | 3.87 | 3.87 |
| Cuerda central (m) | 2.44 | 2.61 |
| Peso de la vela (kg) | 2.95 | 3.3 |
| Rango de pesos en vuelo (kg) | 50 - 120 | 50 - 120 |
| Load test (8g) | 132kg | 132kg |
Materiales
Top Surface Cloth: Dominico 30D

Bottom Surface Cloth: Dominico N20D

Rib cloth: Dominico 30D MF (hard)

Upper lines: Liros DSL serie

Mid lines: Liros DSL serie

Lower lines: Edelrid 6843 serie
Descargas
Colores a elegir
OZONE COLOUR REFERENCE (//)
SHARE YOUR DESIGN
SOBRE LOS COLORES PERSONALIZADOS
Ozone te anima a que personalices tu vela eligiendo tu propia combinación de colores. La personalización supone un pequeño coste adicional. Una vez hayas decidido tus colores, puede compartir tu diseño con tus amigos, o si ya estás listo para hacer tu pedido, enviárselo a tu distribuidor local de Ozone para que te informe del importe adicional y encargar la vela.
Por favor, ten en cuenta que como esa vela se fabricará exclusivamente para ti en la fábrica de Ozone, el pago debe recibirse antes de que comience a fabricarse.
COLORES DEL TEJIDO Y RESISTENCIA A LOS RAYOS UV
Por favor, ten en cuenta que el color que veas en tu pantalla puede que no represente con precisión el color real del tejido. Dada la amplia variedad en la calibración de las pantallas y el aspecto del tejido bajo diferentes condiciones de luz y combinaciones de colores, resulta imposible representar perfectamente el color del tejido en la pantalla. Si albergas alguna duda sobre los colores, mira las fotos de unas cuantas velas en nuestra página web para verlas bajo luces y combinaciones de colores diferentes o ponte en contacto con tu distribuidor local para ver el tejido en persona.
Todo el tejido que usamos pasa por un exhaustivo proceso de pruebas durante los prototipos, para asegurarnos de que el color se mantiene, de la estabilidad mecánica, la porosidad y la longevidad general, antes de poner ese tejido en producción. Una vez que nuestro tejido está en producción, cada metro del mismo se inspecciona rigurosamente al llegar a nuestra fábrica, y un tejido que no pase nuestros estrictos controles de calidad, se devuelve al fabricante. Con frecuencia nos preguntan qué colores son los que más duran o tienen mayor resistencia a los rayos UV. Todos los colores que empleamos poseen un valor de entre 4 y 5 en una escala que va del 1 al 5, siendo el 5 el valor más alto posible en cuanto a longevidad.
↑