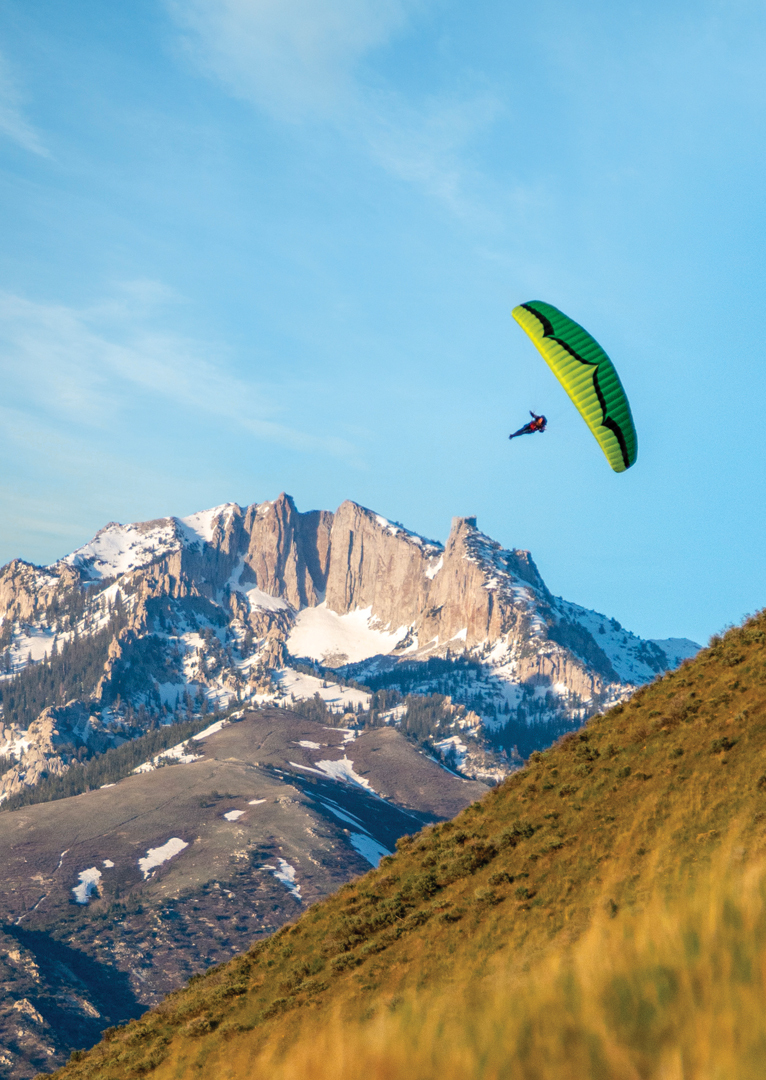 Info Produit
De conception complètement nouvelle, c'est une mini-voile résolument moderne
Les ZERO ont toujours été des mini-voiles dynamiques et jouissives dont les performances permettent la pratique dans des conditions et sur des sites variés. Revue de fond en comble, la Zero 3 nous arrive enfin et met la Zero à un niveau d'accessibilité jamais vu tout en gardant le fun factor et la performance qui ont fait le succès de la série.
DECOLLAGE
Le comportement au décollage est l'aspect primordial sur lequel nous avons concentré nos efforts. La Zero 3 se gonfle et monte bien au-dessus de la tête dans toutes les conditions, sans tendance à dépasser par vent fort.
EN VOL
Le niveau de dynamique du vol est en fonction de la taille de Zero 3 que vous prenez. Disponible en tailles de 13m à 19m, il y en a pour tous les goûts et toutes les corpulences de pilotes.
LE PILOTE
La Zero 3 est destinée à des pilotes de parapente de niveau débutant-intermédiaire et plus. Les pilotes plus expérimentés qui volent plus chargés peuvent profiter d'une aile dynamique et stable.
TECHNOLOGIE
Le nouveau profil et un bord d'attaque dérivé de nos ailes de performance ont amélioré la solidité et la stabilité en tangage en aérologie active. Les trims et l'accélérateur de la Zero 3 permettent une accélération progressive et sans déformation du profil qui préservent sa solidité, permettant d'utiliser facilement la large plage de vitesse.
POLYVALENCE
Volez partout ! Du soaring de dune en bord de mer par vent fort aux descentes à ras du sol en haute montagne, la facilité de la Zero 3 et ses performances dans toutes les configurations vous autorisent toutes les pratiques. C'est une aile parfaitement polyvalente qui devrait être dans la garde-robe de tous les pilotes.
Options de Couleurs

Information relative aux commandes
OZONE has some of the shortest lead times in the industry. The current production time is approximately 61 days from order to shipping (updated daily). Contact your dealer to place your order.
Contenu du package
Your OZONE wing is delivered standard with the following accessories:
Sac Interne, Sangle de Compression, Accélérateur, Auto-collants OZONE, Kit de Réparation, Porte-clé OZONE.
You may choose to add something to your order, such as: Saucisse Bag (video) (concertina packing bag), Glider Backpack, Easy Bag (quick stuff sack), or OZONE Clothing and Accessories.
SPECIFICATIONS
| Tailles | 13 | 15 | 17 | 19 |
| --- | --- | --- | --- | --- |
| Nombre de cellules | 34 | 34 | 34 | 34 |
| Surface projetée (m2) | 11.4 | 13.2 | 14.9 | 16.7 |
| Surface à plat (m2) | 13 | 15 | 17 | 19 |
| Envergure projetée (m) | 6.28 | 6.75 | 7.18 | 7.6 |
| Envergure à plat (m) | 7.69 | 8.26 | 8.79 | 9.31 |
| Allongement projeté | 3.4 | 3.4 | 3.4 | 3.4 |
| Allongement à plat | 4.5 | 4.5 | 4.5 | 4.5 |
| Corde | 2.1 | 2.26 | 2.4 | 2.54 |
| Poids de l'aile | 2.94 | 3.23 | 3.52 | 3.79 |
| Fourchette de poids en vol (kg) | 60-90 | 65-95 | 75-100 | 95-110 |
| Load Test (8G) | 127kg | 127kg | 127kg | 127kg |
Matériaux
Tissu d'Extrados : Dominico 30D

Tissu d'Intrados : Porcher EasyFly

Structure : Porcher 9017 E29

Suspentes hautes : Edelrid série 7343

Suspentes intermédiaires : Liros série DSL

Suspentes basses : Liros série DSL
Téléchargements
Coloris Personnalisés
OZONE COLOUR REFERENCE (//)
SHARE YOUR DESIGN
ABOUT CUSTOM COLOURS
Ozone encourages you to customize your own personal colour combination for your wing. Customization generally incurs a fee. Once you've decided you can share your design with your friends, or if you are ready to order, send it to your local Ozone dealer to verify the charge and place the final order.
Please note that because the glider will be built specifically for you in the Ozone factory, payment must be received before production can begin.
FABRIC COLOURS AND UV RESISTANCE
Please be aware that the colour you see on your screen may not accurately represent the actual fabric colour. Secondly, different cloths specifications with the same color name may vary slightly, please see here for an example. Given the wide varience in monitor calibration and the fabric appearance in different light and colour combinations, it is impossible to perfectly represent fabric colour on screen. If you have any doubts about the colours, look at photos of various wings on our website to see them in different light and colour combinations or contact your local dealer to see the fabric in person.
All of the fabric that we use undergoes extensive testing in prototype colour phase to ensure colourfastness, mechanical stability, porosity, and general longevity before we put it into production. Once our fabric is in production, every meter of it is rigorously inspected upon arrival in our factory, and fabric which does not pass our stringent quality control standards is returned to the manufacturer. We are frequently asked, "Which colours last the longest, or have the best UV resistance?" All of the colours that we stock score between 4 and 5 on a scale of 1-5, with 5 being the highest possible rating for longevity.
↑