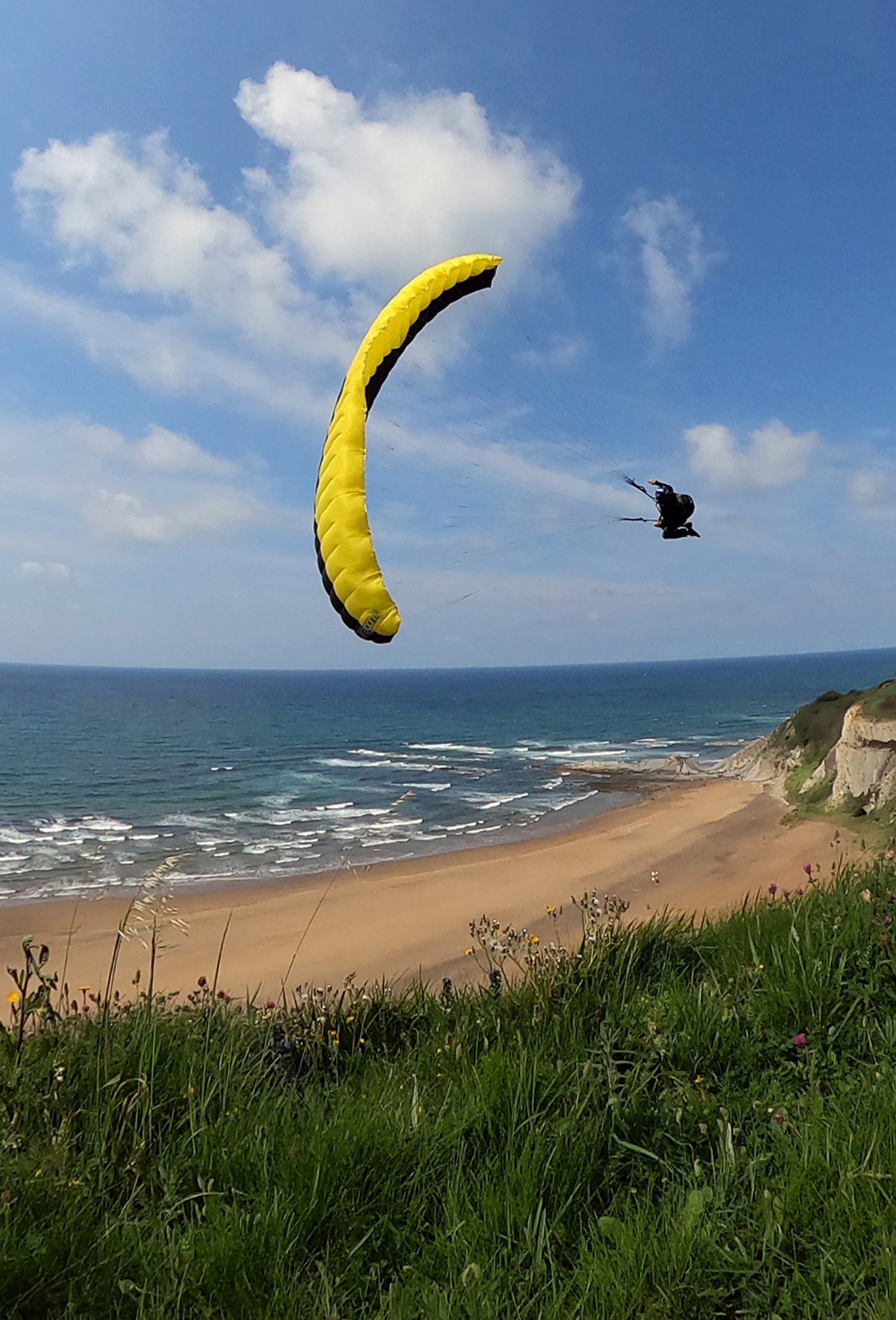 Produktinfo
Maximum Stability & Fun
The DragonFly is a stable and versatile hybrid speed wing, designed for pilots of all skill levels. It is the perfect wing to launch your speed flying career, and is equally at home soaring a dynamic coastal cliff or carving a mountain descent.
Building on the legacy of the Firefly series, the DragonFly is founded on a simple principle: Maximum stability, with great efficiency for its class. A totally new profile has yielded improvements throughout.
The Launch
The DragonFly launch is light and immediate in no wind conditions, and forgiving in high wind. Thanks to re-positioned cell openings and the new profile, it is even better suited to speed flying instruction and beginner use.
Handling
More dynamic, yet roll stable and forgiving, it has a direct and predictable feel in the brakes. The roll rate feels responsive, but is never surprising. The DragonFly's high level of passive safety is not only found in collapse resistance, but also in the fun yet forgiving handling.
Glide Performance & Trim Range
Thanks to an increased trim range, the DragonFly's glide performance is greater than the FireFly, and it also has a higher top speed. It all adds up to the ability to fly in a wider range of conditions and sites! Reach more distant LZs, and fly in more wind, comfortably.
The Pilot
This is a wing for pilots of all skill levels who want a solid, stable, all around wing – the DragonFly is a reliable partner for your first speed flights and for larger pilots. Available in two sizes, 16m and 18m, the weight range goes up to 120 kg.
Farbwahl

Bestellinfo
The current production time is approximately 38 days from order to shipping (updated daily). Contact your dealer to place your order.
Lieferumfang
Your OZONE wing is delivered standard with the following accessories:
Inner Bag, Glider Strap, Speed Bar, OZONE Stickers, Repair Cloth, OZONE Keyring.
You may choose to add something to your order, such as: Saucisse Bag (video) (concertina packing bag), Glider Backpack, Easy Bag (quick stuff sack), or OZONE Clothing and Accessories.
Spezifikationen
| Größen | 14 | 16 | 18 |
| --- | --- | --- | --- |
| Anzahl der Zellen | 27 | 27 | 27 |
| projizierte Fläche (m2) | 12.5 | 14.23 | 16.31 |
| Ausgelegte Fläche (m2) | 14 | 15.98 | 18.32 |
| projizierte Spannweite (m) | 6.2 | 6.62 | 7.09 |
| ausgelegte Spannweite (m) | 7.36 | 7.86 | 8.42 |
| projizierte Streckung | 3.1 | 3.09 | 3.1 |
| ausgelegte Streckung | 3.87 | 3.87 | 3.87 |
| Flügeltiefe (m) | 2.29 | 2.44 | 2.61 |
| Gleitschirmgewicht (kg) | | 3.0 | 3.3 |
| Gewichtsbereich (kg) | 50-105 | 50 - 120 | 50 - 120 |
| Load test | EN-926 | EN-926 | EN-926 |
* Weights may vary up to 50gm per size due to slight variations in the manufacturing of the fabric used.
Material
Top Surface Cloth: Dominico 30D

Bottom Surface Cloth: Dominico N20D

Rib cloth: Dominico 30D MF (hard)

Upper lines: Liros DSL serie

Mid lines: Liros DSL serie

Lower lines: Edelrid 6843 serie
DOWNLOADS
Persönliche Farbwahl
OZONE COLOUR REFERENCE (//)
SHARE YOUR DESIGN
ZUR PERSÖNLICHEN FARBWAHL
Ozone möchte dich dazu anregen, über deine persönliche Farbwahl deinen Schirm individuell so zu gestalten, dass er auch farblich dein Lieblingsstück wird. Diese kundenspezifischen Anfertigungen sind allerdings generell kostenpflichtig. Nachdem du dich entschieden hast, kannst du dein Design mit deinen Freunden teilen, oder – falls du bereits bestellen möchtest – dein Design zu deinem Ozone Händler schicken, um die anfallenden Kosten zu überprüfen, und die definitive Bestellung zu tätigen.
Bitte bedenke, dass es sich um einen kundenspezifischen Schirm handelt, der extra und speziell für dich hergestellt wird. Daher muss die Bezahlung erfolgen, ehe die Produktion deines Schirmes beginnen kann.
TUCHFARBEN UND UV-RESISTENZ
Sei dir bitte darüber im Klaren, dass die Farbe, die du auf deinem Bildschirm siehst, eventuell nicht die tatsächliche Tuchfarbe zeigt. Zudem können unterschiedliche Tücher mit dem gleichen Farbnamen farblich etwas variieren. Wenn man die große Bandbreite an Bildschirmeinstellungen nimmt, und sich dazu das Tuch in variierendem Licht und in verschiedenen Farbkombinationen vorstellt, wird einem klar, dass es unmöglich ist, die jeweiligen Tuchfarben perfekt auf einem Bildschirm darzustellen. Vielleicht ist es hilfreich, farbenbezogen auf Fotos verschiedener Schirme auf unserer Website zu schauen, um sie in variierendem Licht und unterschiedlichen Farbkombinationen zu vergleichen. Und solltest du dann immer noch Zweifel haben wie manche Farben tatsächlich wirken können, dann ist es wohl das beste, deinen Ozone Händler aufzusuchen, um dir bei ihm vor Ort ein Bild zu machen.
Alle Tücher, die wir verarbeiten, unterziehen wir bereits während der "Prototyp Farbphase" ausgiebigen Tests, um Farbechtheit, mechanische Stabilität, Luftdurchlässigkeit und Langlebigkeit sicherzustellen, ehe sie in Produktion gehen. Danach wird jeder einzelne Meter des in Produktion gegangenen Tuches gründlich und präzise inspiziert, sobald es bei uns eintrifft. Ein Tuch, das nicht unseren strengen Qualitätskontrollstandards entspricht, senden wir natürlich umgehend an den Hersteller zurück. Manchmal werden wir gefragt: "Welche Farben halten am längsten oder haben die beste UV-Resistenz?" Alle Farben, die bei uns Verwendung finden, erreichen auf einer Skala von 1 – 5 einen Wert zwischen 4 oder 5, wobei die Skalierung 5 den höchstmöglichen Wert an Langlebigkeit angibt.
↑