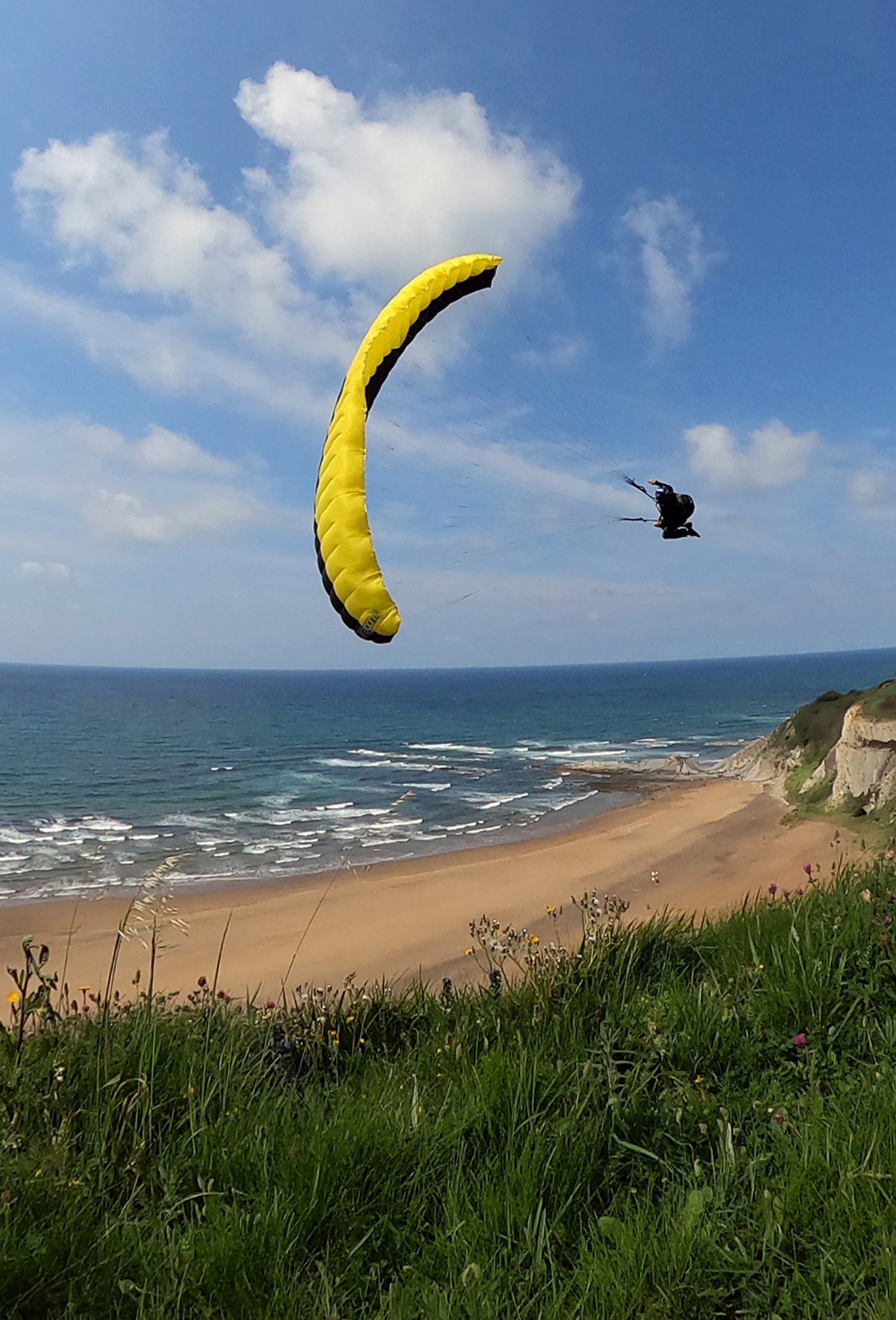 Info Produit
Fun et Stabilité maximale
La DragonFly est une voile hybride stable et polyvalente destinée aux pilotes de tous niveaux. C'est la voile parfaite pour se lancer dans le speed flying, aussi à l'aise en soaring sur une falaise de bord de mer qu'en carving le long d'une montagne.
Héritière des FireFly, la DragonFly est basée sur un principe simple : Stabilité maximale avec un super rendement pour cette classe. Un profil complètement nouveau permet de progresser dans les deux domaines.
Décollage
La DragonFly offre à la fois un décollage facile et immédiat sans vent tout en pardonnant les erreurs par vent fort. Le nouveau profil et le repositionnement des ouvertures de bord d'attaque la rendent encore plus adaptée aux débutants ou à l'apprentissage du speed flying en école.
Pilotage
Plus dynamique, tout en étant stable en roulis et en pardonnant les erreurs, elle donne un ressenti aux freins direct et intuitif. La mise en roulis est efficace sans jamais être déroutante. La DragonFly jouit d'une bonne sécurité passive, non seulement par sa grande résistance à la fermeture mais aussi parce que, bien que joueuse, elle pardonne les erreurs de pilotage.
Performance en plané et plage de vitesse
La course des trims est étendue, la DragonFly est ainsi dotée d'une meilleure vitesse maximale et d'un meilleur plané que la FireFly. En fin de compte, elle permet de voler dans des conditions plus vastes et sur plus de sites ! On peut atteindre des atterrissages plus distants et voler dans un vent plus fort, sans soucis.
Le Pilote
Cette aile s'adresse aux pilotes de tous niveaux qui veulent une aile solide, stable et polyvalente. Vous pouvez compter sur la DragonFly pour vous accompagner sereinement dans vos premiers vols en speed flying. Disponible en deux tailles, 16 et 18, elle convient aussi aux pilotes plus lourds avec un poids au décollage allant jusqu'à 120 kg.
Options de Couleurs

Information relative aux commandes
OZONE has some of the shortest lead times in the industry. The current production time is approximately 19 days from order to shipping (updated daily). Contact your dealer to place your order.
Contenu du package
OZONE offers a range of backpack choices when you order your wing. To change the type of backpack that will come with your wing, please speak with your OZONE Dealer.
Your OZONE wing is delivered standard with the following accessories:
Sac de Speed XL, Sac Interne, Sangle de Compression, Auto-collants OZONE, Kit de Réparation, Porte-clé OZONE.
You may choose to add something to your order, such as: Saucisse Bag (video) (concertina packing bag), Easy Bag (quick stuff sack), or OZONE Clothing and Accessories.
SPECIFICATIONS
| Tailles | 16 | 18 |
| --- | --- | --- |
| Nombre de cellules | 27 | 27 |
| Surface projetée (m2) | 14.23 | 16.31 |
| Surface à plat (m2) | 15.98 | 18.32 |
| Envergure projetée (m) | 6.62 | 7.09 |
| Envergure à plat (m) | 7.86 | 8.42 |
| Allongement projeté | 3.09 | 3.1 |
| Allongement à plat | 3.87 | 3.87 |
| Corde | 2.44 | 2.61 |
| Poids de l'aile | 2.95 | 3.3 |
| Fourchette de poids en vol (kg) | 50 - 120 | 50 - 120 |
| Load test (8g) | 132kg | 132kg |
Matériaux
Tissu d'Extrados : Dominico 30D

Tissu d'Intrados : Dominico N20D

Structure : Dominico 30D MF (hard)

Suspentes hautes : Liros série DSL

Suspentes intermédiaires : Liros série DSL

Suspentes basses : Edelrid série 6843
Téléchargements
Coloris Personnalisés
OZONE COLOUR REFERENCE (//)
SHARE YOUR DESIGN
ABOUT CUSTOM COLOURS
Ozone encourages you to customize your own personal colour combination for your wing. Customization generally incurs a fee. Once you've decided you can share your design with your friends, or if you are ready to order, send it to your local Ozone dealer to verify the charge and place the final order.
Please note that because the glider will be built specifically for you in the Ozone factory, payment must be received before production can begin.
FABRIC COLOURS AND UV RESISTANCE
Please be aware that the colour you see on your screen may not accurately represent the actual fabric colour. Secondly, different cloths specifications with the same color name may vary slightly, please see here for an example. Given the wide varience in monitor calibration and the fabric appearance in different light and colour combinations, it is impossible to perfectly represent fabric colour on screen. If you have any doubts about the colours, look at photos of various wings on our website to see them in different light and colour combinations or contact your local dealer to see the fabric in person.
All of the fabric that we use undergoes extensive testing in prototype colour phase to ensure colourfastness, mechanical stability, porosity, and general longevity before we put it into production. Once our fabric is in production, every meter of it is rigorously inspected upon arrival in our factory, and fabric which does not pass our stringent quality control standards is returned to the manufacturer. We are frequently asked, "Which colours last the longest, or have the best UV resistance?" All of the colours that we stock score between 4 and 5 on a scale of 1-5, with 5 being the highest possible rating for longevity.
↑