GARETH CARTER AND KARI ELLIS WIN THE AUSTRALIAN CHAMPIONSHIP
February 28, 2020
Our friend Gareth Carter had just won the Australian PG Championship, with Kari Ellis in second. Both flying Enzo 3s.
This is the 8th Australian title that Gare adds to his belt. In his words:
"Hey, I'm Gareth, and I'm a weekend warrior that flies paragliders in competitions around the world!
After occasionally seeing early paragliders in the 90's doing sleddies while training for ski racing, and later instructing, I started flying in 2001, due to a mate of mine dragging me along to a course for company, loved it straight away and jumped right into driving around the east coast of Australia chasing XC. Ironically, my mate lasted about 6 months then gave up flying.
I did my first comp in 2010 as my group of friends had started doing comps and I figured i'd give it a try, I had no idea what I was doing, and promptly bombed after 10km in the first task. It basically took that whole competition to work out how to fly tasks instead of just going with the easy XC option.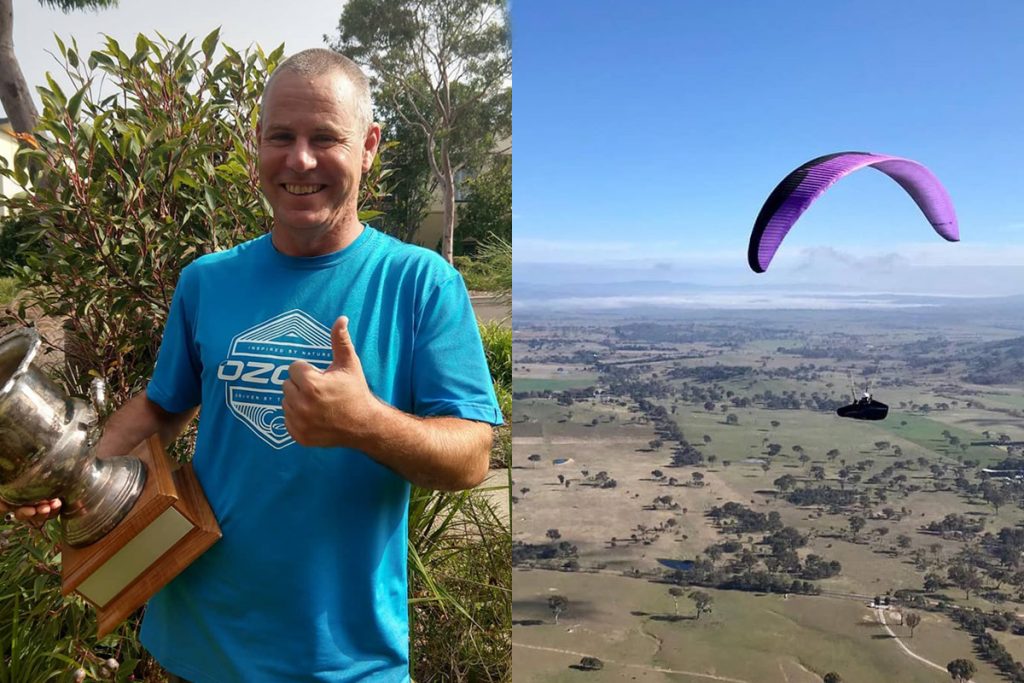 The next year in 2011 I did the full comp season in Australia (usually 3 FAI Cat 2), winning serial class on the Mantra M3 and came 11th overall (competing against the R10's). Since then I won 6 straight Australian titles (12,13,14,15,16,17), including winning 6 FAI Cat 2 in a row, lost one (3rd in 2018) and then won the last two years (19,20).
I did my first PWC in 2014 in France – a long way from the small hills and flats of Australia, it was a great learning experience, and over the years since i've tried to do the premier PWC each year in terrain that is challenging for me i.e. anything not flat. As a weekend warrior it's hard to compete with all the pro pilots doing the full circuit, but the challenge is exciting and travelling to random places around the globe and flying is amazing. I guess since 2016 i've averaged somewhere around the top 15 in PWC and World Championships (10th PWC Portugal 2016, 12th Feltre Worlds 2017, 12th PWC Australia 2018, 14th PWC Italy 2018, 41st Macedonia Worlds 2019). I'm still chasing a PWC task win, having been second twice, to Honorin and Stephan Morganthaler. Even being first across the line in one task, then being beaten on leadout by 2points – i'm coming for you Stephan.
The Australian comp scene has been improving enormously over the last 5 years, with the Australian team placing 5th at the Italy Worlds in 2017 and, 6 Australians in the WPRS top 100 last year. This has made the Australian Championships ever harder to win, and i'm enormously proud to have beaten a talented bunch of pilots this year, the challenge ramps up with every year that passes. The Australian Championship ran over two FAI Cat 2, in Bright and Corryong in Victoria with 9 tasks in total. The Task wins divided between Australian team members (Gareth Carter (3), Peter Slade (3) and Kari Ellis) and up and coming Australian and Finnish pilots (Richard Binstead, Kalle Ojamo). Comp wins to Peter Slade (Bright) and myself (Corryong)"
For full results Click here.
Congrats and cheers from all the OZONE team