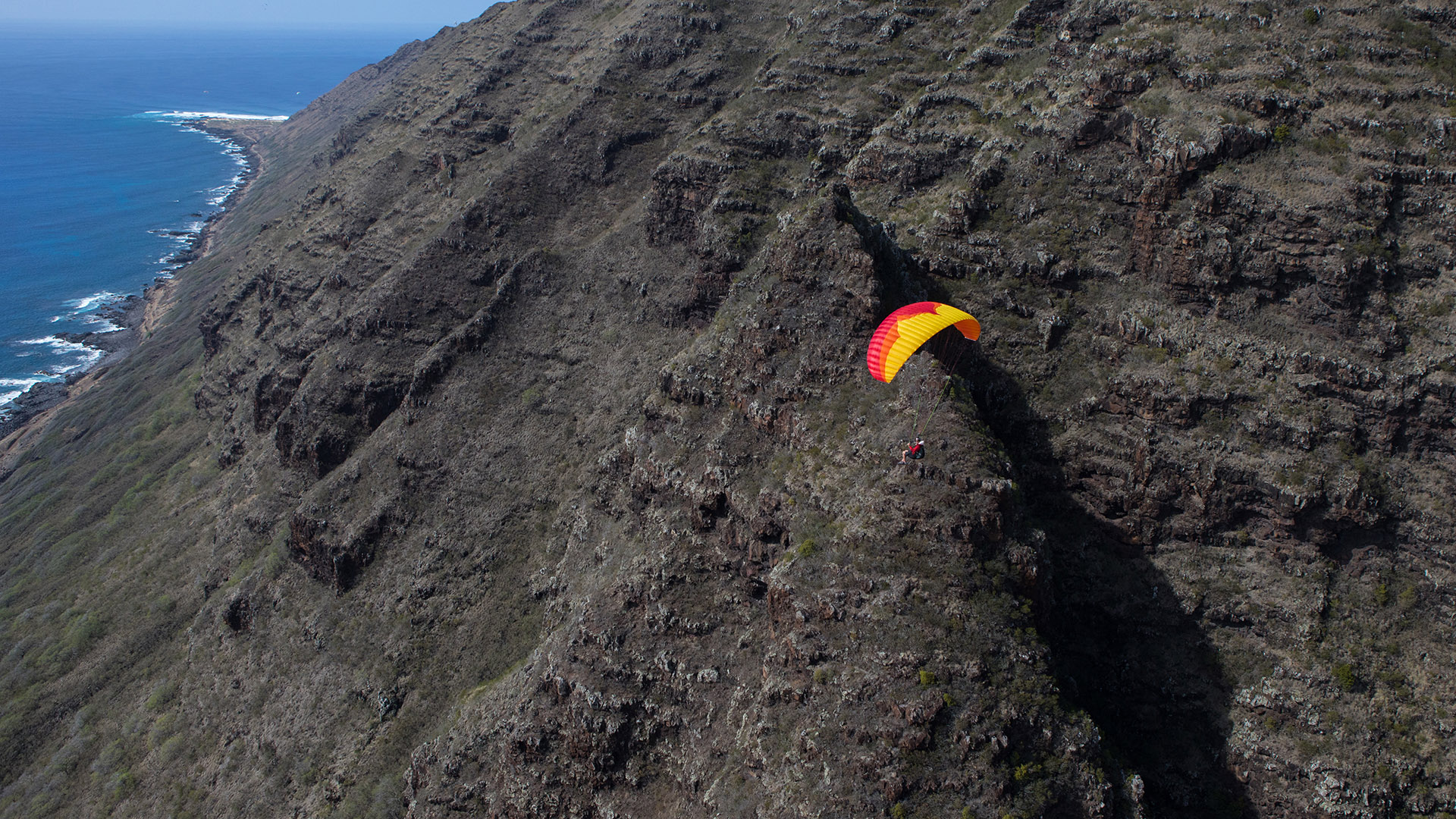 Info Produit
The ZERO has gained a reputation for agile handling in a highly efficient platform, and the new ZERO 2 improves upon every aspect of the wing. With the patented OZONE SharkNose leading edge, a new arc inspired by the OZONE performance-project and significantly improved handling and overall performance, the ZERO 2 offers more without compromising stability and comfort.
Our mission for the ZERO 2 was to adapt the OZONE SharkNose leading edge to the design and combine it with recent breakthroughs in our performance wings. OZONE introduced the patented SharkNose technology to the paragliding world, and it has proven to be one of the most impactful developments in our sport's modern history. Successfully adapting SharkNose technology to various wing types and planforms is complex, particularly in lower aspect ratio designs such as the ZERO series. The ZERO 2, like the LiteSpeed, has benefitted greatly from our research in this area of glider design. The ZERO 2 incorporates the same technology that powers our high performance XC and competition wings, packaged into a user-friendly, intermediate-class mini-wing.
THE PILOT
The ZERO 2 is suitable for paraglider pilots of intermediate skill level and above when flown at moderate wing loadings. More experienced pilots who wish to fly at higher wing-loadings will enjoy the speed and precision of this wing at its full potential. Despite the ZERO 2's accessibility, it is not suitable for beginner pilots. The ZERO 2 is ideal for mini-wing pilots and intermediate+ paraglider pilots who are looking for an elevated level of sensitivity and glider feedback.
SPEED
Speed is a major concern for the ZERO series development. The ZERO 2's speed range is not only wide, it's also very usable. One major benefit of the SharkNose leading edge is improved wing behavior at the high and low margins of AoA – when accelerated, or when flown in deep brakes, the SharkNose LE continues to provide consistent internal pressure with minimal turbulence around the intakes. A primary focus for all of our mini-wings is to create a cohesive platform with a large, usable speed range. The ZERO 2's optimised trimming, sail tension, and arc, combined with the SharkNose LE, add up to improved inflation characteristics and a more compact and agile feel in the air.
CONSTRUCTION AND DESIGN
Made from the well-proven Dominico sail cloth, the ZERO 2 will last for many years if cared for normally. It is equipped with trimmers and a speed system that can be used individually or together. The patented OZONE SharkNose profile is renowned for its performance at a wide range of angles of attack. Combined with the ZERO 2's trim and speed system, the result is a large, fast and solid useable speed range with high levels of stability at low angles of attack, along with improved stall / spin resistance at higher angles of attack. The OZONE SharkNose aides every aspect of the design with improved cohesion, handling, speed and glide performance. The end result is a unique, high-performance mini-wing that remains accessible and easy to use.
VERSATILITY
The ZERO 2 balances the high levels of efficiency necessary for soaring and thermalling flights, with the speed, agility and roll authority required for dynamic handling, diving turns and fun descents. We have enjoyed flying this wing in a wide range of conditions, from coring thermals with larger standard paragliders on light days, to soaring in moderate to strong winds and carving down the mountain after a hike-up. Please note that we do not recommend flying any highly-loaded wing in accelerated configurations in turbulent or strong conditions, especially when near to the ground.
*The Zero 2 has a solid color bottom surface. The bottom surface color is the same as Zone 2 on the wing. This means that the middle stripe on the top surface will be the same color as the bottom surface.
Options de Couleurs

Information relative aux commandes
The current production time is approximately 60 days from order to shipping (updated daily). Contact your dealer to place your order.
Contenu du package
Your OZONE wing is delivered standard with the following accessories:
Speed Wing XL bag, Inner Bag, Glider Strap, Speed Bar, OZONE Stickers, Repair Cloth, OZONE Keyring.
You may choose to add something to your order, such as: Saucisse Bag (video) (concertina packing bag), Glider Backpack, Easy Bag (quick stuff sack), or OZONE Clothing and Accessories.
Requetes
SPECIFICATIONS
| Tailles | 13 | 15 | 17 | 19 |
| --- | --- | --- | --- | --- |
| Nombre de cellules | 35 | 35 | 35 | 35 |
| Surface projetée (m2) | 11.5 | 13.2 | 14.9 | 16.7 |
| Surface à plat (m2) | 13 | 15 | 17 | 19 |
| Envergure projetée (m) | 6.36 | 6.75 | 7.18 | 7.6 |
| Envergure à plat (m) | 7.69 | 8.27 | 8.79 | 9.31 |
| Allongement projeté | 3.4 | 3.4 | 3.4 | 3.4 |
| Allongement à plat | 4.5 | 4.5 | 4.5 | 4.5 |
| Corde | 2.11 | 2.27 | 2.41 | 2.55 |
| Poids de l'aile | 2.7 | 3.06 | 3.32 | 4.1 |
| Load Test | 158kg | 158kg | 158kg | 158kg |
| Fourchette de poids en vol (kg) | 55-75 | 70-95 | 80-95 | 80-105 |
* Weights may vary up to 50gm per size due to slight variations in the manufacturing of the fabric used.
Matériaux
Top Surface Cloth: Dominico 30D MF

Bottom Surface Cloth: Dominico N20D MF

Rib cloth: Dominico 30D FM

Upper lines: Edelrid 8000U

Mid lines: Edelrid 8000U

Lower Lines: Edelrid 8000U
Téléchargements
Coloris Personnalisés
OZONE COLOUR REFERENCE (//)
SHARE YOUR DESIGN
A PROPOS DES COULEURS PERSONNALISEES
Ozone vous encourage à choisir une combinaison de couleurs qui va personnaliser votre voile. Il y a généralement un surcoût pour avoir des couleurs personnalisées. Une fois votre combinaison de couleurs choisie, il est possible de la partager avec vos amis ou, quand vous avez arrêté votre choix, de l'envoyer à votre revendeur Ozone pour vérifier le coût et finaliser la commande.
Veuillez noter que l'aile sera fabriquée spécifiquement à vos taille et couleurs et qu'elle doit donc être payée avant sa mise en production.
COULEURS DES TISSUS ET RESISTANCE AUX U.V.
Notez que l'apparance des couleurs à l'écran peut être un peu différente de ce qu'elles sont en réalité. De plus, deux tissus de spécifications différentes peuvent avoir des couleurs légèrement différentes alors qu'elles ont le même nom, voyez cet exemple. Du fait des variations de calibration des couleurs sur les différents écrans, d'une part, et des différences visuelles du même tissu sous différents éclairages, d'autre part, le rendu des couleurs sur un écran n'est jamais parfait. Pour avoir une meilleure idée du rendu réel des couleurs sous différents éclairages et en différentes combinaisons, vous pouvez regarder les photos des ailes que nous mettons sur notre site web, il est aussi possible de contacter votre revendeur local pour avoir réellement le tissu sous les yeux.
Tous les tissus que nos utilisons ont subi des tests poussés en phase prototype pour s'assurer que la couleur, la stabilité mécanique, la porosité et, d'une façon générale, la longévité de chacun d'entre eux correspond à nos standards avant de les utiliser en production. Une fois le tissu validé, chaque mètre de tissu reçu à l'usine est rigoureusement inspecté et renvoyé au fabricant s'il ne répond pas au niveau de qualité que nos exigeons pour nos clients. On nous demande souvent : "Quelles sont les couleurs qui pâlissent le moins ou qui résistent le mieux aux U.V. ?" Toutes les couleurs que nous utilisons ont une note entre 4 et 5 sur une échelle de 1 à 5, 5 étant la meilleure note de longévité.
↑