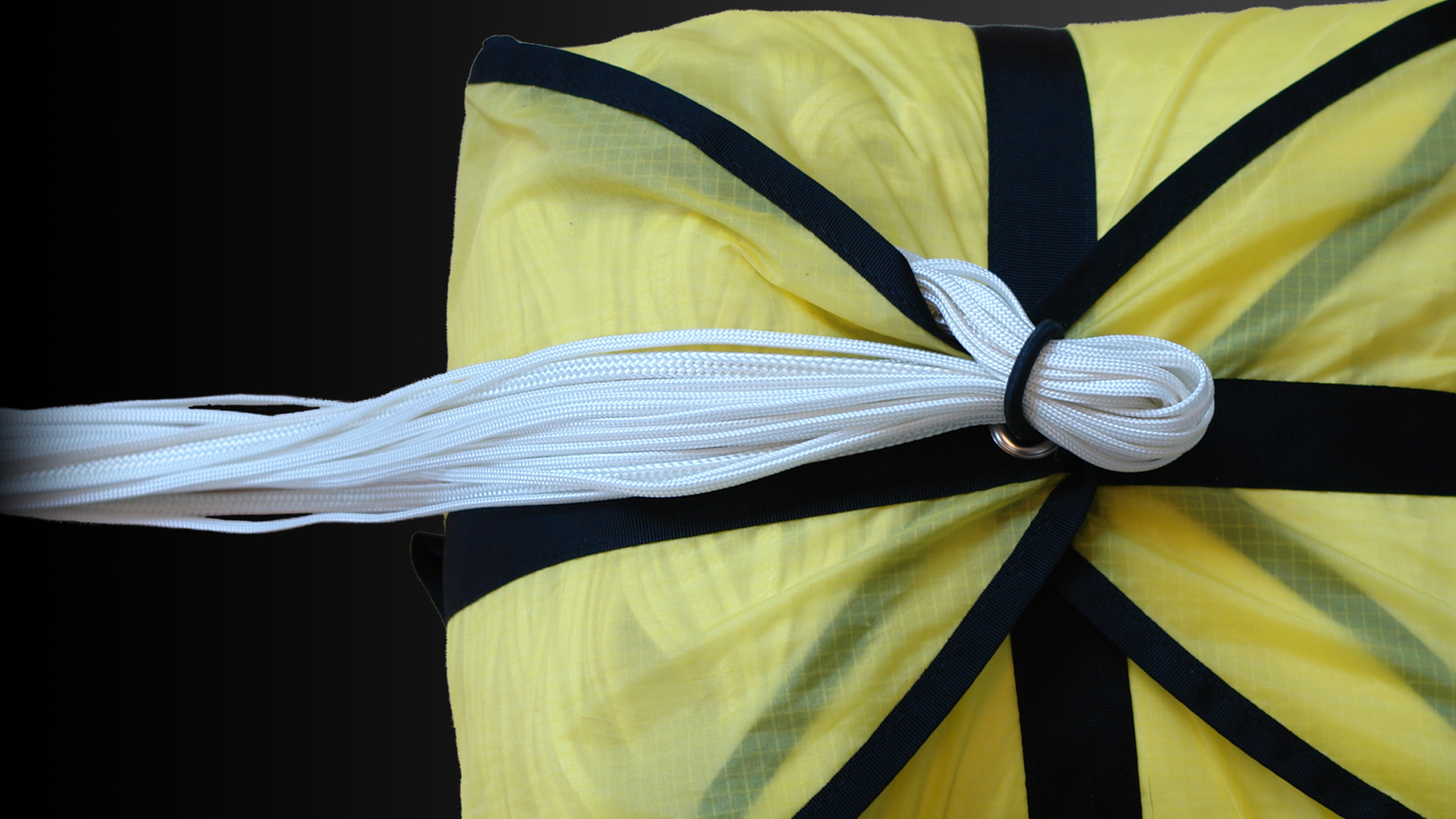 Info Produit
Tout le monde a besoin d'un Ange.. bien que personne n'ait vraiment envie de l'utiliser. Cependant, lorsque vient le moment, les facteurs les plus importants sont la sécurité et la stabilité avec un faible taux de chute pour une descente contrôlée. L'Angel 37m²
est homologué jusqu'à 140kg, ce qui signifie que même un pilote avec ce PTV se trouvera dans un descente stable à moins de 5,5m/s, et la plupart des pilotes auront un taux de chute bien moindre. Nous pensons que l'Angel est l'un des parachutes de secours les plus sûrs au monde en termes de stabilité et de taux de chute ; son prix abordable et son poids relativement léger en font un choix sûr pour tous les pilotes.
Quand il s'agit de stabilité et de sécurité pour les secours de forme ronde, rien ne remplace la surface. Pour cette raison, nos deux tailles d'Angel sont "grandes" et apportent un grande marge pour les PTV d'homologation. Avec ses deux tailles, l'Angel couvre tous les PTV jusqu'à 140kg (PTV total, secours compris). Il est homologué EN et LTF aux normes EN 12491 et LTF 91/09.
Bien que léger, l'Angel a été optimisé pour la sécurité et la fiabilité plutôt que pour son poids intrinsèque. Il faut rappeller que lorsqu'on parle de construction légère, la diminution du poids se fait souvent au détriment de la sécurité. Ainsi, des faisceaux de suspentes ultra fines peuvent lâcher et lâchent parfois lors de certaines manoeuvres violentes et/ou de frictions non prévues. Les matériaux de l'Angel ont été sélectionnés pour procurer la plus grande durée de vie et la meilleure resistance possibles en vue d'obtenir une plus grande marge de sécurité, même dans les situations les plus perilleuses.
SPECIFICATIONS
| | 95 | 110 | 140 |
| --- | --- | --- | --- |
| Number of Gores | 18 | 18 | 20 |
| Surface Area m2 | 25 | 29 | 37 |
| Apex lines Length mm | 5920 | 6505 | 7310 |
| Suspension Line lengths mm | 5505 | 6050 | 6800 |
| Upper Apex lines | 640 | 700 | 790 |
| Weight kg, incl. bridle | 1.5 | 1.71 | 2.07 |
| Certified Maximum load Kgs | 95 | 110 | 140 |
| Sink rate at Max Load m/st | 5.2 | 5.2 | 5.24 |
| Certification | EN & LTF | EN & LTF | EN & LTF |
* Weights may vary up to 50gm per size due to slight variations in the manufacturing of the fabric used.
CARACTÉRISTIQUES
Sangle d'attache : La sangle en Y de l'Angel mesure 1,40 mètre et se connecte directement aux points d'attache du secours de votre sellette. Les maillons ne sont pas fournis (votre sellette devra être équipée d'un maillons carré ou en trapèze de chaque côté). Veuillez lire le manuel pour plus d'informations.
MATÉRIAUX
Tissu : DOKDO 20D
Suspentes : Edelrid A6798
Elevateurs : Gurth et Wolf 25mm
POCHE INTERNE
Type feuille de trèfle standard.
TAILLES
25m², 29m² et 37m².
DÉLAI D'OUVERTURE
2,8 secondes
↑