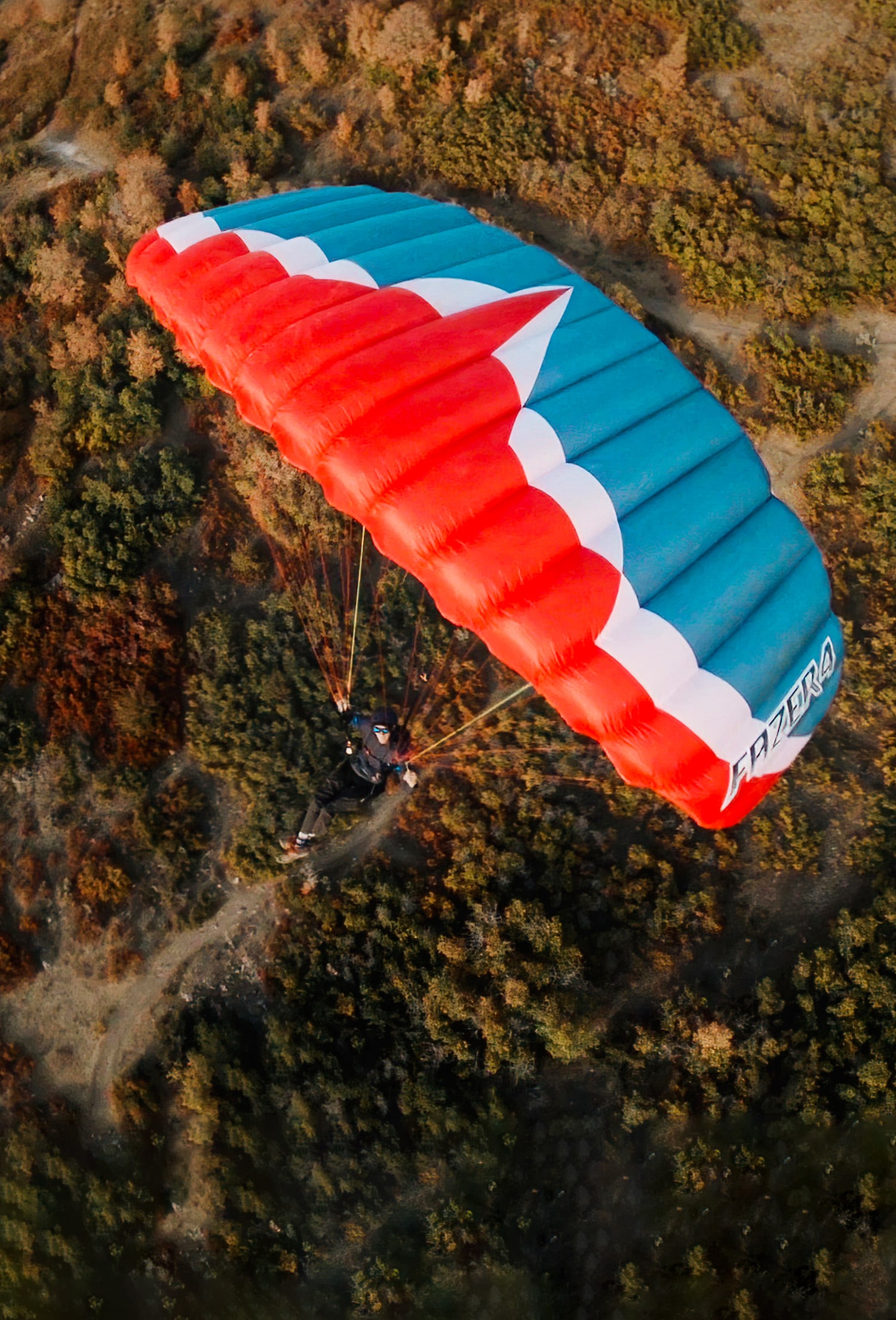 Info Produit
Vitesse et Stabilité
Polyvalence et allongement modéré ont toujours été à la base des Fazer. C'est l'aile idéale pour les pilotes de speed de niveau intermédiaire qui veulent progresser vers une voile plus pointue (la série des Rapido).
Le monde à vos pieds
La Fazer 4 a été pensée pour voler aussi bien sur un site décollable à pied ou en skis et mise au point sans jamais négliger la facilité du décollage à pied. Une multitude de terrains et de conditions de décollage sont possibles du fait de la large plage de réglage des trims : pétole ou vent soutenu, pente faible ou forte, la Fazer 4 offre des possibilités infinies de pratiquer.
Technologie
Quand on conçoit une aile, l'allongement est un paramètre avec lequel on ne peut pas tricher. Ce n'est pas forcément ce qui fait son âme, mais c'est à coup sûr ce qui fait son corp. La Fazer 4 conserve l'allongement et le nombre de caissons de sa devancière qui contribuent à la sensation de stabilité et de compacité qu'elle procure en vol. Le profile est renforcé sur toute l'envergure pour assurer un gonflage plus facile et une meilleure stabilité à haute vitesse. Le décollage est aussi confortable sur un décollage falaise que sur une pente douce.
En Vol
Manoeuvres dynamiques, tonneaux rapides, et excellente stabilité ont faits la réputation des Fazer depuis plus de 10 ans. La course utile des freins a encore été étendue, améliorant le flare et permettant un carving plus progressif. On sent que l'aile est tendue et compacte, ce qui donne plus de confiance pour les passages en rase-motte.
Quelle taille ?
Prenez conseil auprès de votre revendeur OZONE ou de votre instructeur pour choisir la taille de votre Fazer et, surtout, n'hésitez pas à nous contacter en cas de doute car nous sommes là pour vous aider.
L'équipe vous souhaite bon vol !
Options de Couleurs

Information relative aux commandes
OZONE has some of the shortest lead times in the industry. The current production time is approximately 64 days from order to shipping (updated daily). Contact your dealer to place your order.
Contenu du package
OZONE offers a range of backpack choices when you order your wing. To change the type of backpack that will come with your wing, please speak with your OZONE Dealer.
Your OZONE wing is delivered standard with the following accessories:
You may choose to add something to your order, such as: Saucisse Bag (video) (concertina packing bag), Easy Bag (quick stuff sack), or OZONE Clothing and Accessories.
Requetes
SPECIFICATIONS
| size | 8 | 10 | 12 | 14 |
| --- | --- | --- | --- | --- |
| No. of Cells | 17 | 17 | 17 | 17 |
| Projected Area (m²) | 7.07 | 8.84 | 10.63 | 12.42 |
| Flat Area (m²) | 7.96 | 9.96 | 11.97 | 13.99 |
| Envergure projetée (m) | 4.33 | 4.84 | 5.3 | 5.73 |
| Envergure à plat (m) | 5.23 | 5.85 | 6.41 | 6.93 |
| Allongement projeté | 2.65 | 2.65 | 2.65 | 2.65 |
| Allongement à plat | 3.43 | 3.43 | 3.43 | 3.43 |
| Root Chord | 1.82 | 2.04 | 2.24 | 2.42 |
| Poids de l'aile | * | 2.4 | 2.75 | 3 |
Matériaux
Top Surface Cloth: Dominico 30D

Bottom Surface Cloth: Dominico 30D

Rib cloth: Dominico 30D

Upper lines: DSL 70

Mid lines: Edelrid 8000U

Lower lines: Edelrid 8000U
Coloris Personnalisés
OZONE COLOUR REFERENCE (//)
SHARE YOUR DESIGN
ABOUT CUSTOM COLOURS
Ozone encourages you to customize your own personal colour combination for your wing. Customization generally incurs a fee. Once you've decided you can share your design with your friends, or if you are ready to order, send it to your local Ozone dealer to verify the charge and place the final order.
Please note that because the glider will be built specifically for you in the Ozone factory, payment must be received before production can begin.
FABRIC COLOURS AND UV RESISTANCE
Please be aware that the colour you see on your screen may not accurately represent the actual fabric colour. Secondly, different cloths specifications with the same color name may vary slightly, please see here for an example. Given the wide varience in monitor calibration and the fabric appearance in different light and colour combinations, it is impossible to perfectly represent fabric colour on screen. If you have any doubts about the colours, look at photos of various wings on our website to see them in different light and colour combinations or contact your local dealer to see the fabric in person.
All of the fabric that we use undergoes extensive testing in prototype colour phase to ensure colourfastness, mechanical stability, porosity, and general longevity before we put it into production. Once our fabric is in production, every meter of it is rigorously inspected upon arrival in our factory, and fabric which does not pass our stringent quality control standards is returned to the manufacturer. We are frequently asked, "Which colours last the longest, or have the best UV resistance?" All of the colours that we stock score between 4 and 5 on a scale of 1-5, with 5 being the highest possible rating for longevity.
↑