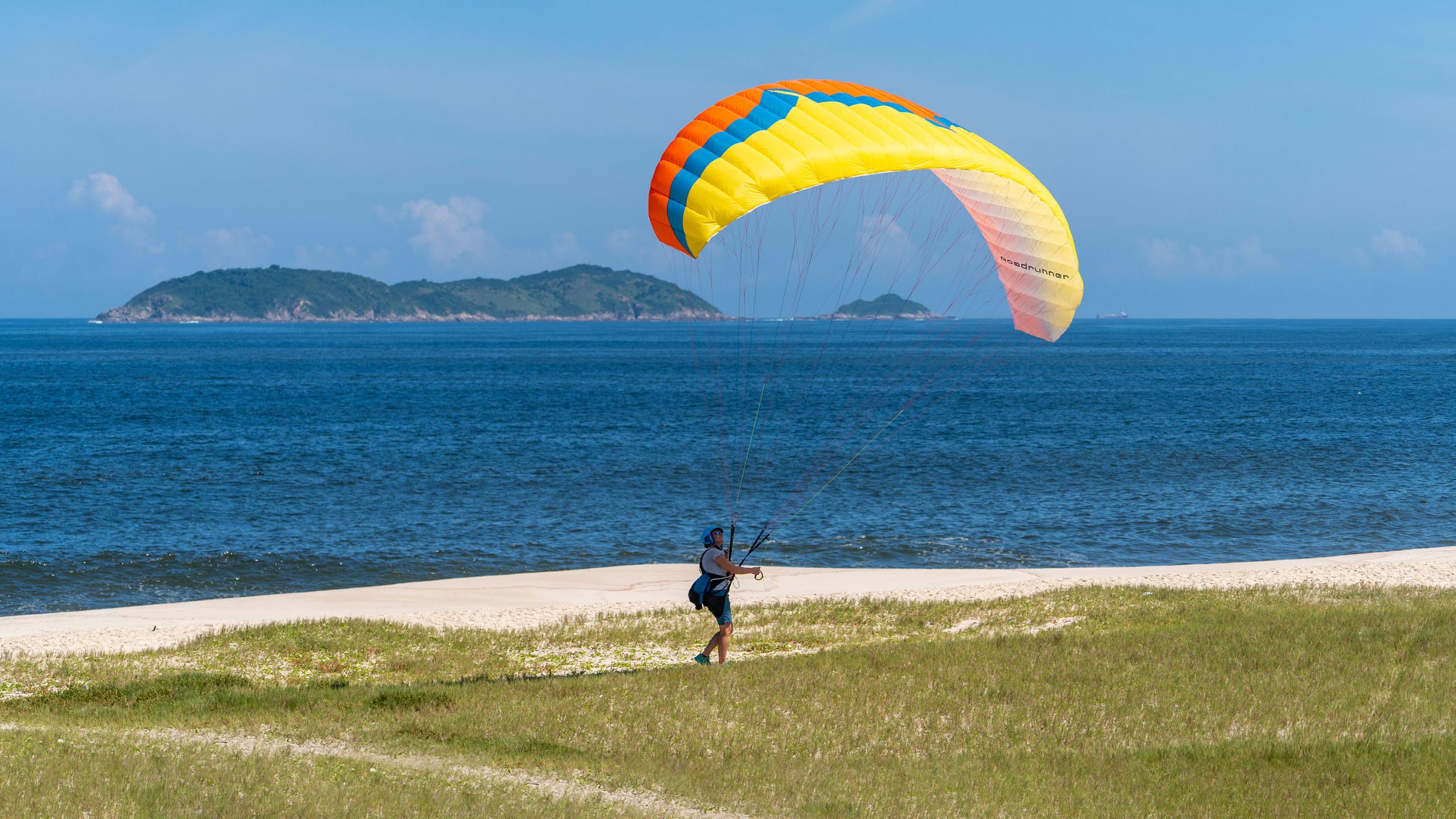 Info prodotto
Il Roadrunner è un parapendio facile da gestire e molto indulgente, progettato in modo specifico, e solamente, per l'addestramento nelle manovre al suolo. E' ottimizzato per l'impiego con venti che siano troppo elevati per usare dei parapendio di misura standard, ma è facile da usare anche in condizioni di vento debole o assente.
Il bordo d'attacco rinforzato rende agevole il gonfiaggio. Il Roadrunner possiede un gonfiaggio dal carattere progressivo e prevedibile. Un sistema a due elevatori con le A divise in due, consente l'addestramento nei vari generi di gonfiaggio, controllo e tecniche per far collassare al suolo la vela. I freni, dotati di ganci magnetici  sono facili da afferrare, e da riattaccare sugli elevatori durante l'addestramento.
Sia che voi vi stiate allenando con venti forti o totalmente assenti,  il Roadrunner vi consente una progressione semplice e divertente. Con vento forte la vela non ha tendenza a sorpassare, e nemmeno genera eccessiva portanza. Con vento assente si alza dolcemente e con un minimo sforzo.
Le scuole ne apprezzeranno la facilità d'impiego ed il risparmio che deriva dal risparmiare dall'usura le vele destinate al volo, invece che sfruttarle nelle manovre sul campetto. Il Roadrunner è stato progettato fin dall'inizio tenendo in considerazione il suo costo, con l'obiettivo di aumentare l'efficienza dell'addestramento ed abbassarne i costi per le scuole.
Anche i ragazzini lo apprezzeranno! Fate conoscere ai piloti più giovani e leggeri il piacere del kiting.
Colori opzionali

Informazioni sull'ordine
OZONE has some of the shortest lead times in the industry. The current production time is approximately 33 days from order to shipping (updated daily). Contact your dealer to place your order.
Contenuto della confezione
OZONE offers a range of backpack choices when you order your wing. To change the type of backpack that will come with your wing, please speak with your OZONE Dealer.
La vostra vela OZONE viene consegnata con i seguenti accessori standard :
Sacca interna, Cinghia per la vela, Adesivi OZONE, Portachiavi OZONE.
You may choose to add something to your order, such as: Light Easy Bag (quick stuff sack), or OZONE Clothing and Accessories.
Specifiche
| SIZES | 14m |
| --- | --- |
| Numero di cassoni | 27 |
| Superficie proiettata (m2) | 12.1 |
| Superficie reale (m2) | 14 |
| Apertura proiettata (m) | 6.06 |
| Flat Span (m) | 7.74 |
| Allungamento proiettato | 3 |
| Allungamento reale | 4.3 |
| Corda media (m) | 2.36 |
| Peso vela (kg) | 2.97 |
Materiali
Tessuto estradosso: Dominico 40D

Tessuto intradosso: Dominico 40D

Tessuto centine: Dominico 30D FM (Hard)

Linee superiori: Liros DSL 70

Linee mediane: Liros DSL 70/140

Linee inferiori: Edelrid serie
Colori personalizzati
OZONE COLOUR REFERENCE (//)
SHARE YOUR DESIGN
ABOUT CUSTOM COLOURS
Ozone encourages you to customize your own personal colour combination for your wing. Customization generally incurs a fee. Once you've decided you can share your design with your friends, or if you are ready to order, send it to your local Ozone dealer to verify the charge and place the final order.
Please note that because the glider will be built specifically for you in the Ozone factory, payment must be received before production can begin.
FABRIC COLOURS AND UV RESISTANCE
Please be aware that the colour you see on your screen may not accurately represent the actual fabric colour. Secondly, different cloths specifications with the same color name may vary slightly, please see here for an example. Given the wide varience in monitor calibration and the fabric appearance in different light and colour combinations, it is impossible to perfectly represent fabric colour on screen. If you have any doubts about the colours, look at photos of various wings on our website to see them in different light and colour combinations or contact your local dealer to see the fabric in person.
All of the fabric that we use undergoes extensive testing in prototype colour phase to ensure colourfastness, mechanical stability, porosity, and general longevity before we put it into production. Once our fabric is in production, every meter of it is rigorously inspected upon arrival in our factory, and fabric which does not pass our stringent quality control standards is returned to the manufacturer. We are frequently asked, "Which colours last the longest, or have the best UV resistance?" All of the colours that we stock score between 4 and 5 on a scale of 1-5, with 5 being the highest possible rating for longevity.
↑