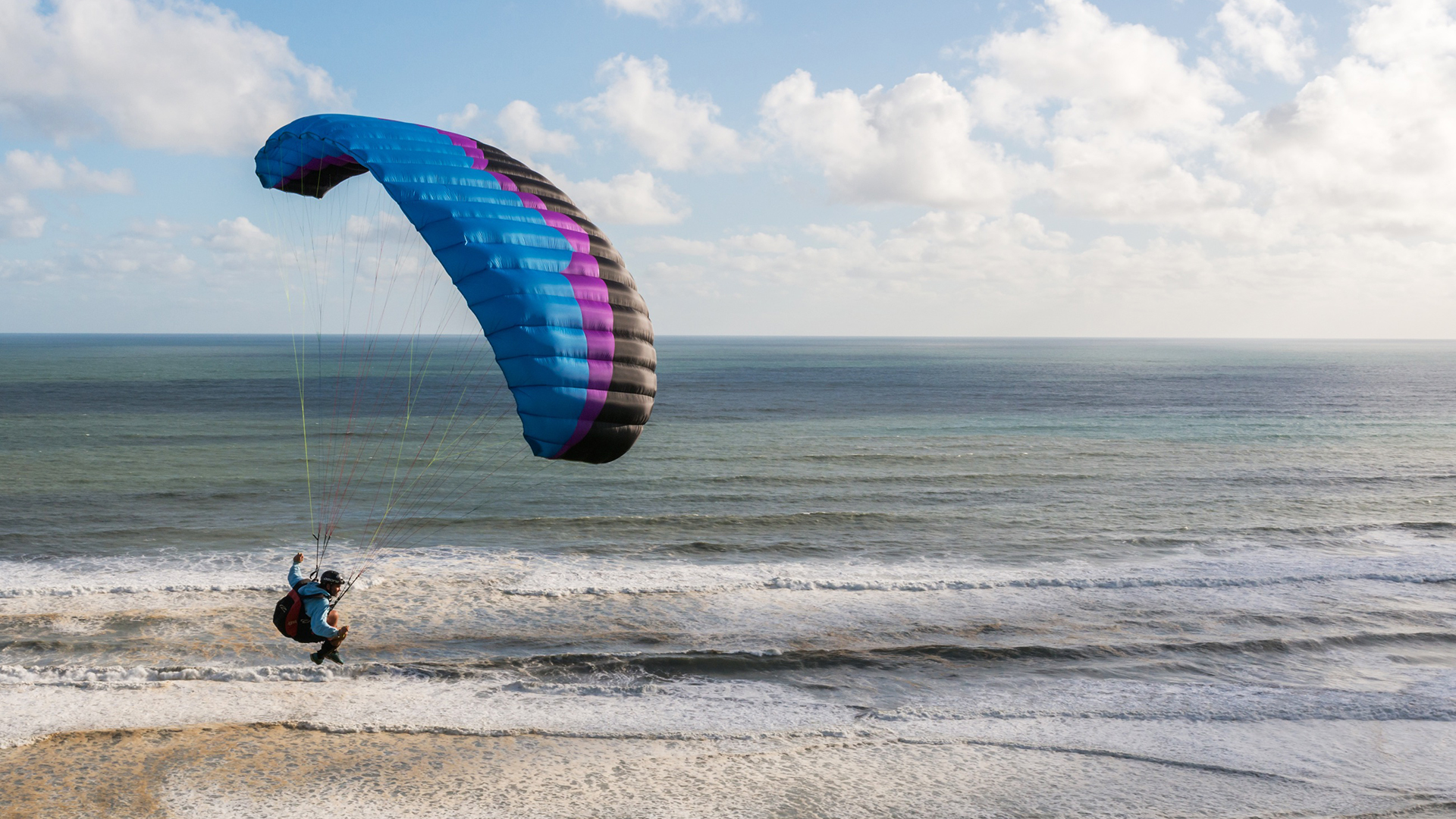 Información
In expectation of the arrival of the next model, the FIREFLY 3 is currently not being produced. We will post news of the new version which will arrive in early 2020.
The Firefly 3 builds on the legacy of the Firefly series, which was founded on a simple principle: A high performance profile in an extremely stable speed wing planform. The original Firefly contained an HPP profile that was tuned to work with the low aspect ratio hybrid speed wing planform. The FF3 continues this trend of high stability and good glide performance for its size and aspect ratio.
The FF3 improvements have improved all factors, with an emphasis on launch, handling, and stability. Like its predecessor, the FF3 launches easily with its behavior here being improved by a lighter sail – we have changed the N30D to the light yet durable N20D for the bottom surface, which aids not only the launch but also reduces sail inertia in flight for a crisper and more agile feel in the air. In high winds, the wing still has no tendency to overshoot, and is very easy to control and ground-handle.
Further improvements have been made to the riser system by reconfiguring the trimmer position, allowing easier manipulation of trim with brakes in-hand.
At the request of pilots, we have added a new larger size. The 18m FF3's weight range maxes out at 120kg, for the big guys (or gals) out there. At higher wingloadings, roll stability is excellent and the flare power remains impressive.
New cell openings have allowed for increased internal pressure at accelerated speeds, which aids in collapse resistance and improves handling. A new leading edge reinforcement has reduced wear and tear at this crucial part of the sail, without compromising leading edge shape at all AoAs.
Finally, a new arc at the tip has led to improved roll behaviour, a critical topic for speed flying pilots. When carving near terrain, predictable and progressive roll behaviour is important, and the FF3's progressive feel is consistent across the weight range.
In the history of this wing series, the FF3's advanced profile has proven to be ideal for high pitch stability and excellent performance in the class, and the low aspect ratio and thick chord adds protection for passive safety and stability. It remains an excellent choice for pilots who want to experience the thrill of mini-wing piloting without the sacrifice in stability that is inherent in higher aspect ratio designs which are common in the mini-wing category.
Part of the FF3 performance is thanks to an advanced, reduced-drag line-plan. This could be considered a "free" performance gain, which has come at no cost in stability.
At OZONE, our main priority for mini-wings and speed-wings is safety. Higher wingloading does not automatically means higher stability, and we have taken great care to produce a smaller wing that, while fun to fly, still retains a level of passive safety that is suitable for paraglider pilots with beginner-intermediate skill levels, and higher.
Colores de serie

Cómo hacer un pedido
The current production time is approximately 94 days from order to shipping (updated daily). Contact your dealer to place your order.
PACKAGE CONTENTS
Your OZONE wing is delivered standard with the following accessories:
You may choose to add something to your order, such as: Saucisse Bag (video) (concertina packing bag), Glider Backpack, Easy Bag (quick stuff sack), or OZONE Clothing and Accessories.
Solicitudes
Especificaciones
| Tallas | 16 | 18 |
| --- | --- | --- |
| Número de cajones | 24 | 24 |
| Superficie proyectada (m2) | 14.2 | 15.9 |
| Superficie real (m2) | 16 | 18 |
| Envergadura proyectada (m) | 6.46 | 6.85 |
| Envergadura real (m) | 7.62 | 8.08 |
| Alargamiento proyectado | 2.94 | 2.94 |
| Alargamiento real | 3.63 | 3.63 |
| Cuerda central (m) | 2.55 | 2.7 |
| Peso de la vela (kg) | 2.92 | 3.32 |
| Load Test | 142kg | 142kg |
* Weights may vary up to 50gm per size due to slight variations in the manufacturing of the fabric used.
Materiales
Top Surface Cloth: Dominico 30D MF

Bottom Surface Cloth: Dominico N20D MF

internal Ribs: Dominico 30D MF

Upper Lines: Liros DSL serie

Mid Lines: Liros DSL serie

Lower Lines: Edelrid 6843 serie
Descargas
Colores a elegir
OZONE COLOUR REFERENCE (//)
SHARE YOUR DESIGN
SOBRE LOS COLORES PERSONALIZADOS
Ozone te anima a que personalices tu vela eligiendo tu propia combinación de colores. La personalización supone un pequeño coste adicional. Una vez hayas decidido tus colores, puede compartir tu diseño con tus amigos, o si ya estás listo para hacer tu pedido, enviárselo a tu distribuidor local de Ozone para que te informe del importe adicional y encargar la vela.
Por favor, ten en cuenta que como esa vela se fabricará exclusivamente para ti en la fábrica de Ozone, el pago debe recibirse antes de que comience a fabricarse.
COLORES DEL TEJIDO Y RESISTENCIA A LOS RAYOS UV
Por favor, ten en cuenta que el color que veas en tu pantalla puede que no represente con precisión el color real del tejido. Dada la amplia variedad en la calibración de las pantallas y el aspecto del tejido bajo diferentes condiciones de luz y combinaciones de colores, resulta imposible representar perfectamente el color del tejido en la pantalla. Si albergas alguna duda sobre los colores, mira las fotos de unas cuantas velas en nuestra página web para verlas bajo luces y combinaciones de colores diferentes o ponte en contacto con tu distribuidor local para ver el tejido en persona.
Todo el tejido que usamos pasa por un exhaustivo proceso de pruebas durante los prototipos, para asegurarnos de que el color se mantiene, de la estabilidad mecánica, la porosidad y la longevidad general, antes de poner ese tejido en producción. Una vez que nuestro tejido está en producción, cada metro del mismo se inspecciona rigurosamente al llegar a nuestra fábrica, y un tejido que no pase nuestros estrictos controles de calidad, se devuelve al fabricante. Con frecuencia nos preguntan qué colores son los que más duran o tienen mayor resistencia a los rayos UV. Todos los colores que empleamos poseen un valor de entre 4 y 5 en una escala que va del 1 al 5, siendo el 5 el valor más alto posible en cuanto a longevidad.
↑