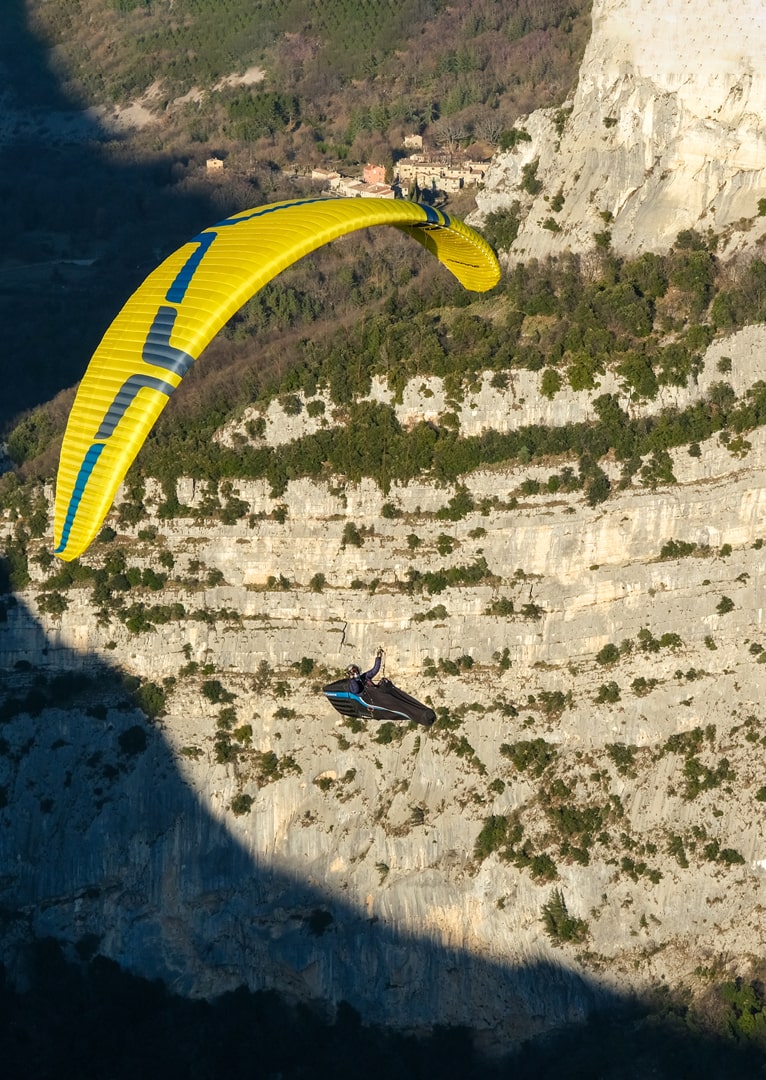 PRODUCT INFO
Five years after the Zeno's release, it remains at the top of the EN D class, and we knew it would not be easy to replace, but after two years of intense R&D we finally have a worthy successor.
The Character
Our primary goal was preserving the Zeno's legendary comfort and ease of use. The Zeno 2 retains the same cell count and AR in order to achieve this, in addition to more passive safety — improved response to front and side collapse.
Performance
The Zeno 2 profile's new tech includes increased CM+ (reflex) and more rearward cell openings. This new aerofoil delivers significantly higher top speed, better glide, and higher efficiency throughout the speed range. With a slightly faster trim speed and significantly faster top speed compared to the Zeno, it now matches the Enzo 3 in top speed and glide. The top speed is fast, significantly faster than the Zeno (we have measured +7 km) and only necessary in a competitive final glide.
The Feel
Overall, the Zeno 2 offers a little more feedback compared to the Zeno, but always in an intelligible way. It remains comfortable and confidence-inspiring for pilots of the category. The heightened sensation makes it easier to sniff out cores, follow good energy lines, and feel the air. An optimised internal structure gives an impressive feeling of cohesion when climbing in thermic turbulence. A benefit of the covid delay is that it gave us time to fine tune the handling exactly to our liking — the turn response is precise and dynamic, with higher levels of agility than the Zeno.
Launch
The improved behaviour and cohesion of the sail is noticeable on the ground, with impeccable launching characteristics. The Zeno 2 inflates easily from any position on the ground even in nil wind conditions. Perhaps with the exception of the Zeolite, the Zeno 2 is the easiest 2-liner to launch.
The Pilot
The Zeno 2 is designed specifically for highly experienced XC pilots who fly at least 100 hrs a year and have a solid SIV background, and who need XC record hunting / competition-level performance.
COLOUR OPTIONS

ORDERING INFORMATION
The current production time is approximately 65 days from order to shipping (updated daily). Contact your dealer to place your order.
PACKAGE CONTENTS
Your OZONE wing is delivered standard with the following accessories:
Special Folding Pillow, Concerto Light Folding Bag, Key Ring, Bottle Opener, Certificate of Authenticity, Two Sheets of White Sticky Cloth, Riser Bag
SPECIFICATIONS
| sizes | S | MS | ML | L |
| --- | --- | --- | --- | --- |
| Number of cells | 78 | 78 | 78 | 78 |
| Projected area (m2) | 17.7 | 18.9 | 20.3 | 22.2 |
| Flat Area (m²) | 21 | 22.5 | 24.1 | 26.5 |
| Projected Span (m) | 9.5 | 9.8 | 10.2 | 10.7 |
| Flat Span (m) | 12 | 12.5 | 12.9 | 13.5 |
| Projected Aspect Ratio | 5.1 | 5.1 | 5.1 | 5.1 |
| Flat Aspect Ratio | 6.9 | 6.9 | 6.9 | 6.9 |
| Root Chord (m) | 2.19 | 2.26 | 2.3 | 2.46 |
| Glider Weight (kg) | 4.7 | 4.92 | 5.22 | 5.54 |
| In-flight Weight Range (kg) | 75-90 | 85-100 | 95-110 | 105-125 |
| EN | D | D | D | D |
* Weights may vary up to 50gm per size due to slight variations in the manufacturing of the fabric used.
MATERIALS
Top Surface Cloth: Dominico 30D / Porcher 7000 E71

Bottom Surface Cloth: Porcher 7000 E71

Rib cloth: Porcher 9017 E29 (hard) / Porcher 7000 E29 (hard)

Upper lines: Edelrid 8001 / 9200-030

Mid lines: Edelrid 8001

Lower Lines: Edelrid 8001
DOWNLOADS
CUSTOM COLOURS
Zone 4
(Zone 4 must match Zone 1 or be white)
OZONE COLOUR REFERENCE (///)
SHARE YOUR DESIGN
ABOUT CUSTOM COLOURS
Ozone encourages you to customize your own personal colour combination for your wing. Customization generally incurs a fee. Once you've decided you can share your design with your friends, or if you are ready to order, send it to your local Ozone dealer to verify the charge and place the final order.
Please note that because the glider will be built specifically for you in the Ozone factory, payment must be received before production can begin.
FABRIC COLOURS AND UV RESISTANCE
Please be aware that the colour you see on your screen may not accurately represent the actual fabric colour. Secondly, different cloths specifications with the same color name may vary slightly, please see here for an example. Given the wide varience in monitor calibration and the fabric appearance in different light and colour combinations, it is impossible to perfectly represent fabric colour on screen. If you have any doubts about the colours, look at photos of various wings on our website to see them in different light and colour combinations or contact your local dealer to see the fabric in person.
All of the fabric that we use undergoes extensive testing in prototype colour phase to ensure colourfastness, mechanical stability, porosity, and general longevity before we put it into production. Once our fabric is in production, every meter of it is rigorously inspected upon arrival in our factory, and fabric which does not pass our stringent quality control standards is returned to the manufacturer. We are frequently asked, "Which colours last the longest, or have the best UV resistance?" All of the colours that we stock score between 4 and 5 on a scale of 1-5, with 5 being the highest possible rating for longevity.
↑