Info prodotto
Il MOJO è indicato sia per piloti principianti sia per coloro che vogliono praticare intensamente il volo. Con il suo facile gonfiaggio e controllo, il MOJO è una vela molto indulgente da volare, e possiede le caratteristiche di semplicità di una vela DHV1.
Abbiamo combinato la sicurezza di una lunga escursione dei freni con un pilotaggio progressivo, per ottenere un buon comportamento in virata; aggiungete questo ad un tasso di caduta visibilmente migliorato, ed otterrete delle grandiose prestazioni in termica. Nel volo, il MOJO dà una sensazione d'armoniosità ed è molto stabile sia nel beccheggio sia nel rollio, il ché lo rende sicuro e confortevole. Abbiamo mantenuto quelle informazioni che vi sono vitali se volete capire cosa sta accadendo intorno a voi; questa è una vela che vi porterà, in tutta sicurezza, dai primi voli fino alle avventure del cross country.
Caratteristiche di semplicità in decollo
Non sorpassa ed è indulgente nel beccheggio
Costante flusso d'informazioni dagli elevatori durante il gonfiaggio
Semplicità di controllo su rollio e imbardata
Solido bordo d'attacco che perdona gli errori del pilota
Caratteristiche di volo
Certificato DHV1 (Nuovi tests 2003) **
Lunga corsa dei freni che perdona comandi imprecisi
Significativo incremento della pressione dei freni all'avvicinarsi del punto di stallo
Pilotaggio morbido e progressivo che vi consente di controllare agevolmente il raggio di virata ed il rollio.
Una stabilità che ispira confidenza e sicurezza, combinata con un livello d'informazioni che vi consentono di imparare a conoscere l'aria.
Eccellente tasso di caduta; i top pilots saranno gelosi per come facilmente li sorpasserete in termica!
Colori opzionali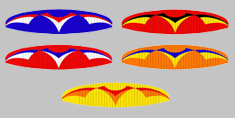 Contenuto della confezione
OZONE offers a range of backpack choices when you order your wing. To change the type of backpack that will come with your wing, please speak with your OZONE Dealer.
La vostra vela OZONE viene consegnata con i seguenti accessori standard :
You may choose to add something to your order, such as: Saucisse Bag (video) (concertina packing bag), Easy Bag (quick stuff sack), or OZONE Clothing and Accessories.
Specifiche
| | XS | S | M | L | XL |
| --- | --- | --- | --- | --- | --- |
| Area | 22.80 | 25.10 | 27.40 | 29.60 | 31.90 |
| Proj.Area | 19.40 | 21.30 | 23.30 | 25.10 | 27.10 |
| Aspect Ratio | 5.10 | 5.10 | 5.10 | 5.10 | 5.10 |
| Span | 10.80 | 11.30 | 11.80 | 12.30 | 12.80 |
| Cells | 39 | 39 | 39 | 39 | 39 |
| Glider Weight | 5.00 | 5.25 | 5.50 | 6.00 | 6.50 |
| Weight Range | 55-70 | 65-85 | 80-100 | 95-115 | 110-135 |
| DHV | 1 | 1 | 1 | 1 | 1 |
Materiali
Riser lines A,B Edelrid 200kg

Riser lines C Edelrid 340kg

Mid lines Liros DSL140

Uppers Liros DSL70

Top surface - Gelvenor

Bottom and ribs - Porcher

DOWNLOADS
↑