Info Produit
La MOJO s'adresse aux débutants en phase d'apprentissage grace a sa facilité de gonflage, son grand débattement aux commandes, sa sécurité passive elevée sur tout le domaine de vol, son amortissement en tangage et en roulis.
Nous voulions aussi une aile moderne procurant de bonnes sensations de glisse, jolie par sa forme et son logo, un virage homogène sur tout le débattement. La MOJO vous donnera tout cela. Rassurante et facile pour l'accés a l'activité, elle deviendra vite une aile de progression accessible et s'adressant a un très large public.
Caractéristiques de la MOJO :
Décollage facile :
La voile ne dépasse pas.

Pression constante et régulière dans les élévateurs pendant tout le gonflage.

ontrole facile en roulis et lacet.

Bord d'attaque solide, résistant aux imprécisions des élèves.
Sécurité en vol :
Homologuée DHV1 (nouveaux tests) *

grand débattement aux freins.

Augmentation importante de la pression à la commande en fin de débattement.

Maniabilité permettant au débutant de faire de larges virages en controlant aisément le roulis.On obtiendra des rayons de virage plus petits pour enrouler par une action plus ample à la commande.

Stable et solide, la MOJO communique pour vous laisser ressentir la masse d`air.

Excellent taux de chute pour faire durer le plaisir.
Options de Couleurs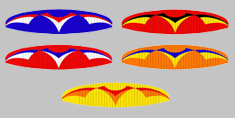 Contenu du package
OZONE offers a range of backpack choices when you order your wing. To change the type of backpack that will come with your wing, please speak with your OZONE Dealer.
Your OZONE wing is delivered standard with the following accessories:
You may choose to add something to your order, such as: Saucisse Bag (video) (concertina packing bag), Easy Bag (quick stuff sack), or OZONE Clothing and Accessories.
SPECIFICATIONS
| | XS | S | M | L | XL |
| --- | --- | --- | --- | --- | --- |
| Area | 22.80 | 25.10 | 27.40 | 29.60 | 31.90 |
| Proj.Area | 19.40 | 21.30 | 23.30 | 25.10 | 27.10 |
| Aspect Ratio | 5.10 | 5.10 | 5.10 | 5.10 | 5.10 |
| Span | 10.80 | 11.30 | 11.80 | 12.30 | 12.80 |
| Cells | 39 | 39 | 39 | 39 | 39 |
| Glider Weight | 5.00 | 5.25 | 5.50 | 6.00 | 6.50 |
| Weight Range | 55-70 | 65-85 | 80-100 | 95-115 | 110-135 |
| DHV | 1 | 1 | 1 | 1 | 1 |
Matériaux
Elévateurs A,B Edelrid 200kg

Elévateurs C Edelrid 340kg

Suspentes basses Liros DSL140

Suspentes hautes Liros DSL70

Extrados – Gelvenor

Intrados et cloisons – Porcher

Téléchargements
↑